| | |
| --- | --- |
| | TIMOTHYNOHE's Recent Blog Entries |


Thursday, June 21, 2012
All life is an experiment. The more experiments you make, the better. — Ralph Waldo Emerson

I kind of like that one. I had been rigid in my health before I was booted out of bed on a Saturday morning more than four years ago. Rigid in that I was unwilling to do anything to change the slippery slope I was on. I went to Weight Watchers. I embraced the program, despite the fact that it had failed me in the past. As had Slim Fast and South Beach and any number of other efforts.

I tried walking briskly. I tried learning to swim. I tried other thing I don't even remember what didn't work for me.

I tried foods I never thought about before. Beans instead of meat. Veggie burgers. Tofu! for cryin' out loud! But one of my favorite places now is the Korean market near our home. They have some of the weirdest stuff you can imagine. And I am willing to give some of it a try. Not all things I tried were for me. Pomegranates and papaya just to name two.

But I tried them.

There are things you have never tried out there. Some of those things are not for you, some you think are not for you. Some are just waiting for you. I NEVER wanted to run a marathon. Now I am looking forward to my next half in July and my next full in November.

Cole Porter wrote a song called Experiment

Before we leave these portals
to meet our paramortals,
there's just one final massage I would give to you.

We all have learned reliance
on the sacred teachings of science,
so I hope through life you never will become,
in spite of philistines, defiant,
to do what all good scientists do.

Experiment.
Make it your motto day and night.

Experiment.
And it will lead you to the light.

The apple from the top of the tree
is never too high to achieve.
So take an example from me.

Experiment.

Be curious,
though interfering friends may frown.

Get furious,
at each attempt to hold you down.

If this advice you'll only employ,
the future can offer you infinite joy
and merriment.

Experiment,
and you'll see.



Wednesday, June 20, 2012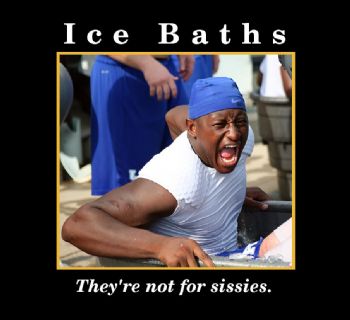 Ahh. Ice Baths

Lots of smart people say it's the best way to recovery after a hard workout, like a long distance run.

From About Running ( tinyurl.com/bl3vgz ) :

"For recovery after a long run, tough workout or race, nothing beats an ice bath. Soaking in a tub filled with water and ice will help reduce inflammation of tissues and joints, relieve soreness, and speed up your recovery."

From Runners World ( tinyurl.com/4pw8mm ):

"Ice baths are one of the most effective ways to offset the damage done on a run."

From Whole9 ( tinyurl.com/d8jdfll ):

"For those of you who follow us on Facebook or Twitter, you may have noticed our recent love affair with ice. Specifically, we're Tweeting about the thrice-weekly ice baths we've been taking following our training sessions at Gym Jones. Training there is a whole different ball game, and after our first workout, we wondered whether we'd be recovered in time for our next session. Three days later. Enter our new favorite recovery tool – the ice bath."

Hmmm.

I guess I'm a sissy. A great big sissy.


Tuesday, June 19, 2012
I will just have to wait until next time to see the tall ships. We were supposed to have electrician and landscape guy come by today ... to finish work left hanging over the weekend. I waited and waited and they did not show.

The day was not wasted. I am to strip the aluminum siding from the garage and install a side door. For those who do not live in 1910-20 vintage homes, the garage is an outbuilding, so not to panic.

I picked a spot to start in with hammer and prybar. Bang! Bang! BANG!

Suddenly I was aware of hundreds of living beings (ok maybe a dozen or so) surrounding my head. I came down off the top of that ladder and I ran like the fracking wind the other way!

Man, they did not have to tell me twice. Meanwhile, out in the yard, supposedly mowing, was my beloved son in whom I am not so pleased anymore, laughing is fool head off.

"Sure lucky you're a runner now. I never saw an old person move so fast."

My next move was to grab a broom and chase his sassy butt around, threatening to put the broom someplace where he'd always be able to find it.

"But look, Dad. A couple of years ago when you were fat (the boy is not one to spare my feelings) you would have gotten stung, fallen off the ladder, and spent the rest of the day with an icepack and a bag of chips.

"I'm proud of you old man."

Actually I wish I had a video. It probably was funny to see. I do not think I touched any of the four rungs below me. Just jumped off and ran like hell.

My next move was to Lowes for some knockdown spray. Yeah. I got even with them bees. And the garage is now stripped.

And underneath the aluminum siding is beautiful cedar shakes. Why would anyone cover that up? I guess in the 1960s, aluminum siding was an upgrade. A little power wash and some stain/paint and it'll look great!


Monday, June 18, 2012
I was given a couple of medicine balls for my birthday. SparkFitness has a few medicine ball exercises listed, but I will be scouring the fitness sites for more. And a good variety of them too. I will post what I find in future blogs. Maybe I'll make some videos. Of course I don't have a slick exercise studio like Coach Nicole Nichols, but what the heck, I bet most of us exercise in our living/family rooms anyway.

========

We have had a week of nice nice nice weather here in B'moretowne. Today it started rainy and by afternoon it only reached about 70º. That is all about to change. High of 92º tomorrow and forecast for 101º on Wednesday. If I expect to run Wednesday, I better plan to crawl out of bed really early. And 101º here is always humid. There is always the dreadmill I suppose.

========

Another thing tomorrow: It's the last day of the Sailabration. I didnt get down there on Sunday. So I may just grab my camera and head down tomorrow. Maybe find a place to go watch the ships go down the Bay under sail. That should be fun.

========




Sunday, June 17, 2012

I got a cool toy from Woot.com. It's a Toshiba Camileo B10 camera and I am trying it out as my race cam. I still have my hat cam and I may use both, because to take a video with this Toshiba and run is a bit clumsy. Butit was a good one to have to record an immediate after race report. I just need to work on the aim.

I was up early because in spite of the 9:00 start time, somehow I thought they wanted us there at 7:00. I got there at 7:00 and there was no one there. Hmmm. No biggie. I got my bib and goody back and went back to the car and listened to the radio for the next hour.

As it happens, I had bib #3. I never signed up for a race that early before. Cool.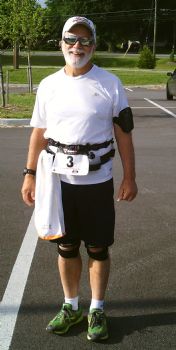 Ok. Here's the story. The first 3/4 mile was on bike path and street ... asphalt. We made the turn onto the trail and as I looked down to make sure of my footing on the changed surface, I heard someone warn "Watch your heads on that low branch." So I looked up and I hit the low branch with my forehead. Ouch! If I'd kept looking down (a) I would likely not have hit the branch and (b) I would have seen the stone that I tripped on.

As I was going down, I did my best to not go down, to no avail. It was fortunately soft grass. But I saw something that my brain interpreted as a fire hydrant coming at my face. So I did a roll away to avoid that and did not get actually hurt. When I go up, I looked for the fire hydrant and all I saw was the cut off end of a downed tree. I suppose it would have done as much damage as the fire hydrant that wasn't there.

Weird, how the brain works.

As it progressed, the run was very pretty, but tough, over some very steep hills. There was a long stretch along the Patapsco River.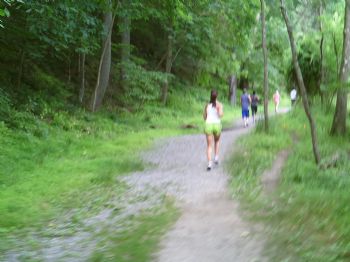 As I passed the one hour mark, I was hungry and I dipped into my Clif bar. Usually I avoid those, but this time, I was empty enough that it really helped.

I finally crossed the finish line at 1:12:35. Since it was my first trail 10k, it is by default a PR for trail 10k races.

I would do something like this again.
First Page
1
2
3
4
5
6
7
8
9
10
11
12
13
14
15
16
17
18
19
20
21
22
23
24
25
26
27
28
29
30
31
32
33
34
35
36
37
38
39
40
41
42
43
44
45
46
47
48
49
50
51
52
53
54
55
56
57
58
59
60
61
62
63
64
65
66
67
68
69
70
71
72
73
74
75
76
77
78
79
80
81
82
83
84
85
86
87
88
89
90
91
92
93
94
95
96
97
98
99
100
101
102
103
104
105 106 107 108 109 110 111 112 113 114 115 116 117 118 119 120 121 122 123 124 125 126 127 128 129 130 131 132 133 134 135 136 137 138 139 140 141 142 143 144 145 146 147 148 149 150 151 152 153 154 155 156 157 158 159 160 161 162 163 164 165 166 167 168 169 170 171 172 173 174 175 Last Page

Get An Email Alert Each Time TIMOTHYNOHE Posts