| | |
| --- | --- |
| | TIMOTHYNOHE's Recent Blog Entries |


Saturday, September 17, 2011
I got up with no alarm clock this morning at 6:00. That was great! I felt good too. I had a 5k to run.

My plan was to ride my hybrid the three miles to the venue, run the race, twice, and ride home. Why ride my bike? Because it is only 3.9 miles. Barely far enough to start the engine on my car.

Why run the 5k twice? Because I need my miles for this weekend.

I stepped out on the porch and you know what? It got COLD last night! Too cold to ride my bike in just shorts.

She(WMBO) was asleep still and I didn't want to disturb her by going through my gear for suitable attire for the weather.

What to do?

I ran to the venue in 40 minutes.


I ran the first 5k in 24:40. A new PR for 2011. Only 43 seconds short of a new all-time PR.




I ran the second 5k in 29:30. No clock to care about so I slowed down.




After the after party, I ran home in 43 minutes. Well, my legs WERE tired and it is ALL uphill.







At the race I saw my doctor. "Greg! How you doing?"
"Was that you running down here?"
"Yep. Training for a marathon. Need my miles."
"You are the guy who thought he was having a heart attack four years ago. What a transformation. When I tell people they need to lose weight I tell them about you."

Do I need a bigger hug than that from my Doctor?



Friday, September 16, 2011
Four years ago this week, 19 September 2007, She(WMBO) and her sister were touring England and Ireland. She also stopped in Marsailles because she had a business associate there whose operation she wanted to see.

The real highlight of the trip was that our son Dave would be coming over to begin a year of study at the London School of Economics. JFK and Mick Jagger both went there. The evening of 18 September was Dave's last night at home. I was cool with that.

I was at that time about 250 pounds. My BP was controlled but still border line. I remember we were having short ribs (beef with lots of fat) for dinner and they were good. As the meal ennded I felt a twinge, like someone was cinching a lasso around the bottom of my ribcage.

I qiuetly went into the other room and checke my BP. It was high. 160/85 or so. Heart rate was above 80.

I did nothing. I said nothing.

The next day, Dave was to go out of BWI at 4:00. I was excited for him, but not particularly anxious.

When I got up I took my blood pressure: 205/105.

What!!

I took it three more times and got the average. 200/100.

It was 6:30. I called the doctor anyway, left a message with his service. He called me right back. "Look, I don't know what's happening, but I promise I will check myself into St Joseph as soon as Dave's plane leaves." I wasn't quizzed me as if from a check list. Any pain now? No. Are you anxious? Only about why my blood pressure is so high. Can you see? Yes. etc.

He had me take another BP pill, check my BP in 30 minutes and Call back. After 30 minutes, my BP was down to 135/80. Still kind of high, but not in Stroke city any more.

I got through that day just fine and I continued with a now double dose of my blood pressure medication.

Do you think I listened to that shot across my bow?

Are you kidding? I was good now.

It took me getting sick with chronic diarrhea for over 6 weeks for my condition to get my wife's attention. I wasn't interested.

It was April before she booted me in the butt and sent me to Weight Watchers.

So now that I have my weight in line, no more BP meds, runninglike a nut, why am I still here?

Because I don't EVER want to go back there.


Thursday, September 15, 2011
We Catholics have patron saints for just about everything.

Here's a list.

www.catholic-forum.com/saints/patron
00.htm

Yikes! Look at that list. Granted there are a lot of patrons of the archdiocese of this, and the city of that.

But look, here's two "against slander:" Angadrisma of Beauvais and John Nepomucene

How about "against twitching?" I could use that what with my Restless Leg Syndrome: Bartholomew the Apostle and Cornelius. Wow an apostle and an early convert. Great!

The Patron Saint of Advertisers. Hmmm, a saint for people who tell lies and half truths to get me to buy their product? You would think they would need a dozen, but they only get Bernadine of Sienna.

Wow I didn't even get out of the As.

By the way I have two personal favorite Patron Saints. The one provided me with my motto and mantra: "Start by doing what is necessary, then do what is possible and suddenly you will be doing the impossible." -- St Francis of Assisi. He is the Patron Saint of animals; the environment; Italy; merchants; stowaways; lace makers; needle workers; against fires and dying alone. Stowaways!? Really?

The other simply inspired me when I heard her story as a child. Blessed Kateri Tekakwitha is the Patron of ecology & ecologists, the environment & environmentalists, exiles, those who lost their parents, people ridiculed for their piety, and Native Americans.

Wow. She and Francis seem to hang out in some of the same circles.

OK, but what about a Patron Saint for Weight Loss? Is there one?

Apparently not!

So I looked against obesity. Nope.

No against overweight either, but there is a patron against oversleeping, St Vitus ... wait a minute shouldn't he be against twitching what with the St Vitus' Dance and all?

Well, how about for fitness? Hmm. Not there.

So apparently as far as the Catholic Church is concerned, either we don't desrve a patron and we are on our own or we as such a saintly bunch that we do not need any holy intervention.

I did see one discussion forum suggest Blessed Pope John XXIII. Really?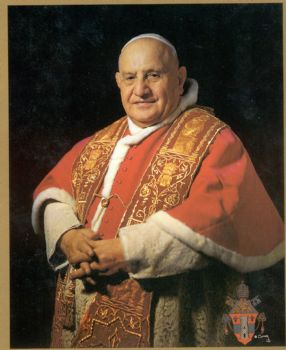 He is not the poster child for weight loss



Wednesday, September 14, 2011
... but I managed to stay on track!

Last summer we worked on what She(WMBO) called a patio, gazebo, and coverd grill area. I call it the Plaza, Pavilion, and Kitchen. This is a massive space, 41' x 40' with a 16' x 15' covered area and a 8' x 12' covered grill area. I have been working the roof of the grill and I am coming close.

Today I was supposed to get some real progress done.

Instead, when I got up to run, I checked my emails as usual and my password on mobile.me.com would not work. I tried for an hour, then got on chat with Apple to get it fixed.

Then ... I went to get my coffee and breakfast. The Silk creamer was barely cold. My eggs, too. I looked in the freezer; it looked like a murder scene where the frozen raspberries had thawed and run over everything.

There I was in my running gear wearing sandals (not yet ready for my runners) cleaning out that fridge. I know that Baltimore is not unique in this, but it is common here to have a fridge in the cellar. (A stove too that we call a crabber.) But it is smaller. At least I also have a deep freezer so what wasn't thawed from the freezer went to the deep freeze, but the fridge was a tight fit. Too tight for me to want to actually cook tonight.

I only lost the left over roast, a left over flank steak, and some vegetable. The dog was happy. I had to cook up three steaks, one of which went on our salad tonight. The other two went in the deep freeze for later.

As I closed the now-emptied refrigerator door, I saw the appointment card. The cat had a vet visit for 30 minutes ago. Get the cat, get the carrier, get out the door. By the time I got home it was mid-afternnon and I was HUNGREEE. But I managed to stay in control and have a peanut butter sandwich and some not-yet-really-cold-again milk.

By now it was pushing WHAT? 3 o'clock? I still hadn't run.

Got my run in. Had some water, a banana, took a shower, looked at that roof and made an executive decision ... screw it for today.


Tuesday, September 13, 2011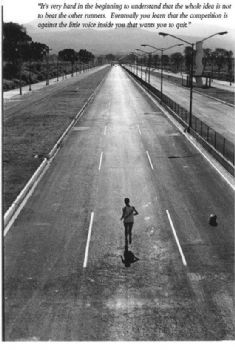 "Itís very hard in the beginning to understand that the whole idea is not to beat the other runners. Eventually, you learn that the competition is against the little voice inside you that wants you to quit."

Whether you are just starting to run or you are training for a marathon, you hear this voice. I call him Bad Coach.

Even if it's not running. If it's swimming, or biking, or just getting your rather ample butt out of the Fat-T-Boy recliner or switching off the football game when Sunday afternoon is so nice.

Here's a news flash: that football game will play out the same whether you watch it or not. Three hours with your nose stuck to the TV when the sun is shining is a no brainer.

What if it's just sticking to your lifestyle change program? Losing weight or getting fit is easy when the pounds are coming off and the exercise is fun. But when you have to see your weighins bounce around the same number week after week or, worse, go up. When you have to talk yourself into pulling on the sneakers for a 20 minute walk, forget about the Long Run, you need to remember this:

"Eventually, you learn that the competition is against the little voice inside you that wants you to quit."

As Winston Churchill said: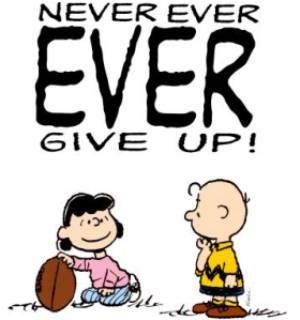 Stay thirsty, my friends!
First Page
1
2
3
4
5
6
7
8
9
10
11
12
13
14
15
16
17
18
19
20
21
22
23
24
25
26
27
28
29
30
31
32
33
34
35
36
37
38
39
40
41
42
43
44
45
46
47
48
49
50
51
52
53
54
55
56
57
58
59
60
61
62
63
64
65
66
67
68
69
70
71
72
73
74
75
76
77
78
79
80
81
82
83
84
85
86
87
88
89
90
91
92
93
94
95
96
97
98
99
100
101
102
103
104
105
106
107
108
109
110
111
112
113
114
115
116
117
118
119
120
121
122
123
124
125
126
127
128
129
130
131
132
133
134
135
136
137
138
139
140
141
142
143
144
145
146
147
148
149
150
151
152
153
154
155
156
157
158
159
160
161
162
163
164
165
166
167
168
169 170 171 172 173 174 175 Last Page

Get An Email Alert Each Time TIMOTHYNOHE Posts