Sunday, June 03, 2012
He's apparently working out just fine several times every day with several different clients.

Actually, he's working out just fine for the both of us. For me, I can now lift my left arm vertically, almost straight up, to about 5 degrees from vertical, with little more than some discomfort. I still slightly wince. A couple of months ago, I couldn't even get to horizontal, about 15 degrees short and then it was painful. I still cannot reach behind me satisfactorily, My reach is still not 100%.

I am adding weight to my modified strength training ... no lifting over my head, no push ups or pull ups, only modified planks. I am using most of the machines and I am starting to add weights to challenge myself. 150 pound short armed row, 150 pound leg press. But those were just showing off.

AND She(WMBO) shocked me by lifting a cinder block with relative ease, so David's workouts are working for her too. In fact she picked it up with such confidence that she surprised even herself. And I am still being very careful about picking up such weights. And when I do, it doesn't take long for my shoulder to tire. She is doing even better than I am. I'm so happy for her.

The trainer is definitely working for both of us. And he is my sister-in-law's husband. And he is one year younger than me. So I could look like that someday.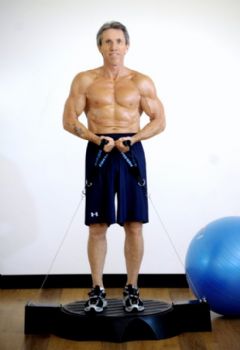 And he is one year younger than me. So I could look like that someday.