| | |
| --- | --- |
| | TIMOTHYNOHE's Recent Blog Entries |


Saturday, June 02, 2012
We got up early this morning after a late evening at Dr Dani's party. She(WMBO) was feeling not so good. I think she ate half the crab cake. And as it turns out Dr Dani and her step-daughter Hillary also felt punky. They both ate the crabcake.

Makes the grouchy old man look like the smart one.

After breakfast, we checked out of the hotel and we headed out to Tybee Island. Dani, David and Hillary were late leaving their house because ... well, they were sick.

Me? I felt great I took off down the beach at a run. I definitely got in six miles plus. Very nice. I don't usually run in front of a lot of people, non-runners, who are watching me. I was a little self conscious. What an odd feeling.

We headed back to the house to change for our flight home and after we went to a Pho restaurant for lunch ... love pho!

Here are my questions:

Why is there an ashtray in the airplane lavatory? What no lighter? I mean, you can't bring a lighter or matches onto the plane. So if they are going to provide the means to put out the smoke that is being sneaked in the lavatory, shouldn't they provide a means to light it, too?

When you rent a car, they give you two of those keyless remotes (no keys anymore). They are joined together with a not-easily cut wire, along with a key fob that admonishes that the "replacement cost of the remotes is $225 each." Which means if I lose one keyless remote, I lose them both, I am out $450, AND I am locked out of my rental car. Thank you ever so much. Why would they do that?



Saturday, June 02, 2012
Dr Dani.

My Daughter the doctor!

She has 24 more days before she heads to her practice in Corpus Christi. She is so excited. So ready to get going. She ends work in Savannah in June and doesn't start work in Corpus until August. That gives her a month to get settled in. Maybe she can find herself a music gig while she is there. Oh, she sings and plays so well, I have told her to keep her night job, in case this doctoring this doesn't work out. (It used to be good for a laugh. Now I just get a humor-your-father-in-his-dotage look.)

Dr Danielle Alicia Nohe Inman (Her initials are Dani, cool eh? And Dr Dani is her stage name)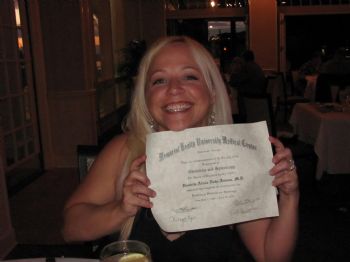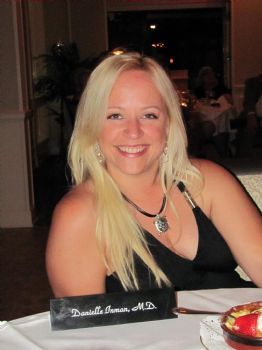 Her Bachelors was in Biology? No
Genetics? No
Some kind of science at least? No
Engineering? No

No. We paid for a BA in Acting from University of Maryland Baltimore County (UMBC or U Must Be Crazy!). In any gathering of Doctors, she is almost certainly the only actor in the group.

And she sure is a cutie, isn't she? That is what 37 (38 in August) can look like.

And of course she gets that from her parents, mostly her mother: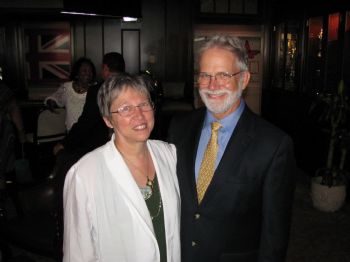 Lucky us, she has a conference in Baltimore next thursday so we get to see her again almost right away.

Can't wait.




Friday, June 01, 2012
When I packed yesterday, I included shirt, slacks, and tie. But no jacket. Dr Dani's dinner was at the Yacht Club (Nose in the air please) and jackets are required. I tried Goodwill, figuring I would buy one for $15 or so then donate it back tomorrow. Nothing fit. So I had to buy a new one, Like I need another coat. Nothing for less then $200. Nothing that didn't look like crap for less then $300. Sheesh. I have a new coat.

And for what? The food at this place was well below any standard I would set, especially one that requires jacket and tie. The salad was small and simple enough -- some spinach and strawberries with a sweet dressing, low on oil. Then came the meal: A surf and turf of sorts. A small steak, actually the correct size, four small stalks of asparagus, about a half cup or less of yellow squash. There was what I can only describe as a giant Tater Tot -- 2 inch diameter, 3/4 inch thick riced potato cake, deep fried. Yuck. OK you say, what about the surf part? There was what so many places call a "Maryland Crab Cake" though I have never seen this on the menu in any crab joint in Maryland in my life -- some crab meat and bread crumbs deep fried and pan seared. Double yuck! It gave me heartburn just looking at it.

BUt that was only a dinner. The evening was really about Dr Dani and her three compadres.

Dr Dani is now graduated from her residency at Memorial University Hospital in Savannah. She is now and attending OB/Gyn. I am so proud of her.

Tomorrow we are going to Tybee Island for the beach in the morning. We need to leave Savannah by 2:00 to get to Jacksonville FL in time for our flight. It felt so much like Saturday today. It's like we're getting two Sundays this week.

We slept so late this morning that by the time I got up it was already too hot to run. Plus! I forgot to bring gels and I don't want to get caught our running and run out of gas. Instead, we went down to the hotel gym for about an hour workout It was fun.

My Phone was chattering with Facebook updates all evening. Back in Baltimore, they were having some severe thunderstorms and even a couple of tornadoes. In Fallston and Bel Air (northeast of Baltimore), where I grew up and still have family there was one that cause some bad damage and injury. Just lots and lots of rain in Catonsville (southwest of Baltimore). Apparently the Washington DC area was hit too. Glad we were 600 miles away. I called the boys to see if they were OK. They are.

After we leave tomorrow, we don't expect to be back in Savannah for a long time. I will be sad to leave this time. Not just because I like this city so much, but because my baby girl is moving all the way to Texas. At least Savannah is an all day or an overnight drive. I have to fly to Texas. I may do the Rock 'n' Roll Half here in 2013. We shall see.


Thursday, May 31, 2012
We are in Savannah. When here we stay at the Hyatt Regency at Bay & Bull Sts. Very nice place. Rather pricey, but She(WMBO) likes it and is willing to pay. Pricey, so you would think that Internet access would be included. And if you thought that, you would be wrong. Fer cryin' out loud! Little Notell Motels along the bypassed highway have free WiFi (it says so on their sign out from -- and free HBO and ESPN) but the fancy schmancy Hyatt Regency wants to squeeze me for an extra $6 a day?

I am sitting in the lobby writing because She(WMBO) goes to bed much earlier than I do. I will find my way gown to the hotel gym (included in the price) for a workout.

I might not get to my long run tomorrow. I have seen the schedule of events and it doesn't look like I will get the time to run 13 - 14 miles. Maybe I can do half that. Then again, I could just use the gym.

There was a doglet on the flight from Baltimore to Jacksonville. One of those irritating itty-bitty pocketbook dogs. (When did dogs become a fashion accessory we took everywhere?) Barking the whole way. Geez. I now think I would rather hear a crying baby.

When we went to pick up the car rental, there was a yellow Camaro convertible. I asked She(WMBO) is that was our car. "I don't DO convertibles." I knew that, but but still ... Excuuuuuse me. Then about halfway between JAX and SAV, the sky opened up. "See? That's why I don't DO convertibles." Fair enough.


Wednesday, May 30, 2012
No running today, but I don't count that as a failure to do what I am supposed to do. On JUly 15, She(WMBO) is having a bunch of people in from Arizona and we will be having a barbeque dinner on our patio. Said patio still needs some steps, electric, gutters on the "gazebo" (it's 16x16, bigger than our living room), and we need a storage shed. Today I was working so hard on building steps that I plum forgot about my scheduled run. All that banging and lifting not to mention the swearing and sweating burns calories.

Not like I was sitting in the Fat-E-Boy recliner watching reruns of Star Trek.

Tomorrow we hop a flight to Savannah to be with Dr Dani as she graduates from her residency program. When next we visit her she will be in Corpus Christi TX. I will sorely miss going to Savannah. On the other hand, it's been there something like 300 years so I think it will be there when I want to go visit just because I love it so much. I may do the 2013 Rock 'n' Roll Savannah Half Marathon so I can get my Georgia in.

And! I love Savannah on foot, so I will definitely give it one more run on Friday.


First Page
1
2
3
4
5
6
7
8
9
10
11
12
13
14
15
16
17
18
19
20
21
22
23
24
25
26
27
28
29
30
31
32
33
34
35
36
37
38
39
40
41
42
43
44
45
46
47
48
49
50
51
52
53
54
55
56
57
58
59
60
61
62
63
64
65
66
67
68
69
70
71
72
73
74
75
76
77
78
79
80
81
82
83
84
85
86
87
88
89
90
91
92
93
94
95
96
97
98
99
100
101
102
103
104
105
106
107
108
109 110 111 112 113 114 115 116 117 118 119 120 121 122 123 124 125 126 127 128 129 130 131 132 133 134 135 136 137 138 139 140 141 142 143 144 145 146 147 148 149 150 151 152 153 154 155 156 157 158 159 160 161 162 163 164 165 166 167 168 169 170 171 172 173 174 175 Last Page

Get An Email Alert Each Time TIMOTHYNOHE Posts