| | |
| --- | --- |
| | TIMOTHYNOHE's Recent Blog Entries |


Thursday, May 24, 2012
Ah! The boss lady's vacation.

Her view is that I am constantly on vacation. I don't get in the car and race around the Beltway every morning so I surely must be livin' the life of Riley. Not really. When you own an old house, there is always something to do. And if there isn;t something so do, She(WMBO) can always dream something up.

But it keeps me busy.

For our vacation, I will be rebuilding some steps from the porch to the yard; clearing out the garage, in which we never have parked a car, and turning it into a proper storage unit with shelves and everything; finishing off the electric to the 1700 square foot patio she initiated two years ago. She has here own list and it looks just as busy as mine.

What kind of vacation is that?

And here I thought when she said she would be taking vacation this week we would be going to Atlantic Beach NC. Or Savannah GA.

I will think all about how active I am being and how much fun in the sun I am having. Next to my beautiful bride of 39 years.

No, really, I mean that.


Wednesday, May 23, 2012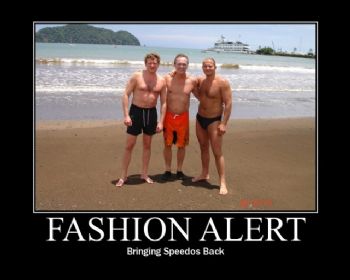 The doctor looked at my arm yesterday and liked what he saw. He still doesn't want me doing weight lifting, though I have been doing a few weight bearing exercises. The rule is if it hurts even a little, I tell the trainer and we stop.

I told him about my concussion on the bike a couple of weeks ago. He begged me to please park them in the basement for about the next six months. Frankly after my last accident, I over a month ago, I haven't gotten back up. I am understandably gun shy. So I will lock one of them in the trainer and just be happy with that.

But the good news is, he told me I may start swimming again. No freestyle, no butterfly, only only only breast stroke. That/s OK because I cannot do butterfly though I have tried and I get a pain in my right shoulder after a lap or two of freestyle. So I have been a breast stroke swimmer exclusively.

Limitations are, start slow, only a couple of slow laps at first. Then build my time a little at a time. Two slow laps will take about three minutes. Then rest, then two more slow laps. I will feel like a beginner again

But I will be back in the pool. But do not worry, no one will ever see this because of me: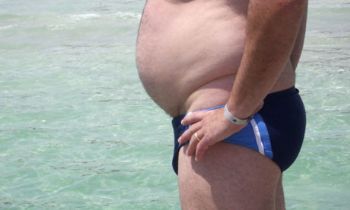 Oh and yes, my swim gear is Speedo Jammers. No not those itty bitty bikini briefs.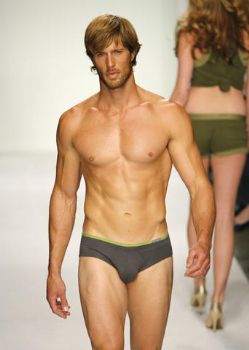 Not this. Those days are long long gone.



But this ... ok a little older ... a lot older, a little softer, but still ssssexsssay


Tuesday, May 22, 2012
It could be my advancing years are mellowing me. But an exchange I had with my son today would have sent me into orbit a few short years ago.

I, a claustrophobe, was under the sink trying to get a nut off so I could change a broken faucet. Mike came in and asked if there was anything he could help me with.

"Sure, Mom wants the toilet seat in the little bathroom replaced."
"I don't know if I can do that."
"Two little nylon screws in the back. Not rocket science."
"This better not take too long, I have to get Jackson from school in an hours." He babysits.
(If it takes and hour ...)

He took the seat with him. "How do I take the old one off?"
(With your f.u.c.k.i.n.g phaser.) "Just undo the two nylon screws in the back."

Next: "I opened the box. There aren't any instructions."
(Jesus Christ on a pogo stick!) "It's just two nylon screws on the back."
"Oh. But why no instructions?"
(Because not everyone is a dumb as a pile of pebbles.) "I suppose they figured just two nylon screws in the back was self explanatory."
"Oh look! Dad, this is funny. They have instruction on the outside of the box. It was really pretty easy. I didn't need any instructions. It was just two nylons screws in the back."
(Somebody ought to give you two nylon scr ... never mind.)

I suppose they had to cover even the option that a pile of pebbles WOULD be replacing a toilet seat.


Monday, May 21, 2012
SparkPeople had a blog that listed the 10 best and 10 worst breakfast cereals.

www.dailyspark.com/blog.asp?post=10_
of_the_best_cereals_you_should_be_eating

The Best

Post Spoon Size Shredded Wheat - Straw
Kashi 7 Whole Grain Puffs - Styrofoam
Kellogg's Unfrosted Mini Wheat Bites - Straw
Uncle Sam Flakes - Soggy
Fiber One - Original - Make you fart, no flavor
Nature's Path Synergy 8 Cereal - Never tried it, but I would bet ....
Weetabix - A whole bale of straw
Kellogg's All-Bran Original - These will make you poop ... very soon
Cascadian Farms Multigrain Squares - More straw
General Mill's Cheerios - I don't know about you, but these make me poop. These almost have flavor.

The Worst:

Kellogg's Froot Loops
General Mills Cinnamon Toast Crunch
Kellogg's Corn Pops
General Mills Lucky Charms
General Mills Reese's Puffs
Kellogg's Choconilla Cocoa Krispies
Kellogg's Special K Blueberry
Kellogg's Special K Chocolatey Delight
Belgo & Bellas YogActive Chocolatey Pillows
Quaker Cap'N Crunch Berries

Kellogg's doesn't quite have a monopoly here, but ... aw c'mon ... my faves are number 2 and 3. And Cinnamon Toast Crunch! I love Cinnamon Toast Crunch. And the Box says it has a shirtload of whole grain goodness (See? Right there on the label "It must be good for you because we put in a whole shirtload of whole grain goodness in every spoonful.")

And and and It's just about my favorite cereal on the entire blog.

But NOOOOOOO. They only "good for you" cereals on this list taste like straw. In fact the "best" one IS straw. In fact so are 3, 7, and 9.

And it looks like no matter how blech a cereal tastes, if you add any kind of confection to it, it goes on the bad list. Special K with blueberry and with Chocolaty Delight are bad cereals, just above Chocolatey Pillows (get me some of those!) and the ever lovin' Cap'N Crunch Berries.

Oh well. I can save the Cinnamon Toast Crunch for a treat.
This makes me very sad indeed.





Sunday, May 20, 2012
Four weeks ago, David and Carolyn took us out to dinner. Over dessert David casually said, "And Carolyn is pregnant."

Dave often says some stupid stuff so I shot a glance at Carolyn and she, being Dave's compliment, a woman of few words, just smiled and raised her eyebrows.

It was true! She is due on December 24. She(WMBO) always has a big dinner on Christmas Eve. I wonder how that will work this year? Will Carolyn's parents be our guests? They are from NYC and will certainly be down for the big event.

But we were sworn to secrecy until they were more sure. This week they gave us the OK to tell others.

I did tell my Mom last week. She has been suffering a series of strokes, but has not had an incident in over four months. She is looking great and expressing herself better. When I told her, it was like someone (me!) lit up a 100 watt bulb inside her. She quickly did some counting and announced "That will be number 7? Or is it 8?" My sister counted for her: "Marty has 4. Andrea has 2. And Dom just had Gabe. So David's will be 8." Not bad for someone who could barely talk four month ago.

I wanted to tell that story about Mom last week, but it would have meant telling about my son's news before I was allowed.

So!

Tim and She(WMBO) are going to be Abuelos for Christmas!



First Page
1
2
3
4
5
6
7
8
9
10
11
12
13
14
15
16
17
18
19
20
21
22
23
24
25
26
27
28
29
30
31
32
33
34
35
36
37
38
39
40
41
42
43
44
45
46
47
48
49
50
51
52
53
54
55
56
57
58
59
60
61
62
63
64
65
66
67
68
69
70
71
72
73
74
75
76
77
78
79
80
81
82
83
84
85
86
87
88
89
90
91
92
93
94
95
96
97
98
99
100
101
102
103
104
105
106
107
108
109
110
111 112 113 114 115 116 117 118 119 120 121 122 123 124 125 126 127 128 129 130 131 132 133 134 135 136 137 138 139 140 141 142 143 144 145 146 147 148 149 150 151 152 153 154 155 156 157 158 159 160 161 162 163 164 165 166 167 168 169 170 171 172 173 174 175 Last Page

Get An Email Alert Each Time TIMOTHYNOHE Posts