| | |
| --- | --- |
| | TIMOTHYNOHE's Recent Blog Entries |


Wednesday, April 18, 2012
I wear hearing aids. So does She(WMBO).

SHe has been using them for over 15 years. I clearly remember the evening when she realized she should see an audiologist. I had told her something the evening before. She didn't have a memory problem. She claimed she never heard me tell her. It was not the first time she had not heard me. I was frustrated. I slapped my palm on the table and yelled, "What are you, f--king deaf?" She lowered her head and started to cry. "I think I might be."

I only got mine last year at this time. I was missing things, turning up the TV. Misunderstanding things.

Hearing loss can isolate you. You might seem standoffish to people. You become uncomfortable in crowded situations. She tuns down invitations to parties because she doesn't hear introductions or conversations and has to rely on me to use trick we have developed where I fill her in.

How do you know you have hearing loss?

You may have:

* Muffled hearing.

* Difficulty understanding what people are saying, especially when there are competing voices or background noise. You may be able to hear someone speaking, but you cannot distinguish the specific words. Sometimes you hear things that aren't being said or you may think someone is speaking when they are not.

* Listening to the television or radio at higher volume than in the past.

* Avoiding conversation and social interaction. Social situations can be tiring and stressful if you do not hear well. You may begin to avoid those situations as hearing becomes more difficult.

* Depression. Many adults may be depressed because of how hearing loss is affecting their social life.

People who have hearing loss are sometimes not aware of it. Family members or friends often are the first to notice the hearing loss.

It can be pretty comical in our house when neither one of us is wearing our hearing aids. I wonder what the neighbors think of all the yelling that goes on. I LOVE YOU HONEY! -- I LOVE YOU TOO! THAT A REALLY PRETTY SKIRT YOU'RE WEARING!

Murmuring sweet nothings in her ear is useless. If she's wearing, she gets feedback screeching in her ear. There's a mood killer. If she's not wearing, she can't hear me anyway.


Tuesday, April 17, 2012
Patrick used to mow the lawn. He used to do a very good job at it. He would use the bagger so the lawn didn't look like a field ready to be baled, especially this time of year. It takes a long time to do it that way because with every pass of the mower he had to empty. His allergies really kick up now so he's been relived of that particular duty.

I sent Mike out last week to do the lawn. I instructed him about using the bagger. After about 20 minutes, Patrick came to me in the tattle mode. Yeah, almost 20 years old and he still rats out his little brother. "You gotta see what Michael is doing. He is so lazy."

Mike had dragged a 64 gallon trash barrel near to where he was mowing. In the can was a contractors bag. When the mower bag was full, he would empty it into the barrel. "So what is he doing?"

"He's not emptying the bag onto the compost pile. He's filling the trash can, taking the bag to the pile then emptying it."

You know? I always empty the mower bag on the pile whenever it is full. Mike showed some inventiveness.

"He's so lazy," Patrick said in disgust.

"Necessity is the mother of invention. Laziness is its father."



Tuesday, April 17, 2012
Many of us think of this as simply a weight loss site, or a health site, or a fitness site. Some days I look around this site and I almost think it's a running site.

Having read the book by Chris Downie, The Spark, I realized that the Spark Guy was talking about a whole lot more than my physical health. He discusses how his financial life turned around when his auction site was bought by eBay and later when eBay went public.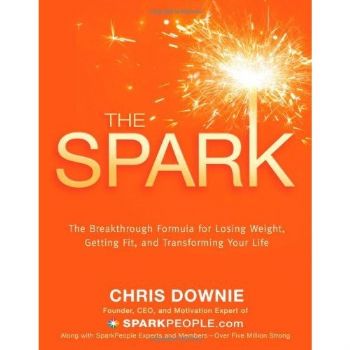 Chris could easily have taken his windfall and bought fancy cars and big houses. For all I know he did. But what I do know he did with at least some of his money was start SparkPeople. It was his way of giving back, expressing his gratitude.

So in a way, Chris's approach also addresses our inner health. Our spirit! What Chris calls our Spark. And gratitude is a part of that Spark I think.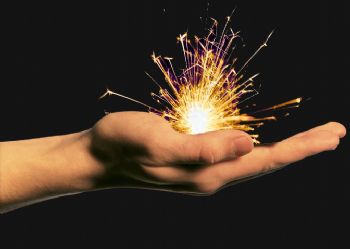 A lot of times good things just happen to us. Sometimes we make those good things happen. Sometimes others make it happen. We need to show our gratitude for those good things.

A simple thank is often all it takes. Paying it forward is another good way to pay back a kindness or good fortune.

I really think that there are aspects of the Spark that we can take away that helps us spiritually.

Gratitude is a good place to start.

Thanks, Chris!




Monday, April 16, 2012
My niece posted on Facebook that is was snow where she lives -- In minneapolis. I read this in 90º heat here in Baltimore. I kid you not.

It reached the middle 80s for the Boston Marathon. Over 4000 people did not run. Boston Marathon people will offer deferments to those folks to run next year. That's fair, it was just too hot to run today if you trained expecting typical New England April weather.

It snowed in Minneapolis today, I told you that right?

Mike went swimming in the river today.

We have contracted to have central air installed in the house this year. Yeah! No more dragging out the window ACs.

Boo! It was 90º in Baltimore today.

Did you know it snowed in Minneapolis today? You heard that, too?


Monday, April 16, 2012
What? What? Functional foods? Never heard that term before. What is that?

Functional food is a food where a new ingredient (or more of an existing ingredient) has been added to a food and the new product has a new function (often one related to health-promotion or disease prevention).

Didn't we used to call them "fortified foods?" Yes and no. Fortified foods are indeed functional foods, but functional foods are not necessarily fortified. The cereal fortified with "8 essential vitamins" is a functional food, fortified with a vitamin it does not normally have. The bread with fiber added is also a functional food.

However, functional foods are generally considered to offer additional benefits that may reduce the risk of disease or promote optimal health. Examples of so-called functional foods include calcium-fortified orange juice and spreads with omega-3 added.

As I was looking around for this blog I found this post about Cocoa Pebbles (!) being labeled "A good source of fiber."

www.slate.com/articles/life/food/200
9/03/dietary_fibber.single.html

To pull off that trick, General Mills adds polydextrose to this sugary breakfast "food," which is synthesized from glucose and sorbitol, a low-calorie carbohydrate. I was recently eating a high fiber bar and when I read the label I found something I could not identify -- inulin. It's another high fiber additive.

However, functional foods are generally considered to offer additional benefits that may reduce the risk of disease or promote optimal health. Examples of so-called functional foods include calcium-fortified orange juice and spreads with omega-3 added.

Here is another good article about Functional Foods and it has a pretty comprehensive list.

www.faqs.org/nutrition/Foo-Hea/Funct
ional-Foods.html#b
First Page
1
2
3
4
5
6
7
8
9
10
11
12
13
14
15
16
17
18
19
20
21
22
23
24
25
26
27
28
29
30
31
32
33
34
35
36
37
38
39
40
41
42
43
44
45
46
47
48
49
50
51
52
53
54
55
56
57
58
59
60
61
62
63
64
65
66
67
68
69
70
71
72
73
74
75
76
77
78
79
80
81
82
83
84
85
86
87
88
89
90
91
92
93
94
95
96
97
98
99
100
101
102
103
104
105
106
107
108
109
110
111
112
113
114
115
116
117
118
119 120 121 122 123 124 125 126 127 128 129 130 131 132 133 134 135 136 137 138 139 140 141 142 143 144 145 146 147 148 149 150 151 152 153 154 155 156 157 158 159 160 161 162 163 164 165 166 167 168 169 170 171 172 173 174 175 Last Page

Get An Email Alert Each Time TIMOTHYNOHE Posts