| | |
| --- | --- |
| | TIMOTHYNOHE's Recent Blog Entries |


Thursday, April 12, 2012
A few weeks ago after a heated argument about his free spending ways, Mike and She(WMBO) came to an arrangement regarding his money and living expenses.

One major problem was that he would not eat at home. He was eating out at least one meal a day and often two a day. The majority of those meals were at McDonalds, Sonics, Checkers, etc. His objection was that there was "absolutely nothing in this house to eat." As evidence he would point to my full fruit baskets and fridge overstuffed with fresh vegetables and meats in the freezer.

"All you do is eat this healthy diet food. I don't want to eat this garbage."

So tell me. What do you want? No coherent answers: "Good food that I will eat."

I finally gave up, handed him my credit card and sent him off to the Giant. No junk food permitted, just get what you want to eat.

So here comes the epiphany: "Dad, since I started eating at home in the last three weeks, I have lost three pounds."

I looked at him without expression, "duh!"


Wednesday, April 11, 2012
It's my favorite meal of the day. I start everyday with a delicious meal. Furthermore, what Mom told us about breakfast being the most important meal of the day is so true. It sets us up for the rest of the day, gets us through that tough time when the vending machines a singing their siren song, and over the hump to lunch.

That cup of coffee and a donut are the worst thing you can do to yourself if you are trying to live healthy and lose weight. You don't have to have breakfast before you feet hit the floor, but you really ought to have something to eat within the first hour or so.

News: Study Suggests Protein-Rich Breakfast Could Prevent Overeating Later

www.greatist.com/health/protein-rich
-breakfast-prevents-overreating/


Tuesday, April 10, 2012
Age ain't nothing but a number. Seriously. Go with either that birthday, your calculated "body age," or simply roll the dice! A lot of people will lie downward on their age. "I'm a little over 50." OK, 58 is a little over 50, right?

My mom, mother to 13 children (yep! I am number 5 about 10 years from the top and 10 years from the bottom), used to lie about her age the other way. When she was 47, she would say she was around 50. People would tell her "Well, you don't look a day over 40." Smart.

Here is something I found today: Smiling can keep us young, at least at face value. A study suggests that people associate smiling faces with positive, attractive, and youthful qualities, and that flexing muscles in the face can conceal what we really look like.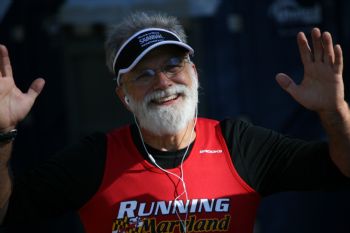 Mile 18 of the Rock 'n' Roll Savannah Marathon and I am tired, bored out of my gourd, and ready to quit. Ah, by my children pointed a camera at me. SMILE!

The study was one big guessing game: 154 men and women were asked to identify the ages of over 2,000 faces that showed varying emotions, like happiness, fear, sadness, disgust, and plain old indifference. Subjects guessed correctly most often when faces wore a neutral expression (ever wonder why people are told not to smile in a passport photo?), but people were most likely to underestimate the age of a smiling face. And for the ladies out there, here's a fun fact: Data revealed older female faces looked more than three years younger than their male competitors.

And did you know that your smile comes through on the telephone? It's true! And since smiles can be contagious, the next time you get a service rep on the line and they seem a little surly, smile on your end and see if they don't become a little more pleasant.



Monday, April 09, 2012
All my whining aside. I got back on the street today. I almost didn't go.

My routine of late has been, on Monday and Wednesday, to run to the Y, meet the trainer, run home, do chores and such, and after lunch go for a medium length run. I have been doing about 10 miles a day that way. Fridays are reserved for my long runs.

I started today not able to find my watch and I obsessed about it so much, I didn't have time to run there and be there on time so I decided to drive.

Of course I couldn't find my keys! Five minutes of looking and FOUND 'EM!

But it was so windy today and chilly. COme lunchtime when I should have gone out, I looked out the window and my brain said "Nope. Not gonna do it." Then around 3:00 I went out for the mail and son of a gun, it was pleasantly warm. Windy still but comfortable.

So I ran for more than 7 miles.

It felt so good.


Sunday, April 08, 2012
What a glorious, beautiful day today.

After brunch with the kids, we went home and started preparing for dinner. We had lamb chops, twice baked potatoes, and asparagus. Followed by apple pie. Mmmm.

I watched myself. I watched my portions.

I exceeded my calories and fat limits for the day. We cooked on the grill, ate on the patio. As the afternoon progressed, the fountain that was just delivered yesterday, became a terrible distraction. A constantly shifting gusty breeze brought in clouds. It was pretty when the afternoon started, but then things got chilly and the fountain was splashing everyone, so we turned it off.

But oh wow the lamb was good! The company was great.

All in all a good day.
First Page
1
2
3
4
5
6
7
8
9
10
11
12
13
14
15
16
17
18
19
20
21
22
23
24
25
26
27
28
29
30
31
32
33
34
35
36
37
38
39
40
41
42
43
44
45
46
47
48
49
50
51
52
53
54
55
56
57
58
59
60
61
62
63
64
65
66
67
68
69
70
71
72
73
74
75
76
77
78
79
80
81
82
83
84
85
86
87
88
89
90
91
92
93
94
95
96
97
98
99
100
101
102
103
104
105
106
107
108
109
110
111
112
113
114
115
116
117
118
119
120
121 122 123 124 125 126 127 128 129 130 131 132 133 134 135 136 137 138 139 140 141 142 143 144 145 146 147 148 149 150 151 152 153 154 155 156 157 158 159 160 161 162 163 164 165 166 167 168 169 170 171 172 173 174 175 Last Page

Get An Email Alert Each Time TIMOTHYNOHE Posts