| | |
| --- | --- |
| | TIMOTHYNOHE's Recent Blog Entries |


Tuesday, April 03, 2012
Mike was having a party for his friends from his hockey team. She(WMBO) likes to use these occasions to get the carpets cleaned. The party would be out on our patio. That doesn't matter. Agenda Item 1: clean the carpets.

She is big on Agendas.

She is an Organizer.

Then there was Agenda Item 2: Mow.

That's it, one word: Mow.

On Saturday she bought, on sale it being end of season, two propane patio heaters. Huh? Is this one of those thing you don't know you always needed until you have it? Like an on-the-door ice dispenser. Shoot, the ice maker itself. Or electric car windows?

Agenda Item 3: Assemble Patio Heaters.

It's almost 70º outside and I am putting together patio heaters.

BUt I must say, I was moving all day long. Except for lunch and breakfast, I never sat down.

Then out came the food. There was bratwurst, hot dogs, hamburgers, pulled pork. I tried I really did to stick to the veggie platter, but I was cooking the burgers and dogs. I had a brat. And I had some pulled pork. And half a hot dog.

All that walking around behind a mower and a steam vacuum.

I hope I didn't blow it.


Monday, April 02, 2012
I love diner fare for breakfast. It's bad for my heart. It doesn't really fit into my new lifestyle, but, hey, I still like it. Don't eat it any more, but I do have a recurring dream ...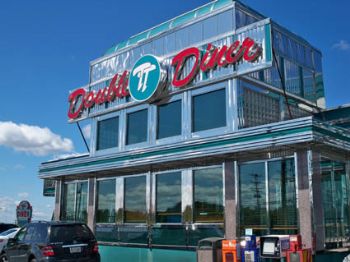 The original Double T diner is almost in m y neighborhood and still a favorite spot.

One of my old favorites from before I realized that I was killing myself with what I was eating was the classic two-egg breakfast at the local diner.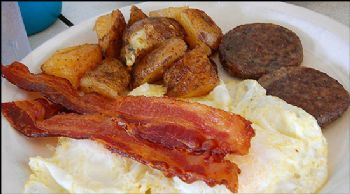 Heart attack on a plate

Serves 1 (heart attack)

INGREDIENTS
4 slices American style pork bacon (what part of a turkey do they get bacon from anyway?)
4 pork sausages (real pork - no turkey, no vegan)
2 slices country ham (yes the stuff with all the salt)
1 small potato peeled and cut into chunks (carbs? we ain't worried 'bout no stinkin' carbs)
3 large eggs (include the yolk, egg white are for health nut sissies!)
butter (the quantity doesn't matter. Use as much as you need)
4 or 5 slices toasted bread (Schmidt's Blue Ribbon preferred and none of that whole wheat, it tastes like straw!)
Salt to taste (lots)
Pepper to taste
hot sauce
1 tall glass orange juice (and there better not be any pulp in it)
coffee (keep it commin' hon)
sugar (real sugar)
half and half (I am watching my weight after all)
3 Tums (for later)

DIRECTIONS
1. Cook up the bacon in a frying pan. When it's crispy, take it out and drain it on paper towels. Leave the grease in the pan.
2. Toss the potatoes in the pan and fry them up in the bacon grease. Add lots of salt and pepper to taste. Take them out and put them on the plate. If any grease is still in the pan, pour it into the bacon fat jar. Put that in the frigidaire for later
3. Fry up the sausages in the same pan. Put them on the plate.
4. Cook up the ham. Put it on the plate.
5. Put about a quarter cup of butter in the pan. Crack open the eggs. Fry them up in butter (same pan you did the bacon, ham, and sausage in) until they set and start to turn white. Salt and pepper to taste. Flip them over carefully (don't break the yolks). When they're done (it don't take long) slide them onto the plate.
6. Douse the eggs with hot sauce. Butter up the toast. Use this to dip into the egg yolk.
7. Put sugar and half and half in the coffee. Ah, hell, make it cream.
8. Darn, what happened to my french toast and pancakes? I forgot those.

That's good eating right there. (The Tums are for later.)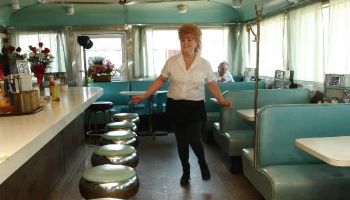 Can I take your order, Hon?


Sunday, April 01, 2012
I suffer from a moderate to severe case of RLS.

Restless Leg Syndrome.

Actually, the L should be for Limb because it afflicts my arms to. When I get to relaxing to go to sleep, my legs and arms have a nearly uncontrollable urge to move. It has effectively eliminated naps for me. And I did love naps.

There is medication for it, but it is moderately effective. The doctor tells me that I may take two pills on nights when it is particularly bad, but I wake up dehydrated and not surprisingly with a headache.

Without the medication, I cannot sleep.

I am drug dependent. And when we returned home from North Carolina yesterday, as I was unpacking, I discovered that I had left my prescription behind.

I bounced around the house all night. Maybe I dropped off but rarely for more than a few minutes at a time. If I allow it to, nights like last night would drive me crazy. Around 0100 I called the insurance company and they assured me that I could get a replacement prescription by telling the pharmacist that it was lost. With that piece of mind, I was able to face the long quiet night with some level of calm.

Even though I picked up my pills this morning after Mass and took on pill and a four hour sleep this afternoon, I am still blotto.

As it is I rarely sleep more than 5 hours a night anymore. She(WMBO) asked me why I go to bed at 12:30 - 1:00 instead of 10:00? "I go at 1:00 because I don't want to get up at 3:00."

Tonight I may risk a 3:00 wake up.


Sunday, April 01, 2012
We must believe in what we are doing when we take on a challenge. Some challenges appear very large, almost impossible. And as I said many times, my motto comes from St Francis of Assisi:

"Start by dong what is necessary, then do what is possible and suddenly you will be doing the impossible."

When I told that to my brother-in-law he responded by saying that if I could do it, then it was, of necessity, not impossible in the first place.

Hmmm.

But what about all those things we call impossible? And that is of course the point. What we think of as impossible ....

These next two quotes address that.

"Impossible is just a big word thrown around by small men who find it easier to live in the world they've been given than to explore the power they have to change it. Impossible is not a fact. It's an opinion. Impossible is not a declaration. It's a dare. Impossible is potential. Impossible is temporary. Impossible is nothing."
― Muhammad Ali

So Ali agrees with my brother-in-law.

"If someone says, 'That's impossible,' your should understand it as, 'According to my very limited experience and narrow understanding of reality, that's very unlikely.' -- Paul Buchheit

So. You want to lose 100 pounds? Impossible? Impossible for you?

Balderdash! In you limited experience, losing 20 pounds was so hard that losing 100 pounds is very unlikely. According to Ali, it's a dare. It's potential. It's a challenge.

And St Francis gives you instruction to do it. Start by doing what is necessary.

Now you know nothing is really impossible. Maybe unlikely. Maybe difficult.

What are you waiting for?


Saturday, March 31, 2012
"I sometimes react to making a mistake as if I have betrayed myself. My fear of making a mistake seems to be based on the hidden assumption that I am potentially perfect and that if I can just be very careful I will not fall from heaven. But a 'mistake' is a declaration of the way I am, a jolt to the way I intend, a reminder I am not dealing with the facts. When I have listened to my mistakes I have grown." ― Hugh Prather

Hugh Prather was a writer, minister, and counselor. His work underscored the importance of gentleness, forgiveness, and loyalty.

I think that this mistake as a betrayal of our own presumed perfection is one of the reasons so many people fail at their weight loss and health and fitness efforts. They think that once they start, if they back slide, or gain back a=some of their lost weight or skip workouts, they feel like they have failed to attain the perfection they are just certain they are capable of.

But none of us is perfect. So we fall.

But a fall is a not a fail.

You're not perfect.
Get over it.
And get back to the gym.
First Page
1
2
3
4
5
6
7
8
9
10
11
12
13
14
15
16
17
18
19
20
21
22
23
24
25
26
27
28
29
30
31
32
33
34
35
36
37
38
39
40
41
42
43
44
45
46
47
48
49
50
51
52
53
54
55
56
57
58
59
60
61
62
63
64
65
66
67
68
69
70
71
72
73
74
75
76
77
78
79
80
81
82
83
84
85
86
87
88
89
90
91
92
93
94
95
96
97
98
99
100
101
102
103
104
105
106
107
108
109
110
111
112
113
114
115
116
117
118
119
120
121
122
123 124 125 126 127 128 129 130 131 132 133 134 135 136 137 138 139 140 141 142 143 144 145 146 147 148 149 150 151 152 153 154 155 156 157 158 159 160 161 162 163 164 165 166 167 168 169 170 171 172 173 174 175 Last Page

Get An Email Alert Each Time TIMOTHYNOHE Posts