| | |
| --- | --- |
| | TIMOTHYNOHE's Recent Blog Entries |


Sunday, March 25, 2012
I missed last night's PhotoPost because I was using one of those personal WiFi devices. They link up to a wireless signal and convert it to a WiFi. If it links to 4G LTE it's nearly as fast as your regular WiFI. If you get a 3G, wow is it slow ... relatively speaking. I think we caught a 3G last night and I just had no patience.

Yesterday, after the half marathon (no picture of that because it was very foggy so I skipped the camera.) I went out to take pictures of this barn.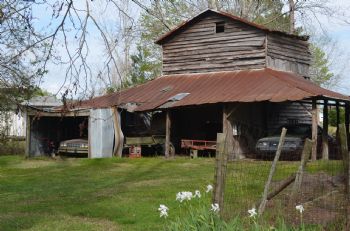 I asked the lady who owned it for permission. She told me it was really just a wreck, but "Help yourself!"

Broken down, indeed, but that was what caught my attention. I kind of like old barns and houses. As I circled the barn, I saw this parked behind the 1980s Ford.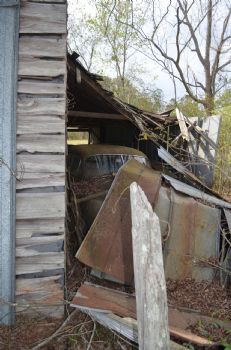 I circled around it and took a couple more shots so I could go home and find out the model and year.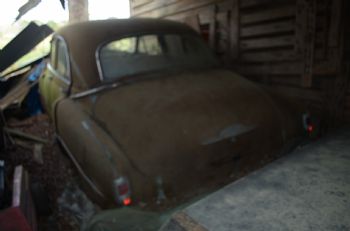 It's a 1952 Chevrolet Deluxe. I actually looks like it might be salvageable. The inside looks like all manner of small varmint has been living inside so that would be tough. I am not a car guy, so don't look at me.

So yeah, it is just a wreck of a barn, but there is treasure under all that wood and tin. If you want to take a lesson from that, you could say that about any of us who are here trying to change our lives, lose weight and get healthy. My saying was that I had to "tear down the shack before I could rebuild the temple."

But in spite of what we look like outside, inside there is hidden treasure.

Maybe I will start collecting old Barn pictures. That would be fun.


Saturday, March 24, 2012
A requirement to join Half Fanatics at the lowest level is to run three Half Marathons or greater in 90 days.

I ran my first of 2012 on 15 January in Tempe AZ. My Second was scheduled for DC on 17 March.

I needed a third before 14 April and I would not be available on the Palm Sunday or Easter Sunday (3/31 - 4/8). I was looking at things on 4/14 because that was it. Then I saw the MCAS Cherry Point Half on 24 March. And bonus! It was only $25. Double Bonus! We have a house just 15 minutes from Cherry Point.

So we took a mini-vacation and I ran this morning.

My Brother in law who lives across the street from our house picked me up at 6:00 and got me on base with minimum hassle. He is a retired Marine.

When we left the house the sky was clear and deep and star strewn. By the tie we got to the venue, we were in a dense fog. They were calling for thunderstorms so I guess fog was a step up.

The race took off as scheduled, but it being so foggy, I handed my camera off to my BIL since there would be no good pictures.

As the course wove its way across MCAS Cherry Point, it was amazingly FLAT. What was better still was the irresistible urge to keep up with the young Marines. At the halfway point, I was at less than one hour. I entertained the momentary fantasy that I would run a sub 2 hour half. As I passed the 15k mark, this much was clear: I was going to get a new PR.

AS I approached the finish, the clock read 2:10 so I sprinted. I did not want it to turn 2:11. I wanted a PR. It seemed and odd time since my timer had just said 13 miles two hours fifteen second. I had forgotten that the wheelchair racers took off 5 minutes ahead of the ret of the field.

I looked at my RunKeeper and I could not believe my eyes. Last week in DC I ran a PR of 2:10:52. Seven days later I was in at 2:06:40!

There is something to be said for trying to keep up with the kids.


Friday, March 23, 2012
This picture is a little out of focus because I took it on the run. But it was a sign spotted in one of my recent races.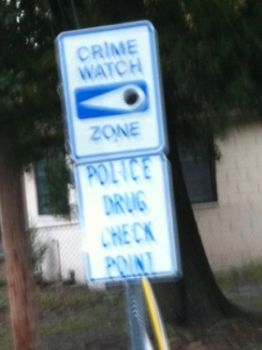 Hmmm. Was this course well checked out beforehand?


Friday, March 23, 2012
After I got injured and I just got so tired of not maintaining my training, I asked She(WMBO) if I could engage a trainer to help me get back on track. Specifically, her brother-in-law who is a professional trainer. He is our age so he understands the special concerns of people in their late 50s.

She surprised me by suggesting that she herself had been trying to figure out how to ask me if I thought it was a good idea for HER to engage his services.

So now between us we have him for 5 session a week. She goes to the YMCA at 5:30 Monday, Wednesday, and Friday for her 6:00 - 7:00 session. I bust out the door at 6:30 to run to the Y (only 1.5) for my 7:00 - 8:00 session on Monday and Wednesday. Friday is my long run day.

Dave has been working on my flexibility in my shoulder and has been working in other strength training. It has been a struggle. I often feel like an old man because I cannot lift 10 pounds properly.

She has added Tuesday and Thursday mornings to her program to work out without Dave. And here we are at Newport NC. The nearest Y is almost 30 miles away in New Bern. This morning she and I went up to workout. It is a surprise to see her so faithful to an exercise program. And While I was struggling with 10 pounds on my left side, she was swinging around a 15 pound kettle ball like it was nothing.

She made me proud of her.


Thursday, March 22, 2012
When we come to visit Newport, NC, we like to go to Atlantic Beach about 20 minutes away. It is still a nice beach, not at all Myrtle Beach, Atlantic City or Ocean City. I hope it stays that nice. We have a favorite restaurant. The Crab Shack doesn't look like much from the outside, but the food is good and the atmosphere is nice. Service is a bit slow, but when you are on vacation and with people you like that seems to not matter as much.

The weather has continued to hold good this week. It was around 80 degrees today, so we sat outside on the deck and enjoyed the sound of the surf and the sunset. We did have some unexpected guests: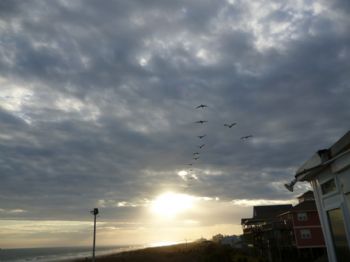 We had several flights of pelicans go by. This was one of the smaller ones.



This fellow was on the roof right behind us. He was very interested to see if we were going to drop anything.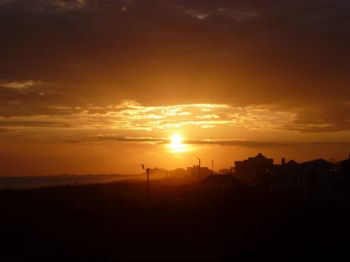 Emerald Isle, NC runs east-west so the Atlantic Ocean is to the south. One end gets the sunset and if you turn around,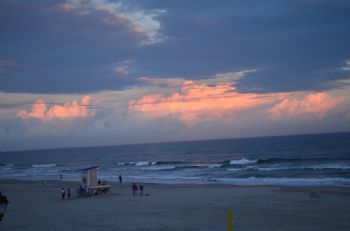 You get treated to that sunset reflecting off the thunder clouds out at sea.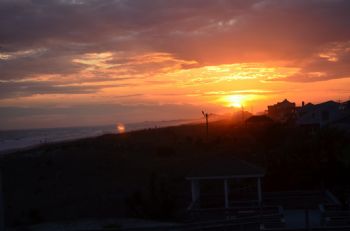 Finally the sun dipped below the clouds on the horizon and it started to get dark and chilly. It was time to go inside and enjoy some coffee for dessert.
First Page
1
2
3
4
5
6
7
8
9
10
11
12
13
14
15
16
17
18
19
20
21
22
23
24
25
26
27
28
29
30
31
32
33
34
35
36
37
38
39
40
41
42
43
44
45
46
47
48
49
50
51
52
53
54
55
56
57
58
59
60
61
62
63
64
65
66
67
68
69
70
71
72
73
74
75
76
77
78
79
80
81
82
83
84
85
86
87
88
89
90
91
92
93
94
95
96
97
98
99
100
101
102
103
104
105
106
107
108
109
110
111
112
113
114
115
116
117
118
119
120
121
122
123
124
125 126 127 128 129 130 131 132 133 134 135 136 137 138 139 140 141 142 143 144 145 146 147 148 149 150 151 152 153 154 155 156 157 158 159 160 161 162 163 164 165 166 167 168 169 170 171 172 173 174 175 Last Page

Get An Email Alert Each Time TIMOTHYNOHE Posts