| | |
| --- | --- |
| | TIMOTHYNOHE's Recent Blog Entries |


Sunday, March 18, 2012
It's the Nation's Capital. It's supposed to stir a little something in us and I must say Pierre Lefant did a pretty good job as the first Architect of the Capital. There are so many good sights and sightlines in DC.

Early on in the race we were able to catch a sight of the US Capitol dome right in front of us.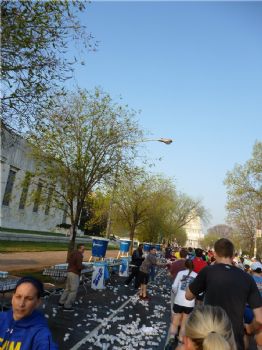 Another shot of the Capitol as we made the turn onto Constitution Avenue.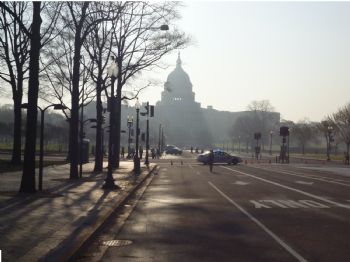 We get so used to seeing the Capitol and the White House but how often do we really see the Supreme Court? It is almost buried behind the Capitol, but we ran right past it's back door.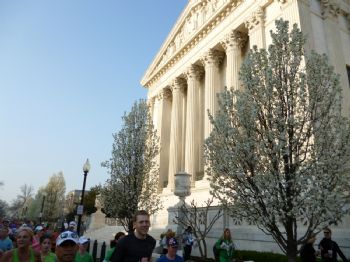 But of all the monuments and government buildings we passed, nothing brought a smile to my face as much as this one did: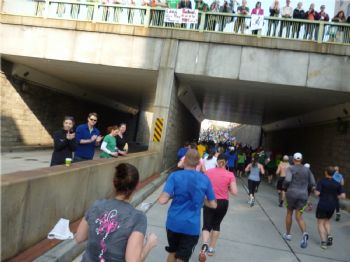 There are two banners at the top on the overpass. The one on the right I saw first. It asked "Rachel, will you go to Prom with me." Cute.

The one on the left ... well, it got to the romantic in me.

"Lara, will you marry me?"

Oh, that wasn't what got me.

A woman I had been running next to and briefly talked to yelled "Oh my God!"

"What's the matter?" I thought she was hurt.

"I'm Lara!"



Sunday, March 18, 2012

Half marathon today in Washington, DC. Beuatiful day for it, though I tried my best to mess it up. I still set a PR at 2:10:52.

I apologize for the syncing problem. iMovie is not working as it should and hasn't since iLife '11 came out. So you do not have to look; you can just listen.


Saturday, March 17, 2012
I ran the Rock 'n' Roll USA Half Marathon in Washington, DC today. Before any event like that, I lay everything out so my morning goes as smoothly as possible. My video blog tell you just how not smoothly it went ... late out the door, forgot my gadgets, took the wrong exit.

All in all, an inauspicious start for the day.

But the rice cooker was set up with Oatmeal. The crock for the slow cooker was set up with corned beef and cabbage and in the fridge. My clothes were laid out.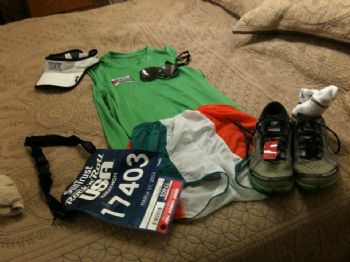 Picture taken on my iPhone.

Dig the shorts. It being St Patrick's Day, I purchased and wore Irish flag shorts. They tell you to take your new gear for a test drive before the event so you know where it binds or chafes. Yeah, well, I didn't do that with these shorts. Suffice it to say, I am walking funny tonight and not because of muscle soreness.


Friday, March 16, 2012
... and I will be running the Half Marathon. The weather looks perfect ... in the low to mid 60s to start never getting above 73F. Light winds. Humid, yes, but this is the Chesapeake. It's always humid is the default condition.

When I walked around yesterday, I did get to see some good stuff. I was just miffed that there was so much construction/repair going on. It was hot yesterday ... 80 - 85. So mayhaps I was a bit cranky when I got home.

I did get a couple of neato-torpedo pictures.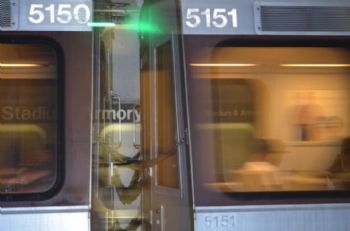 This is exactly the effect I wanted as the train went by.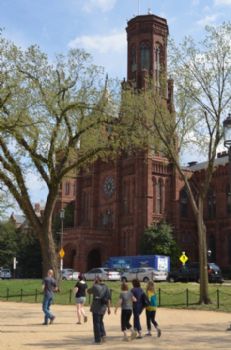 Since I was a little kid I have loved the Smithsonian Castle. They used to have rockets out back. Those have been moved to Air and Space and to Goddard Space Flight Center in Beltsville, MD.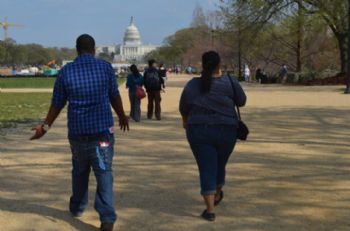 So I had to take this one to show Mike how stupid it looks to wear your pants so far off your butt. He only commented on the woman on the right, and not positively. Big dummy.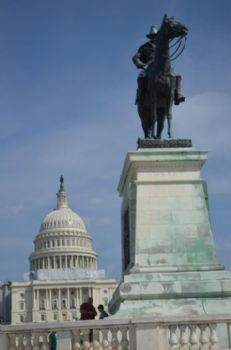 Statue of Grant stands right in front of the Capitol. Pigeon was sitting on Grant's hat. Pretty sure I missed a letter from the third word of that last sentence. I thought it was a nice shot.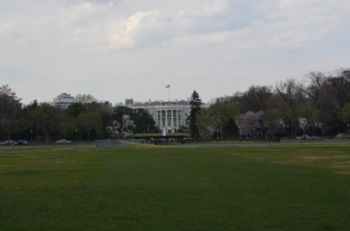 This is about as close to Malia and Sasha's house as we will get.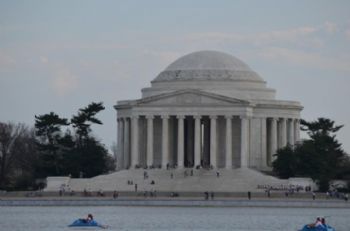 The Jefferson Memorial. Always like this one too.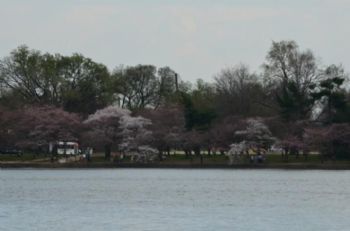 Some of the Cherry Blossoms are blooming already.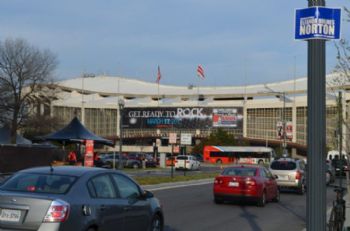 The sign on RFK Stadium reminds us of the reason for the season.

ROCK 'N' ROLL!

Run, baby, run!


Thursday, March 15, 2012
I haven't really sorted through nor edited my pictures from today yet. Some ore crokked, some are terrible, but here are a few.

I went to the Expo at the DC Armory: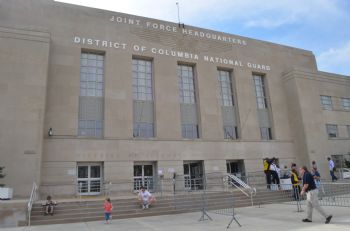 This is the first venue that the Beatles played in the USA.

I walked about bought some stuff then headed for the Metro to ride downtown. The belly the beast (not a big lover of big gummint here) as it were.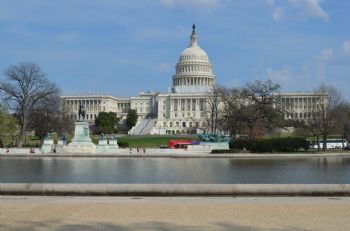 But you know what? They should have pasted a sign: "Closed for repairs." The Mall was dug up. They better get that fixed before January because somebody is going to want about 250,000 of their closest friends over on January 20, 2013.'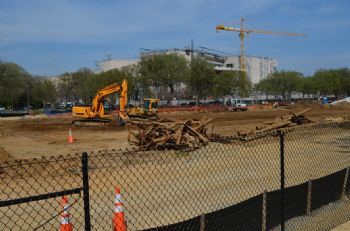 The Washington Monument remains closed from earthquake (!) damage fro August.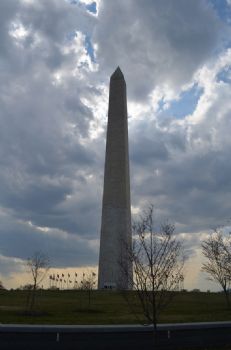 The Reflecting Pool between Washington Monument and Lincoln Memorial is all tore up.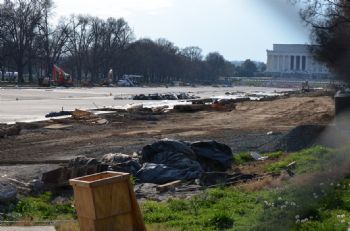 Fortunately, I live nearby so I can easily come back down later.

But gee whiz! Try to clean up a little, we have guests!
First Page
1
2
3
4
5
6
7
8
9
10
11
12
13
14
15
16
17
18
19
20
21
22
23
24
25
26
27
28
29
30
31
32
33
34
35
36
37
38
39
40
41
42
43
44
45
46
47
48
49
50
51
52
53
54
55
56
57
58
59
60
61
62
63
64
65
66
67
68
69
70
71
72
73
74
75
76
77
78
79
80
81
82
83
84
85
86
87
88
89
90
91
92
93
94
95
96
97
98
99
100
101
102
103
104
105
106
107
108
109
110
111
112
113
114
115
116
117
118
119
120
121
122
123
124
125
126
127 128 129 130 131 132 133 134 135 136 137 138 139 140 141 142 143 144 145 146 147 148 149 150 151 152 153 154 155 156 157 158 159 160 161 162 163 164 165 166 167 168 169 170 171 172 173 174 175 Last Page

Get An Email Alert Each Time TIMOTHYNOHE Posts