| | |
| --- | --- |
| | TIMOTHYNOHE's Recent Blog Entries |


Friday, March 09, 2012
Better late than never.

We here in the East have all noticed how mild this winter has been. Regular visits to the 60ļ temperature range. The joke about groundhog day was that he saw his shadow which meant six more weeks of winter ... if we ever got one. Or six more weeks until winter. We had a little snow here in Baltimore, couple of inches all winter, but not because it was dry. Lots of rain.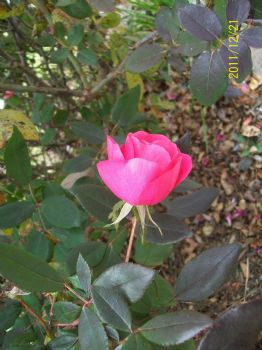 I saw this beauty on my rose bush on the first day of winter. We never had that before. And it wasn't just the one, just the best one.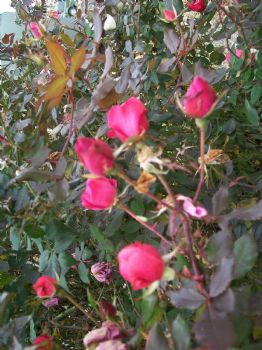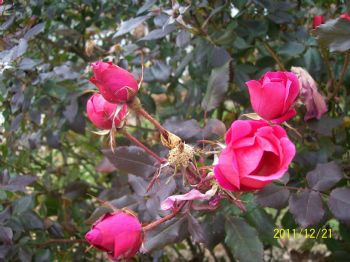 Over the course of the winter we had buds periodically, And of course I took pictures of the Daffodils. I understand the Cherry Blossoms may be out for the Rock 'n' Roll Marathon next Saturday.

I just hope that it doesn't mean a hot summer.




Friday, March 09, 2012
I saw a t-shirt, and I forget where, that said, "If your training has not affected your love life, you're not training enough."

And at one point last fall as I was coming up on the Savannah marathon, I was asked if my early Saturday morning runs (0500) were going to be a permanent thing. And when She(WMBO) asks a question like that, the answer is expected to be "No." Because she explained that I was ... ahem ... training enough.

Now my long runs are on Friday. I mean what rule says they HAVE to be on Saturday or Sunday? And everyone is happy. Happy wife, Happy life as the comedian Jeff Allan says.

This week, Active.com posed this question on their Facebook page: "To balance my life and unwind, I make sure to _______ regularly:" Then they linked this article ow.ly/9unpi How to Create a Balanced Life -- Do you suffer from compulsive training? Here are two key strategies that will help you create a better balance.

Go ahead and read it, I'll wait here for you to come back ..............

And do you know what the number one response was? Run. Poop was popular. So was swim, bike, lift, exercise, yoga, etc. And the least cited was something on the order of read a good book, play with the kids, or my response "Do nothing, watch a movie, read a book ..."

Clearly the commenters did not read the article.

How often do we get our lives so wrapped around the axle on something like running or our weight loss? We let our lives become ruled by it. I for one became an absolute bore about my Weight Watchers when I was losing and immediately after. Then I turned to running and I did it again. I had to learn to read people's eyes glazing over.

I have been working hard to develop other interests. Playing my music again. Photography. Umm, what else?

Ok, still working on it. But I do nothing very well. And as I mentioned earlier this week, I have a pile of project just waiting for me to get all better. (Soon, honey, I promise.)

But it's a question we need to ask ourselves now and again. What are we doing in our training (and our weight loss journey is a form of training) to balance our lives. We need to keep that question right up there to remind us that there is more to life than counting every nibble and nosh. (Don't stop counting.)

So what DO you do regularly for balance in your life?


Thursday, March 08, 2012
I was in Baltimore City one evening and this merchant's sign caught my attention: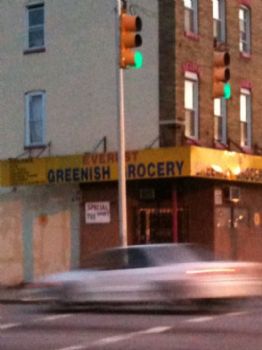 It is on the southwest corner of the intersection of 25th Street and Greenmount Avenue.

So what exactly is a Greenish Grocer? I mean, I know what a Green Grocer is, but what if he's only kinda green, maybe a little yellow or worse a little brown and soft? But only a little. Is he a greenish grocer.

By the way, the word grocer is an interesting word. A grocer is a bulk seller of food. Beginning as early as the 14th century, a grocer was a dealer in edible dry goods such as spices, pepper, sugar, and (later) cocoa, tea and coffee. These items were bought in bulk, or by the gross. This person was in French a grossier or in English a grosser. Since English spelling was not yet standardized, it became grocer.

(I got a million of them.)



Thursday, March 08, 2012
DISCLAIMER:
I boldly ripped this post off from:

www.happyplace.com/14697/the-most-in
sane-letter-ever-written-by-a-child-to
-a-tv-weatherman

But it was too funny not to share.

Without preamble: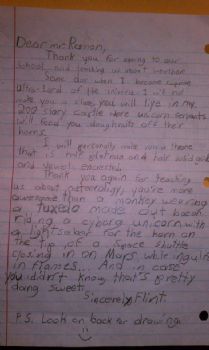 Dear Mr. Ramon,

Thank you for coming to our school and teaching us about weather.

Some day when I become supreme Ultra-Lord of the universe I will not make you a slave, you will live in my 200 story castle where unicorn servants will feed you doughnuts off their horns.

I will personally make you a throne that is half platinum and half solid gold and jewel encrusted.

Thank you again for teaching us about meteoroligy, youíre more awesome than a monkey wearing a tuxedo made out bacon riding a cyborg unicorn with a lightsaber for a horn on the tip of a space shuttle closing in on Mars while ingulfed in flames... And in case you didnít know, thatís pretty dang sweet.

Sincerely, Flint

P.S. Look on the back for a drawing.




-------

If Flint grows up to be a local TV weatherman, we are immediately packing our bags and moving to that city. Think this kid would settle for just putting a pair of Ray Bans on the sunshine graphic? His sunshine graphic would ride a harley while juggling rescue puppies. Every time a nice day was predicted we'd probably get to see his sunshine graphic disembowel a raincloud graphic with the tusk of a narwhal. In short, a weather report totally demanding that you relocate your family immediately. Oh, and below is Flint's drawing from the back page: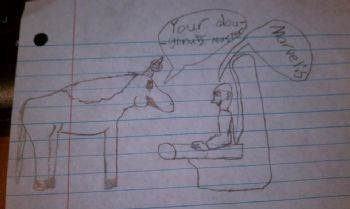 Unicorn: Your doughnuts, Master
Man in Chair: Marvelis




Wednesday, March 07, 2012
I am not going to say I am all better. But I will say that for the third day in a row I haven't run to the Aleve bottle first thing in the morning.

I had rotator cuff surgery on my left, dominant, shoulder. Before surgery it hurt and was getting progressively worse. By about two weeks before the operation, I was popping Aleve two at a time three times a day.

In the nearly seven weeks since I went under the knife, I have been hurting. I have to think before I reach for something because after all I am left handed. Lucky me I throw right handed so I still have some function.

Three weeks ago, week four post, my doctor told me he wanted me to baby the arm for another month. Really? No rehab until he sees me on March 22. I was wasting away. Oh, yes I was runnng, but that was all. Technically there was nothing stopping me from doing core and lower body strength training, but even that was uncomfortable. It was very easy to just say skip it.

My brother-in-law is a professional trainer. I asked She(WMBO) if I could retain him so I could get someone to guide me in my recovery. She thought it was such a good idea, she hired him for both of us. I see him two days a week; she sees him three.

Instead of working me on the lower and core, he started right in on rehab. It really hurt the first two session, but this Monday I had a breakthrough. I can now lift my arm above my head ... a little ... not for long ... I finally feel like I am on my way.

Today I actually used both hands to wash my hair. I am still not ready for push ups or pull ups, but I can now see them happening. Soon.

And maybe once I get farther down Recovery Road, I can start to drop off some of these pounds I picked up in the last three months. I figure that if I am not sitting around feeling sorry for pooooooor Tim, I won't be so apt to nibble and nosh.

Spring is coming and I have a list of project that I was going to work on this winter. I may be getting to them before summer after all.
First Page
1
2
3
4
5
6
7
8
9
10
11
12
13
14
15
16
17
18
19
20
21
22
23
24
25
26
27
28
29
30
31
32
33
34
35
36
37
38
39
40
41
42
43
44
45
46
47
48
49
50
51
52
53
54
55
56
57
58
59
60
61
62
63
64
65
66
67
68
69
70
71
72
73
74
75
76
77
78
79
80
81
82
83
84
85
86
87
88
89
90
91
92
93
94
95
96
97
98
99
100
101
102
103
104
105
106
107
108
109
110
111
112
113
114
115
116
117
118
119
120
121
122
123
124
125
126
127
128
129
130 131 132 133 134 135 136 137 138 139 140 141 142 143 144 145 146 147 148 149 150 151 152 153 154 155 156 157 158 159 160 161 162 163 164 165 166 167 168 169 170 171 172 173 174 175 Last Page

Get An Email Alert Each Time TIMOTHYNOHE Posts