| | |
| --- | --- |
| | TIMOTHYNOHE's Recent Blog Entries |


Wednesday, March 07, 2012
I started to try one of those free online classes to use a image manipulation programs called GIMP. It's a lot like photoshop but its FREEE. One assignment was to find a oicture and ake it old.

I took this picture of a 1938(?) Kerry Tourer on the Ring of Kerry. It being an old car, I figured that would be a good subject for aging a picture.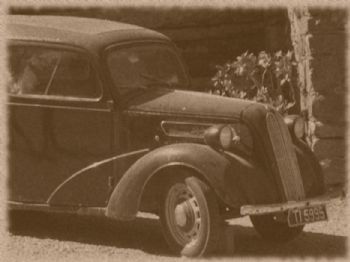 Tuesday, March 06, 2012
Somtimes you get the best pictures quite by accident.

We were in Westport, Co. Mayo, Ireland, walking along the The Quay when I wanted a photo of the sheep on a hill across Westport Harbour. The evening was falling fast, so I didn't have much light. I was using my son's Olympus DSLR camera on the automatic mode. I knew that what I got was all I was going to get.

And this is what I got: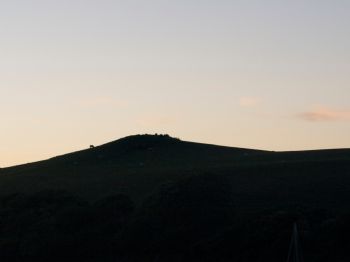 See the little bump on the left side of the slope about two-thirds of the way up the hill? That is a sheep perfectly silhouettted against the sky. (So irritating that they reduce the size of our pictures so much. Trust me, it's there. )

I nearly deleted it from the camera bcause it came out so dark, but when I looked at it on me computer it was one of those bonuses.


Tuesday, March 06, 2012
For the runners out there ...

Marine Corps Marathon open online registration at 0900 Wednesday. That will be $92 to run around Washington DC in my skivvies two days before Halloween for four and a half to five and a half hours.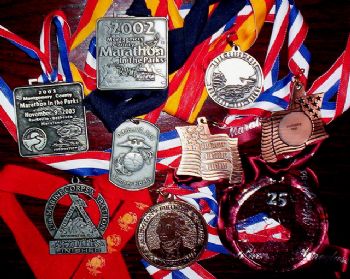 It is the most prestigious event in our area. And it sells out in less than a week.

The problem I am having is this. After Savannah I promised myself no more full marathons. They were too much work for not enough return and they were really quite BORING! About mile 16 I start wondering "Will this never end?"

Then I modified my stance because I wanted to run the Williams Route 66 Marathon in Tulsa, OK. Why? I don't know. They have a half. I could run that. But something about their "Detour to the Center of the Universe" intrigued me. Makes it 26.5; an UltraMarathon.

"Why do we run twenty-six point TWO? Because twenty-six point THREE would just be crazy."

So I figure, one marathon a year. When I found out that Rock 'n' Roll Dublin is 5 August 2013, I decided that Dublin could be my 2013 full marathon. (And there I am changing my post-DC-Hot-Chocolate-15k-disaster promise of no more corporate races after 2012.)

Last year my goal was Savannah, but I ran in Baltimore because it was three weeks before and I needed to "go the distance" that week anyway, so why not?

I could use the same rationale to justify Marine Corps.

On the other hand: I have (1) Philly RnR Half on 9/16, (2) Wilson Bridge Half on 10/7, (3) Baltimore Half on 10/13, (4) SanAntonio RnR Half on 11/11 and (5) Tulsa/Route 66 Full on 10/18. That seem like enough in just 63 days.

On the other hand: I could squish MCM on 10/29 between Baltimore and SanAntonio as a training run before Tulsa. Right? Keep it slow. Don't go all OooRah SemperFi GungHo.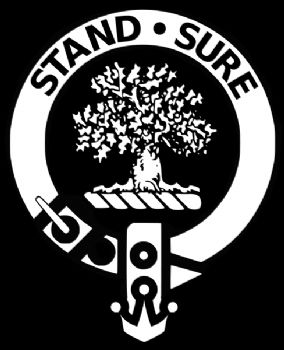 If I follow the Anderson Clan motto "Stand Sure" (Mom is an Anderson) and stick to my modified promise of only one full a year, I would skip MCM in 2012 then either go all the way to Ireland just to run a half marathon and run MCM in 2013 or wait until 2014 for MCM.

I'll be 60 in 2013, 61 in 2014 and I expect to still be kicking it but get on in years (Age is just a number.). Marine Corps Marahton is running it's 37th this year. It will still be there.

But there is still a little piece of my brain stuck at age 16 ... if it doesn't happen NOW it never will happen.


Monday, March 05, 2012
When we were in Ireland in June 2010 we visited a pub in Buncara, Co. Donegal. It is actually north of Northern Ireland. So in the summertime, sunset is very late. It was about 10PM before it got dark.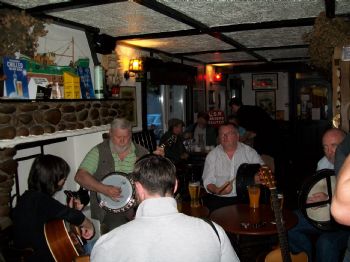 The evening we were there, the Drive Inn had live music. This photo is of some of the band that was playing that night. It wasn't so much a band as it was some locals who came over to play together. A good time was had by all.

If you look in the background in the center you will see my beautiful bride, She(WMBO).

I told you it was about 10PM. It was also Thursday night. In our house, Thursday is pizza night. But the boys including our son-in-law were working on a project outside all day. And it was hot here. Around 10:10 local time we got pictures on our phones of the progress on the project. I texted back, "Did you guys have pizza tonite?"

"No. we were busy. Can you order it?" That made me LOL. Then I thought, well why not?

So here I am in the north of the North of Ireland and I went online to my PapaJohns app and ordered pizza to be delivered to Catonsville ... 4000 miles away.

Twenty-five minutes later, my phone rang. "Dad! The pizza guy just arrived. Did you order for us from Ireland?"

Ah, the wonders of the Internet.

P.S. I do not want to hear Europeans tell me how obese Americans are. Those guys are not atypical of what you see in Ireland and England. I can't say for the Continent, but ...


Sunday, March 04, 2012
I was at Mass this morning and I noticed a fellow in the same pew as me and he was not able to use the kneeler without resting his behind in the edge of the pew.

About five years ago St Augustine's Church did a renovation. When they installed the new kneelers, they put them in a couple inches closer to the pews than they had been before. As a result, I was squeezed to kneel properly. I finally gave in and rested my butt on the pew behind me. As I lost the weight, it was as if they readjust them to the old position. Of course I knew it wasn't so, but that's how it felt.

------

Friday evening, Patrick and I went to the optometrist. When we walked in, we were handed new insurance information and I discovered it had been almost 4 years since I last saw the eye doctor. Last time was 2 April 2008. That made me smile because my date of joining Weight Watchers was 19 April 2008. It is a special day to me.

Then the doctor came out and she smiled and greeted Patrick, comment how much he had grown, etc and basically looked right past me. When she did see me, she gave me a funny look. "I had an image in my mind of what you look like, but I must have you mixed up with someone else." I pulled out my phone and showed her my before picture. "That's the you I remember!"

That made me smile.

I never get tired of that feeling.
First Page
1
2
3
4
5
6
7
8
9
10
11
12
13
14
15
16
17
18
19
20
21
22
23
24
25
26
27
28
29
30
31
32
33
34
35
36
37
38
39
40
41
42
43
44
45
46
47
48
49
50
51
52
53
54
55
56
57
58
59
60
61
62
63
64
65
66
67
68
69
70
71
72
73
74
75
76
77
78
79
80
81
82
83
84
85
86
87
88
89
90
91
92
93
94
95
96
97
98
99
100
101
102
103
104
105
106
107
108
109
110
111
112
113
114
115
116
117
118
119
120
121
122
123
124
125
126
127
128
129
130
131 132 133 134 135 136 137 138 139 140 141 142 143 144 145 146 147 148 149 150 151 152 153 154 155 156 157 158 159 160 161 162 163 164 165 166 167 168 169 170 171 172 173 174 175 Last Page

Get An Email Alert Each Time TIMOTHYNOHE Posts