Saturday, March 03, 2012
There is something liberating about getting "old."

There was a time when I actually cared about what you thought.

Now, not so much.

After I lost my keys, then my wallet, then my keys again, then ... you get the picture ... I started to use a fanny pack. Now I know where my stuff is.

And it's a big one! I used it in Ireland because we were touring and I needed stuff like my pass port, batteries, water. But once I got home, I didn't require it any more.

Wallet in pocket.
Passport put away.
Keys over there somewhere.
iPhone two floors away with the ringer off since Sunday or maybe in the car.

The other night one of the boys asked for some money (GET A JOB!) and I told him to go get my purse.

I said it out loud just like that, "Go get get my purse."

"Dad!"

"What?"

"It's not a purse. Men don't carry purses."

"Shut up and get my purse if you want my money which I don't have much of any way. Mom keeps me poor so other women won't be interested in me."

"Dad, you carry a purse. You call it a purse"

I glare.

"I'm just sayin', lack of money isn't the only thing going to keep other women away. Pretty sure you carrying a purse is chick repellant enough."

"Shut up and get a job."

So, you got a problem with me carrying a purse?

Yeah, well, at least I know where my keys are. I think.


Friday, March 02, 2012
Last night I posted a photo of the moon. Someone asked why it too me 108 exposures to get the one I posted. Let's just say it was an exercise in how to use the film speed, shutter seed and aperture settings.

Certainly another world.

Earlier this week, I went to the Natioanl Aquarium at Baltimore's Inner Harbor. I took this photo with my iPhone. These creature are also from another world that is very foreign to us and they look it.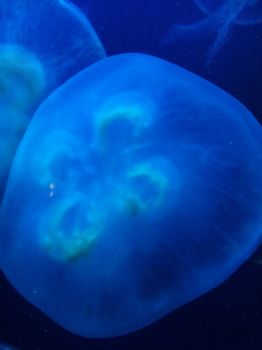 If you ever come to Washington, make your way up to Baltimore to see the Aquarium. And feel free to spend your money on other things in town too! Just FYI, BWI Airport is less crowded and not as confusing as Dulles Airport and I think it's and esier drive to DC.


Friday, March 02, 2012
I stepped out the back door this morning ready for a run as awesome as yesterday's ...

... and I did an about face and pulled on some warmer clothes.

It's not that is was cold. It was cooler than yesterday by about 20ºF but that still made it a pleasant 40 degrees. It was breezya and damp, clammy with the approaching weather.

OK, take two.

I stepped out the back door this morning ready for a run as awesome as yesterday's dressed somewhat more warmly and I started my run. For some odd reason, the rhythm that just clicked yesterday was not there today. Not after a quarter mile. Not at a mile.

After two miles I decided to ditch the run walk pattern as I had yesterday and see if that worked any better. I went for three miles non-stop and all I got for it was hungry shakies.

I don't get them when I eat first. And I ate first today; oatmeal , orange, a slice of ham (yes on a lent Friday ham. So sue me.). I reached into my belt and took out the Clif bar and ate that.

Another three quarter miles and I was still hungry. I still had 9 miles or so left on my run. So I pulled the plug and made the turn for home. That meant I was still three miles away!

I didn't want to run any more. But I was sweaty and it was cool and breezy so I had to get going.

Then I got home. I just pigged out! I busted my Calories today. By a lot! ANd I still didn't reach my goal for fiber. WHich means that what I ate wasn't that good for me.

Oh well, we all have days like that. At least I was out on the street for nearly two hours so my calorie bust wasn't SOOO bad. But it was bad.

Tomorrow is coming.
First Page
1
2
3
4
5
6
7
8
9
10
11
12
13
14
15
16
17
18
19
20
21
22
23
24
25
26
27
28
29
30
31
32
33
34
35
36
37
38
39
40
41
42
43
44
45
46
47
48
49
50
51
52
53
54
55
56
57
58
59
60
61
62
63
64
65
66
67
68
69
70
71
72
73
74
75
76
77
78
79
80
81
82
83
84
85
86
87
88
89
90
91
92
93
94
95
96
97
98
99
100
101
102
103
104
105
106
107
108
109
110
111
112
113
114
115
116
117
118
119
120
121
122
123
124
125
126
127
128
129
130
131
132 133 134 135 136 137 138 139 140 141 142 143 144 145 146 147 148 149 150 151 152 153 154 155 156 157 158 159 160 161 162 163 164 165 166 167 168 169 170 171 172 173 174 175 Last Page