| | |
| --- | --- |
| | TIMOTHYNOHE's Recent Blog Entries |


Sunday, February 26, 2012
We adopted our two youngest children locally through a Washington area agency, Adoptions Together. They were both infants and are about 13 monthes apart. Patrick is on the left, he is the older of them. Mike, whom you may have met before in posted photos is on the right.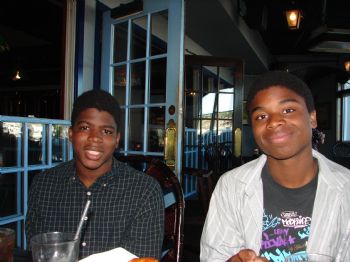 I was their stay at home Dad and homeschool teacher. I am guessing that means I am now retired.

They are not related by blood so one would not expect them to be in anyway alike. But my goodness, I do not htink you could find two more opposite people if you went out looking for them.

Patrick is not excatly antisocial, but he rarely socializes and spend almost all his time at home and in his room. I wish he'd get a girlfriend and go out once in a while. I don't think he's ever had a real girlfriend.

Mike is almost never home and can go for days without using his own bed. Mike is over 18 so as long as he isn't spending his nights as a guest of Baltimore County, I suppose he's ok. But Mike has the ladies flittering around him like moths about a flame and that worries me on the opposite end of the scale.

Where Patrick is studious, Mike get awful grades. Where Mike won't shut up, Patrick won't speak up. In just about every way they are opposites.


Sunday, February 26, 2012
Several years ago, She(WMBO) was entertaining a business partner from France on a visit to the US. We went to dinner several times, I took his sons skiing, (though to be honest Ski Liberty, PA is a poor joke when one is used to the French Alps), and we visited Washington DC where we were all very impressed with relatively new Native American Museum on the Mall.

When we would get together for meal, these visitors from Europe would mention that they were vegetarians, then turn around and order fish. Not wishing to be a bad host I privately scratched my head and moved on to the new thing.

When we visited Ireland, menus there would be marked with a little red V for vegetarian and a little green V for vegan. SImple enough, right? Red V allows eggs, dairy, honey, etc and Green V does not. Right?

Wrong.

Every fish dish had a Red V. Shrimp is a vegetable. Who knew? Certainly not my biology teacher.

So, fish is not meat?

When I ask that question I am usually answered in a tone that suggests that I am rather slow on the uptake, "That's means they're pescitarian."

What does that mean?

I like chicken. If the only animal flesh I eat was chicken could I be hip and call myself a pollotarian?

Or only beef and be a bovinarian?

To me that sounds like an invented word by people who want to be all hip and vegetarian but don't want to give up seafood.

Look, if you want to eat seafood, enjoy. Just don't count yourself as a variety of vegetarian.

The same thing applies to you "flexitarians."

You aren't vegetarians.

You are just like me.

An omnivore.


Saturday, February 25, 2012
On 29 May 2011, I took this picture.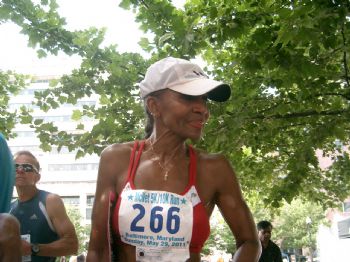 This woman is one of those people I look to as an inspiration. She is Ernestine Shepherd, age 75, the Guinness Book of World Records Oldest Female Bodybuilder.

Please read this Washington Post Article which was published two days before I took this photo

tinyurl.com/3lfuv99

"'Age is nothing but a number,' Shepherd says assuredly into the microphone. She has been featured in Essence, on the 'Today' show and local television in Baltimore." -- from the Washington Post article.

She runs at many races that I run at. The first time I met her, another runner pointed to her across the room and asked me, "How old do you think she is?"

Realizing that this was probably a trick question, I made a guess and added five years. "She is a beautiful woman. I don't know sixty --- five?"

"Try 74."

We did meet and talk that day and now when we see each other at events we don't fail to talk.

She is an inspiration to me. I think she is in a very small class that includes Diana Nyad (62), the long distance swimmer who recently attempted to swim from Havana to Key West, and Fauja Singh (100) who ran the Toronto Marathon on 12 October 2011 to become the oldest runner to complete a full marathon.


Friday, February 24, 2012
It would appear that yesterday's video post of the Governor messing up the National Anthem didn't go over well. Just FYAI (For You All's Information) that is not a YouTube video. I took it on my Nikon about the third day I had it.

But if the audience doesn't like it, you can't fight 'em.
---------------------------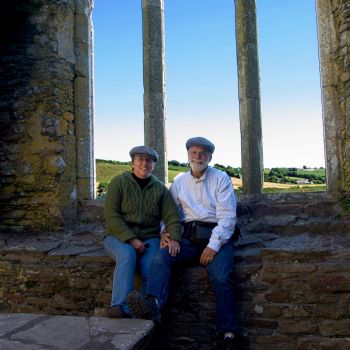 In June 2010, She(WMBO) and I went to visit Ireland with a couple of friends of ours. A good time was had by all. Every where you go inIreland you find ruins of castles, churches, abbeys, you name it.

Such a nice country, too bad they can't take of the nice thing they have.

It's a joke! Relax.

This photo was taken in the ruin of the Timoleague Abbey near Baltimore, Co. Cork.


Friday, February 24, 2012
... but that would be an insult ...

... to the Philistines!

The love of my life, my beautiful bride of 38+ years, the One whom I teasingly refer to as She (Who Must Be Obeyed) has no sense of adventure in food.

I can understand why she might not like nigiri sushi. Raw fish and all, when it is pounded into your head all your life that you must cook your food thoroughly.

It took me five years before we had ham in our house and another more year to get uncured pork past the front door. "You get worms from pork." That was one of the mantras of her mother. Except, trichinosis has not been a problem in pork in about 75 years. In the last 25 years or so there have been six case ... not six a year, six total cases, all from undercooked game. But even to this day juicy pork chops are not served in my house. The are so dry they are not worth serving.

Quinoa was a major leap of faith for her last year. And if she sees the pepper shaker on the counter while I am cooking, "Oh my God! It's too hot." Whether I used hot spice or not. Sweet red peppers? Too hot. "It's red!" So's a tomato! She once told me a dish was too salty. I told her I didn't use salt. "It's too salty any way." But I didn't use any. "Well use less next time," she told me as she was throwing out the dish.

Tonight I put the only fish she likes on the dinner table. Salmon! That's it. No tilapia ("too fishy!" really? Tilapia is like fish tofu.) No catfish ("too many bones" except there aren't any in the filets I buy.) No trout ("Look! A bone. I can't eat this." Sigh.)

I have been to Alaska and I have had wild salmon right out of the stream. Oh. My. God. The best I can do here is salmon marked Alaska Wild Caught.

I put it on the table tonight.

"The color is all wrong."
"What?"
"Salmon is pink."
"This is wild caught. It's red."
"It's not done."
"It's done."
"Salmon is not supposed to look like that. Cook it more."
Muttering and sputtering all the way, I stormed into the kitchen and practically threw it into the microwave, setting it for 3:00 minutes. It immediately started the blow off chunks, a pretty sure sign it was done. But ...

I let that go on for about 75 seconds, scooped up the exploded remains and put them on her plate.

"There. If it's not done now it never will be."
"It's still red."
"That's what color salmon really is. Pretty, sure I can't cook it to any other color except black."
She tasted a piece that still looked somewhat like fish. She made a face.
"It tastes funny. And it's dry."

That red spot on my forehead is from me banging my head against the table.

Next time I get salmon I will buy two types. I will get Alaska Wild Caught and I will get some Atlantic Farm Raised with all its antibiotics, PCBs, heavy metals, excessive fat, and no flavor.

She(WMBO) should be happy then.

As long as I put the spices away before she comes into the kitchen.
First Page
1
2
3
4
5
6
7
8
9
10
11
12
13
14
15
16
17
18
19
20
21
22
23
24
25
26
27
28
29
30
31
32
33
34
35
36
37
38
39
40
41
42
43
44
45
46
47
48
49
50
51
52
53
54
55
56
57
58
59
60
61
62
63
64
65
66
67
68
69
70
71
72
73
74
75
76
77
78
79
80
81
82
83
84
85
86
87
88
89
90
91
92
93
94
95
96
97
98
99
100
101
102
103
104
105
106
107
108
109
110
111
112
113
114
115
116
117
118
119
120
121
122
123
124
125
126
127
128
129
130
131
132
133
134 135 136 137 138 139 140 141 142 143 144 145 146 147 148 149 150 151 152 153 154 155 156 157 158 159 160 161 162 163 164 165 166 167 168 169 170 171 172 173 174 175 Last Page

Get An Email Alert Each Time TIMOTHYNOHE Posts