| | |
| --- | --- |
| | TIMOTHYNOHE's Recent Blog Entries |


Monday, February 20, 2012
For today's picture, I asked my son Mike if I could take his picture.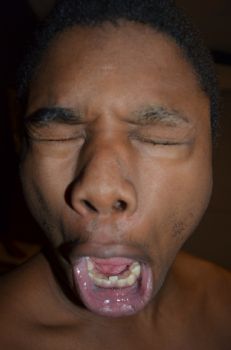 I was lucky enough to catch his answer in this photo. When he saw it he used it for a while as his Facebook profile.


Sunday, February 19, 2012
The brand of my dulcimer is a Dusty Strings. Hammered dulcimers have a beautiful sound, but because of the strings, 37 double strung courses, and the way they are stretched across the bridges, the sound board gets very dusty. I have tried one of those ceiling fan dusters, a sock on a yardstick, compressed air. Nothing helps.

I had a professional player tell me to not even try. It is the instrument's patina. You will notice in the picture how dusty my black soundboard looks. It's OK.

But I did take it out of storage and I have gotten it tuned up. I found I had two broken strings and I will have to order from Dusty Strings. Fortunately, every course is double strung and they are on different courses.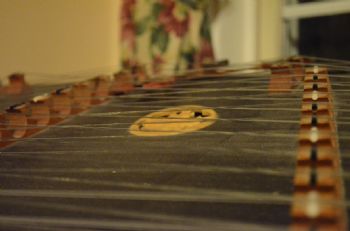 This is a photo I took today as I was practicing with depth of field. I focused on the sound hole inset, a maple leaf, and opened the aperture as wide as I could and I turned off the flash. This picture is only in the incandescent light of the room. Notice how the strings above and below the sound hole are out of focus.



Sunday, February 19, 2012
It has now been a month since my surgery. My doctor told me on Thursday he was happy with my progress.

But ...

See me in four weeks and we will discuss physical therapy then.

In the two days since then, several people who have experience with the rotator cuff tear repair surgery have expressed surprise that he didn't start me on PT yet. They all say the norm is 4 four weeks recovery. I'm looking at 8 weeks recovery.

I did tell the doctor I was getting frustrated. He reminded me that I needed patience. Baseball players half my age are knocked out for an entire season trying to come back too soon from an injury like this. For some it can be a career ender.

Yeah, but eight weeks?

Since I hurt it back at Thanksgiving, my strength training has only been sporadic and half hearted. The doctor told me I could and should return to ST but with obvious restriction. But even stuff that does't involve using my left arm can cause discomfort. As a consequence, I am disinclined to do my strength training.

My sister-in-law's husband is a certified trainer. I told She(WMBO) that I wanted to contract him to help me get off the down escalator I am on. I need a boot in the butt. I need it from someone who know what he is doing to get me back on track.

And she agreed. Because she wants him to work with her too. We will be starting Monday next week because our gym is closing the training and equipment room to move everything to a new extension to the building. That's a little frustrating.

Maybe I can get moving in the right direction again. I never thought I would have a trainer.


Saturday, February 18, 2012
Last spring we hosted an exchange student from Graz, Austria. That's the city that Arnold Schwarzenegger comes from. Our daughter-in-law works for AFS and, through no fault of his own, poor Bernhard found himself without a host family. If one couldn't be found, he would have to go back. Well, dear old Dad is always a soft touch for a hard luck story so we welcomed him into our home.

One day we were watching some travelogue on TV and they showed Niagara Falls. Bernhard seemed very interested so I asked him if there was any thing like that he'd like to see while he was here. Grand Canyon? Too far. Old Faithful? Ditto. Niagara Falls? 8 hour drive? That's doable. We hit Niagara in June, then we went to New York City ... also 8 hours from Niagara.

Something cool we did. Bernhard wanted to get shirts from Hard Rock Cafes. We got one from DC, Baltimore, Philadelphia, Atlantic City easily enough. Then there are two in Niagara ... US and Canada ... and two in NYC ... Times Square and Yankee Stadium. We tried to go to Toronto, but two more hours from Niagara was a little much. Still eight shirts, not too shahbby.

The Picture

I got this way cool picture at Broadway and West 34th Street in front of Macy's with just my little Kodak point and shoot by setting it on a flat surface and letting the shutter stay open for a couple of seconds.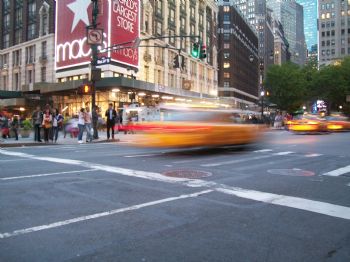 It is amazing what you can do even with a little camera.

I was surprised to find New York a friendly city, not cold at all. It was eminently walkable and there were bikes everywhere. Just about anything you could want is always within a few blocsk of where you are, it seems. I actually liked it.


Friday, February 17, 2012
My brother David teaches at The New Mexico School for the Blind & Visually Impaired in Alamogordo. www.nmsbvi.k12.nm.us/

Dave forwarded me and our niece Andrea, who is also a runner, an email announcing the opening of the Wilson Bridge Half Marathon registration for the October 7 race. OK, so it's another half. Except, last year they had 11 blind runners and this years they are looking to have 30 or more. But to do this, they will need guide runners to run along. (It doesn't hurt that there will be a deep discount but I din't know about that until I talked to the race director tonight.) wilsonbridgehalf.com



Notice that this bridge, a part of I-95/495 the Capital Beltway, as a pedestrian lane. Very thoughtful design.

Upside is that it's a half marathon in Virginia, so I cross that state off my 50 States list. It starts in Virginia, goes about 100 yards in DC on the bridge, then finishes in National Harbor in Maryland.

Downside, it's only a week before the Baltimore Running Festival where I will run the Half Marathon this year. So, as I said, I spoke with the director and he indicated that he has need for volunteers to also help guide runners around town during the week before. There will be penguins so I can run slow if I desire.




Every race has some cause for which you can raise money.

I hate raising money.

This way, I get to assuage my guilt without fundraising. And I will probably have a good time too.

And my brother is thrilled that I will be helping a cause he is involved in.
First Page
1
2
3
4
5
6
7
8
9
10
11
12
13
14
15
16
17
18
19
20
21
22
23
24
25
26
27
28
29
30
31
32
33
34
35
36
37
38
39
40
41
42
43
44
45
46
47
48
49
50
51
52
53
54
55
56
57
58
59
60
61
62
63
64
65
66
67
68
69
70
71
72
73
74
75
76
77
78
79
80
81
82
83
84
85
86
87
88
89
90
91
92
93
94
95
96
97
98
99
100
101
102
103
104
105
106
107
108
109
110
111
112
113
114
115
116
117
118
119
120
121
122
123
124
125
126
127
128
129
130
131
132
133
134
135
136 137 138 139 140 141 142 143 144 145 146 147 148 149 150 151 152 153 154 155 156 157 158 159 160 161 162 163 164 165 166 167 168 169 170 171 172 173 174 175 Last Page

Get An Email Alert Each Time TIMOTHYNOHE Posts