| | |
| --- | --- |
| | TIMOTHYNOHE's Recent Blog Entries |


Thursday, February 02, 2012
... everything comes full circle.

Is it any wonder some people don't go to the doctor? They don't think that doctors know what they are talking about.

Here we go again.

Coffee is bad for you. It contains a highly addictive drug that causes dehydration, high blood pressure, and may even contribute to high cholesterol, cancer, and the genral decline of Western Civilization.

Or ... maybe not.

Coffee, after all, contributed to the rise of the American from English Colonists.

It gets better. You should drink coffee, LOTS of coffee.

Here is an article that says so: shine.yahoo.com/shine-food/coffee-mi
racle-drug-011100470.html
----------------------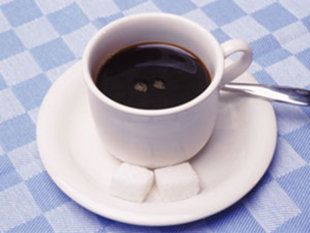 When was the last time you heard a doctor use the word miracle? Well, wake up and smell the coffee: "It's amazing," says liver specialist Sanjiv Chopra, MD, professor of medicine at Harvard Medical School. "Coffee is truly a lifesaving miracle drug."

Though he says it's still a "scientific mystery" how a simple cup of coffee works its wonders in the body, large epidemiological studies repeatedly verify its astonishing benefits. Some recent research highlights:

* More than three cups a day lowers women's risk of developing the most common skin cancer by 20 percent.
* More than six cups a day cuts men's risk of dying from prostate cancer by 60 percent.
* Drinking at least one cup of coffee a day lowers women's risk of stroke by up to 25 percent.
* Consuming at least two cups daily reduces women's chances of becoming depressed by up to 20 percent.
------------------------
Add to that, some "experts have suggested that ADD children may benefit from a daily shot of coffee.

Go ahead, crank up the espresso machine.


Wednesday, February 01, 2012
... is over after 16 days.

Let's see ... I ran the Half Marathon on Tempe Arizona on 1/15. When I went home, I rested up for my surgery on Friday. That was 1/20. SInce then I have not run ... lots of walking. The doctor told me I could run when ever I felt like it.

I tried on Sunday and it hurt in my shoulder. I was done in 1/4 mile.

Ah! But today! I headed out the door at noon, fully prepared to run just a little. It would be an easy run. Two minutes run, one minute walk. I haven't done that interval since this time last year.

Ran the first mile ... no pain.

Second mile ... some little soreness.

Third mile ... the soreness was gone.

Back to the house at 3.6 mile ... I felt Great!! The day was terribly beautiful. One lap of Catonsville down.

Ernie Banks, the Chicago Cubs shortstop from 1954 - 1971 used to say, "It's a beautiful day for a ballgame... Let's play two!", expressing his wish to play a doubleheader every day out of his pure love for the game of baseball.

Yeah.

That's how I felt today. And I said it out loud, "It's a beautiful day for a run, let's do two laps."

I took a second lap around Catonsville. I finished up with 7.25 miles in about 77 minutes.

I am back and up and running.


Tuesday, January 31, 2012
... just pathetic.

Back in November I had an epiphany.

The Half Marathon was my distance. No more than that. In both marathons (Baltimore and Savannah) as well as training runs of 17, 20, and 23 miles, an incredible feeling of "Good God when will this be over?" swept over me at mile 16.

I was bored stiff at mile 16. Every time.

So I announced my retirement from full marathons. Like any athlete, retirement means "I reserve the option to come out of retirement for one last-gasp pathetic grasp at glory."

Then I saw the bling for the Williams Route 66 Marathon in Tulsa, OK.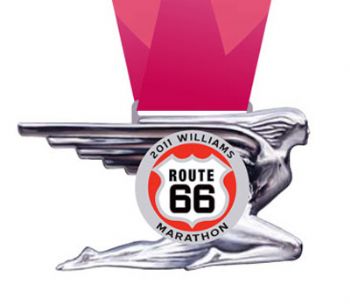 So pretty.

So sparkly! I like sparklies.

And! They had this thing called "The Detour to the Center of the Universe" for which you got another sparkly. It make the race an Ultra Marathon -- 26.5 miles.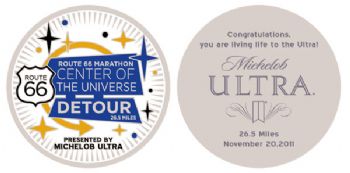 Dude!

So I signed up. I signed up for the full marathon. On November 18.

And dig this. Dr Dani is moving to Corpus Christi, TX when her residency is over. That's about 90 minutes from San Antonio. There they have a Rock 'n' Roll Marathon and Half Marathon on November 11. Then Thanksgiving is on November 22. She(WMBO) suggested that I go for San Antonio, and stay there until the family gets there for Thanksgiving. "But I would be such a pest. I need something to keep me out of their way." She suggested that I go ahead and run in Tulsa the next weekend so I can cross two states off my 50 state goal in one trip.

Well, why not? Why not, indeed?

Oh, and I signed up for the Baltimore Running Festival Half on October 13.

Running is my drug.

I am already looking forward to 2013. Rock 'n' Roll Dublin is 5 August 2013. Dublin! And I ain't talking about Dublin, Maryland. I kinda figure that if we are going to fly all the way to Ireland, I should run the full, right? Right?

I am pathetic.


Monday, January 30, 2012
... or so I am told. But I don't seem to be any good at it. She(WMBO) says something twice and boom it gets done. I say it over and over and over and over .... you get the picture and I always get the same results.

Maybe nagging is one of those gender skills. Men fix things, women listen?

Now Mike is away at college. He's just a couple of hours away and so comes home, more or less every weekend. He shows up on Friday, drops his laundry, might start a load then disappears until Sunday afternoon. I call him and text him all weekend ... "Get home and finish your laundry."

"Geez, Dad, STOP NAGGING ME!"

On Sunday evening, as he was getting ready to go back to school, there was a dry load in the dryer, a wet load in the washer, and two baskets full of unwashed. "Why aren't they done?" I asked.

He sheepishly responded, "Well, you didn't nag me. But Dad, if you don't nag me, I forget to do it."

Argggggghhhhhhh!

Another ignored nag. He leaves here around 11:30 every Sunday night. She(WMBO) and I would prefer, especially in the winter, that he be up there by 6:00 so leave by 4:30.

Why?

Because it snows more in Pennsylvania than here and the road can get bad fast. No need to drive in the dark in flying snow.

Last night, around midnight my phone was ringing. It was Mike. That sinking feeling that parents get with the midnight call hit me.

"Dad!" Panic in his voice. "What is the weather supposed to do?"

I looked out my window and saw Sirius shining brightly. "Um, clear and cold?"

"It's snowing like a mother f****er. I can't see shˇt!"

"Well, first, get off the road or get off the phone." I said. I thought "Dumbass."

I pulled up Weather Underground. "Fast moving snow squalls across Northern Baltimore county tonight. One inch accumulation or less." The radar showed that where he was it would be done in mere minutes. "Pull off the road if you don't feel safe and wait it out. It's like a thunderstorm."

More panicky words.

"Mike. Just be cool and calm. Panic won't help you. You called me, now trust what I have to say on this. Sit still for five or ten minutes and you will be fine."

"OK, but ..."

"Mike."

"OK."

We hung up. I looked at the phone.

"I told you so."


Sunday, January 29, 2012
It has been nine days since I had shoulder surgery. I saw my doctor on Wednesday and we discussed my recovery. He allowed as how I definitely would be ready for the Rock 'n' Roll USA Half Marathon in Washington, DC on March 17.

He then gave me some very basic exercises to keep my shoulder limber. Includig to walk with a pendulum action on my left arm. It has been working well.He also showed me the kind of motion he wanted me doing "when you start running again." He left it entirely up to me.

I had smoke come out of my dishwasher Friday night. I wanted to trouble shoot the problem, so with the help of my son, we pulled the unit out from under the counter and I inspected the electrical box ... nothing ... and the wiring on the dishwasher ... nothing was burned. After some testing we were ready to re-install the unit. None of that put ant kind of strain on my shoulder.

As I was putting in the screws, one got away from me and of course I tried to reach for it.

With my dominant hand.

The one that was operated on.

OW! It was like I was stabbed in my shoulder.

This morning I awoke to some tenderness in the same spot, but after Mass I decided to give a short run a try anyway. I made myself a promise: if I felt any pain I would immediately drop to a walk and head home.

At a quarter-mile I felt pain similar to the stab I felt yesterday. I tried to argue with me ... always a dangerous thing to do because you always lose that argument. "The only way to win an argument is to avoid it entirely." But in the end sanity won out. I turned around and headed back down the block and I went inside and put an icebag on my shoulder.

I will try again on Wednesday.

Same rule ... No pain? No pain!

Besides, who wants to run in the cold?

I can still do a mall walk.

First Page
1
2
3
4
5
6
7
8
9
10
11
12
13
14
15
16
17
18
19
20
21
22
23
24
25
26
27
28
29
30
31
32
33
34
35
36
37
38
39
40
41
42
43
44
45
46
47
48
49
50
51
52
53
54
55
56
57
58
59
60
61
62
63
64
65
66
67
68
69
70
71
72
73
74
75
76
77
78
79
80
81
82
83
84
85
86
87
88
89
90
91
92
93
94
95
96
97
98
99
100
101
102
103
104
105
106
107
108
109
110
111
112
113
114
115
116
117
118
119
120
121
122
123
124
125
126
127
128
129
130
131
132
133
134
135
136
137
138
139
140 141 142 143 144 145 146 147 148 149 150 151 152 153 154 155 156 157 158 159 160 161 162 163 164 165 166 167 168 169 170 171 172 173 174 175 Last Page

Get An Email Alert Each Time TIMOTHYNOHE Posts