| | |
| --- | --- |
| | TIMOTHYNOHE's Recent Blog Entries |


Saturday, January 14, 2012
It was a busy day here in Tempe for us. We both had a very bad night of sleep. I went to bed early and tired. I even worked out in the fitness center here at the hotel, but I tossed and turned for hours. She(WMBO) has contracted a cold and was coughing and blowing. So even though She was in the other bed, all that noise did me little good. Several times I awoke and I know I drank several pint bottles of water and I was still thirsty. Dehydration was definitely my problem.

I awoke for the final time at a reasonable hour, but I had a pounding head and an upset stomach. Nauseous, really. We went to Her construction site (She's building a new office for her company) to meet with the contractors. I stay in the car feeling miserable. Then we went to breakfast along with two key people from the Tempe office. I ordered yogurt, figuring that was about as much as my tender stomach could handle. They had none. Egg whites? two bite and that was clearly not the solution. Chamomile tea? Boom I started to feel better right away.

She and he people took off for more work, I took the metro into Downtown Phoenix to the convention center to pick up my run packet for Sunday at the Expo. It's funny, they must have a traveling road show for these because many of the same vendors were there as were at Savannah. Some of the same people and they even remembered me! I still enjoyed it.

By the time She called me telling me her meetings were done, I was actually ready to eat a rather large bit of livestock. We decided to forgo the bikes because we didn't like the traffic and She didn't feel safe enough. So we went to Old Scottsdale. There we hit what looked like an old southwestern saloon. It turned out to be an Armenian restaurant. So we had the Lavosh. First time ever. I can report it was very good, even if it did remind me of Pizza Hut thin crust.

Next we paid visits to the shops along Main St. Saba's is a store where I had purchased my Stetson. Going in I was told "No more hats." So I bought boots.

And a string tie.

And a western shirt.

And it all looks good under that Stetson, let me tell you.

We also found something I have seen but never visited before: an olive oil and vinegar store. Yep, that all they sell! EVOO and balsamic vinegar. But in dozens of flavors. Were bought six oils and six vinegars. The lady demonstrated the vinegar on yogurt, on fruit, and as a sipped beverage. Who knew?

The chewing gum magnate, William Wrigley, Jr. (think Wrigley Field, Juicy Fruit gum, etc) had built a house in Phoenix as a winter home for his wife. It has since been an exclusive dinner club and is now a fancy restaurant. For dinner I ordered "A Duo of Piggy:" about 2 oz of pork belly and a lean pork chop on a bed of goat cheese polenta. The pork belly is not recommended even though it was delicious. I ate less than half of it because it had sooo much fat. I also did not finish the chop. Same cannot be said for the polenta ... all gone.

I am never shy to ask for off menu items. The dessert menu was almost exclusively cakes and custards. So I asked for strawberry with some balsamic vinegar on the side. I got 10 large berries and a balsamic reduction that was as thick as chocolate syrup and as flavorful ... not sweet, but not at all bitter. I was in heaven.

The things you can find when you open your self up to them.


Thursday, January 12, 2012
We arrived at about 4:45 local time, 6:45 Baltimore. Sitting on a plane for the last 5 hours. I don't know what the do on those plane but ...

Well, I do know. The air dries me out. I am totally dehydrated. I tried to balance drinking enough water with not wanting to disturb the lady sitting next to me too many times to the toilet.

Now I have a bit of a headache. I can take care of it now with enough water. Most headaches, for me anyway, are a consequence of dehydration.

We had a nice dinner at a place called The Top of the Rock. I had an Iceberg Wedge Salad with ... yes I did ... bleu cheese. Instead of crumbled bacon, this place used smoked pork belly diced. I was different. For my entree they had a plate of "artisan vegetables" all locally grown. Broccolini, mutliple colors of cauliflower, multiple colored baby carrots, asparagus all on a bed of quinoa. Delicious. We also shared a 5 oz filet of Alaska wild caught salmon. I loved it.

I will figure out how to count all this, later.

Tomorrow, we go look at Her new building, then the Expo in dowtown Phoenix then I don't know what.

This is going to be a fun weekend.

Time to get some sleep though.


Wednesday, January 11, 2012
Actually Tempe, but who's keeping score?

I will be running in the Rock and Roll Arizona Half Marathon. I am coming all the way from Baltimore to do it! How did that come about?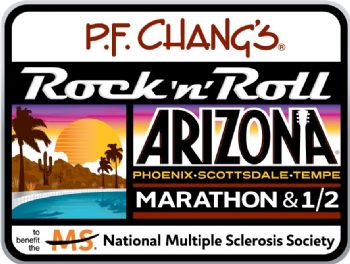 She(WMBO) is an executive in a company that puts on seminars that your boss may send you to. She saw the need to open an office in the West and they settled on the Phoenix area. So it's her baby. She goes out every couple of months to make sure things are running well.

After I was done the Marathon in Savannah, I asked her as casually as I could, "Do you need to go back to Phoenix in January?" I tried to put my best "do you really have to?" whiny tone to my question.

"Yeah, probably."

"Will it be around, oh I don't know, say, the fifteenth?"

"Why?" Of course now she's suspicious that something is up.

"Um, ahem, RockandRollArizonaMarathonandHalfwillbeont
hefifteenthofJanuary." I sounded like Ralphie asking for the Ready Rider B-B Gun in A Christmas Story. "Can I go?"

To my surprise, she didn't even miss a beat, "Sure, I can do that."

… That was ...

… too easy ...

… "Really?"

"Yeah. Let me get Peggy to set you up to go too." Peggy is her secre … administrative assistant (secretary).

"Really?"

"Yeah, sweetie, really. What did you expect me to say?"

"You'll put your eye out?"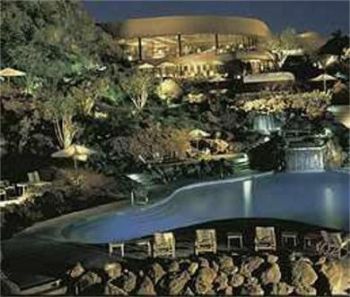 We fly out tomorrow morning. We will be staying at The Buttes, A Marriott Resort overlooking the Los Angeles Angels at Anaheim spring training facilities. Gee, too bad it's not March. (Don't be greedy, Tim.) We will be only three miles from the race venue. The hotel has a bus. Three miles? I could run that easy!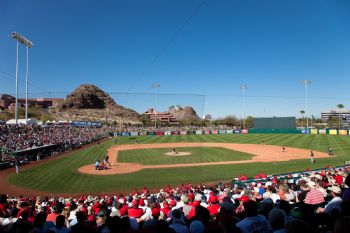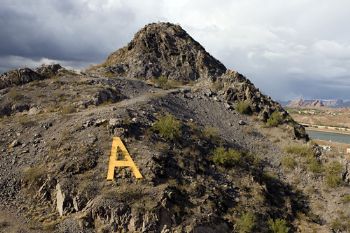 I'll be seeing this when I start the race on Sunday. If you watch college football, they always show this for games at Sun Devil's Stadium.

She will be working on Friday. It is a business trip after all. So I asked if I could maybe rent a bicycle, you know, to have something to do while she was not around. Again, she surprised me.

"See if they have any that are electric assisted because I want one too. I'll need some help to keep up with you." I admit it, when we ride conventional bikes she really holds me back and apparently I don't seem to mask my frustration as well as I think I do. "I was thinking of buying one, but I want to try one out first."

Shoot, even if for some reason I can't run (and Mike has some kind of creeping crud .. what if I catch it?) this may be a fun weekend/winter vacation any which way.


Tuesday, January 10, 2012
We have all seen those motivational posters around our offices and online and ... well every where.

Here are some I particularly like.

rwdaily.runnersworld.com/2011/12/mot
ivational-poster-1.html



rwdaily.runnersworld.com/2012/01/mot
ivational-poster-2.html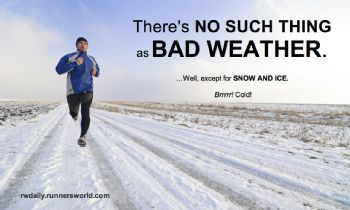 rwdaily.runnersworld.com/2012/01/mot
ivational-poster-3.html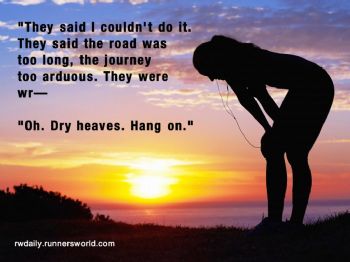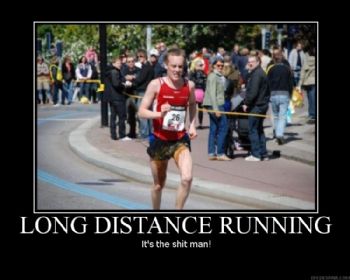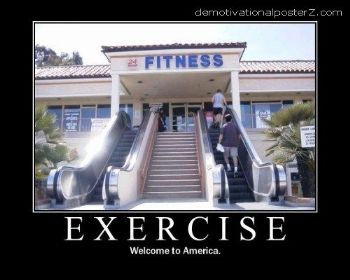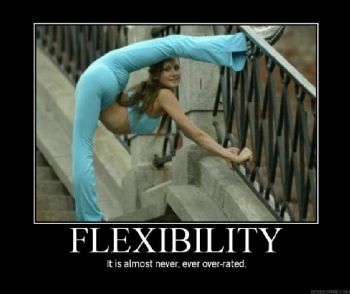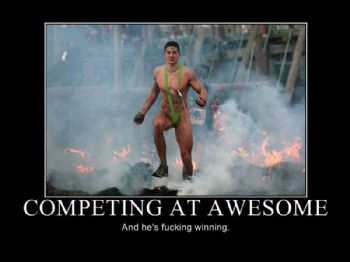 Monday, January 09, 2012
My niece and I were chatting on Facebook tonight about getting to the gym in snowy weather. Fortunately the snow abated in my area and in hers it wasn't enough to keep her home.

Out of the blue, my nephew's wife, my niece's sister-in-law, chimed in. She never talks with me online and I think it's because we differ politically. She is nice enough at family gatherings, but ...

Anyway, out of the blue she comments that she wants to join a good gym because "Andrea and Uncle Timothy (I wish they would drop the uncle, we're all grownups) have inspired me so much."

I hardly knew what to say. It is so nice to be an inspiration. I always feel so humbled when I am told that.

So I thanked her and asked her what had I done to inspire her.

"It's your commitment. Up at 5:00 to run, go to the gym in the snow, sticking to your diet ... I know you call it an eating plan."

First Page
1
2
3
4
5
6
7
8
9
10
11
12
13
14
15
16
17
18
19
20
21
22
23
24
25
26
27
28
29
30
31
32
33
34
35
36
37
38
39
40
41
42
43
44
45
46
47
48
49
50
51
52
53
54
55
56
57
58
59
60
61
62
63
64
65
66
67
68
69
70
71
72
73
74
75
76
77
78
79
80
81
82
83
84
85
86
87
88
89
90
91
92
93
94
95
96
97
98
99
100
101
102
103
104
105
106
107
108
109
110
111
112
113
114
115
116
117
118
119
120
121
122
123
124
125
126
127
128
129
130
131
132
133
134
135
136
137
138
139
140
141
142
143
144 145 146 147 148 149 150 151 152 153 154 155 156 157 158 159 160 161 162 163 164 165 166 167 168 169 170 171 172 173 174 175 Last Page

Get An Email Alert Each Time TIMOTHYNOHE Posts