| | |
| --- | --- |
| | TIMOTHYNOHE's Recent Blog Entries |


Tuesday, January 03, 2012
Animal crackers, and cocoa to drink.
That is the finest of suppers, I think;
when I'm grown up and can have what I please
I think I shall always insist upon these.

- Christopher Morley, author & journalist

Amen, I say to you, unless you turn and become like children, you will not enter the kingdom of heaven. -- Matthew 18:3

All our lives, we were anxious to grow up. We would lie to people about our age so people would think we were older than we were. We wanted to grow up and fast.

The cool thing about being a kid though was we could be as foolish as we wanted to be. We would go outside and play ... at least we did when I was a kid. After all we only had three channels on the TV and video games was a phrase that made no sense.

I remember the first movie I went. Mom took me and probably several of my siblings up to Bel Air to see Cinderella. To this day I love animation. This new computer stuff is getting too realistic. Give me high quality pen-and-ink any day. Two of the best movies I have ever seen are Beauty and the Beast and The Lion King. WhenI was in Alaska, I loved movie nights when they would show a Disney animated feature.

That is part of the kid in me that just won't go away.

We need to hang on to some of the kid in us. It's OK to now and again have a corn dog. Actually I had my first one about five years ago. I also like jello and to like the bowl after a cake is made.

They are treats. Treats are good.

Sometimes we need to keep the kid around to make us curious about new stuff. I posted last night about eating some new and newish food and tasting them as if for the first time, like a kid.

And another way we must remain like a kid.

We should never lose the ability to play!

Playing is fun. It is good to get out in the sunshine and get silly. Climb in the monkey bars. Ride a bike (wear your helmet ... you really aren't kid). spend all day at the beach throwing a frisby and swimming. Go sledding when it snows!

Oh, and while you're at it, turn off the TV and take a kid along with you.

Post #148


Monday, January 02, 2012
I tried something I haven't tried eating since I was a little kid.

Black-eyed peas and collard greens!

My dad liked them. He loved all kinds of greens. I would gag at the very thought of mustard greens, kale, collard greens, turnip greens, and almost all those leafy green veggies. Except spinach. I liked spinach.

There is a plant that grows wild. A weed really. Lambsquarters. Dad would pick it young and cook it up. It turns out that the seed is also edible. Lambsquarters is related to quinoa.

I may have to go out this spring and find me some lambs quarters.

Any way, back to black-eyed peas and collard greens, I thought they were vile, bitter. Later in life I learned that they were considered soul food. I had also heard that they were a traditional New Years meal ... for good luck.

Good luck? Soul Food? Who Knew?

I have tried so many unusual foods since I started my weight loss journy, I figured that it didn't kill me when I was a kid, it's not going to kill me now. I have tried grits, cream of wheat, tofu, and a number of other food stuff I once thought were horrible. Only, I suppose with a more mature palate, they were all actually pretty good.

I tried things I had never eaten before like Quinoa and found them good too.

What did I have to lose with black-eyed peas and collard greens? Nothing! If they were still vile, well, I have a garbage disposal and I'm not afraid to use it.

Kind of like Sam I Am's protaganist. "Say I *like* green eggs and ham. I do I like them Sam I Am."

Blog #147


Sunday, January 01, 2012
Yeah!

Bring it! Bring it on!

I am ready!

I do not care that I start the year injured and facing surgery! It's an opportunity to regroup before I attack the coming challenges of the year.

Bring.
It.
On!

Today, I ran in the Resolution Run 5k to benefit Paul's Place in Baltimore City. We ran 5k in Patterson Park. I came in with a 27:49 and that pleases me. Even better, I got She(WMBO) to come out to walk it! I am so proud of her! She even asked if they have a 5k in Phoenix in two weeks. (They do not.)

After we went to the hall in the cellar of St Elizabeth of Hungary Catholic Church for chili and corn bread (and it was good!) we headed back for the car. The nearly 60ºF day suddenly turned chill, the ky darkened and just as we got in the car, the skies opened. It's going to be cold tomorrow and even colder on Tuesday, colder still on Wednesday. Hey it is Winter.

As we were coming off I-95 to our street, we had to stop the car: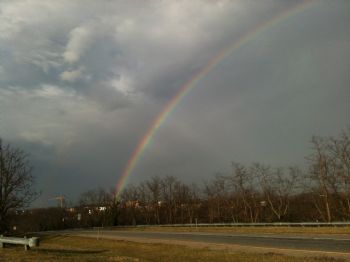 So how cool is that on the first day of the year? It must be good luck. I cannot imagine it was bad luck.

While driving, She(WMBO) was asking me about my schedule for this year. She asked especially about San Antonio Rock and Roll. I allowed as how it was two weeks before Thanksgiving meaning two trips to Corpus and Tulsa was the weekend before, I might instead run in Tulsa then drive to meet her in Corpus Christi (where Dr Dani would be living next year) for thanksgiving. She suggested I run San Antonio, hang at Dani's house then drive up to Tulsa the next weekend and run there too.

Well, why not? indeed. Fly to Corpus, run in San Antonio (2.5 hours), go back to Corpus, drive to Tulsa (2 day road trip and I am always down for a road trip) run and drive back to Corpus for turkey then fly home.

Sounds like a plan. One round trip flight and a road trip.

So my dance card for 2012 is filling fast:

Arizona RnR 1/15
Surgery 1/20
No race in February -- recovery
USA RnR (DC) 3/17
Unidentified race in April. Arbutus 5k was last weekend last year.
Maryland Half 5/6
MCVET 5k and 10k 5/27
Hope's Heroes 5k Cross Country 6/2
Bel Air Town Run 5k 6/3
Celebration Triathlon 6/23 (Maybe, depends on recovery for swim training)
Arbutus 10k 7/4
Unidentified August race. Maybe Boordy Vineyards 5k cross country
Philadelphia RnR Half Marathon 9/15
Baltimore Running Festival (half? full?) 10/14
San Antonio RnR Half 11/11
Tulsa Half (full 26.2? Ultra 26.5?) 10/18
Unidentified Corpus Christi Turkey Trot 11/22 ... maybe.
Celtic Solstice 5 miler 12/15 or 12/22

So 2012 better just watch out for me!

I am coming at you ...

... at a full run!


Saturday, December 31, 2011
I learned something long ago.

I make no resolutions for that way there be tigers.

I can't resolve anything about drinking, or smoking, or cheating on my wife because I don't do those things. And I have no desire to start, either.

And resolutions about cussing? Well, we all know those are bullsh¡t.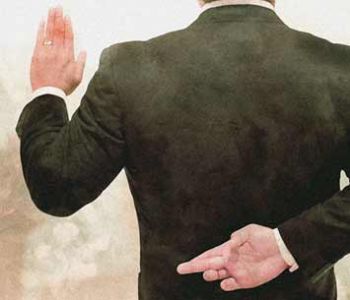 Resolutions should be positive, realistic and attainable.

"I resolve to learn how to speak Spanish fluently in 2012."

Yeah! No. It would be nice, but it ain't happening unless I move to some place where Spanish is the only language spoken and I will starve if I don't learn how to communicate. But Rosetta Stone and three nights a week at the community college will not do it for me. Not realistic.

"I resolve to lose 15 pounds by April."

Then in February when I have only lost 5 pounds I get discouraged and give up. Besides, it's a negative resolution.

"I resolve to start up that small business I have always wanted."

In this economy? Not attainable.

Instead, I like to set goals. Goals are fungible. I can swap them around and replace them as I need to. I once had a goal to run marathons and to steadily improve my time so I would qualify for Boston. I discovered that that goal was not realistic because I get bored out of my skull by the time I reach 16 miles. The final 10 mile becomes all about "Geez, will this ever end?"

I also had goals for 2012 to participate in at least one mud run and one Olympic Distance Triathlon. Those are put on hold until I recover from a torn rotator cuff. The Triathlon, 1.5k swim, 40k bike, 10k run, might be only a dream anyway. I would have to be able to complete the swim in 55 minute to even be allowed to go on. So far, my best 1.5k time is 62 minutes. And that was before I got hurt. More training, another time.

New 2012 goals include, recovering enough to participate in a Sprint Tri (1k swim, 17.5 mile bike, 3,4 mile run) in late June. And to run several Half Marathons and work my time down closer to 2:00. I am currently at 2:21 official and 2:10 unofficial.

And if I miss those goals. Well, I have all year and I will have fun trying.

How about weight loss goals?

This time last year, I was at 154.6. Today I weighed in at 169.6. Astonishing! 15 pounds up in one year. I ate healthy. I ran ... a lot! ... and biked and swam. I did strength training. And yet I gained 15 pounds. No, it's not muscle gain. The problem is, in spite of how healthy and fit I am, I ate too much and probably too much of the wrong stuff.

So my goal is to lose back by going back to eating smarter. I have a goal weight in mind (153), but things like recovering from my rotator cuff injury may hamper reaching that goal. So I will do as well as I can.

I would love to join in some of these 5000 miles in 2012 (96+ miles every week) and 10000 pushups (27+ every day) in 2012 challenges, but the truth is, I am not sure how soon I will be able to get started. Maybe I will prorate them when I do get restarted.

So I resolve in 2012 to make no resolutions.

That's one resolution I have kept for the last 35 years.

+++++++++++++++

How did I do with my 2011 goals?

I ran a total of 19 events in 2011.

I had a goal to run one event a month, but I missed February and March (none were convenient) and August (I had to cancel the one race I signed up for because of an emergency and it was in the last weekend.)

I had a goal to run a triathlon, half marathon, and marathon.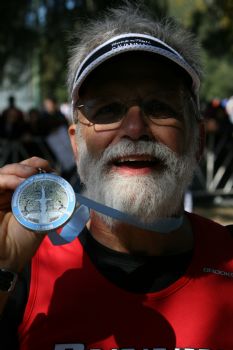 I did all three that plus a second marathon. Got me sone medals! I also ran a 15k, a 20 miler, and a duathlon. I ran a daily double, too -- a 5k followed up immediately by a 10k.

I had a goal to maintain my weight through 2011.

I did not meet that goal.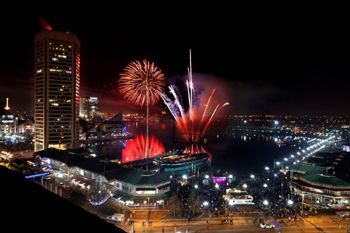 Happy New Year, all. (Yes, that's Baltimore.)

(This is blog #145)


Friday, December 30, 2011
On August 28 I posted a blog. Today is the 125th consecutive day that I have posted blogs. If you get all Mr or Ms Smartypants on me and look at my dates, you might see a couple or a few where it looks like I skipped a day then posted two the next. Those would be ones where I hit "Post Blog Entry" after midnight on ablog I started working on earlier. No cheats. Honest.

Some days, like today, I have posted more than once, so I am fast apporaching blog #150.

And I will admit to at least one occasion where I posted a blog about nothing just so I could keep the streak alive, but hey, I posted something.

I need a life.
First Page
1
2
3
4
5
6
7
8
9
10
11
12
13
14
15
16
17
18
19
20
21
22
23
24
25
26
27
28
29
30
31
32
33
34
35
36
37
38
39
40
41
42
43
44
45
46
47
48
49
50
51
52
53
54
55
56
57
58
59
60
61
62
63
64
65
66
67
68
69
70
71
72
73
74
75
76
77
78
79
80
81
82
83
84
85
86
87
88
89
90
91
92
93
94
95
96
97
98
99
100
101
102
103
104
105
106
107
108
109
110
111
112
113
114
115
116
117
118
119
120
121
122
123
124
125
126
127
128
129
130
131
132
133
134
135
136
137
138
139
140
141
142
143
144
145
146 147 148 149 150 151 152 153 154 155 156 157 158 159 160 161 162 163 164 165 166 167 168 169 170 171 172 173 174 175 Last Page

Get An Email Alert Each Time TIMOTHYNOHE Posts