| | |
| --- | --- |
| | TIMOTHYNOHE's Recent Blog Entries |


Friday, December 30, 2011
Monasteries have changed their missions with the times. At one time they would copy Bibles and prayerbooks, and now some actually operate like a CopyCenter. Other orders which once practiced animal husbandry now train guide dogs.

One such Order near Las Vegas has a most unusual mission.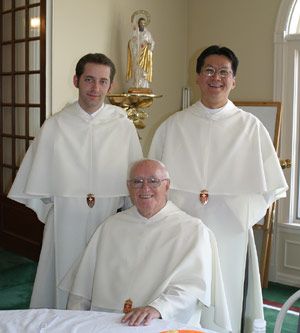 Every casino has their own chips minted for them and Bellagio does not honor chips from Caesars Palace. And yet people will put chips from various casinos in the collection baskets and plates and poor boxes all over town. Some leave them as tips in restaurants and for cabbies. It is very inconvenient for these recipients to go from casino to casino to cash in their assorted chips.

The monastery in question, after nearly closing about 25 years ago because their sheep herding wasn't paying enough to support even their dwindling Brotherhood, found a new mission thanks to the keen mind of their Superior, Brother Alvin. He saw a need and he found a way to fill the niche.

They help all the churches and synagogues and mosques in town as well as the underpaid service workers by coming around every week and buying the assorted chips from them at face value less a very small fee. The fee is enough to run the monastery and to return something to the poor and homeless of Las Vegas. They sort the chips out and cash them in at the proper casinos. Everyone is happy and they even spread a sense of ecumenism in town. No one who calls the monastery is turned down regardless of their faith; Catholic, Protestant, Mormon, Jewish, Muslim, even a Buddhist monastery are among their clients, as are cab companies and small restaurants all over town.

The Brothers have been performing this service now for about twenty years. They are a fixture in this otherwise uncaring city. Now, every week houses of worship and small businesses all over town look forward to the arrival of ....

Brother Alvin and the Chip Monks.

tinyurl.com/BrotherAlvin

(rim shot)







Gotcha!




Thursday, December 29, 2011
We set the Surgery up. 20 January 2012 I will have my rotator cuff fixed. But the doctor gave me good news. No problem running the Half Marathon in Phoenix AZ on 15 January. And, as soon as I want, I will be able to start walking. Give it a few weeks before I run, but I should be ready for the USA Rock and Roll Half Marathon (or full since I paid for it, but I am thinking not so much) on 17 March. I will also be able to get on with strength training ... just no military presses, maybe forever. We'll let physical therapy lay out restrictions.

At least this is all happening at a time when I should be taking it a bit easier. It will give me time to rest up from a very busy season.

Next race for me it the Resolution Run 5k in Patterson Park, Baltimore City on New Year Day at a very civilized 2PM.














Last week, I got home from running errands, ordered the boys to unload the car (Dad's arm hurts, gimme a break. Usually I do it myself, I'm old, not invalid.) and set my keys down. The next morning I grabbed my list and headed for the door. But my keys were not where I expected them. I look in all the likeliest and unlikeliest places I could think of. I *know* they are in the house.

I just don't know where. I now have to be hyper careful of the spare set. Lose those and it's a very expensive bill from the locksmith.

Maybe when we put Christmas away they'll turn up. They *were* decorating the tree when I came in.


Wednesday, December 28, 2011
I hear it all the time:

"I was bad this week."

What do you mean you were bad this week? Did you rob a bank? Kill someone?

No, all you did was eat too much at Christmas dinner.

"I got on the scale Monday and I was up 6 pounds! I don't think I want to weigh in this week."

Well why not? When we were little kids, babies really, we could cover our eyes and make you disappear. When we got older, we knew that not looking at you does not make you gone. So why do we think that not getting on the scale makes the pounds go away?

"I don't want anyone to know that I overindulged."

What!? You overindulged? Hey, me too! And so did he and her and almost everyone here.

"I can't do this. Tracking is too hard. I run into my first holiday and I got back three pounds. I quit!"

I broke a crystal wine glass doing the dishes on Christmas Eve. You know what I did? I put the pieces in the garbage and I picked up the next glass and I carefully washed it. Then I picked up the next one, and the one after that, and on and on until I had 19 clean glasses on my counter and one broken glass in the trash.

What I did not do was take those 19 glasses and smash them to the floor.

I put away my screw up and I went on.

And I did not try to hide it from She(WMBO). I told her what had happened. She glared at me for about 2 seconds ("you klutz") and asked if I ahd left any pieces on the floor.

"Sure, Tim, easy for you to say. You're at goal and you're maintaining."

Well ...

Not really. Since last January, I have gained about 8 pounds. I'm working on it, I am, but I want to lose it back. So how can I be so calm?

Because I worked very hard to develop habits that would get me through each day. On of the habits I have developed is to let past behavior go. That was very hard for me. I hold grudges. I don't forget past wrongs. Ad in the case of eating poorly, I am doing wrong to me. Saturday, my hand was in the candy dish and way too often. In the past, I would have beaten myself up over that.

But at some point, I said to myself, "Just don't stuff yourself, but enjoy yourself. Be like regular people."

Then on Monday, I lived my normal meatless Monday.

So relax. DOn't be so hard on yourself.


Tuesday, December 27, 2011
A little something about the town I live in. Catonsville, MD.

from Wikipedia ...
"Catonsville ... celebrate(s) Independence Day with a parade and fireworks. The parade travels down Frederick Road and is attended by over 60,000 people each year. Residents reserve prime viewing locations by placing their folding chairs along the parade route a week or two in advance of the celebration."

On Christmas day I was walking the dog and I came across this display:





When we first moved to C'ville in 1989 we though it was funny that chairs were lining Frederick Rd. on July 1. Last year it was BEFORE FATHERS' DAY fer cryin' out loud.

About 5 years ago this little idiosyncrasy landed us on the national news. Great! But now it has become a part of our local lore.







All day long, on Christmas Eve, Dr. Dani wore this sweater around the house. No one noticed it except that it was kind of a kitschy "Christmas" design: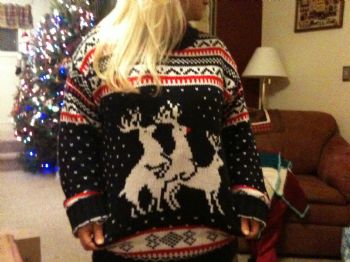 Then I looked at it for several seconds. "Danielle, what is that picture?"

"It's three reindeer."

"What are they doing?"

Then She(WMBO) joined in ... "Oh ... my. Poor Rudolph!"

"Who said they never let poor Rudolph join in any reindeer games?" I asked.

I don't think she knew what was actually on the sweater!







My Brother -in -law is a trainer. He gave me this book: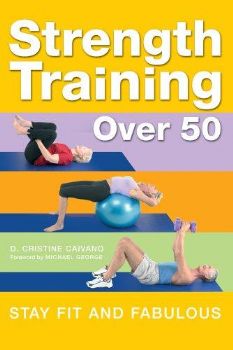 www.amazon.com/Strength-Training-Ove
r-50-Fabulous/dp/0764158120/ref=sr_1_1
?s=books&ie=UTF8&qid=1325048212&sr=1-1

I recommend it. It's a god book.








Monday, December 26, 2011
I ate too much. Had too much food and way too many sweets. But thankfully, in spite of my enjoying friends, family and food more than usual, the point is, it *was* more than *usual*. Today I was able to get back to usual. Two days did not make me forget all my good habits. Those habits were hard won, hard learned. I don't want to throw them away. I do find the numbers on the scale shocking, but they are what they are. I will work hard this week and go to my Weight Watchers' meeting on Saturday.

Christmas Eve is our big dinner day. She(WMBO) is not the cook in our house, but for Christmas Eve, it is her day. SHe often over does it and we have leftovers for, like, ever. She mad enough butternut squash soup to feed fifty. There were about 20 people here. We still have a full steam table pan of potatoes au gratin and of green beans. We have about two pounds of beef tenderloin. And about a dozen cremes brulée.

But it was all delicious.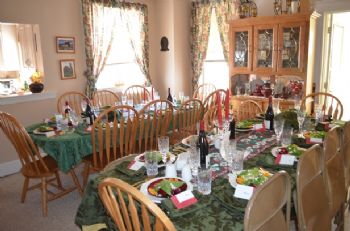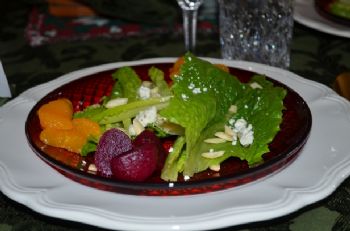 Everyone was enjoying the Ravens Browns game before dinner.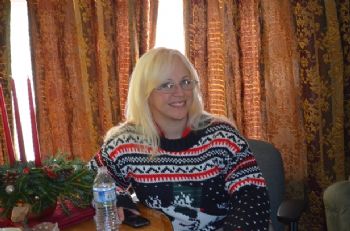 Dr Dani. Our oldest daughter.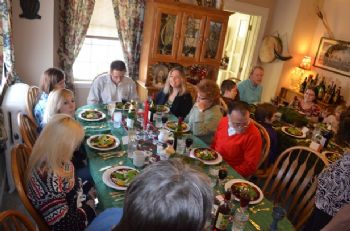 Dinner is served.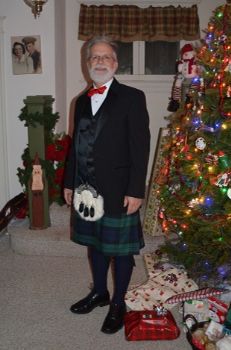 I am ready for Midnight Mass.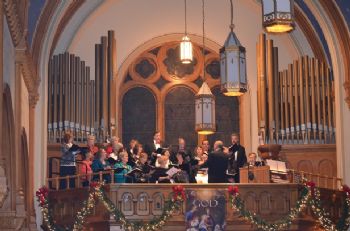 St Augustine's Choir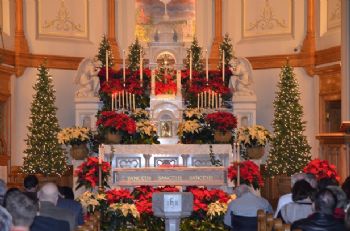 They have always done the sanctuary up so nicely for Christmas.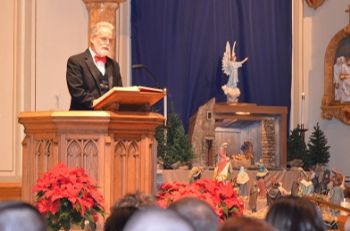 "They call him Wonder-Couselor, God-Hero, Father-Forever, Prince of Peace." Me reading from Isaiah.

Christmas morning we exchange gifts. It's not like it was when the kids were little, but it's still fun.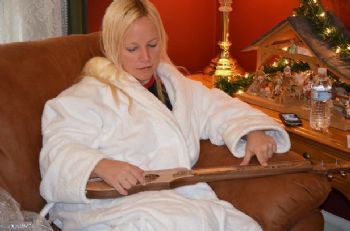 She(WMBO) gave Dr Dani and me strum sticks, they are like mountain dulcimers arranged like guitars.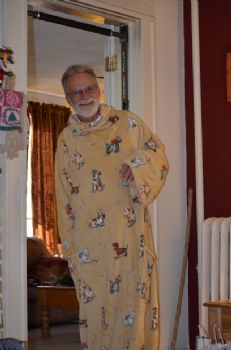 And Dr Dani got me a what the fµck blanket (AKA Snuggie).

With all my siblings, we have to rent a hall for Christmas. This year we had casseroles.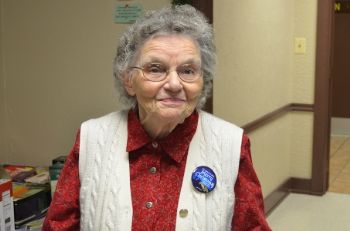 Mom is 90 and 1/2 on Christmas Day. She's getting around well and expressing herself. She's doing pretty well after twelve months of TIAs and Strokes.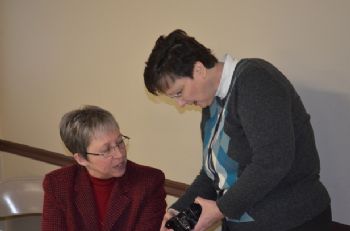 She(WMBO) and sister Pat.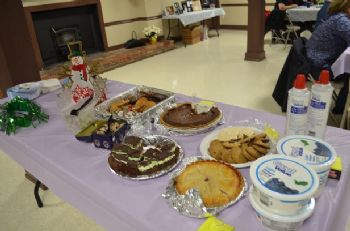 Dessert table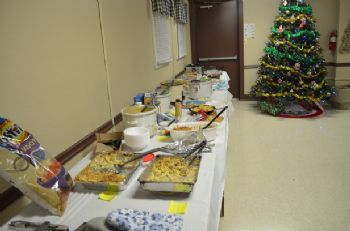 The dinners. I made shepherd pie ... with a lamb roast I cooked in the morning and left over veggies and potatoes from the day before.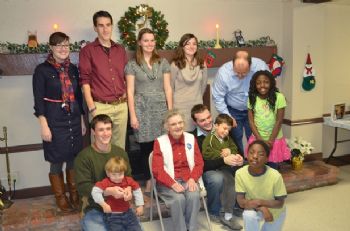 Some of the Grands and Greats. My children had already left. Some didn't make the journey.

A great time was had by all. They one who couldn't make the trip were sorely missed.
First Page
1
2
3
4
5
6
7
8
9
10
11
12
13
14
15
16
17
18
19
20
21
22
23
24
25
26
27
28
29
30
31
32
33
34
35
36
37
38
39
40
41
42
43
44
45
46
47
48
49
50
51
52
53
54
55
56
57
58
59
60
61
62
63
64
65
66
67
68
69
70
71
72
73
74
75
76
77
78
79
80
81
82
83
84
85
86
87
88
89
90
91
92
93
94
95
96
97
98
99
100
101
102
103
104
105
106
107
108
109
110
111
112
113
114
115
116
117
118
119
120
121
122
123
124
125
126
127
128
129
130
131
132
133
134
135
136
137
138
139
140
141
142
143
144
145
146
147 148 149 150 151 152 153 154 155 156 157 158 159 160 161 162 163 164 165 166 167 168 169 170 171 172 173 174 175 Last Page

Get An Email Alert Each Time TIMOTHYNOHE Posts