| | |
| --- | --- |
| | TIMOTHYNOHE's Recent Blog Entries |


Wednesday, December 21, 2011
I ended last night's post by saying "Maybe I can walk there (my MRI today), too."

And so I did it. It wasn't even three miles. It took me 45 minutes each way. There were sidewalks all the way so no problem.

I had never done an MRI before.

Once when visiting Ireland we visited New Grange, and ancient burial mound and standing stone monuments dating from before Stonehenge or the Pyramids. To get inside, you go through a tunnel chamber in the middle. On the Winter Solstice, today! at sunrise the first light illuminates the chamber.

I was in that chamber with about 20 other people. at one point in the lecture I had to speak up, "Make a hole! I have to get out." And I practically ran back up the tunnel, sweating all the way.

There was an episode of CSI in which Nick Stokes was buried alive in a coffin. He had a gun. Just watching it made me want to use the gun on myself. (Excellent episode by the way. Produced by Quentin Tarrantino.)

Get the picture?

I am a claustrophobe.

When the show these MRI machines on house, they don't look so bad.

Until they roll that bed into that tube and tell you "Now, don't move for the next 30 minutes. Be perfectly still."

"Holy sh¡t, my nose is touching the tube. Don't move!? I can't breathe. GET ME OUT OF HERE!!!"

I didn't say that.

But my throat did tighten up and make it hard to breath. (It's totally irrational. If it were rational, it wouldn't be a phobia, now would it?)

My motto comes from St Francis of Assisi: Start by doing what is necessary, the do what is possible and suddenly you will be doing the impossible.

Necessary: Convince myself that the machine was not going to hurt me. Close my eyes. Breathe through my nose slow, deep, and easy. Unsquinch my eyes but keep them closed.

Possible: listen to the music. Most songs are about three minutes. I can endure anything for three minutes. Keep my eyes closed. Think about my best runs and bike rides. Thing about Monday night's football game.

Impossible: A voice came over the headphones: "That's it, Mr Nohe (she mispronounced it No), just four more minutes. Really? I can do that! And just like that I was done.

My fillings did not burn up. I did not suffocate. I survived!! I was free!

Then she showed me the pictures. She pointed to all the fluid I had built up on my shoulder. That's what was causing the pain, but of course she was not able to actually read the pictures and diagnose and I did not expect her to.

After I put myself together, she asked me where I had parked.

I just smiled and shook my head.

"I walked."

And so I did, back home, all 2.7 miles.

I walked.


Tuesday, December 20, 2011
I went to my doctor today. His office is only about a mile and a half from my house. It wasn't windy, so I walked.

He asked me some questions about what was hurting in my shoulder. He made me do things that hurt! He twisted my arm and pushed it up and pulled it behind my back. Hey! I already told him it hurt to do that.

When he finished the exam, he told me how the rotator cuff is a bundle of four tendons and if they get injured, I could wait them out until they feel better, but if I don't get it fixed I would permanently lose full mobility in my shoulder.

Really??

There are three types of injury I may have. Tendonitis. But considering how it happened ... I had a bicycle accident at Thanksgiving where used my arm to break my fall ... considering how it happened, a contusion or a tear is more likely.

If it's a contusion I get PT. If it's a tear, I will go to the orthopedist and surgery and PT.

Looks like PT either way.

I get an MRI tomorrow.

Maybe I can walk there too.


Monday, December 19, 2011
Yesterday, I stepped back and I took a look at what I have been doing with SparkPeople and I came to some important conclusions about what I needed to do to turn things around.

So how have I done?

Well, I was crazy careful out tracking.

I kept gum in my mouth and my hands out of open bags.

I stayed out of the peanut butter ... and the honey. I did use honey in a honey mustard dressing, but that's ok.

Unfortunately, I was not able to get out to run as scheduled today. I was cleaning carpets and doing laundry. Maybe at halftime, I'll go to the cellar, turn on the TV and watch the game from the stationary bike.

Tomorrow I see the doctor about this rotator cuff thing. Today it feels a lot better than yesterday ... actually better than any day in the last two weeks.


Sunday, December 18, 2011
I am in such a rut.

In January, I weighed in at 154.

In February I started Marathon training and something totally unexpected happened.

I started gaining weight!

By June, I was at 163 pounds. By August I was at 166! That's when I signed up to SparkPeople. Something was not working for me. Since August, I have bounced around from a low of 158 to 166. I went to the doctor in October he assured me that I was still very healthy and that I should stop worrying about the scale. Yes, I am over a 25 BMI which is technically overweight, but since I live a very active lifestyle, it's not a problem.

But why can I not get through to losing back?

The biggest thing I have had to do is step back and look really closely at my trackers.

First question to ask: Am I being completely honest with myself? Am I *really* tracking "every*thing? An honest answer would have to be "No."

First solution is to go back to my early days of Weight Watchers and go back to doing what worked so well four years ago: become almost fanatical about tracking.

Second question: Am I eating without thinking about what I am eating? This is a little different from the first question. This is the problem of mindless eating. There's an open bag of pretzel wheels. I'll just have two. Not worth tracking. Then later, another two or three. Not worth tracking. By the end of the next morning I find the entire 2 oz. bag is empty! Oops.

Second solution: use a little bit of grey matter and *think* about what I am doing. Drink more water. Have fruit more readily available. Chew gum. And if I see that open bag, throw it out. Regardless of what Sister Richard told me, children in Europe are not starving and an open bag of pretzels are not going to save anyone from starvation anyway.

Third question: are trigger foods giving me trouble? Oh boy! I just love peanut butter. I find myself visiting the peanut butter jar with a tablespoon several times a day. and sometimes a little honey winds up on there too. I love honey too.

Third solution: once again, this is a tracking problem at its heart, really. So one or both of two things must be done: stay out of the peanut bitter and honey and be diligent about tracking it. Look at peanut butter: 94.9 Calories in a single tablespoon. And really and truly are those really flat tablespoons? (No.) A small 6 inch banana is 92.9 calories and it will fill me up. I should save the peanut butter for between two pieces of bread at lunch. I can't purge it from my kitchen because other people live here.

Fourth question: I am vey active. But am I justifying my nibbling and noshing because "I deserve it?" Yes, probably. And of late, things are conspiring against me. I have an injury that makes upper body strength training mostly limited. Core and lower body is uncomfortable so I am not putting my all into it. And I think between the shoulder pain and the cold my "daily" running is suffering from a lack of enthusiasm.

Fourth solution: There is no reason to slack on anything that does not involve lifting or raising my left arm in a manner that causes pain. I need to just get back to it. The solution to running is to get out for ten good minutes. That usually turns into a 30-40 minute good run. ANd if it's bad weather, I can use the Y where they have ellipticals and bikes and it gets me out of the house.

Now that I have asked the questions, answered them honestly, and thought up solutions, I need to execute. If I do, it will work. I can turn is around.

It has now been two day with no peanut butter spoons.


Saturday, December 17, 2011
I really love this race. It's cold. It's enitrely inside the park. It's a big race. I run in a skirt.

Wait, wait, wait.

It's a KILT!

I think this is one of my "must run' races becuase it is for me the end of the season.

This morning started kind of late for a race morning since this race starts relatively late -- 8:30. Most of these things start at 7:00 or 7:30. So I actually got to sleep in until 6:00 on a race day.

I had all my gear laid out last night (I suppose that means that race day ritual actually starts the night before) so when the clock buzzed, I was up and getting dressed. I made my way downstairs and, unlike two weeks ago, I have my ritual race day breakfast -- banana, coffe, oatmeal.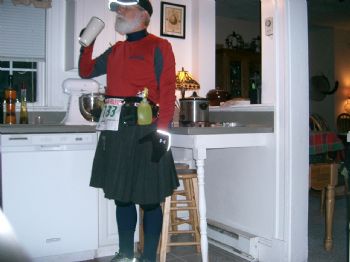 Yep, That's me in my running kilt.

I like to be at the venue by on ehour before the horn. Druid Hill Park is robably about 20 minutes from here, so I allowed myself about 30. I figured that 3500 people trying to get parking at thepark was going to yield a big traffic jam. I got off I-83 onto the Druid Park Lake Drive exit and I looked at my watch: 7:23. BUt up ahead, the expected back-up into the park wasn't there. There was some slow down, to be sure, but I was parked in 10 minutes.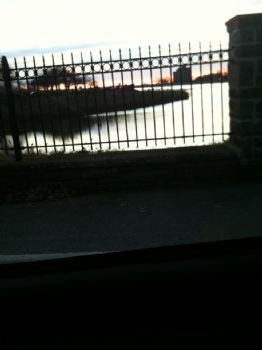 After my last race, I almost shed tears of joy at that prospect.

I found my way up to the area where the race was to start. The potty lines were very long (one thing RAM Racing got right was the potties; there were no lines) but they were moving.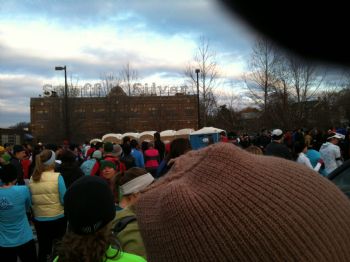 At the entrance to the tent there was a bottle neck, but it wasn't what I figured. You had to go inside the tent to get you chip, and if you hadn't gotten your bib earlier, you had to look up your nuber and collect it too. That was this bottle neck; people who apparently don't have email were looking at printouts of the email to find their bib nummber.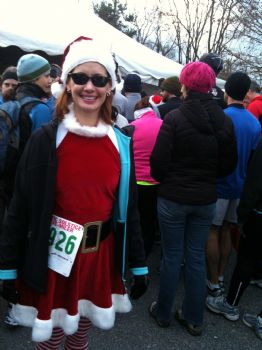 I have no clue who this woman is. She stepped in just as I clicked the button. She sure is pretty, isn't she? The goal was the crowd going into the tent. Honest!

Once I elbowed my way inside, I quickly secured my chip, tied it to my shoe and got out of the way. But not before I stopped and paid hoage to the two Irish Wolfhounds who are at every race. Small horses really.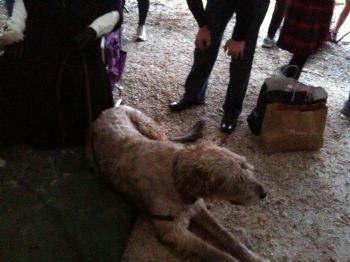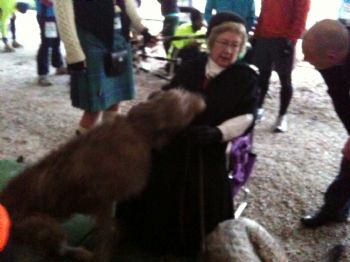 On my way out, I stopped at the table for the Maryland Half Marathon. They offered me a hat if I would sign up. "Already did it. Can I still have a hat?" No. Those are just for new people. Then the president of the event saw me. "Tim! Did you get your hat?"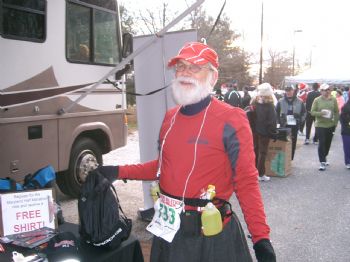 I got my hat.

Once I was finished with the potty, I had about 2 minutes to get to the line. OK, so I was bout 1000 people back from the line. As I found my place the crowd parted. It was time for the opening ceremonies. The Parade Major leads in with his baton, followed by a queenly lady with her wolfhound. They are follwed by the bagpipers who bring in all the past champions. No National Anthem, but it is an impressive, albeit small, parade.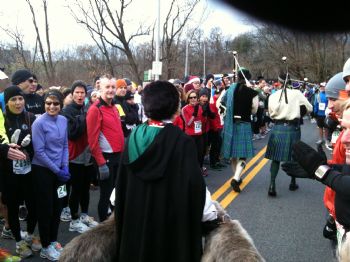 The horn blew. I could see the leaders take off, but as at a traffic light where you are ten back, I barely moved. In fact I walked to the mat. I walked across the mat. As I watched the leaders disappear up the hill and around the first turn, I was still walking. After about 50 yards, things opened up and I took off.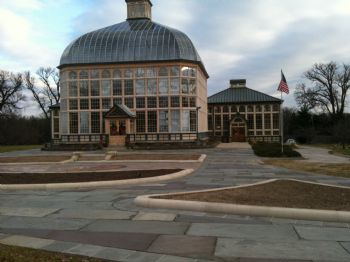 I did my normal 4:00/1:00 run/walk and I was doing well. In fact if my GPS is to be believed, my pace actually got continually better until about mile 3.5. I was loving this race! I know I was slowing around mile four, but I was so on pace for a 9:30/mile race, I didn't care. As I passed the mile four marker, I dropped the run/walk and fininshed on a run out.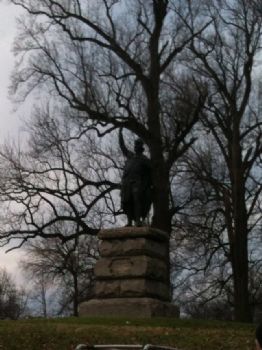 Statue to William Wallace at about mile 3.5. William Wallace in Baltimore? Freeeeedom! I do not know.

As we came down the final hill and around the last turn, I kicked it. I kicked it good! As I crossed the line the clock read 47:52. My watch read 47:15. I wanted a 43:20 (PR), but I am most certainly not disappointed with my run.

They posted times tonight and my chip time was 46:56. That was not a PR. Somehow I had it in my mind that last year I did 48:xx. No worries.

I ran well. I felt better after this race than I did the same race last year. From where I sit, that means PR or not, it was a better race!

When it stops being fun, there's no point in running anymore.

They have the best after party. There was a small band (or was it pre recorded? I stayed in the tent.). There was Maryland crab soup. Fruit. Sweets (I had two cookies). And lots and lots of people.

What a way to end the season!






First Page
1
2
3
4
5
6
7
8
9
10
11
12
13
14
15
16
17
18
19
20
21
22
23
24
25
26
27
28
29
30
31
32
33
34
35
36
37
38
39
40
41
42
43
44
45
46
47
48
49
50
51
52
53
54
55
56
57
58
59
60
61
62
63
64
65
66
67
68
69
70
71
72
73
74
75
76
77
78
79
80
81
82
83
84
85
86
87
88
89
90
91
92
93
94
95
96
97
98
99
100
101
102
103
104
105
106
107
108
109
110
111
112
113
114
115
116
117
118
119
120
121
122
123
124
125
126
127
128
129
130
131
132
133
134
135
136
137
138
139
140
141
142
143
144
145
146
147
148
149 150 151 152 153 154 155 156 157 158 159 160 161 162 163 164 165 166 167 168 169 170 171 172 173 174 175 Last Page

Get An Email Alert Each Time TIMOTHYNOHE Posts