| | |
| --- | --- |
| | TIMOTHYNOHE's Recent Blog Entries |


Friday, December 16, 2011
I started running only two years ago in September. By thanksgiving I had already run my third 5k and I had scheduled my fourth. That was an odd race called the Figgy Pudding Run and it was run in Fells Point, a part of Baltimore, actually the Birthplace of Baltimore. If you remember the TV series Homicide, Life on the Street, you have seen Fells Point. It was the location of the headquarters building and across the street was the bar that the detectives bought. What the rarely showed you was the actual street.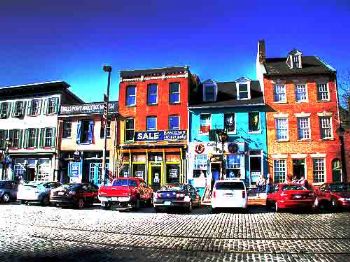 It's cobblestone!

And we had to run down it twice!

Cobblestone. That'll make you're feet do funny things!

On December 12! Was there ice? On cobblestone? You betcha!

After the Turkey Trot, before the Figgy Pudding, I decided to try my feet at a longer distance. You see the Celtic Solstice 5 Miler was going to be running a week after the Figgy Pudding.

But I waffled. I wasn't sure. You see 5 miles was such a long distance. And I didn't want to fail. I could do it! Maybe not. Why not?

I was back and forth for several days after Thanksgiving. Then finally on December 1, I decided.

I. Will. Run.

I went to Active.com to register ...

And registration closed on November 30!

As it turned out, over 3000 people signed up for this race. That's a lot of people for a local race.

OK, so I wasn't going to run it. But maybe I could go to Druid Hill Park and watch. That could be fun.

Then on Wednesday, the weather forecast called for a 60% chance of snow. By Wednesday night they had that up to 80%. By Thursday they were calling for 100% chance of at least four inches.

In this area, that means batten down the hatches, it gonna be a big one.Quick go to the Giant and buy milk, eggs, bread, toilet paper. Why? And find the snow shovel, gas up the snow blower, get gasoline in your car, too.

It's White Death! It's Snowmageddon!


And it was. It was a storm of epic proportions. In February, this would have been a Big One. A storm like this was absolutely unheard of for December.

At 8:30 AM on Saturday morning, when the race was to start, there was already 10 inches of snow on the ground and the weather service declaring it a full blizzard.

And yet the race organizers had already sent word out to WBAL that the race was on. Good thing, too, since races do not refund or rerun even if the event is canceled by weather. The governor and the state police were pleading with people to stay off the roads.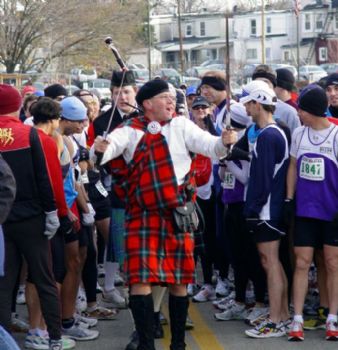 And yet 300 intrepid souls showed up to run!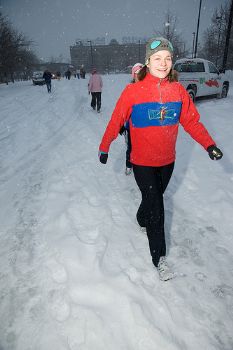 A video from Facebook so you get the picture. https://www.facebook.com/video/video
.php?v=256020564427

So I figured, this must be a REALLY great race.

That is why it is a must run on my calendar.

And because it's *only* 5 miles.


Thursday, December 15, 2011
Oh, man! Just as I started to write this Van Morrison came on singing "Tupelo Honey." Half hour ago he was on singing "Moondance."

Dude!

Talk about mellowing me out.

Anyway. What was I going to say? Hmmm, Adult ADD strikes again.

Oh! Oh!

I remember!

What a day! For the second day in a row I had to take one of the dogs to the vet for their annual shots. This time is was my 50 pound lap dog (so she thinks!) who has a personality as big as the all outdoor.

(She's as sweet as tupelo honey, she's an angel of the first degree, SING IT VAN!)

Well, the dog is sweet, but not that sweet. Anyway, I am thinking I have an injury that I need the doctor to look at. And that bonehead was tugging so hard that I now have a headache. Then She(WMBO) left me a note to get a "tree bag" for under the tree so we could dispose of it with minimal needles. I was then out for two hours not finding one! I really didn't feel like making dinner, but it is my job.

Back to the shoulder. I was at Mom's house Sunday and I leaned over to pick something up and a pain shot up my left arm. It's been there a while and i've been hoping it would go away,

But this time my sister saw me wince. "What's wrong?"
"I have a sore muscle in my upper arm."
"Where?"
What are you some kind of doctor? I thought.
"What are you some kind of doctor?" I showed her.
"Better see your doctor."
"It's just a sore muscle."
"I just had my shoulder operated on for a tear. The pain was right there. I thought it was a sore muscle."
Uh-oh. I thought.
"Uh-oh. How long have you been out?"
She gave me a thin smile "Five weeks. I can now lift 10 pounds."

So Ideally, I will see my man next week. I'll go to my ortho the next week and we'll set it up for after Arizona Half Marathon (1/15) and I will be full recovered for USA (DC) Half Marathon (3/17).

Yeah that's the ticket. I mean, I don't run on my shoulders, right?

I don't wanna do surgery!!



Wednesday, December 14, 2011
I reflect on this one every year.

I was away for Christmas once ... only once. I was young, about 23 years old, in Alaska at a remote Radar station. My wife was at home, actually she stayed at my last duty station, Pope AFB, NC, with our daughter, who was about two years old. There was no war on, unless you count the Cold War. But there I was, not really fighting, but fighting the Cold War from a mountain in central Alaska

It was while I was stationed there that the chaplain told this story. It touched me then. It still does to this day.

No one should be away from family. Please pray that the "one who call the shot" will bring our troops home as soon as it is safe.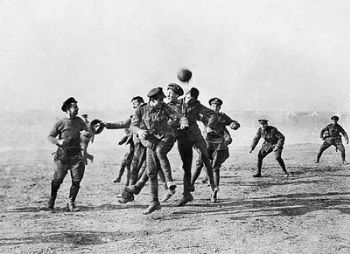 This video tells the story of the Christmas Miracle Truce of 1914. "Tommy and Fritz" put down their guns and met in no-man's land to bury their dead, share cigarettes, chocolate, beer and brandy. They brought out soccer balls and enjoyed some games. The generals from both sides threatened courts martial if the fraternization did not cease. The messages were "lost." They shared addresses and photos from home.

youtu.be/p05E_ohaQGk

This video is from one of my favorite folk/family singers, John McCutcheon. He tells a story on one of his CD about performing at a folk festival in Germany about his seeing some little old men who would be at all his performances. John finally asked why they were there. "We are waiting for you to play the song. The one about the War." The old men wanted to know where he had heard the story because he had gotten it so right. The one never fails to move me.

I play it this time every year because I want our troops home. The last line says "The ones who call the shots won't be among the dead and lame, And on each end of the rifle we're the same."

youtu.be/sJi41RWaTCs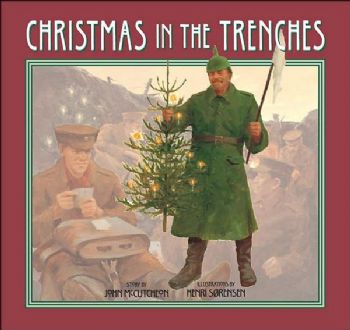 Early Merry Christmas all.


Tuesday, December 13, 2011
I found this on the website Listverse. This particular list was titled "Another 10 Ridiculous Products" listverse.com/2009/03/05/another-10-
ridiculous-products/ . This product was numero uno.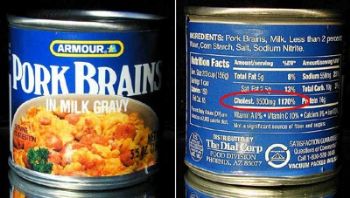 "Yes, thatís right 1170% RDI (or 3500mg) of Cholesterol, whoever thought this one up deserves either an award or to go to prison for manslaughter Iím not really sure which is more fitting. I can picture the product development meeting now CEO : 'Right guys I want you to develop a product that will kill all of our customers before they are 30'."

I laughed so hard I just had to share.


Monday, December 12, 2011
... you are at Church and the sermon is about John the Baptizer and when it is mentioned that John ate wild honey and locust in the desert you think, "Hmm, honey is about 2PPV per tablespoon, not a Power Food. Locust. How would I count locust? Would they be like shrimp, a Power Food? But shrimp aren't kosher so Johnny B wouldn't be eating shrimp. Are locust kosher? Live or steamed. Sauteed in just a little olive oil. I know they had olive oil. I could get in my good fats."

(And by now things have moved on to something about ...)

"... what was that? 'Fondue in candle caps?' Oh 'Undo his sandal straps!' Candle caps didn't make any sense. But fondue can be so high in PPV. I wonder if I can find a low point fondue for Christmas ..." and off you go.

Yep, that happened to me.

I guess that means that after nearly four years of Weight Watchers (and about four months of SparkPeople) the lifestyle change is really, really ingrained.

First Page
1
2
3
4
5
6
7
8
9
10
11
12
13
14
15
16
17
18
19
20
21
22
23
24
25
26
27
28
29
30
31
32
33
34
35
36
37
38
39
40
41
42
43
44
45
46
47
48
49
50
51
52
53
54
55
56
57
58
59
60
61
62
63
64
65
66
67
68
69
70
71
72
73
74
75
76
77
78
79
80
81
82
83
84
85
86
87
88
89
90
91
92
93
94
95
96
97
98
99
100
101
102
103
104
105
106
107
108
109
110
111
112
113
114
115
116
117
118
119
120
121
122
123
124
125
126
127
128
129
130
131
132
133
134
135
136
137
138
139
140
141
142
143
144
145
146
147
148
149
150 151 152 153 154 155 156 157 158 159 160 161 162 163 164 165 166 167 168 169 170 171 172 173 174 175 Last Page

Get An Email Alert Each Time TIMOTHYNOHE Posts