| | |
| --- | --- |
| | TIMOTHYNOHE's Recent Blog Entries |


Sunday, December 11, 2011
I will apply that a couple of ways.

Have you ever started something and it is fun at first but it turns out to be not as much fun the deeper you got.

Yeah, well, the not-a-Christmas songs got old. Last shot: "Favorite Things" came from a spring-released movie, Sound of Music, and was sung during a thunder storm. Don't bring up "brown paper packages tied up with string" because Christmas Presents aren't like that. Another on that list, "What a Wonderful World" was written as a plea for racial harmony during the 1960s unrest but some how was translated as Christmas. The last one I want to comment on is Johnny Marks' "There's Always Tomorrow." Such a nice song and if it hadn't been a part of Rudolph the Red-nosed Reindeer (1965) I daresay it is so pretty it would get year round play. But it only gets airtime at Christmas. Too bad.

Another thing I thought would be fun: running marathons. But I have discovered that around mile 16 I get thoroughly bored and I just want it too end. I can finish and I have twice, I am just bored stupid by the whole affair. So now I have decided to just go for half marathons, no more. But, I can still have goals, like getting my time below 2:00:00.

I had also thought that I wanted to do what is called an Olympic Distance Triathlon. Also called a Long Distance. It consists of a 1500 meter swim, a 40 Km bike (~25 miles), and a 10k run. But you have to be able to complete the swim in 55 minutes. Unfortunately, I swim only breast stroke, which is a slow stroke. And today I found that I take close to 60 minutes to swim 1500 meters in the pool. With practice, I might beat that down to 55 minutes and in the lake it will almost certainly be faster. But maybe I should take a lesson from the Marathon and just cool it a little bit. Stay with the sprint triathlons, because I know I enjoy them, and do the best at them as I can.

That means the the Half Ironman (1.2 miles swim, 56 mile bike, 13.1 mile run) is off the table for 2013.



Saturday, December 10, 2011
I am not a scrooge.

I am a cheater, however.

The one I picked for tonight is a song traditionally associated with Christmas that makes no reference to Christmas … not directly anyway.

Good King Wenceslas is based on an historical figure, Saint Wenceslaus I, Duke of Bohemia (907–935). He was the Duke of Bohemia from 921 until he was killed in an assassination plot lead by his brother. He was extremely popular for his legendary goodness. Several biographies were written about him and the cult and legends that grew about him served as a model for the rex justus, or "righteous king," a ruler whose power comes from his piety. The background for the song can be found here: en.wikipedia.org/wiki/Good_Ki
ng_Wenceslas . A brief discussion of St Wenceslas I can be found here: en.wikipedia.org/wiki/Wencesl
aus_I,_Duke_of_Bohemia .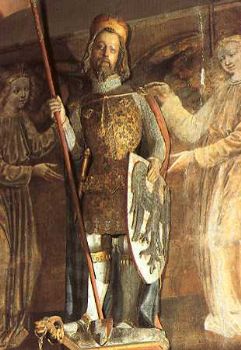 The story in the song's lyrics, written in 1853 as a St Stephens Day carol tell the story of one of the legends about Wenceslas. Since St Stephen's Day on the Church Calendar is December 26, the first day of Christmas by the song the Twelve Days of Christmas (Read on for a little aside on that song.) but not actually Christmas Day. But when else would you sing it, right? Well, how about in the spring since the melody is a 13th century spring carol "Tempus adest floridum" ("The time is near for flowering")?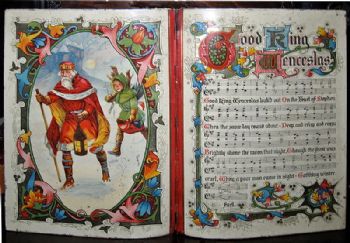 Back to the Twelve Days of Christmas. No I am not going to throw out the easily dismissed canard that it was some musical device to teach Catholic Children about religion during a time of Catholic oppression in England and Ireland. No, that's not it. Ever notice the list has 1 Bird in a bush, 2 birds, 3 birds, 4 birds, 5 jewelry, 6 birds, 7 birds, 8 women with livestock, 9 women in gowns, 10 men in tights, 11 flautists and 12 percussionists. What doesn't fit? The jewelry! And that's because it's not jewelry at all! It's actually a colloquial way of fitting in 5 ring-necked pheasants … more birds.

I hate that song. And my family knows it and they torture me with it. It is SO tedious.

Back to the rex justus Wenceslas.

The Youtube video is here youtu.be/N5E8CXQwtrg for you to enjoy while you read the lyrics and see no reference to actually Christmas, in spite of the lyricist's intent.

Good King Wenceslas

Good King Wenceslas looked out
On the feast of Stephen
When the snow lay round about
Deep and crisp and even
Brightly shone the moon that night
Though the frost was cruel
When a poor man came in sight
Gath'ring winter fuel

"Hither, page, and stand by me
If thou know'st it, telling
Yonder peasant, who is he?
Where and what his dwelling?"
"Sire, he lives a good league hence
Underneath the mountain
Right against the forest fence
By Saint Agnes' fountain."

"Bring me flesh and bring me wine
Bring me pine logs hither
Thou and I will see him dine
When we bear him thither."
Page and monarch forth they went
Forth they went together
Through the rude wind's wild lament
And the bitter weather

"Sire, the night is darker now
And the wind blows stronger
Fails my heart, I know not how,
I can go no longer."
"Mark my footsteps, my good page
Tread thou in them boldly
Thou shalt find the winter's rage
Freeze thy blood less coldly."

In his master's steps he trod
Where the snow lay dinted
Heat was in the very sod
Which the Saint had printed
Therefore, Christian men, be sure
Wealth or rank possessing
Ye who now will bless the poor
Shall yourselves find blessing 


Friday, December 09, 2011
I am not a scrooge!

A 'Soalin' is not a Christmas Song.

You are like totally forgiven if this one is a little obscure. Those of us in the AARP branch of SparkPeople may have even forgotten it.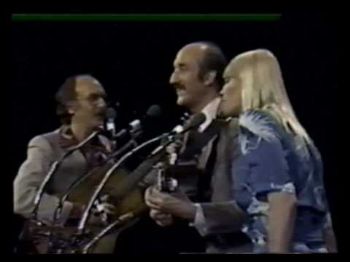 I had nearly forgotten this song. But it seems to be making a comeback because I have heard it several times this year. Maybe I'm just Paying attention since A high school classmate of mine recently posted it on Facebook from YouTube.

It was recorded and popularized by Peter, Paul, and Mary in 1963 on their album (or LP as we also called them way back in nineteen dickety three) Peter, Paul, and Mary in Concert. It's really well done by those proto-hippies. They took an traditional English folk song, tacked on a verse about Christmas which never existed before them, claimed songwriter credits. Yeah! So much for free spirit etc. Steal it from public domain, tack on a verse, copyright it, and collect royalties. No body said dope smokers HAD to be stupid. Then they interwove "God Rest You Merry, Gentlemen" to make a beautiful tapestry of a song.

There are two YouTube videos of A 'Soalin' tonight: a Traditional youtu.be/pEGaHM1i7M8 and the popular Peter, Paul, and Mary version youtu.be/zO4u-N_VGJY Enjoy them while you read the traditional and modern lyrics and an explanation below.

'A 'Soalin'

Hey ho, nobody home, meat nor drink nor money have I none 
Yet shall we be merry, Hey ho, nobody home. 
Hey ho, nobody home, Meat nor drink nor money have I none 
Yet shall we be merry, Hey ho, nobody home. 
Hey Ho, nobody home. 

Chorus:
Soal, a soal, a soal cake, please good missus a soal cake. 
An apple, a pear, a plum, a cherry, 
Any good thing to make us all merry, 
One for Peter, two for Paul, three for Him who made us all. 

God bless the master of this house, and the mistress also 
And all the little children who round your table grow. 
The cattle in your stable and the dog by your front door 
And all that dwell within this house we wish you ten times more. 

Chorus

Go down into the cellar and see what you can find 
If the barrels are not empty we hope you will be kind 
We hope you will be kind with your apple and strawber' 
For we'll come no more a 'soalin' till this time next year. 

Chorus

The streets are very dirty, my shoes are very thin. 
I have a little pocket to put a penny in. 
If you haven't got a penny, a ha' penny will do. 
If you haven't got a ha' penny well God bless you. 

Chorus

This last verse was added by Paul Stookey:

Now to the Lord sing praises all you within this place,
And with true love and brotherhood each other now embrace...
This holy tide of Christmas of beauty and of grace,
Oh tidings of comfort and joy.

Actually, there is a site here - www.takeourword.com/Issue020.
html#Spotlight - that explains it all much better than I ever can.









…. As we see from the lyrics, the children asked for "any good thing to make us merry" but soulcakes were not originally intended for the living.  Long before the Christian church gave the end of October and beginning of November the name "All Hallows", it was the Celtic new year. It is thought that the soulcake tradition may be a remnant of the ancient, pre-Christian practice of preparing a final meal for that year's dead. 

The Celts believed in ghosts … Thus, on the last night of the year (the Celtic year, that is; our Halloween) the table would be set and the spirits of those relatives who had died that year were invited back one last time. 

The custom of wassailing (or wasseling) is similar in some ways to the soulcake tradition - you knocked on your neighbors' doors, sang a special song and received gifts.  ...
… Unlike the souling tradition there are many wassailing songs, the most well-known of which is called "Here We Come A-Wassailing".  










Thursday, December 08, 2011
I am not a scrooge.

You know how you can turn on AM radio at night and pick up stations from far away? It's a little something called tropospheric scatter. That's as technical as I will get. It's also known as skip. It can sometimes be really exaggerated, like the time I was at Montauk Point, Long Island, NY and I was getting radio from Ames, Iowa. It can even happen with TV. One night when Dad was in Fallston, Maryland, north of Baltimore, he was getting Channel 7 from Washington. Not DC, but Washington, North Carolina. It can be weird.

When you take advantage of the skip to tune in faraway stations it's called DXng. Ham operators and shortwave enthusiasts do it all the time. I used to listen to Radio South Africa all the time. And sometime I would listen to Radio Moscow.

I was stationed at a remote radar station in central Alaska at Christmas 1976, far from my young wife and our two year old daughter. Yeah, I left my wife alone at Pope AFB, NC with a two year old and I have been paying for that ever since. On Christmas Eve, not being a drinker and everyone else was down at the NCO Club getting drunk, I went back to my room and turned on the radio. During the brief daylight hours I would only get the AFRN station that was repeated on site, but at night the world was opened up to me. I would DX across the AM dial. If I wanted to I could have gone to top camp and set up in the radio room and probably gotten WBAL from Baltimore, but at that time of year in central Alaska, Baby, It's Cold Outside. Sometimes I would hear Russian, or even as far away as China and Japan. But this evening I wanted to hear something else. I tuned in to what I knew was a Seattle station. (Oddly enough, I couldn't get Anchorage or Fairbanks, but that's how skip works.) They were playing the old WWII Classic by Bing Crosby, "I'll be Home for Christmas." youtu.be/lIq-jqm4Vdg I was so glad everyone else was at the bar getting drunk because I cried like a little girl. They followed it up with tonight's song, sung by Perry Como.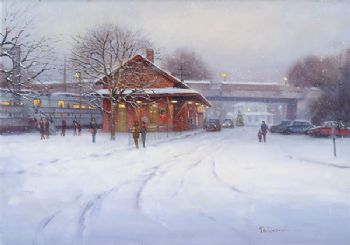 Home for the Holidays is NOT a Christmas song.

In point of fact, like "Jingle Bells" and "Over the River and Through the Woods" it is actually a Thanksgiving song. I mean, listen to the words! They don't mention Christmas or Santa or Jesus or heck, even snow which seems to be the only prerequisite to be named a Christmas song. Now that said, I will admit that it was a Christmas single release by Como in 1954, according to the Wikipedia page, so there is less mystery as to why it is played at Christmas, but that's only because they don't release Thanksgiving carols. en.wikipedia.org/wiki/Home_fo
r_the_Holidays_%28song%29

The Youtube video of Perry Como singing "(There's No Place Like) Home for the Holidays" for your enjoyment while you read the lyrics. youtu.be/AFHLo93kwHQ

Home for the Holidays

Oh, there's no place like home for the holidays
'Cause no matter how far away you roam
When you pine for the sunshine of a friendly gaze
For the holidays you can't beat home, sweet home

I met a man who lives in Tennessee
And he was headin' for
Pennsylvania and some homemade pumpkin pie
From Pennsylvania folks are trav'lin' down
To Dixie's sunny shore
From Atlantic to Pacific, gee,
The traffic is terrific!

Oh, there's no place like home for the holidays
'Cause no matter how far away you roam
If you want to be happy in a million ways
For the holidays you can't beat home, sweet home


Wednesday, December 07, 2011
I am not a Scrooge.

Tonight we go for the granddaddy of all the not-a-Christmas songs.

Jingle Bells is NOT a Christmas song!

This is probably the most recognizable non-Religious Christmas song out there. Just hum "da da dah da da dah da da da da dah" and everyone will immediately think Christmas. I actually think it has crossed oceans. I'll bet it's the same in Europe and Australia. It doesn't even have to be an English speaking part of the world. It may be more recognized as a Christmas song than probably anything other than Silent night.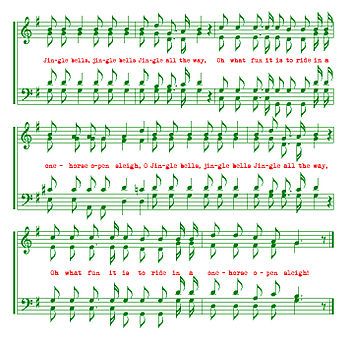 One problem though. There is no mention of Christmas or any holiday in the song. None, zero, zip, nada. It does mention a horse's butt, though -- "bells on bob-tail ring."

Believe it or not, it's a Thanksgiving song. From Wikipedia:

"Jingle Bells" is one of the best-known and commonly sung winter songs in the world. It was written by James Lord Pierpont (1822–1893) and published under the title "One Horse Open Sleigh" in the autumn of 1857. Even though it is commonly thought of as a Christmas song, it was actually written and sung for Thanksgiving.

The entire article: en.wikipedia.org/wiki/Jingle_
Bells

Why did "Jingle Bells" become tied to Christmas and "Over the River and Through the Woods" is still a Thanksgiving song? en.wikipedia.org/wiki/Over_th
e_River_and_through_the_Woods Maybe it was the fact that the latter song actually says "Hurrah for Thanksgiving Day?" Of course some have tried to shoehorn it into the Christmas ghetto by altering the line to "Hurrah for Christmas Day" by it doesn't seem to have caught on.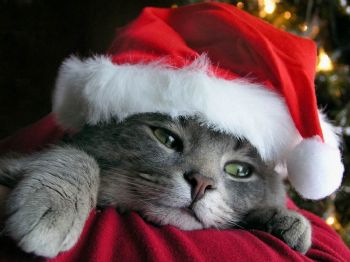 Hey I might not particularly like cats, but many people do. So to make it up to you whose bubbles I am bursting, here's a cat.

The YouTube video is one of the most horrendous versions of this song I have ever heard, Barbra Streisand's machine gun delivery will just drive you nuts (I know some like it). And there's another thing. Barbra is very proud of her Jewish faith and heritage. Why is did she do a Christmas album? Actually four Christmas albums.
youtu.be/z2lRSk0MWAY



Still, the music on this album is wonderful and she has a great voice.

The Lyrics

Jingle Bells
Dashing through the snow
In a one horse open sleigh
O'er the fields we go
Laughing all the way
Bells on bob tails ring
Making spirits bright
What fun it is to laugh and sing
A sleighing song tonight

Oh, jingle bells, jingle bells
Jingle all the way
Oh, what fun it is to ride
In a one horse open sleigh
Jingle bells, jingle bells
Jingle all the way
Oh, what fun it is to ride
In a one horse open sleigh

A day or two ago
I thought I'd take a ride
And soon Miss Fanny Bright
Was seated by my side
The horse was lean and lank
Misfortune seemed his lot
We got into a drifted bank
And then we got upsot

Oh, jingle bells, jingle bells
Jingle all the way
Oh, what fun it is to ride
In a one horse open sleigh
Jingle bells, jingle bells
Jingle all the way
Oh, what fun it is to ride
In a one horse open sleigh yeah

Jingle bells, jingle bells
Jingle all the way
Oh, what fun it is to ride
In a one horse open sleigh
Jingle bells, jingle bells
Jingle all the way
Oh, what fun it is to ride
In a one horse open sleigh.


First Page
1
2
3
4
5
6
7
8
9
10
11
12
13
14
15
16
17
18
19
20
21
22
23
24
25
26
27
28
29
30
31
32
33
34
35
36
37
38
39
40
41
42
43
44
45
46
47
48
49
50
51
52
53
54
55
56
57
58
59
60
61
62
63
64
65
66
67
68
69
70
71
72
73
74
75
76
77
78
79
80
81
82
83
84
85
86
87
88
89
90
91
92
93
94
95
96
97
98
99
100
101
102
103
104
105
106
107
108
109
110
111
112
113
114
115
116
117
118
119
120
121
122
123
124
125
126
127
128
129
130
131
132
133
134
135
136
137
138
139
140
141
142
143
144
145
146
147
148
149
150
151 152 153 154 155 156 157 158 159 160 161 162 163 164 165 166 167 168 169 170 171 172 173 174 175 Last Page

Get An Email Alert Each Time TIMOTHYNOHE Posts