| | |
| --- | --- |
| | TIMOTHYNOHE's Recent Blog Entries |


Tuesday, December 06, 2011
I am not a scrooge!

Frosty the Snowman is not a Christmas Song.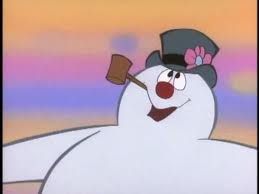 After a number of lovey-dovey winter/snow related songs, we finally get to a kids' song. We have in this one a bunch of kids who build a snowman and in some bizzare Stephen King moment put a top hat on him and he becomes a gigantic ice-golem spreading mayhem and panic through out the town. (In Jewish folklore, a golem is an animated anthropomorphic being, created entirely from inanimate matter. )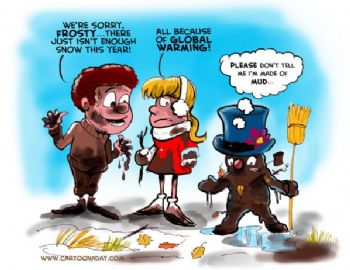 Golem were usually made of clay ... so .....

Okay, maybe not so much.

But this one actually gave me nightmares as a kid because that's how I imagined it.

Then Rankin and Bass produced a cartoon featuring the voice of Jackie Vernon as Frosty and Jimmy Durante as the narrator. Rankin and Bass made a whole industry of creating Christmas, and later Easter, mythology out of a grain of a story or song and whole cloth. In Rankin and Bass's world, when the children put the top hat on their snowman he came to life and the first thing he said was "Merry Christmas!" Huh? Why? It didn't make any sense to me. Add to that the top had was stolen (no finders-keepers if you know who the owner is) from a bumbling evil magician. And then there was conflict and hilarity! Whoopee!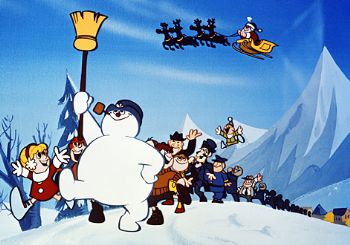 No idea why Rankin and Bass put Santa in this, but there he is.

See? Stephen King! Christine meets the Shining! (Remember where the topiary was moving around in the storm? Scary stuff.)

The YouTube video is here for your enjoyment while you read the lyrics. But as you will see, not Christmas and actually a hint of Spring in the air at the end.
youtu.be/Tw23pVOBE8s

Frosty The Snowman
 
Frosty the snowman was a jolly happy soul,
With a corncob pipe and a button nose,
And two eyes made out of coal.
 
Frosty the snowman is a fairy tale, they say,
He was made of snow but the children
know how he came to life one day.

There must have been some magic in that
Old silk hat they found.
For when they placed it on his head,
He began to dance around.
 
Oh, Frosty the snowman
Was alive as he could be,
And the children say he could laugh
And play just the same as you and me.
 
Thumpetty thump thump, (x2)
Look at Frosty go.
Thumpetty thump thump, (x2)
Over the hills of snow.
 
Frosty the snowman knew
The sun was hot that day,
So he said, 'Let's run and
we'll have some fun
now before I melt away.'
Down to the village,
With a broomstick in his hand,
Running here and there all
Around the square saying,
Catch me if you can.
He led them down the streets of town
Right to the traffic cop.
And he only paused a moment when
He heard him holler 'Stop!'
 
For Frosty the snowman
Had to hurry on his way,
But he waved goodbye saying,
'Don't you cry,
I'll be back again some day.'
 
Thumpetty thump thump,  (x2)
Look at Frosty go.
 
Thumpetty thump thump, (x2)
Over the hills of snow.



Tuesday, December 06, 2011
I had to go to a funeral this morning in Baltimore City at the Cathedral of Mary Our Queen. Two of my boys graduated from Mt St Joseph High School. The President of MSJ, Brother James Kelly finally passed from prostate cancer after having beaten colon cancer late Saturday morning.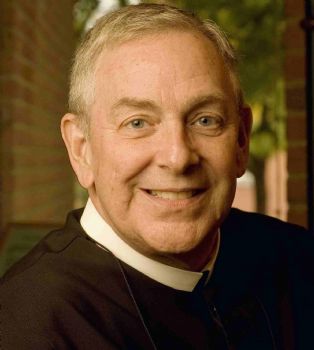 Eternal rest, grant unto him O Lord
and let perpetual light shine upon him.
May he rest in peace (Amen)
May his soul and the souls of all the faithful departed,
through the mercy of God, rest in peace.
Amen.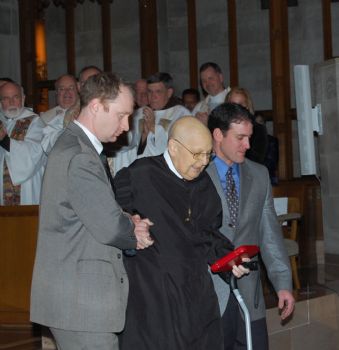 About two weeks ago, Br. James was honored with a Papal Award.

Neither of the boys could make the funeral - one is out of town and one is preparing for finals at school in Reading, PA. So it fell to me to represent the family there. It was a beautiful Mass. The Archbishop had a terrific homily and there were many testimonials to Brother James.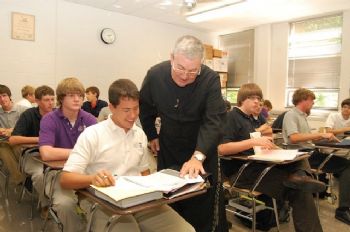 Br. James loved teaching but what he loved the most was being a Xavierian Brother. I never saw Brother James in a suit, though it was permitted for members of his order. He always wore his habit seen here as a sign of respect to his mentors in the Order.

My favorite part came at the end when Principal Fitzpatrick asked all the senior boys (all-boys' school) to stand. I know they were all still just stupid kids, with a lot of stupid things left to do before the are the men they already looked like. But they all looked so grown up.

Mr Fitz reminded them of something that Brother James always would say to the boys (It's the only time I allowed myself to tear up) especially the senior boys:

"In six months from this date, we will gather here once again for graduation. Saturday morning Brother James asked me to remind you of that and he had a message for you: 'Don't do anything to prevent you from graduating, always wear your seat belts, and ...'"

Here all the boys joined in because it was something Brother James always said.

"'And don't break your mother's heart.' "

Rest in peace Brother James.


Tuesday, December 06, 2011
All was not a disaster. I did get to run a race and in good time Saturday. I saw my niece and she ran faster than me. We had a great time!

I did something I have never done before. I carried a small point-and-shoot camera with me and too k no-aim pictures. They weren't awful for a first effort.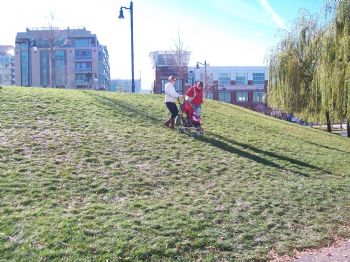 A mom trying to get her stroller into the Expo on Friday. It was about the best way to do it. Not set up in an ideal place.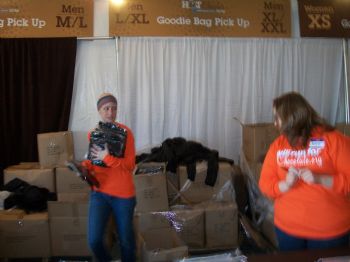 I will say, the volunteers deserve a lot of credit for putting up with people who expected things to be right.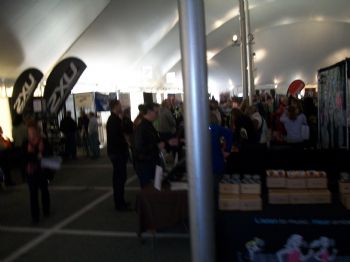 It was quite honestly a very small Expo. Probably good, I only spent about $70 and that included a Hot Chocolate long sleeve tech T and a hoodie. $20 each -- good price.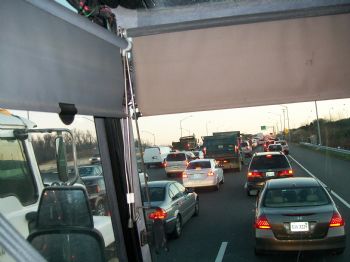 Then on Saturday Morning this is what we saw from the bus for nearly an hour. For this I got up at 4:00?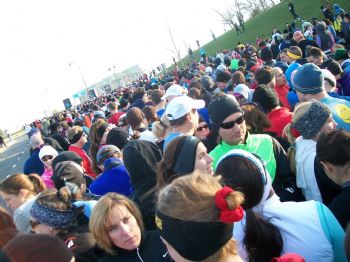 Here's everybody just waiting for over 40 minutes in the corral for the horn. I never did hear the National Anthem.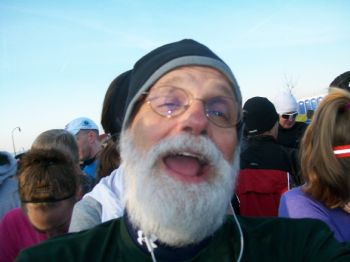 I don't take pictures of me and this is why.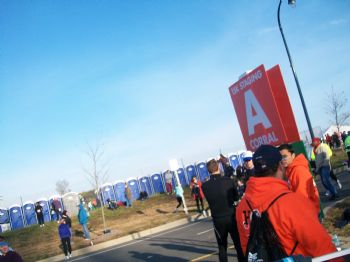 One thing they absolutely did right -- lots of potties. There were no lines for potties.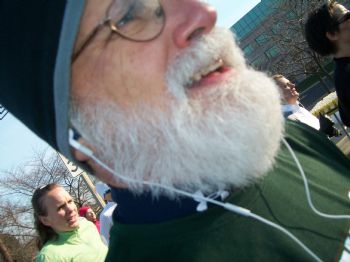 The race has begun. I am running.

These will give you some idea of how close we were to MD 210 Indian Head Highway. This is one of the busiest roads in Maryland!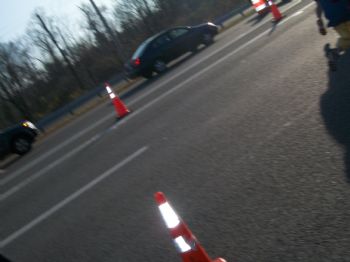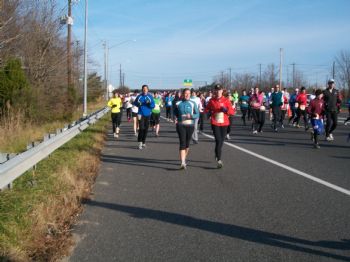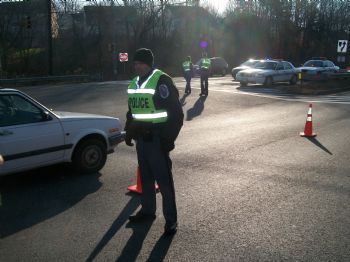 Not the safest place to run. Eighteen Wheelers, dump trucks and everything. I actually saw one inattentive driver swerve enough for me to catch my breath.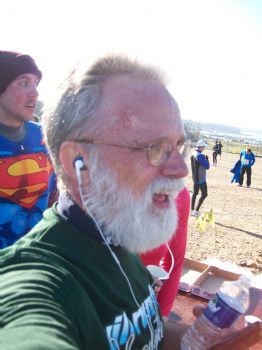 The run is done and this is a rarity -- me outside without a hat!

Next up, the Celtic Solstice 5 miler in Baltimore's Druid Hills Park. Entirely in the park. Two years ago 3000 registered but only 300 showed up. No, the race is actually that good! We were in the midst of a full blown blizzard! And 300 showed up to run.

I wish I had run.


Monday, December 05, 2011
I am not a Scrooge.

In the last three songs posted, we saw people who were enjoying one another's company. In Let It Snow the singer says:

When we finally kiss goodnight,
How I'll hate going out in the storm.
But if you'll really hold me tight,
All the way home I'll be warm.
 
The fire is slowly dying,
And, my dear, we're still good-bying,
But as long as you love me so,
Let It Snow (x3).

So one of them goes home. No spending the night.

In Sleigh Ride our couple gets no more intimate than:

Our cheeks are nice and rosy
And comfy cozy are we
We're snuggled up together
Like two birds of a feather would be.

In Winter Wonderland it would appear that they intend to be married:

In the meadow we can build a snowman,
Then pretend that he is Parson Brown
He'll say: Are you married?
We'll say: No man,
But you can do the job
When you're in town.

Later on, we'll conspire,
As we dream by the fire
To face unafraid,
The plans that we've made,
Walking in a winter wonderland.

And that brings us to this little number: Baby, It's Cold Outside.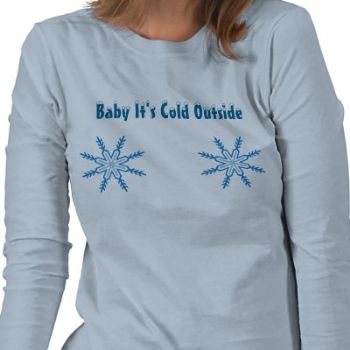 (It's a lot better than the one I found that I wanted to use. They were definitely cold out.)

Oh, shoot we're all grown ups here. If someone doesn't like it they'll flag me and I'll be told to take it down.: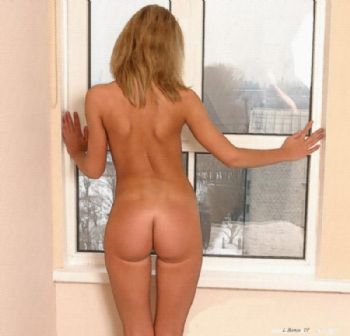 Here we have a song that should be rated at least PG-13. My goodness. It almost certainly was written before the age of "No means No." because he keeps hounding her to stay overnight since the weather is so bad. And this is a Christmas song? Yikes? Thank goodness it actually is not.

On the left is "Her" on the right "Him." In some scores, I have read, it's marked as "Mark" and "Wolf." Kinda gives you the mindset of the lyricist.

The You Tube video is by Lady Antebellum. I like it a lot. (Before I knew who it was I thought it was Dolly Parton and Harry Connick, Jr.) In the end, the "She" part gives in with a little giggle.
youtu.be/m3H6YE-40xg

I really can't stay -- Baby it's cold outside
I've got to go away -- Baby it's cold outside
This evening has been -- Been hoping that you'd drop in
So very nice -- I'll hold your hands, they're just like ice
My mother will start to worry -- Beautiful, what's your hurry
My father will be pacing the floor -- Listen to the fireplace roar
So really I'd better scurry -- Beautiful, please don't hurry
Well Maybe just a half a drink more -- Put some music on while I pour


The neighbors might think -- Baby, it's bad out there
Say, what's in this drink -- No cabs to be had out there
I wish I knew how -- Your eyes are like starlight now
To break this spell -- I'll take your hat, your hair looks swell
I ought to say no, no, no, sir -- Mind if I move a little closer
At least I'm gonna say that I tried -- What's the sense in hurting my pride
I really can't stay -- Baby don't hold out
Ahh, but it's cold outside -- Ahh, but it's cold outside

I really must go -- Baby it's cold outside
The answer is no -- Baby it's cold outside
This welcome has been -- So lucky that you dropped in
So nice and warm -- Look out that window at that storm
My sister will be suspicious -- Gosh your lips look delicious
My brother will be there at the door -- Waves upon a tropical shore
My maiden aunt is kinda vicious -- Baby you're so delicious
Maybe just one little kiss more -- Never such a blizzard before


Oh I've got to go home -- You'll freeze to the bone out there
Hey lend me your comb -- It's up to your knees out there
You've really been grand -- I thrill when you touch my hand
But don't you see -- How can you do this thing to me
There's bound to be talk tomorrow -- Think of my lifelong sorrow
At least there will be plenty implied -- If you caught pneumonia and died
I really can't stay -- Get over that old out
Baby it's cold outside -- Baby it's cold outside

Her: It is kind of chilly
Him: Just stay right here, Baby. You ain't gotta be nowhere
Her: All right, you win, Ha Ha Ha.




Sunday, December 04, 2011
RAM Racing, the people who ran the DC Hot Chocolate 15k (into the ground) sent out an email. The gist of the email was
(1) we have been doing this for 10 years with very few problems,
(2) the problems we face yesterday we unforeseeable:
1. a car accident on the Beltway,
2. limited access to National Harbor,
3. buses getting tied up in traffic jams,
4. someone sending the lead cyclist the wrong way on the 5k,
5. the venue not being large enough to accommodate 10,000 15k runners or 12,000 5k runners at a time we, we had no idea
6. etc.
(3) we had no idea that things would be this bad

The writer, who claimed to be the owner of RAM Racing but gave no name, said "these are not excuses but explanations.

Really?

If you had looked a a map before selecting National Harbor you would have passed; the is only one access/egress point: I-295/the Baltimore Washington Parkway .

If you had tried out the route before sending us out on it you would have known the MD 210 is a very busy highway; shutting down two lanes caused enormous problems and making 10,000 people run an out and back 15k route in those two lanes was courting disaster; the part that ran us along the waterfront was barely wide enough for three abreast making passing a nightmare; what was up with running us through a gravel construction lot?

If you had spent any time on the Capital Beltway or Baltimore Washington Parkway or the Woodrow Wilson Bridge you would have know that a minor fender bender will hose things up for hours --- even on Saturday morning. Besides, no one seems to be able to find any reports of accidents that occurred, amazingly, during both the pre-race traffic jam and the post race traffic jam. The latter caused the Crystal City shuttle line to stretch to more than 500 people. I suspect that trying to funnel 22,000 runners plus spectators out of National Harbor on to I-295 the Baltimore Washington Parkway was the only "accident" that happened.

Here's how they should avoid such clusterf**ks in the future: look a a map! You have to be able to get people in and out by multiple access points. Try out your run route first. If it looks like a busy highway with all the lanes open, figure that closing 2/3 of the lanes will be a huge problem. If you have thousands of runners, one travel lane each for running direction is not nearly enough and a wide sidewalk is really a bad idea. Teach your cyclist the route before you send him out, duh!

Oh, and make sure your people know where the shuttles pick up so runners can be directed to them. My niece and I were sent all over the place … we walked about two miles … to find the Crystal City shuttle stop and even then it was another runner who told us where it was. RAM people had no idea where to send us.

The chocolate was yummy.

And have a nice day. (I want my money back and I will never run another RAM Racing event again.)
First Page
1
2
3
4
5
6
7
8
9
10
11
12
13
14
15
16
17
18
19
20
21
22
23
24
25
26
27
28
29
30
31
32
33
34
35
36
37
38
39
40
41
42
43
44
45
46
47
48
49
50
51
52
53
54
55
56
57
58
59
60
61
62
63
64
65
66
67
68
69
70
71
72
73
74
75
76
77
78
79
80
81
82
83
84
85
86
87
88
89
90
91
92
93
94
95
96
97
98
99
100
101
102
103
104
105
106
107
108
109
110
111
112
113
114
115
116
117
118
119
120
121
122
123
124
125
126
127
128
129
130
131
132
133
134
135
136
137
138
139
140
141
142
143
144
145
146
147
148
149
150
151
152 153 154 155 156 157 158 159 160 161 162 163 164 165 166 167 168 169 170 171 172 173 174 175 Last Page

Get An Email Alert Each Time TIMOTHYNOHE Posts