| | |
| --- | --- |
| | TIMOTHYNOHE's Recent Blog Entries |


Thursday, December 01, 2011


Here is a list of songs that I claim are not Christmas songs. In this post I will just post the list. In the future posts I will include lyrics and links to YouTube videos and you can judge.

I am not saying they aren't good songs. Most of them are quite good. Some (Jingle Bells) are so worn out we should just forget them.

And now, the list:

These are not Christmas songs:
These songs have no mention of Christmas, secular or religious. All they have is snow references:
Let It Snow
Sleigh Ride
Winter Wonderland
Baby, It's Cold Outside -- Here we have a song that should be rated at least PG-13. My goodness. It almost certainly was written before the age of "No means No." because he keeps hounding her to stay overnight because the weather is bad. And this is a Christmas song? Yikes? Thank goodness it actually is not.
Frosty the Snowman
Jingle Bells -- This one has baffled me as a Christmas song since I was a kid. No Christmas, no presents, no Santa Claus. No baby Jesus. Just a horse's butt (bob tail?). Nothing!

This group have holiday references, but the holiday is not Chiristmas:
Home for the Holidays -- When you actually listen to the lyric, you discover it's about Thanksgiving Day not about Christmas at all.
A 'Soalin' (Soul Cake) -- This is actually a traditional song about All Souls' Day song. There was a tradition prior to Halloween (And probably one of its antecedents) of going from house to house to collect "soul cakes.' For every one you ate you would release a soul from Purgatory. (Wikipedia: en.wikipedia.org/wiki/Soul_ca
ke )
Good King Wenceslas -- King Wencelas looked down on the feast of Stephen, December 26, but it is NOT Christmas December 25.

This group has songs that could be played all year around, but have become pigeonholed as Christmas songs:
My Favorite Things -- This one is a total mystery to me. In the movie it was sung during a thunderstorm in the summer.
There's Always Tomorrow -- It came from a Christmas movie, I know, but it is so pretty it could be played almost anytime.
What a Wonderful World -- A plea for harmony that we need to hear all the time. It was not written for Christmas at all.

These are religious songs and hymns that have become strongly associated with Christmas but are really all purpose settings and are often used year round in church:
Ave Maria
Jesu, Joy of Man's Desiring
All Through the Night

So there is the list. Discuss amongst yourselves.




Wednesday, November 30, 2011
After my last blog post, I had a some requests for my recipe for my ketchup. You all understand that I made it up as I went along and I was able to recreate what I did only because I am so disorderly that the spices were still on the counter!

So here it is.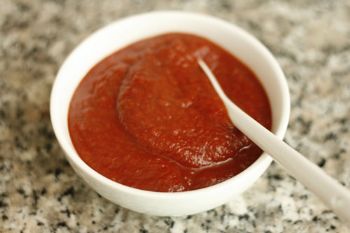 Ingredients
----------------
½ medium yellow onion, chopped
2 cloves garlic, minced
1 small yellow or red sweet pepper, chopped
1 8-oz. can tomato sauce
1 can tomato paste
3 Tbsp molasses
3 Tbsp cider vinegar
1 tsp salt
pinch cayenne pepper
1 tsp cinnamon
½ tsp ground ginger
1 tsp paprika

Directions
---------------
Puree the onion, garlic, and peppers in a chopper, blender or a Magic Bullet. Add the tomato sauce, paste, molasses, vinegar, salt , and spices to the blender jar. Add spices that you might like. Blend until everything is well mixed.

Serve.

Makes about 2 cups or about 32 1-Tbsp servings.

Nutritional Info: Amount Per Serving
Calories: 14.5
Total Fat: 0.1 g
Cholesterol: 0.0 mg
Sodium: 155.8 mg
Total Carbs: 3.5 g
Dietary Fiber: 0.5 g
Protein: 0.4 g

You may also find it here in SparkRecipes as Tim's Insanely Easy Ketchup:
recipes.sparkpeople.com/recip
e-detail.asp?recipe=1893076



Wednesday, November 30, 2011
One of the advantages of being disorderly is that one is constantly making exciting discoveries.
(A.A. Milne)

I have never been successfully accused of being an orderly person. My space is a total mess. Back when my snoring was so bad that She(WMBO) could not sleep, I had to take to the attic room. It has ever since been my personal space. And it is a mess. And yet I know where everything is.

Kind of.

And if She ventures into my realm, She always has an overwhelming urge to put thing "away." Then I can't find it and She doesn't remember where She put it. "I just put it a WAY!" After 38 years, you'd think she'd learn.

When I first took over the kitchen in our first year of marriage, I was cooking something. I poured out the pot to drain whatever it was. I did something with the drained stuff, turned to put it back in the pot and the pot was gone. I looked for about 15 minutes for that pot. What did I do with it. "Oh you mean this pot?" She brings it out of the cabinet. "I washed it and put it away."

Don't do that! Get out of my kitchen!

To this day, she believes that you can cook in a completely spotless kitchen.

But I truly think that the randomness that I demonstrate makes me just a little bit more creative. When I have a project, I rarely write down what I plan to do. I will step back and stare at the project, visualize it in my mind's eye, turn it around, take it apart, put it back together again. THEN I might make a list so I can go to the hardware store or the lumber yard.

And I ALWAYS forget something and I have to go back several times. Or something I visualized doesn't work as I envisioned and I have to do a redo or a kludge.

Tonight's dinner was something like that. I wanted to do Coach Nicole's Vegetarian "Meat" Loaf. But I was out of rice. I had lentils. I had no Ketchup. I had tomato sauce and paste. But I really had no desire to run out to the Giant for rice and ketchup in the rain.

Rice was easy. I just used quinoa.

Ketchup was a problem. Except it turns out that Ketchup is incredibly easy to make! I had tomato sauce and tomato paste. I had molasses and vinegar. I had onions and sweet peppers and garlic. I had cayenne and salt.

And I own a Magic Bullet.

I don't think I will ever have to buy Heinz again! In fact, I think my randomness has led me to a new world of discovery. I did some Googling later and discovered a whole wide world of ketchups out there ... some that don't even use tomatoes!

And that was that.

P.S. Coach Nicole's Vegetarian "Meat" Loaf was declared a "keeper" and my ketchup also won accolades.

P.P.S I had this all written at 11:31 "yesterday." And SparkPeople went offline for maintenance. As far as I am concerned, since I got it posted before I went to bed my blogging streak is intact. So there.


Monday, November 28, 2011
I needed a couple of things at the store today and the sun was shining and the air was not cold.

After all my cycling in Savannah, I thought nothing of rolling my bike out the door.

BONUS:

The saddle bags are limited in size so I *had* to stick to my short list.

I must say though, I had to think a little harder to plot a course here in Catonsville. Maryland is not a really bike-friendly state. For example, they just built MD200 the InterCounty Connector. This raod has been an agenda item for about 50 years. They finally built it. Cost almost $1B. And when they were trying to trim cost ... poof! The bike lanes disappeared. Yep. That saved $1M. Put it in perspective ... they saved a penny on $10.

The road in front of my house is a "Share Road." That means it's signed "Share the Road" with zero shoulder.


Sunday, November 27, 2011
... and everyone is still asleep.

Well, it's not really all THAT early. I would normally be going to Mass at this time. But, we are ready to leave to head back to Baltimore and I decided to risk going straight to Hell in case of a car wreck and skip Mass this morning.

Catholic guilt! Irish guilt! Genetic Jewish guilt!

Besides, the nearest church would probably require me to drive and I don't have the car. Thing 2 is supposed to bring when he and Mrs. Thing 2 get up and get down here from Thing 1's house. In the next room, Thing 3 slumbers away.

Bags are packed. Bike is ready.

LET'S GO. I hate to leave Savannah, but we must. I want to be gone before noon.

Thing 2 expressed a desire to wait until 4:00 PM to roll out to avoid DC holiday traffic.

You know?

When I was 24 years old, I didn't mind driving through the night.

You know what else?

I ain't 24 years old anymore. I hated the all-nighter we drove to get down here. I would really prefer to make it a two day drive. Stop in Wilson, NC. Have dinner. Watch TV. Then get a fresh start early tomorrow and arrive home before noon.

But noooooo! He has a job he wants to keep! That still doesn't explain wanting to arrive in Baltimore at 3AM. I always base my average travel time on 60 mph. That would be just short of 11 hours. So far, all drives to and from Savannah from Baltimore have taken me 11 hours. Google says 10:15, but Google doesn't account for breaks.

"3 AM? Dad, you must drive like a grandmother. It only take 9 and a half hours. We'll be in by 1:30"

Let's do the math: 650 miles divided by 9.5 hours is ... 68.5 mph AVERAGE! To do that you would probably need to sustain 75 mph for more than half the trip.

And no traffic jams. (Richmond? The totally random backups at Fredericksburg and Woodbridge? DC? DC? DC?)

And no meal breaks.

And no bathroom breaks.

Newsflash ... I ain't 24 years old anymore. And while the prostate is not the issue, my bladder *is* 58 years old.

Alright kiddies! Let's hit the road!
First Page
1
2
3
4
5
6
7
8
9
10
11
12
13
14
15
16
17
18
19
20
21
22
23
24
25
26
27
28
29
30
31
32
33
34
35
36
37
38
39
40
41
42
43
44
45
46
47
48
49
50
51
52
53
54
55
56
57
58
59
60
61
62
63
64
65
66
67
68
69
70
71
72
73
74
75
76
77
78
79
80
81
82
83
84
85
86
87
88
89
90
91
92
93
94
95
96
97
98
99
100
101
102
103
104
105
106
107
108
109
110
111
112
113
114
115
116
117
118
119
120
121
122
123
124
125
126
127
128
129
130
131
132
133
134
135
136
137
138
139
140
141
142
143
144
145
146
147
148
149
150
151
152
153
154 155 156 157 158 159 160 161 162 163 164 165 166 167 168 169 170 171 172 173 174 175 Last Page

Get An Email Alert Each Time TIMOTHYNOHE Posts