| | |
| --- | --- |
| | TIMOTHYNOHE's Recent Blog Entries |


Friday, November 11, 2011
Three of my sisters have given me the well-meant lecture about how marathon running CAN kill you. None of my four living brothers nor the other four sisters have seen fit to lecture me. (I'll save you the math -- 11 living sibs, one has passed, Mom and Dad had 13 children.)

"Please be careful out there. I hear about this all the time. 'he was perfectly healthy and he just dropped dead running a marathon.' You need to listen to your body and realize you're 58 years old."

This all in response to the man (Ulysses Thomas) who died 100 yards ahead of me at Mile 23 in Savannah last weekend. Age 58, avid biker and runner, perfect health. Sounds like me. It shook me up and has taken a few days to get over. Almost a week later I still feel a stab of sadness now and then. My eyes don't sting like they are on the verge of tears anymore, but I still feel sad some. Better everyday.

My only question is did he see a doctor before taking up the challenge of a marathon?

I assure them that I understand the risks, that only about 6-8 people a year die suddenly in marathons, that I got the go-ahead from my doctors (plural), that I am not whistling past the graveyard.

It was a 1 in 50,000 chance that it happened. If 8 die a year, 399,992 don't.

It was lightning strike that I saw it. Maybe 30 people were close enough to see it happen (an estimate) and maybe 100 others (a wild guess) saw him being worked on and put into the ambulance. 399,200 never have to see that.

I know they mean well and I love them for that. I'd rather have a back pat and a "well-done, are you OK after what you saw?" than a "This could happen to you!" I know it could and that is part of what makes me sad for the Thomas family.


Thursday, November 10, 2011
I got so wrapped up in running that I forgot some things. I worked out with strength training, but my heart was not in it. I skipped a lot of days.

But I lost most of my weight through a combination of diet and exercise and that exercise included swimming and treadmill work. I really do need to work on my strength training.

So here's what I plan to do: starting tomorrow, I'll break out my walking shoe, walk to the YMCA and hit the machines. The pool will also be visited, but only as a reward.

I also will make a better effort to learn some new recipes from books I have bought and simply looked over. Though to be honest, I have developed some pretty good dishes on my own like the meatless chili stuffed portobella mushrooms we had Tuesday night. Or the Salsa Salmon last night.

This is going to be a great winter.

Bring it on!


Wednesday, November 09, 2011
... and I am feeling much better.

Through yesterday, I had a lingering sadness for a complete stranger. I was present for his moment of death and that is a truly intimate ocassion.

I feel a little sadness today, but less than yesterday, so I know it will pass. Life has a way of going on, doesn't it?

When I got home a project was waiting for me: the side porch needs to be redecked. I started pulling the old boards up and I was able to see underneath in an area I haven't been into in years.

Oops.

Well, now that could be part of the reason the deck was rotting: the dryer vent had become disconnected and all the hot damp air was blowing on the underside of the porch. Lots of lint too. And so much stuff I kept and haven't missed.

Clean it out! Throw it out! Busted weed whackers, various sizes of scrap lumber, stuff I was sure I would want someday.

I moved a sheet of plywood and ... ewww!

Rat droppings.

Fresh rat droppings!

That was all for today! I called the exterminator straight away. By then it was 4:00 so I took off the rest of the day.

Rats!


Tuesday, November 08, 2011
Details of the deceased runner at the Savannah Marathon were released today.

His name was Ulysses Thomas of Fountain Inn, SC, and was called "Tom" by his friends.

m.savannahnow.com/latest-news/2011-1
1-07/organizers-reveal-name-man-who-di
ed-during-savannah-rock-n-roll-marathon




He was 58 years old, same age as I am. I saw him go down. I prayed for his safety. Three runners came to his immediate aid. We who saw it pretty much knew, but hoped for better. It sounded very bad when I was told at mile 25 that they were performing chest compression as they loaded him into the ambulance.

Sunday morning I found out he had died.

The article on wistv.com has this from his widow: "He was 58 years old and loved to run and ride his bicycle. He was in perfect health and had trained for months to run the marathon in Savannah," Cindy Thomas said in a statement.

www.wistv.com/story/15987607/runners
-wife-says-man-was-in-perfect-health

That could describe me.

You have noticed, no doubt, my background photo. That couch is in the Thunderbolt area near Savannah. Also out there is a clothesline with runners' messages pinned to it. Here is one of the newest, honoring Tom.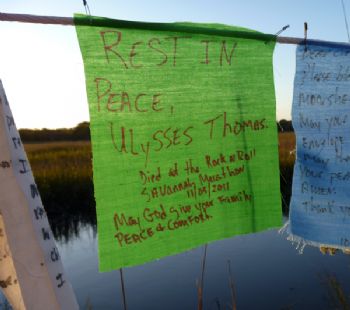 Eternal rest, grant unto him, O Lord
and let perpetual light shine upon him.
May he rest in peace.
Amen.


Monday, November 07, 2011
Click on this link gallery.me.com/timothynohe#101235&bg
color=black&view=carouseljs&sel=20 to see pictures that my daughter and step granddaughter took of the race.

Last year at Thanksgiving, my daughter Dani, who lives in Savannah, asked me if I was going to run in the Savannah Rock and Roll Marathon in November 2011. "Me? A marathon? No way! It would take too much training. I have no interest. etc etc."

When I got home I kicked it around a little and I discovered that training would take a few days a week and the mileage would graduate over the weeks. Hmmm. I might be possible.

In January, I went to my doctor, who is an athlete and who I told more than once I didn't want to do a marathon, and I asked him to get me scheduled for a full work up: heart, lungs, legs. "Marathon?" No!

Once I was all checked out and he gave me the thumbs up for a marathon (Me? No way!) I went home and signed up through Active.com. I called my daughter, "I'm in! How about you?" I told her. "Are you kidding? I don't have time for that. I'm a medical resident!"

Ten months, hundreds of miles, a tri, a du, a half, and one full-run-as-training later, it was November 5, 2011.

I woke up at 5 AM and had my coffee, oatmeal, and banana. We (daughter and son-in-law) were down on Bay Avenue by 6:30. It was already getting crowded. For some reason I couldn't figure I had Abba singing Dancing Queen stuck in my head. Quick, another Queen "I see a silhouetto of a man ..."

I had bought enough swag at the show that I had a pass to the Potty-Like-a-Rock-Star, but it was not working. So I had to stand in line with the little people. But the line moved quickly. It was cool by my standard, about 48 degrees. Consider that a week ago I was in a pouring rain at 37 degrees and hypothermic. All these Southerners were f-f-freezing. Ha ha. I was wearing a tosser shirt under my singlet with Running Maryland logo and Maryland flag shorts. I was warm enough. Just warm enough

I found my way to my corral and waited. My Daughter and her husband were there cheering me on. The first horn went off at 7:30 sharp. It took 17 minutes for them to get to corral 13 where I was. When my horn went off, it felt good.

For about the first 6 or 7 mile I stayed well even with the 4:30 pacers. By then the sky was crystal clear, the sun was bright and the air was crisp. It was a great day for running. Every time we passed the cops I would point at them and call out "Say Thank you!" And everyone around me would say Thank you. That lasted about 5 miles.

Coming through the streets of Savannah was great! The people were cheering us on. Along Liberty they had no fences and the spectators were in the street so close we had about a car width to run.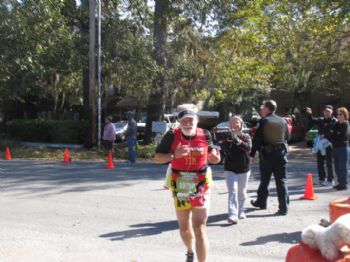 This shot from Mile 11, just before getting on the Truman Expressway, was on Spotted.Savannahnow.com the Savannah News' picture site.

By 11 miles and my second potty break in the woods (it's good to be a man!) I was falling behind the 4:30s. By then we were up on the Harry Truman Expressway. This is an interstate quality road. And extremely B-O-R-I-N-G. At 13.1 miles (off the Truman), I was on track to set the family record (age-adjusted). By mile 16 I was falling off pace. At mile 18 my daughter (who was riding a bike and taking pictures and video) had gotten her friends, my son and her stepdaughter to gather with signs and cheers.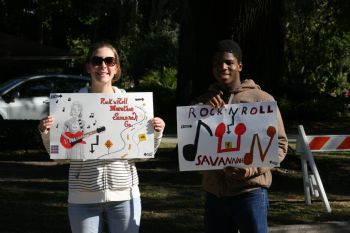 My step granddaughter Hillary and my son Patrick cheering me on.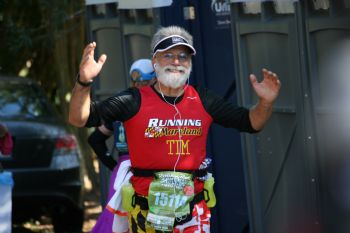 Yes, that's me smiling at MILE 18!!

Around mile 20 were back up on the Truman for 4 miles! Around mile 23 I saw tragedy. A guy in from of me fell face first. The band stopped playing and called for the medics. Three runners stopped and began first aid.

But we all knew.

At 25 I came off the Truman onto Henry Ave. There a runner told me the EMTs were doing chest compressions. I hoped for the best. Dani rode with me for the next half mile then took off for the finish line. Coming up Henry, I was seeing people with medals cheering us on. I touched a couple medals for luck; kissed one. An old lady was dancing to the band. Family record was long gone, so I stopped to dance too.




I made the turn onto Drayton to go into Forsyth Park and the finish line. I gave it a kick. The finish line band was ROCKIN'. I started to dance. I was told by Dani that the crowd loved it and started to cheer me on. All I saw was the girl after the finish line with my medal!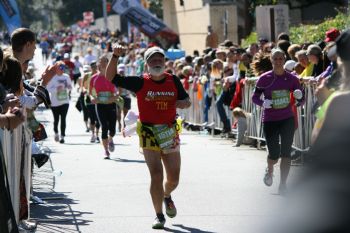 NIKE! 5:21:55.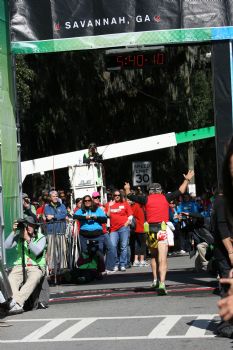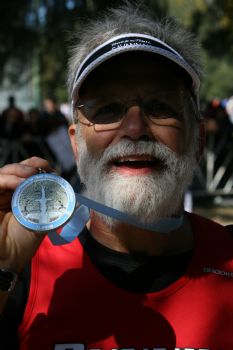 gallery.me.com/timothynohe#101235&bg
color=black&view=carouseljs&sel=20

I walked around for a while, then sat and listened to the music.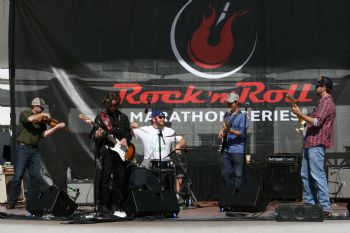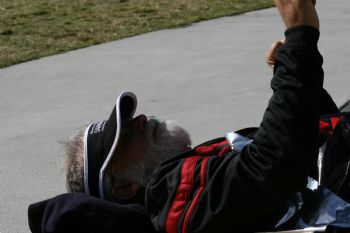 Danced with Dani.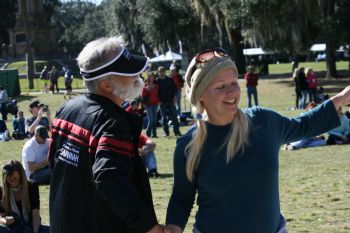 I was sore, yes. But we went home and I slept a 4 hour nap, had supper of a low country boil (shrimp, sausage, potatoes) and went back to bed.

In the morning I got up and, needing hearing aid batteries, I walk about a half mile to the pharmacy. Then later, we wanted the Sunday paper so I went out again. Dani went to work, Dave and the kids went to the beach and I was hungry, so I went back up the street to the Saigon Bistro for pho. By the third walk, I was totally recovered!

I did not run this morning, I was anxious to get on my way to Baltimore.

But Wow I feel good!


First Page
1
2
3
4
5
6
7
8
9
10
11
12
13
14
15
16
17
18
19
20
21
22
23
24
25
26
27
28
29
30
31
32
33
34
35
36
37
38
39
40
41
42
43
44
45
46
47
48
49
50
51
52
53
54
55
56
57
58
59
60
61
62
63
64
65
66
67
68
69
70
71
72
73
74
75
76
77
78
79
80
81
82
83
84
85
86
87
88
89
90
91
92
93
94
95
96
97
98
99
100
101
102
103
104
105
106
107
108
109
110
111
112
113
114
115
116
117
118
119
120
121
122
123
124
125
126
127
128
129
130
131
132
133
134
135
136
137
138
139
140
141
142
143
144
145
146
147
148
149
150
151
152
153
154
155
156
157
158 159 160 161 162 163 164 165 166 167 168 169 170 171 172 173 174 175 Last Page

Get An Email Alert Each Time TIMOTHYNOHE Posts