Sunday, November 06, 2011
... and I feel I must break my promise for something very important.

As I was running down the Truman Parkway in the Savannah Rock and Roll Marathon, around mile 23, I watched in horror as a runner about 100 yards ahead of me simply collapsed. He had passed me just a little way back and now he was down. Fortunately, I suppose, we are at a stage and the EMTs were parked there, about 100 yards away. The immediately stopped playing and called "Medic!" Three runners converged and began first aid right away. Those of us who saw it, we all knew. We all hoped for better, but we all knew. By the time I reached Henry Street with less than 1.25 miles to go, another runner caught up and reported that she saw them performing chest compressions on him. I got a sinking feeling in the pit of my stomach.

This morning we found out that he had died. No details were being released, not even where it happened, but I knew and I felt horrible that after my finish, I was dancing. But at that time I was hoping that he was being properly cared for.

But I knew.

What I want to say is very important. It's why there is no celebratory report or photos tonight (I will give a link to my mobile me gallery so you can get a peek.)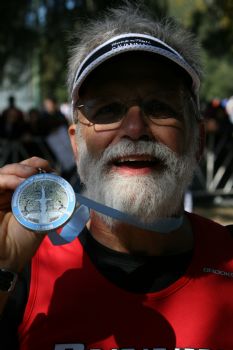 Ok, one picture.

In January, before I signed up for the Savannah Marathon, I made an appointment with my doctor. It was time for my regular physical, but this year I told him I wanted a cardiology work up and orthopedist and anything else he could thing of. "I thought you were never going to run a marathon." Me? No! I'm just running a lot and I want to be careful. "Right." After all the tests he sat me down, told me the good news and added, "So, what Marathon are you looking at?" Sava ... no marathon. (I signed up as soon as I got home and start training in February. 10 months)

He then told me this. Statistically there's a 1:50,000 chance of sudden death during a marathon, but a marathon never killed anyone. Just like shoveling snow never caused a heart attack. There is always something else there already. If everyone who went in for extreme endurance sports got the same kind of physical I had just gotten, he told me, we could reduce sudden marathon deaths to fewer than one a year or 1:500,000. 90% of the people out there do not get the full work-up they should before running. Almost always the cause could have been spotted before training even began.

Think about that. In an average year 6 to 8 people die in marathons alone. Not counting Ironman and Half Ironman events, ultras, etc. Those deaths could be reduce to near 0 if people would just take care of themselves.

You say, but Tim, I'm only running 5ks. And I ask you, are you 40 pounds over a 25 BMI weight? How much do you run.

Please, please, please. Changing your life by trying to live a healthy lifestyle includes making sure you are not exceeding what you current body can do. Check with your doctor first thing. And if you plan to take a jump in activity, as I did from 5k and 10k to a half-marathon then to a marathon, see your doctor. And get a training program and follow it. There should be no shortcuts. You can't safely go from couch to 26.2 in 3 months. Some have done it but they are taking a huge chance.

OK. Pictures! gallery.me.com/timothynohe#101235
When you click on a thumbnail to look at the picture, in the lower rigth of the picture is an "i" for information. It flips over the picture and there is a comment about what you are looking at.

I am in good shape today. Did a lot of walking and I plan to runn before we head back to Baltimore tomorrow AM.

I will be more fun tomorrow night.


Saturday, November 05, 2011
A short post tonight:

I did it. I ran my second marathon in in 3 weeks.
Savannah Georgia

Savannah Rock and Roll Marathon was great. I did it in 5:21:55 and I had enough to spare in my tank to give it a kick coming in the chute and to dance to the music as I did!

I had a blast and I will report and have photos tomorrow and maybe a video later.

For now, I am retired from full marathons. Too much work. But as a by-product of all the training, I can run a half marathon every week. I kid you not!

And I can always come out of retirement if I so choose. I'm just sayin' is all.

My 2012 goal is an Olympic length Triathlon: 1500 meter swim, 40K bike, 10k Run. I can do each of those, can I put them all together?

Oooh, and a mudder and a warrior dash.


Friday, November 04, 2011
... will be here tomorrow!!

Since February, I have been training for the Savannah Rock and Roll Marathon. I am running the full. I have worked so hard for this.

I am here. I am ready. I am READY!

When I wake to morrow, we will go downtown to the start venue. If traffic is too backed up, I will walk the last mile and a half if I have to. I could ride my bike, but my daughter will have none of that. "It will be dark." I have lights. "No."

If I had to I'd flap my arms and fly to get there.

This is so exciting!



Thursday, November 03, 2011
... and I should be tapering.

I started my day with the purest intention of running an easy 3 miles. I am supposed to be tapering for the Marathon. Saving my energy. Such a lovely day! I wanted to run. Just a little.

My easy 3 turned into an easy 5. And I wanted more.

When I got in I decided that I should go to the Weight Watchers center and weigh in since I won't have an opportunity on Saturday. I normally wear running gear to WI. Today I wore my bike gear. A heavier shirt and bike shorts -- spandex with a "diaper" padding. I rode my bike 5 miles to the WW center in Savannah. It was a great ride.

I "gained" 1 pound. Actually probably held steady because of the different clothes! Not bad considering I spent 11 hours in a car yesterday then had a big bowl of baked ziti for dinner.

For that I rode my road bike. When I got home, I swapped bikes to ride my hybrid bike to the ferry so I could cross the river and go to the runners expo to get my run packet. Another 5 mile one way trip. And of course I walked for about 3 hours in the convention center.

Yeah ... taper? With all this pent up energy leading up to Saturday. It has to be burned off somehow.

I must not run tomorrow. I probably will ride my bike, though.

So much for taper.


Wednesday, November 02, 2011
We have arrived. We got here in Savannah GA for the Savannah Rock and Roll Marathon (Saturday 11.5.11) at 4:45 PM.

The drive was uneventful. Really. Nothing to report. We left at 5:45 this morning. By 6:45 we were in Springfield VA ... basically the other side of DC. It seems we beat the traffic. By 7:45 we got to Fredericksburg and picked up Hillary. Switched drivers at NC rest stop on VA-NC border. Switched again at South of the Border in Dillon SC.

Really it was that uneventful. No accidents, no gasoline truck fires, no ten car pile ups. Just a pleasant drive on a pleasant day.

I am so amped for the marathon this weekend. Dr Dani tells me the entire town is ramped up for this event. It's nice to feel welcome.

I'm tired. It's late. I'll report more tomorrow.

Maybe there'll be something to report.

Maybe I will wax philosophical.

Or just plain silly.

OH! Did you know that November 5 is Guy Fawkes Day? I took a couple of V for Vendetta posters and converted them into Savannah Rock & Roll Marathon posters. Entirely for my own entertainment.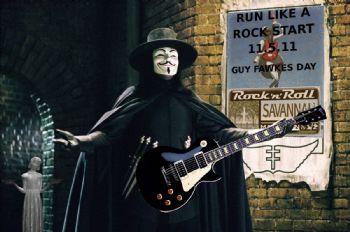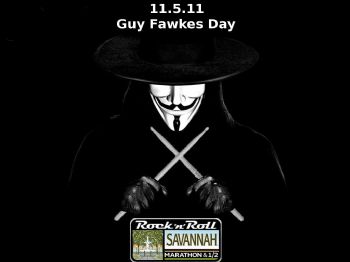 First Page
1
2
3
4
5
6
7
8
9
10
11
12
13
14
15
16
17
18
19
20
21
22
23
24
25
26
27
28
29
30
31
32
33
34
35
36
37
38
39
40
41
42
43
44
45
46
47
48
49
50
51
52
53
54
55
56
57
58
59
60
61
62
63
64
65
66
67
68
69
70
71
72
73
74
75
76
77
78
79
80
81
82
83
84
85
86
87
88
89
90
91
92
93
94
95
96
97
98
99
100
101
102
103
104
105
106
107
108
109
110
111
112
113
114
115
116
117
118
119
120
121
122
123
124
125
126
127
128
129
130
131
132
133
134
135
136
137
138
139
140
141
142
143
144
145
146
147
148
149
150
151
152
153
154
155
156
157
158
159 160 161 162 163 164 165 166 167 168 169 170 171 172 173 174 175 Last Page