| | |
| --- | --- |
| | TIMOTHYNOHE's Recent Blog Entries |


Saturday, October 22, 2011
I got out at 6:30 this morning and boy it was cold. I had to wear my long runderwear for the first time this season. The I ran ... are you ready? ... 13.5 miles! And had no pain.

When I was done, I went to my Weight Watchers meeting over on the other side of the City. When I go home we went into TOwn to see Rain. It's a tribute show to the Bealtes. It was really quite good. Dinner at a tapas restaurant.

When i got home and She(WMBO) went off to bed, I popped Beauty and the Beast into the BluRay player. I love that movie. I think it's a great story with great songs. My favorite scen is when Belle and the Beast discover each other.The song is "Something that wasn't there before." What was most compelling about that scene was when Beast couldn't use a spoon and Belle put hers aside to eat in his way. It was a great scene. The song she sings has a bridge that reflects her scene at the fountain with the sheep and the book.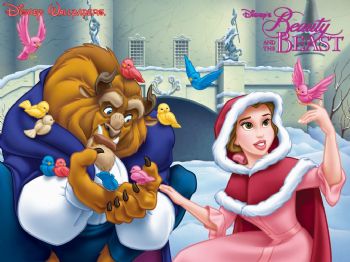 Yesterday, I watched the Lion King on the BluRay. There was quite an art to the old Pen & Ink animation. Now everyone does those computer animations and I just do not see the same artistry.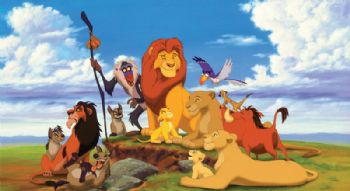 Since the advent of the Pixar movies, I think Disney has done two pen & ink features; Lilo & Stitch and the Princess and the Frog. Lilo, not a bad movie,was not up to standards for disney. And princess and the frog fell flat. Too bad.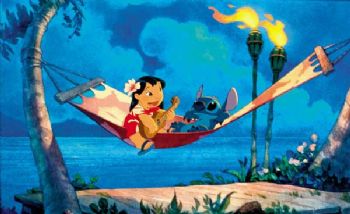 Tomorrow, the classic, Snow White!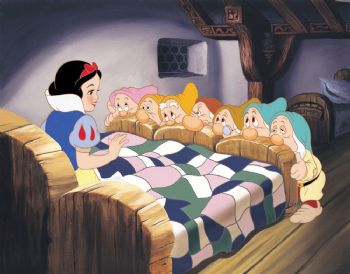 Friday, October 21, 2011
But I can't it seems.

Of course we are often told that "can't" means "won't." We have coaches and teacher who tell us that with enough effort we can do ANYTHING!! But we all know that is not true.

I have done some "impossible" things in the last two years. I once gave myself up for dead and I just ran a marathon. I have participated in multisports (duathlons and triathlons) but I do have limits.

I can't ride a skateboard. I fall off and I am afraid I will break something.

I can't skate, in particular I can't ice skate. The last time I tried some thirty years ago, my feet went out from under me and I landed, literally, on the top of my head. I really do not want that to happen again ... ever!

I can't ski. Well, allow me to revise that: I have never skied and I have absolutely no desire to try. It doesn't appeal to me. I may try cross country skiing, but downhill is off the table.

I can't seem to get the hang of jumping rope with a rope. I always seem to get tangled up and frustrated and I wind up putting it down.

I also cannot paint a picture, write a novel, sing in the opera.

I suppose in retrospect, some of the things I listed I can't do because I really have no desire to apply myself to learn the skill: skateboarding and downhill skiing. At my age, the risks outweigh the possible returns. I guess those two would be in the won't category ... I won't do what is necessary to do them.

Skating is something that I perceive I can actually kill myself doing. The is an actual fear there. I could probably overcome the fear, but fear of death is so primal and the pleasure I think I would get from skating do not exactly balance. Since my fall, it is probably best that I don't skate. So is that a don't? or a won't?

I am a passable writer, but I just do not seem to have the skill to write anything book length that would be coherent. Could I develop it? Perhaps. Would a coach or editor be of value. To be certain. Do I want to spend the money to do that? Nah.

I do not seem to have the innate talent to draw, much less paint. And while I have a good enough voice to hide in the church choir at one time, singing is not a talent I possess.

How about jumping rope? I can't do that probably because I always short circuit the process before I fail too many times. I can get the same exercise just jumping in place so why bother trying. Yeah, I think that may also be "won't." When I started to exercise, among my can'ts were three pushup, walking longer than 10 minutes, running period, pull ups (any) and I could go on. "I can't lose 80 pounds!" Well, I can do 100 pushups (let' not get crazy, in sets of 20 to 25), I can run a marathon for 5 plus hours, I can do 3 or 4 pull ups ... push ups taught me that if I keep at it, I will be able to, or can, do more. So I may someday jump rope. On the other hand, if I can get the same exercise without the rope, why bother with it? I guess I won't jump rope because there is an easier way to do the same thing.

Maybe coach was right. Can't often does mean Won't. I won't expend the effort to do most of those things I can't. Some I simply do not have the talent for, some I simply have no or not enough desire for. Some I am just not there yet.

When you say, "I can't lose all that weight." ask yourself, "Can't or won't?" Is it that you can't or won't do the things you need to do to lose it? Can't or won't track? Can't or won't change habits? Can't or won't move more? Can't or won't seek out support from others?




Thursday, October 20, 2011
Today, some pictures from Saturday's 2011 Under Armour Baltimore Running Festival Marathon.

Some of these were from Marathonfoto. Some were from the Baltimore Sun's page of reader submissions. And some were from the Baltimore Sun's coverage (shhh. don't tell). And I included some links to WBAL TV's coverage that they posted online.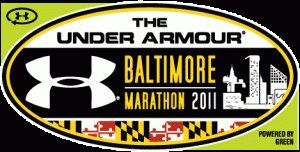 And now, the Under Armour presents the 2011 Baltimore Running Festival Marathon. (we actually ran through their headquarters parking lot!)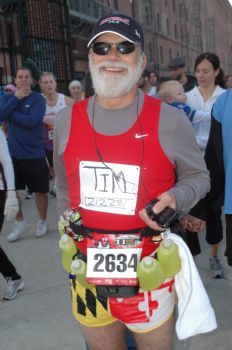 Before the Start finding my way to the starting line.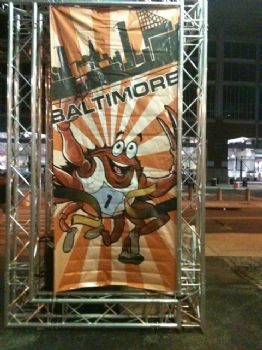 Good Morning Baltimore Running Festival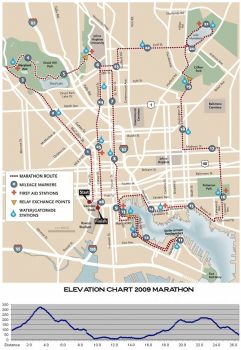 Marathon Route and elevation. This course was not for wusses.



And we're off going up Paca St. toward the Zoo. WBAL TV did not post the Marathon Start, but here is the Half Marathon Start:
www.wbaltv.com/video/29494226/detail
.html



Told you they had a gator at the zoo. Wbal TV Channel 11 report from the Zoo: www.wbaltv.com/video/29494073/detail
.html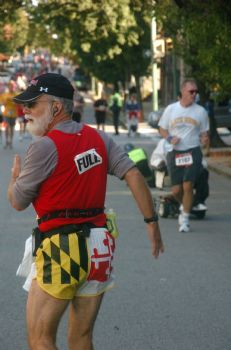 Dig those patriotic pants!



Howard Street Bridge was a major challenge in the last three miles.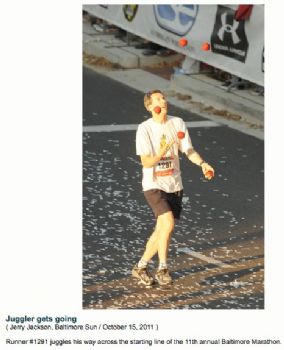 Pretty amazing even if I did resent his little sideshow to the hardest thing I ever did.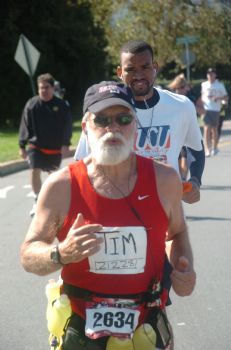 Around mile 20 and I am wilting. The guy behind me may have been too but not as much as me. He passed my very soon after this picture was taken.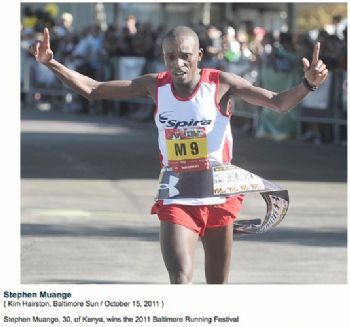 First place for the 9th time in 11 years goes to a Kenyan. Here is the coverage of the finish from WBAL TV Channel 11:
www.wbaltv.com/video/29494410/detail
.html

And also the women's first place finisher:
www.wbaltv.com/video/29494419/detail
.html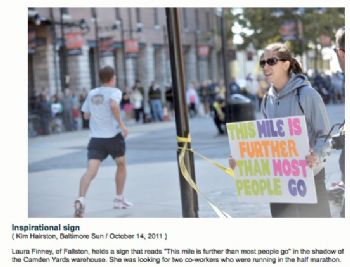 I loved the cheering crowd. That is the Warehouse.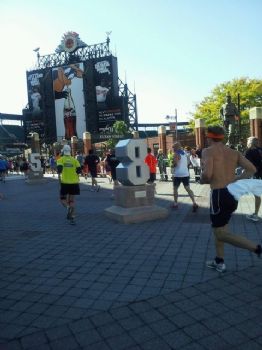 This is where I choked up; coming in between Cal Ripken's number and the statue of Babe Ruth at Camden Yards.



These folks were inspirational!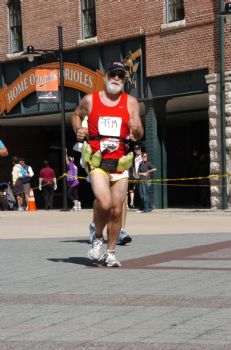 Almost there!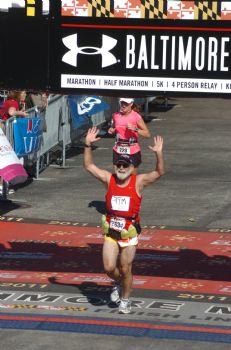 Nike!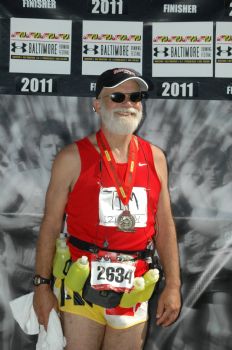 The Finisher's Photo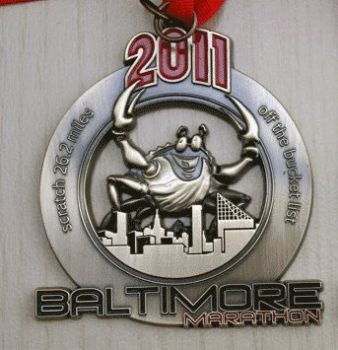 That's it! My medal!


Wednesday, October 19, 2011
Tomorrow, pictures from the weekend, I promise. Marathonfoto just downloaded a pile of URLs for the pictures. They are all sideways and not at all sorted by time or mile marker. So I need to go through them first.

In the meantime ...

I had a little timy spaghetti squash that my sister gave me from her garden. It was about 6 inches by 3 inches. I halved it, seeded it, steamed it with a litle salt and pepper scraped it out, tossed it with some tomatoes and olive oil and BOOM, supper for two.

I really don't understand why I keep seeing recipes for spaghetti squash. It is so simple. It would almost be like giving me a recipe for buttered toast:

BUTTERED TOAST
2 pats of butter, 1/8 inch thick, partially softened
2 slices bread
1 tbsp grape jam or jelly or strawberry preserves (optional)

For this recipe you will need a toaster or toaster oven.
Following the manufacturer's instructions carefully so as to avoid injury due to electrical shock or fire, place two slices of bread into the toaster and set the switch to beging toasting. Most modern models will shut off when the toasting timer runs out.

Remove the toasted bread from the toaster. Be careful as the toasted bread may be hot and cause superficial burns. Set the bread on a plate or a bread board and using a butter knife, spread the butter on the bread, starting near hte center and working your way out to the edges. Do this for both slices of toasted bread. If jelly, jam, or preserves are desired, repeat the process to spread the fruit spread on the buttered toast.

Serve on a plate with a glass of milk or fruit juice and coffee.

1 serving yields 2 slices.

-------------------

So it is with Spaghetti Squash recipes.

Here let me make it easy for you.

Cook them in the microwave oven until their skins are soft, scrape out the innards, use butter or oil and salt and pepper.

Oh and by the way... be very wary of any recipe that suggests you can use spaghetti squash as an altenative for spaghetti.

You can't because it is not spaghetti. Don't even try!


Tuesday, October 18, 2011
A couple of days ago I posted the heartbreaking poem about an abandoned dog.
www.sparkpeople.com/mypage_public_jo
urnal_individual.asp?blog_id=4535963

It made me cry and hold my foundling a little closer.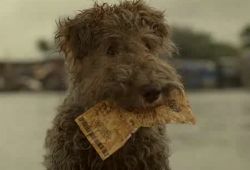 Today I want to link you to the a New Zealand Lottery Commission commercial found at dogwork.com. (I also read that the commercial is used by the Washington State Lottery.)

Suffice to say, the dog has his day:

www.dogwork.com/lodl2v/

Enjoy.
First Page
1
2
3
4
5
6
7
8
9
10
11
12
13
14
15
16
17
18
19
20
21
22
23
24
25
26
27
28
29
30
31
32
33
34
35
36
37
38
39
40
41
42
43
44
45
46
47
48
49
50
51
52
53
54
55
56
57
58
59
60
61
62
63
64
65
66
67
68
69
70
71
72
73
74
75
76
77
78
79
80
81
82
83
84
85
86
87
88
89
90
91
92
93
94
95
96
97
98
99
100
101
102
103
104
105
106
107
108
109
110
111
112
113
114
115
116
117
118
119
120
121
122
123
124
125
126
127
128
129
130
131
132
133
134
135
136
137
138
139
140
141
142
143
144
145
146
147
148
149
150
151
152
153
154
155
156
157
158
159
160
161
162 163 164 165 166 167 168 169 170 171 172 173 174 175 Last Page

Get An Email Alert Each Time TIMOTHYNOHE Posts