| | |
| --- | --- |
| | TIMOTHYNOHE's Recent Blog Entries |


Monday, October 17, 2011
I don't carry a camera on the course of my race. I feel like it's about running the race and not a Kodak moment. I am not dissing those who do bring their camera along, it just isn't me. And I knew that this wasn't a small local race like the Arbutus 10k where I could get a few snaps, run the camera back to my car, and get to racing.

This time I chose to rely on MarathonFoto to take pictures. Today they posted them and I will decide what I want to purchase tomorrow. They actually were faster for this race than they were for Maryland Half Marathon.

And they did get some good ones.
--------
I never participated in sports in school and definitely not in college. So there is one thing I never experienced.

The roar of the crowd.

I always been part of the crowd. But on Saturday, there were people cheering for what I was doing. It was an entirely new experience. Well, not entirely new. I heard people cheer at the Maryland Half and at the Celebration Triathlon. But this time I had my name pinned to my shirt. So the first time I heard "Come, Tim!" it filled me with excitement.
-----------
People warned me that the adreneline would kick in and I would have trouble controlling it. They were correct. I had intended to run slow and steady from start to finish. Instead, I started running at a too fast rate for the first half. When I reached Harborplace and crossed the 13.1 mat, I was just undert he same pace I had run at the Maryland Half.

Too fast. It was the adreneline.
------------
I have never been a big fan of the zoo. I don't like to see animals in cages. The primate house in particular disturbs.

The race passed through the Baltimore Zoo and zoo personnel greeted us with some of the critters. The first thing we passed was a handler with a raven. Was it Edgar, Allen, or Poe? Then there was a man holding a small, 3 foot, crocodilian (croc, gator, cayman?). We were also greet by a penguin and a skunk.

I gotta admit, that was fun.
------------
I was born in the City. We moved out to Fallston when I was 5 years old, but I do remember parts of the city from then. I also have emories of other events in the city as I was growing up.

Our home wa sin the 2500 block of Guilford. The race passed Guilford at 28th Street and along 29th Street and I actually remembered things there from 53 years ago. Weird.

The Colts and the Orioles played at Memorial Stadium on 33rd Street until 1984 (until Irsay stole the Colts away to Indianapolis in pre dawn snowstorm) and 1991 (Orioles moved to Camden Yards) and I have many memories of being in that neighborhood for, especially Orioles games. Memorial is gone and a YMCA is in its place. There is a Cal Ripken sponsored ball field there. The neighborhood is called Waverly and the folks there were so nice to the runners.
-----------
My training plan called for me to run 30 to 45 minutes today. I did! I ran in my new shoes and my feet loved me. I have been using Brooks Adrenelines. I bought Brooks Pureconnect at the Expo. I love them!

And my run today was good and not at all painful. I was able to run at about 12:00 min/mile
-----------
Two days on and I still do not want to run another marathon beyond Savannah. So those who think I am going to chang emy mind are wrong.

HA!
------------
I wish I knew this factoid when we went past the Occupy Harborplace protesters: about 0.1% of people have ever completed a marathon.

If I had known that I would have told them ""I am the 0.1%. Smithers, release the hounds."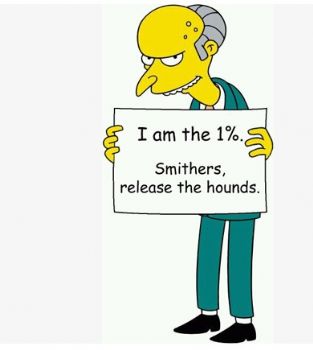 Monday, October 17, 2011
What long long strange trip it's been!

Two years ago, I ran my first race. Ever! I told She(WMBO) that that was all I would be doing. OK maybe 10k, but really anything else would simply take too much of my time. "If I ever utter the word MARATHON, except to buy gasoline in the South, including Half-Marathon, 42k or 21k, dig a shallow grave, take me out back and shoot me."

At Thanksgiving, Dr Dani, our daughter, an OB/Gyn resident in Savannah, asked if I was going to run in the Savannah Rock and Roll Marathon in November 2011. "No, no marathons for me." By Christmas I had changed my mind. I went to the Doctor and got his OK. I signed up. I called Dr Dani and asked if she had signed up yet. "What are you nuts? I don't run. Besides I'm a medical resident. I don't have time for a marathon." I was snookered.

In February, I started half-marathon training with the Maryland Half on 15 May as my first target. I did that in 2:21. Before that I had done the Fallston Duathlon in 2:24. In June I did the Columbia Celebration Triathlon in 2:20. All that in addition to my regular 5ks and 10ks.

By late July marathon training began to get intense. 12 miles. Two weeks later 14 miles in Savannah. Two week 17 miles. Three weeks 20 miles on a converted rail trail. Then 3 more weeks 23 miles around Catonsville (my town) It was at that distance I began to get serious doubts.

Three weeks later, Yesterday, was my scheduled 26 mile go-the-distance week. It happened to coincide with the Baltimore Marathon. I had already planned to run this one slow. 5 hours or more.

I got up at 6:00 and made my way downstairs. I got dressed in my itty bitty Maryland Flag shorts and red singlet. It was cool outside and the forecast was for 48-52 at race start with a high of 65. Excellent running weather except the wind was expected to be 10-20 mph with gusts to 35. I hate running in the wind. So under the singlet, I put on a long sleeve running shirt that I didn't care much about. I set up my belt with five 8-ounce water bottles, 6 gel packs, two bars and some gummies. It was heavy. I added my iPhone with RunKeeper ready to start. People could follow my progress with that app. On either side of my belt, I hung a hand towel to wipe if I got too sweaty.

When I started the car the dashboard thermometer, which is fairly accurate read 57. The air was still. The drive was nice enough until I hit the Russell St. exit to get to parking near M&T Bank Stadium. The it stopped. One hour to the horn and I was going nowhere. I popped some BeeGees into the CD player.

Thirty minutes and 2 miles later I was parked in Lot J. Dashboard said 60 degrees. Still no wind. Still a one mile walk to the start line on the other side of Orioles Park. A good warm up, I decided, but no time to hit the portapotty there. So I hit the one on Lot J. When I got in I realized my needs extended to more than just the basics. And the was no TP. I felt stranded. Wait! I have two hand towels. I could make do with one and make doo doo with the other! (I know TMI but I though it was funny.)

I checked my bag (dry clothes, massage stick, etc) and quickly made my way to the other side of Camden Yards where I found the 5:15 pace group. The race took off promptly at 8:00. It was 8:03 before I crossed the mat. (No National Anthem? In Baltimore where it was written? Odd.) And we were off. Three miles up Paca St and McCulloh St we turned into the zoo. I was keeping my timing, 3 minutes run, 1 minute walk. I was running too fast. By mile 6, I notice that I was ahead of the 4:45 pace group. Not good.

Baltimore harbor is at the bottom of a bowl. That means that you have to climb out of it then back in then out etc to make 26.2 miles. So the first part was a steady uphill. What I call a flat hill. It looks flat but it's all up for a long way. Then back down St Paul St to the Inner Harbor and Harborplace. Out to the Under Armour headquarters (The Sponsor) where I ran for a spell with my cousin Kathy's cousin Kevin. Not knowing it was him, I was stripping my longsleeve shirt off (without removing my singlet ... ladies seem to be adept at this removing an undergarment without removing the outer, but it was a new trick for me) and I handed him my glasses to please hold. I tossed it into a box at the next water station. The temperature was nearing 70 and still no wind! Weather Channel got it wrong!

As we approached the 13.1 mile mat, back at Harborplace we had to go past the Occupy Baltimore (Occupy Harborplace) protesters. Sheesh. Most of them were supportive. One sign read, "Run like your student loan is chasing you." I paid off my student loan on time, so I thought that was funny. But Some were not so supportive and actually saw fit to criticize us. I stopped and asked one particularly obnoxious guy why he wasn't running. Who me? No way. What you're doing is stupid. "Only because it would require you to do some work and commit to something." and off I took.

I was still having fun by mile 15 as we turn to go into Little Italy and Fells Point, but somewhere before mile 16, something changed.

I was approaching three hours and still way ahead of my desired 5:15 pace. And I just started to get bored with the whole affair. At mile 18, I was falling in with the 5:00 pacers. And I was hitting the wall. I thought "What the fück am I doing this for? I have nothing to prove. I can take a DNF. I can ride that bus back to the stadiums and just go home. I don't need this. I don't have any money. I have to finish! Arrrghh!"

At mile 20 I met my half marathon coach. She encouraged me a lot. And after seeing her, I totally forgot to turn on my back up battery. At mile 21 my phone went dead. People following me on RunKeeper wondered what happened. (When my son Dave reported on Facebook to all that my battery died, my brother only saw the word "DIED" and went into momentary panic mode. LOL) I was now running without run/walk cues or music.

I was now running with the 5:15 pacers as we passed the site of Memorial Stadium where the Orioles and the Colts used to play. And I was getting really tired. I dipped into my peanut butter and honey in plastic baggies.

Before mile 23 a fellow had a sign that said "π miles to Camden Yards RUN!" (in case your browser doesn't render it, that's pi) So! 3.141459 mile. Who measured that I wondered. That's like the home stretch. This is going to be a piece of π to finish. I was getting silly. About then I came on a couple. She was stumbling. He was holding her up. She looked like a ghost. "Are you drinking?" (yes) "Have you eaten anything?" (a banana about three miles back and oatmeal for breakfast) I gave her a couple of gels when I spied a pug dog.

I thought "That looks just like David's dog." I was still trying to help my new friends when I heard "Hey, Dad!" It was David's dog! ANd on the other end of the leash was his wife Carolyn. That really cheered me up when I really needed it. We ran together for a short spell, maybe a quarter mile. Then he was gone.

That last 2.5 miles was brutal. It was mostly down hill, into the bowl, but there was a tough bridge. And an underpass after that that you had to climb out of. ( I got some wolf whistle about my shorts from some pretty women and that gave me some gas. Good gas.) Once we hit Lexington Market, it was finally all downhill. But it didn't matter. I had spent everything three miles ago. I had nothing left. Walkers were out pacing me. Old ladies in walkers were outpacing me I think. I was scraping around in the bottom of the bucket and I wasn't finding much there. I could finish in a walk and there would be no shame in that. But why not try to run just a little more?

This is Eutaw Street. If you have ever watched a baseball game from Baltimore, you may have heard Eutaw Street mentioned. At the bottom of the hill as I crossed Camden Street, Eutaw becomes a promenade. Camden Yard is on the right and the Warehouse in on the left. I passed a statue of one of Baltimore's favorite sons (even if he was a Yankee) Babe Ruth. I felt a choke of emotion. I was going to do this. 500 yards to go! Something kick in. I was now running faster than I had 10 miles ago. I check my watch. 5:30 was going to have to be it.

But I was going to finish!

Camden Yards left me and M&T Bank Stadium came into view! There was the chute! I felt my eyes start to tear! I did not expect that. People were cheering me on! They were yelling my name (I had it on a bib on my shirt) and encouraging me to finish. I never felt that before. Photographers were there taking my picture (ok everyone's pictures, but by now I was all alone out there. it was all about me!)

Now I saw the clock. (Subtract 3 minutes.) I was going to make 5:32! I was now crying and trying to not cry. I was laughing! I was doing this.

I crossed that line and I wiped my eyes. I took my medal and I kissed it!

26.2 miles! Official time was 5:32:46.

Impossible!

Start by doing what is necessary, then do what is possible, and suddenly you will be doing the IMPOSSIBLE!

Three weeks to Savannah. There I will try to race. I would like to get a new Family Record (Age-Adjusted) of 4:41. (My brother did 4:16 at age 15) And I have already decided that Savannah will be my last full marathon. The training was too much work. The event itself was simply too much, too long, and it got boring for a while. I had fun through 15 miles so maybe half marathons will be good for me. But I did not overall enjoy the marathon. And if I don't enjoy it, why do it? I was right at mile 18. It's just that mile 18 was the wrong time to make that decision.

But still ...

I DID IT!

... and I will forever be a MARATHONER!


Saturday, October 15, 2011
I ran the Baltimore Marathon today. I completed it in 5:32:46.

I really would love to tell you all about it, but I think maybe I will give more details tomorrow. I do promise.

But my puppy is whipped. My dogs are barking. I have napped today.

To quote Scarlett O'Hara: "I don't want to think about that now. I'll think about it tomorrow."

Promise.

Just let me say this about that though: As I came down Eutaw Strett and crossed Camden Street the Warehouse was on the left. If you have ever seen a baseball game from Baltimore, you know the Warehouse. I knew the finish line was ahead.

I got choked up. That ugly building never looked so good to me. To the right was Oriole Park at Camden Yards. Ahead I could see M&T Bank Stadium, where the Raven play. As I entered the chute leading to the finish line. I was running faster than I had over the last 10 miles. I started to cry. I was laughing, too.

I DID IT!!

Three and a half years ago I had given myself up for dead and ...

I had just completed a Marathon.


Friday, October 14, 2011
This was posted on Facebook by the Fallston Animal Rescue Movement (FARM). I grew up in Fallston, MD.

www.facebook.com/pages/Fallston-Anim
al-Rescue-Movement-FARM/346584211044

---------------------------------------

I am a stray. I'm worth loving.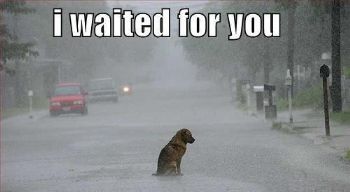 "Woof!" I said as you started the car,
"Hooray!" I said, it's my first time afar.
The scents we were passing were all new to me,
For it was my first introduction to this mystery.
As we got out of the car I embraced you with joy,
After all you remembered to bring my favourite toy!
You threw it once or twice, of which I retrieved,
But on the third it seemed you were ready to leave.
You threw it long and hard and I chased it like lightning,
But when I turned to bring it back I saw a sight quite frightening.
I gripped my toy hard as I tried to comprehend
What it was I did wrong to make our relationship end.
You walked back to your car as I sat there still loyal.
Why am I subservient and you so royal?
Your engine started, and you peeled out into the night,
You didn't even care about my overwhelming fright.
As I sat in my pose determined you would come back,
The sun faded behind me while the surroundings turned black.
Day after day I stayed in that park,
Lying... waiting... too feeble to bark.
As I lay there dying thinking of you master,
I asked myself how I got into this horrifying disaster.
With my last breath of life, I whispered your name
Then I collapsed in a heap overrun by pain.
Why didn't you love me master? Why didn't you care?
Had I no significance, was I just a clump of hair?
I stayed there master and I waited for you
I guess taking care of me was just too much to do.
I'm gone now master, no more You-and-I
But what I can't figure out is why you didn't even say goodbye...

-Author: Andrew Siegele-

DONT ABANDON YOUR PETS. You are their lives !

-----------------------------------

That made me scratch the ear of my own foundling, a dumpee found behind the Giant (supermarket) eight years ago. She is still not entirely confident that I won't dump her.

She is the best dog I have ever loved. I want to find the bastardé who threw her away and either thank them or punch them out.


Thursday, October 13, 2011
We hosted an exchange student this summer. He was from Austria. In May he commented that he had gained 12 Kilos in his six months in the States. We was only 108 pounds when he arrived so gaining a little weight was not a bad thing, but 12 kilos!. That would be what? 24 - 25 pounds?

He made an observation that I frankly had never noticed: There is food everywhere in the US. In Catonsville,a population area of just 50,000 people, there are at least 6 MacDonalds. Not to mention Taco Bells, Burger Kings, KFCs, Popeyes, etc.

But that's not the worst of it. And this is somthing I never really noticed until Bernhard pouinted it out to me. We went to Niargara Falls and New York City. Our visit to EllisIsland and Statue of Liberty was typical. We walked into the ferry terminal to buy our ticket and there was a snack bar. We went to the waiting area and there was a food cart. We got onto the ferry boat and there was another snack bar. Once we reached Ellis Island there were at least three snack abrs. Back on the boat over to Liberty Island and yes on liberty Island was more food. And of course onec we went over to the City, evrywhere there was food.

As I check out of the grocery store, I sometimes observe what others buy. I know I did the same before, but it is an eye opener. So much packaged food. No one seems to want to or is able to tak ehte time to enjoy the art of cooking and the sensual pleasure of good food that you have created with your own hands. A frozen pizza in a box, Macaroni and Cheese in a blue box, plastic wrapped hot dogs.

People claim it's too expensive to cook fresh and healthy. "I can get burger, fries, and coke off the dollar menu." OK, but DO you? Usually not.
First Page
1
2
3
4
5
6
7
8
9
10
11
12
13
14
15
16
17
18
19
20
21
22
23
24
25
26
27
28
29
30
31
32
33
34
35
36
37
38
39
40
41
42
43
44
45
46
47
48
49
50
51
52
53
54
55
56
57
58
59
60
61
62
63
64
65
66
67
68
69
70
71
72
73
74
75
76
77
78
79
80
81
82
83
84
85
86
87
88
89
90
91
92
93
94
95
96
97
98
99
100
101
102
103
104
105
106
107
108
109
110
111
112
113
114
115
116
117
118
119
120
121
122
123
124
125
126
127
128
129
130
131
132
133
134
135
136
137
138
139
140
141
142
143
144
145
146
147
148
149
150
151
152
153
154
155
156
157
158
159
160
161
162
163 164 165 166 167 168 169 170 171 172 173 174 175 Last Page

Get An Email Alert Each Time TIMOTHYNOHE Posts