| | |
| --- | --- |
| | TIMOTHYNOHE's Recent Blog Entries |


Friday, January 04, 2013
When I started at Weight Watchers five years ago, I was out of control. I was eating too much food. I didn't care what I was eating. There is a Home Depot about one mile from my house. It's a big one too. But if I needed to go to HD, I would go to one more than five miles away. Why? Because there was a Burger King right next door and I could get those chicken sandwiches that are as big as a half sub.

I was certain that all the damage I had done to my body by being over weight, and over eating was irreversible. I was absolutely convinced that my arteries were so clogged that I was doomed to have a massive coronary within a year. I expected to be dead before the end of 2009.

I did not care. I had no control.

Now five years later, I so tickled by the control that I have. When the kids get french fries, I ask for four. Just four. I love the taste of McDonald's french fries. "Dad, why don't you just buy a kiddie size fries for yourself?" Because I would eat the entire bag. I only want a taste. I don't need a meal.I am in control now.

This evening, I was for the third day in a row putting supper on the table. Not just setting it up so we could eat it watching TV. In the dining room on the table with candles lit. It was only bean soup, corn bread, and vegetables. But it was going on the table. She(WMBO) called mid slow traffic to invite me to meet her at the Double-T Diner for dinner. I had the control to say no.

And on dinner, we realized that if we were eating at home we would be eating the same thing, so why not do that at the restaurant? Now we often share a plate. And even then, we have leftovers to take home!

Today, I had no desire to get cold gear on and go run. I was supposed to run 13 miles but I didn't want to run even 1. So I left the house promising me that I would run 3 miles or so. By the end of two-and-a-half I decide to go for it. I was still a good quarter mile from the house and my watch said 13.35 miles. Enough! I walked it in the last quarter.

But I was in control!

I have admittedly allowed some things to slip. But on reflection, I realize that I am in control and before I allow myself to give up control, I am going to take it back.


Thursday, January 03, 2013
... and it is so true:

There is no better way to experience a place than to run it. You get to experience the deep crevices of an area, the senses beyond the visual, something you would never do if you didn't run.

Tawnya MacNeil, Runner's World Challenger

My Daughter and her husband lived in Savannah for four years. In that time I visited them for a cumulative time of less than six weeks. But when I went, I always took my bike. I rode or walked or ran everywhere. I don't think I ever drove my car in Savannah.

When I went to Savannah for my Marathon, I was able to give David direction to places he would drive to. If we were in the car together, I could tell him the shortcuts. I knew that town in six disjointed weeks better then he did every day for four years.

Getting to know a place from the ground is the only way to go.


Thursday, January 03, 2013
Seriously. I am just experimenting with emoticons.

I have made a grid dictionary of 1000 SprakPeople Emoticons. If you browse it you can actually find some "blanks" (em65, em70).





Like the space above.

Anything that looks like this:


Doesn't have an emoticon assigned.

Spark people should have a contest for new emoticons to fill in the
unassigned emoticons.

If you look closely, you can find some that don't show up in when you click Add Emoticon. Like the smiley going down the toilet (em6). Or the NASA professor (em66).





We need State Flags for us 'mericans. And Provincial Flags for your Canadish people. MLB, NFL, NHL, NBA logos!

To hand code emoticons:

. Find your emoticon and find its number:
.. The top row of numbers is the units place.
.. The left column is the hundreds and tens place with the units place kept by an x.
.. Find your emoticon
.. Use the number of the row -- 61x
.. Put the column number in for the x -- 2

. your emoticon number is 612.
. Select Add Emoticon button and add any emoticon.



. Replace the number between the brackets with your number -- 612



Don't use leading 0s (zeroes). The smiley down the toilet is number 6. The NASA professor is 66.





x= . . 0. . . .1. . . .2 . . . .3. . . . 4. . . . 5 . . . .6. . . . 7 . . . 8. . . . 9
. x










. 1x











. 2x











. 3x










. 4x











. 5x











. 6x











. 7x









. 8x










. 9x



10x











11x










12x










13x










14x











15x


16x


17x











18x











19x











20x











21x











22x











23x











24x











25x











26x











27x











28x











29x











30x











31x











32x











33x











34x











35x











36x











37x











38x











39x


40x










41x











42x











43x











44x










45x







46x











47x











48x











49x











50x










51x











52x











53x











54x










55x











56x











57x











58x










59x







60x









61x










62x











63x










64x










65x











66x











67x










68x











69x











70x











71x










72x











73x











74x










75x










76x











77x











78x











79x


80x










81x

82x

83x

84x

85x

86x

87x

88x

89x

90x

91x

92x

93x

94x

95x

96x

97x

98x

99x


Wednesday, January 02, 2013
... and it's going ok. I know, yesterday was the first day of the New Year by the calendar, but in point of fact, today was the first day back to our routines.

Am I right or am I right? Or am I right? Am I right?
(Groundhog Day reference for you geeks like me)

And while I don't celebrate the new year or make resolutions, I do acknowledge the rolling of the odometer and I do use the opportunity of ending the hubbub of the Christmas season to say "let's get back to doing things right." No more distractions.

The truth is, I wasn't necessarily doing those thing right, correctly, before the Christmas season, but as long as I was about re-establishing habits slacked off for the holiday, why not other ones too.

But those aren't resolutions. Understood?

I got up on the first alarm and in spite of the thermometer reading 29ºF, it was not raining or snowing so there was no excuse for not running to the Y. I pulled on my runderwear, slurped down some oatmeal, swallowed a banana whole, and headed out. The worst part was standing around while my watch acquired a satellite signal.

I was surprised to only see about 20% more people working out. Mox nix, they'll mostly be gone in February anyway.

Then I had to run home. It seems like it got colder after sunup. What is up with that?

The note, there's always a note, said I should clear the shelves in the pantry and scrub them down. Eww. I have been avoiding that particularly gross job, but I guess when She(WMBO) is home for 16 days, she sees thing. But once I was done cleaning, I tossed lots of stuff. Did you know that walnuts go rancid after, oh, about four years? Yeah, me neither.

Suddenly I have lots of room. And I have way more cans of green beans and corn than I ever dreamed, once I got them all in one cabinet. Cool! And what am I doing with 10 cans of tomato paste? Does anyone really ever need more than one or two cans, like, right now?

Round 4:00 I started dinner. Cornish hens, roasted potatoes, and green beans (why not?) with fresh fruit for dessert. All served at the table. Yep, that's a habit I forgot.

And I was extree careful about tracking today. I must get back to that.

So you see no resolutions. Just recovering lapsed habits.

Now. Let's see if I can do it tomorrow.


Tuesday, January 01, 2013
For the third year in a row, I have run in the Baltimore Resolution Run 5k. It's two loops around Patterson Park in east Baltimore for the benefit of United Ministries Earl's Place for homelessness ... well, not *for* homelessness, but against homelessness.

Anyway.

Normally I preregister for races. It guarantees the shirt. But for this one, I race day register because the weather is iffy. Today they were calling for some generally yucky weather. It was cool, about 45º, but no rain or snow or even much of a breeze. They have it all very well organized out of the basement of St Elizabeth of Hungary Catholic Church right across form the start line. The start time is a very civilized 2:00PM.

Dave asked me why, as a seasoned half-marathon, I would waste my time with a 5k? Well, for homeless people and recovering addicts, of course. But really ... because they serve great chili after.

A couple of pictures of Patterson Park:


The Patterson Park Pagoda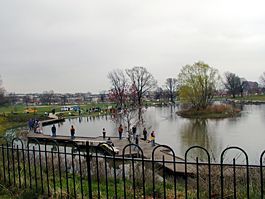 What's a city park without a Boat Lake.



The breathtaking Ukrainian Catholic Church

It was a good run. Fun. I finished in 27:27 BMW. Official times not posted yet.

Oh, and yesterday, my niece Andrea, with whom I have run a couple of races, was begged by her nine year old daughter Claire to be brought along for a race. Andrea admitted that she was reluctant to give up her PR

, but let that bit of selfishness pass quickly.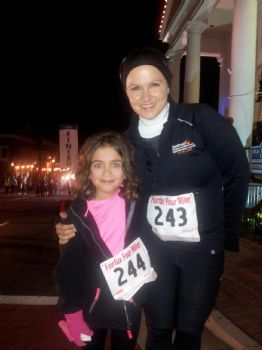 I am so proud of my Grand Niece for turning in a PR in the Fairfax Four Miler. Way to go Claire!






Such a good way to start the year.
First Page
1
2
3
4
5
6
7
8
9
10
11
12
13
14
15
16
17
18
19
20
21
22
23
24
25
26
27
28
29
30
31
32
33
34
35
36
37
38
39
40
41
42
43
44
45
46
47
48
49
50
51
52
53
54
55
56
57
58
59
60
61
62
63
64 65 66 67 68 69 70 71 72 73 74 75 76 77 78 79 80 81 82 83 84 85 86 87 88 89 90 91 92 93 94 95 96 97 98 99 100 101 102 103 104 105 106 107 108 109 110 111 112 113 114 115 116 117 118 119 120 121 122 123 124 125 126 127 128 129 130 131 132 133 134 135 136 137 138 139 140 141 142 143 144 145 146 147 148 149 150 151 152 153 154 155 156 157 158 159 160 161 162 163 164 165 166 167 168 169 170 171 172 173 174 175 Last Page

Get An Email Alert Each Time TIMOTHYNOHE Posts