| | |
| --- | --- |
| | TIMOTHYNOHE's Recent Blog Entries |


Tuesday, December 11, 2012
Want to do cardio but don't want to run? Or use the treadmill? I found a Greatist post that will kick your butt.

35 Cardio-Based Bodyweight Exercises
greatist.com/fitness/cardio-b
odyweight-exercises/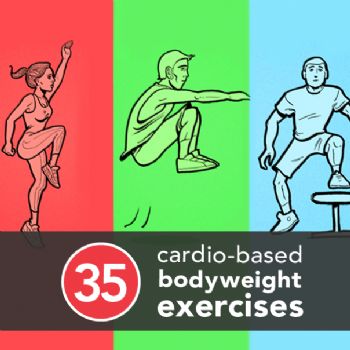 Power skip. Skipping isnít just for kids. Raise the right knee up towards the hip while reaching your left arm overhead. Land on the ball of your left foot, and then alternate the skipping motion with the opposite arm and leg. Shoot for 10-15 skips as high as you can go.

Jumping Jacks. This classic cardio move is a great way to warm up. Start with your feet together and hands at your sides, keeping the core engaged. Next, jump both legs out to the side (wider than your hips) while raising your arms overhead. Keep your knees bent as you jump again to bring your feet back together and arms down. Thatís one. Now see what 20-30 feels like!
Foot fires. Things are really heating up now. In a quick, shuffle motion, lift the heels off the ground (only about an inch tops) while keeping the upper body relaxed. You can shuffle in place or move back in forth ó your call!
Mountain climber. Weíre not going up any real mountains, but these are a close second. Start down on your hands and knees, and bring the right foot forward to the chest while the left leg remains straight. Engaging the core, quickly switch legs, and keep this rhythm going for 15-20 reps.

Invisible jump rope. Hop over an invisible rope (no need to jump more than an inch or two off the ground) by staying on your toes and pushing off with the balls of your feet. Make quick, small movements with your wrists as if youíre holding a rope, and go crazy for 60 seconds.

Lateral step over. Find a bench and stand to its side with the right leg closer to the bench. Lift your right knee up and bring the leg over the bench, not stepping on it. Then lift your left leg to meet the right, bringing the feet together before moving back ó left leg first this time. Go to step city for 15-20 reps.

Skaterís lunge. Begin with your legs a bit wider than shoulder-width apart, toes pointing forward. Lowering into an athletic stance, slide to the left into a side lunge with your hands on the left knee. Then move quickly over to the right side, repeating the motion. Go back and forth for 45-60 seconds like youíre a skating on thin ice. (Lose the kicks and go socks-only to help you slide!)

Flutter kick. Time to kick up the cardio ó literally. Lie down on your back with your arms at your sides and legs extended. Then, lift your heels off the floor (about six inches) and begin kicking up and down. Try to keep this up for a minute, and remember to keep the core engaged!

Power punch. Itís time to bring the boxing-ring a little closer to home. Stand with your feet shoulder-width apart, and the right leg a few inches in front of the left. Raise the fists up and keep the elbows in. Punch the fist closest to your body in front of you, while rotating the torso. Give a good 10 punches before switching arms and leg stance.
Upper cut. Need another boxing move? Get into the same stance with one leg slightly in front of the other, but punch the back fist upward, as if youíre aiming for the sky. Keep this motion going for 30 seconds, or switch it up and add the power punch for a one-two combo move!



Monday, December 10, 2012
My baby bwoy:




Hey, I paid for these pictures, I'm going to post them.

Now if he would just get a movie.




Or a TV show.




Or a commercial.




OR A DAY JOB!!!




Just get off my payroll.




He will be home in six days for the holiday. And be here until 1/7.


Sunday, December 09, 2012
There are things we just don't like to admit to ourselves.

Not necessarily me:
I'm too fat.
I hate my job.
My child is a criminal.

We all have our don't-want-to-admit-its. Whatever it is, who ever we are, we just don't want to admit it.

I started looking at trikes seriously. Not boardwalk Schwinn trikes like they ride over at Charlestown Senior Home. I am looking at sleek road trikes. Sport trikes.

And She(WMBO) asked me why I was doing that. "I thought you wanted a folding bike you could take with you when you're running out-of-town races. And I find that odd, too, since you haven't ridden either of your bikes much this year."

"Well, there is something to that. In the last year I have had two serious falls from a bicycle. One I got a black eye, busted glasses, and a really bad torn rotator cuff. Still recovering from the rotator cuff fully a year later even after surgery.

"In the other, I got a concussion. It was a mild concussion, but it still bothers me.

"I have been up on a bike maybe six times in the last year. And while I am not actually scared to ride, I just feel a little nervous about it.

"It's irrational.

"Or maybe not.

"I am 59 years old. I am in superior shape. No qualifier like 'for a man my age.' I am in superior shape. But I have to admit, my balance may be suspect. How else to explain two falls resulting in serious injuries in the past year?

"And I am not getting any younger. My balance is not going to be getting better.

"The trikes I am looking at are still sports cycles. I can still have fun on them. I can still ride fast. I can still get a workout. I will just be less likely to fall over.

"There I admitted it. I am getting old, dammit."

After I said all that, I felt like crying. I am not old, but I am taking cautions like I am old. I stormed out of the room. She followed me.

"Tim, thank you. I worry sick about you every time you ride off. They are expensive cycles, but if you insist on riding, they're cheap insurance. And if getting old means to you changing the way you're being active, that's way better than getting old and planting your butt in front of the TV."

Well, there is that. But I still don't like making concessions for getting old --- older anyway.

So. Anyone want to buy a 2005 Trek 5200 with a 52 cm frame in excellent condition?


Sunday, December 09, 2012
... o' mice an' men gang aft agley.Ē
― Robert Burns

Oh those crazy Scots. "gang aft agley?" What does that mean?

Anyway.

I didn't get in my long run yesterday. It was raining and cold most of the day and I opted out with a promise to me to do it today. Then I woke with a slammin' headache. So that 6:00 date with the nice little piece of asphalt wasn't happening.

Two cups of coffee and about a gallon of water later and some more sleep, it was 8:30 and I was too late to even walk to Weight Watchers. They moved the clubhouse and now its a mile and a half away ... a good walk, but I have to cross US 40. 30 minutes is not enough time.

With the day half shot, I decided to put it completely out of its misery and shoot it again by going to the grocery store ... on a Saturday. My headache was gone.

I still got about an hour run in as the December sun was making the shadows long at 3:30 and the chill was coming on the breeze.


Friday, December 07, 2012
Yesterday's scare behind us. Life got back to normal today.

After my AM dentist appointment, I decided to drive about 25 miles to Mt Airy MD to look at bicycles. I was thinking two alternate directions.

1) Get a folding bike that would fit into a suitcase so i could take it with me traveling. Brompton (UK) has one but for about $1400. Some others run as low as $400, but don;t fold as small, are heavier, take time to fold. Brompton is the best, but you pay for it.

2) Get a recumbent trike. This is a pricey proposition. And it makes me feel old to have to admit that I may no longer have the stability to ride an upright two-wheeler.

Mt Airy Bikes has used bikes and will take trade-ins. I have a very nice Trek road bike that I like a lot. But I haven't been on a bike but maybe a half dozen times since my concussion in April. It may be time for me to admit that I am ready to move to a stabler platform and trade the Trek in. It's such a sweet bike though.

When I got there, Larry from Mt Airy put me on a Terra Trike Rambler ($1600) and sent me around the parking lot.
terratrike.com/rambler.php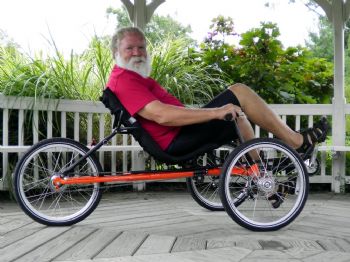 That is not, I repeat NOT me. That is a Terra Trike Rambler. But that is **NOT** me.

This thing was smooth, agile, and really sweet. Then he suggested that I come up some day when it was a drier ('twas cold and damp today) and take one out for a real test. Ride it into town, go eat, shop a little, bring it back and ride a country course he has plotted out (lots of hill he promised) ... use the bike for a couple of real-life hours.

Only then would he talk to me about which used trike he might put me on and about trading in my Trek.

It's like buying a new car. But with an honest dealer.
First Page
1
2
3
4
5
6
7
8
9
10
11
12
13
14
15
16
17
18
19
20
21
22
23
24
25
26
27
28
29
30
31
32
33
34
35
36
37
38
39
40
41
42
43
44
45
46
47
48
49
50
51
52
53
54
55
56
57
58
59
60
61
62
63
64
65
66
67
68
69 70 71 72 73 74 75 76 77 78 79 80 81 82 83 84 85 86 87 88 89 90 91 92 93 94 95 96 97 98 99 100 101 102 103 104 105 106 107 108 109 110 111 112 113 114 115 116 117 118 119 120 121 122 123 124 125 126 127 128 129 130 131 132 133 134 135 136 137 138 139 140 141 142 143 144 145 146 147 148 149 150 151 152 153 154 155 156 157 158 159 160 161 162 163 164 165 166 167 168 169 170 171 172 173 174 175 Last Page

Get An Email Alert Each Time TIMOTHYNOHE Posts