| | |
| --- | --- |
| | TIMOTHYNOHE's Recent Blog Entries |


Saturday, December 01, 2012
Mike called me today. He's thinking of getting a pet. Not a dog or a cat or a parakeet. He had wanted an African Grey Parrot but we distance educated him about how long a parrot lives. They can be multi-generational pets. So no cat, dog, or bird.

No. He wanted a monkey.

What? The boy is 19-years old and he wants to take on the care, feeding, and raising of a primate? I did it when I was 21, but she was my daughter. With her, we had about 12 years or so before she hit the totally unmanageable years of adolescence. And at the other end of that tunnel we got somewhat civilized human being.

With a monkey, it hits much faster. At the end of monkey adolescence you have a wild undomesticated jungle beast, a monkey. Who will throw his poop at you and masturbate in public.

My daughter never threw poop at me. And if she did the other thing, I never heard about it. And I don't want to, thank you very much.

I think I talked him in off that particular ledge. Especially when I reminded him that he would never be able to fly home. There are no monkey kennels, no friends who you would like to keep as friend you could ask to look after it, and no airlines that will let you fly with it. Even driving home would be problematic as he would need to find motels that would allow him to have a monkey in his room.

And don't tell me that there are monkey kennels and airlines that will fly your monkey. It doesn't matter. No monkeys.


Friday, November 30, 2012
I found this quote from the voice actor Maurice LaMarche. You may recognize him as the Orson Welles voiced character "The Brain" from the animated TV show "Pinky and the Brain."

"Don't let anyone fool you. We're all flying by the seat of our pants. Every last one of us. So why not try and do what you want to do, rather than feel like there's some 'secret knowledge' that everyone else was given, and which you somehow weren't? The only secret, if there is one, is not giving up. Put in your 10,000 hours, and watch what happens."

I wanted to couple it with a picture and I found this one and there was a quote on the accompanying page that was amazingly similar.

"The trick is to realize that you're always doing what you want to do… always. Nobody's making you do anything. Once you get that, you see that you're free and that life is really just a series of choices. Nothing happens to you. You choose." from The Answer Man

So may I add: Do what you want and the world is your oyster.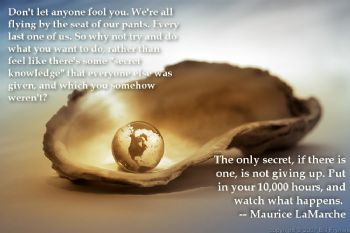 Friday, November 30, 2012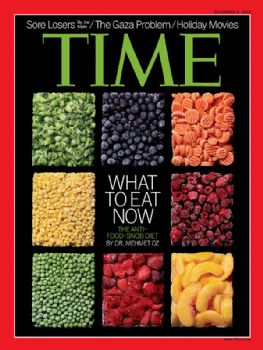 If you get Time Magazine or subscribe to it online, I highly recommend the cover story in the December 3 issue, which arrived in my mailbox yesterday.

www.time.com/time/magazine/article/0
,9171,2129811,00.html

The article by Dr Oz which attempts to put to bed a lot of myth surrounding eating right. Especially bust is the notion that to eat a healthy diet, you have to spend huge amounts of money to buy everything organic or gourmand (like that fancy pants word for fancy pants food?) Good old frozen spinach is just as good. He shows a chart comparing the fancy brand to the supermarket brand and the stuff from the Giant (or Ralph's or Harris Teeter) wins every time.

Excellent article. Well worth the read.

If you don;t subscribe, hmm, make an appointment with your doctor for January. It ought to be in the waiting room by then.


Wednesday, November 28, 2012
I don't think it broke 40ºF here today. And it was windy.

But I went running any way. I did work up a sweat and that plus the breeze chilled me pretty deep.

But it is still not officially cold as there were no icicles on my beard.


Tuesday, November 27, 2012
It's getting to be late autumn and it's time to take advantage of those winter squashes. One of my favorites is the acorn squash. I also wanted something a little different so I made up this vegetarian chorizo stuffed squash. This is not just another copy/paste job. I did this with some Soy Chorizo that TJ had on for $1.99 apiece. I bought me a *bunch* of sausages.




Minutes to Prepare: 10
Minutes to Cook: 40
Number of Servings: 2

Ingredients

1 acorn squash, halved and seeded
3 oz. Trader Joe's soy chorizo
1/2 cup cooked whole wheat couscous
1 oz shredded Parmesan cheese
1 oz roasted red pepper, chopped
1 Tbsp olive oil
1/2 tsp salt
1/2 tsp chopped cilantro
1/2 tsp ground cumin

Directions

Cook the squash by placing it in a baking dish, cut side down, with about 1/4 inch water and cooking it in a 450°F oven for about 30 minutes.

The soy chorizo is fully cooked. If you are using meat chorizo, cook it according to package instruction. Mix the chorizo with the couscous, cheese, peppers, oil, salt, cilantro, and cumin.

Spoon half the mixture into each squash half. Place the filled squash in the oven to cook until the mixture is warmed through and the cheese is melted, about 8 to 10 minutes.

Serves 2.

Tip
I served this with cooked baby spinach with roasted garlic, cloves, and mushrooms. For dessert I served one half Asian pear with a flavored balsamic vinegar reduction.

Nutritional Data

Nutritional Info

Servings Per Recipe: 2
Amount Per Serving
Calories: 298.3

Total Fat: 12.5 g
Cholesterol: 10.1 mg
Sodium: 1,248.7 mg
Total Carbs: 38.1 g
Dietary Fiber: 6.5 g
Protein: 14.1 g

recipes.sparkpeople.com/recipe-detai
l.asp?recipe=2305423
First Page
1
2
3
4
5
6
7
8
9
10
11
12
13
14
15
16
17
18
19
20
21
22
23
24
25
26
27
28
29
30
31
32
33
34
35
36
37
38
39
40
41
42
43
44
45
46
47
48
49
50
51
52
53
54
55
56
57
58
59
60
61
62
63
64
65
66
67
68
69
70
71 72 73 74 75 76 77 78 79 80 81 82 83 84 85 86 87 88 89 90 91 92 93 94 95 96 97 98 99 100 101 102 103 104 105 106 107 108 109 110 111 112 113 114 115 116 117 118 119 120 121 122 123 124 125 126 127 128 129 130 131 132 133 134 135 136 137 138 139 140 141 142 143 144 145 146 147 148 149 150 151 152 153 154 155 156 157 158 159 160 161 162 163 164 165 166 167 168 169 170 171 172 173 174 175 Last Page

Get An Email Alert Each Time TIMOTHYNOHE Posts