| | |
| --- | --- |
| | TIMOTHYNOHE's Recent Blog Entries |


Wednesday, November 21, 2012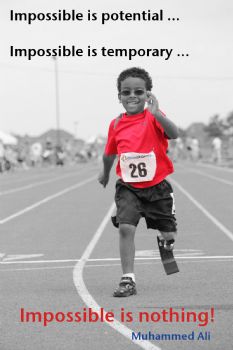 "Impossible is just a big word thrown around by small men who find it easier to live in the world they've been given than to explore the power they have to change it.

Impossible is not a fact. It's an opinion.
Impossible is not a declaration. It's a dare.
Impossible is potential.
Impossible is temporary.

Impossible is nothing."
― Muhammad Ali



Tuesday, November 20, 2012
I got up early this morning. About 5:30, even though I didn't need to be at the airport until after 8:00. I had a leisurely breakfast then loaded my car and checked out of the hotel. I went downtown Tulsa and I worked out at the YMCA for an hour.

It was invigorating!

The flight to Houston was routine. I was in Houston at the Same time that She(WMBO) and Patrick were. Except I was at Houston International Bush Airport and they were in Houston Hobby. I had no time to eat between flights, I was on a dead run between gates. They had a leisurely lunch.

I got to Corpus first by an hour and I had the car all ready. After 11 days on the road, It was wonderful to see her.

Dr Dani welcomed us to her home, then wanted to get over to Fleet Feet so I could help her buy running gear. She is getting serious about running a Half next spring. It turns out there is opne right here in Corpus the same date she was going to go up to San Antonio. Two thumbs up. So shoes, bra, capris, hydration/fuel belt, and iPhone armband and she is ready. "This is starting to get real."

Yeah, real expensive! "Wait until you actually pick a race and register. Then it's really real."

Thursday, we run together in the Turkey Trot. It's going to be fun.


Monday, November 19, 2012
The Squirrel left me alone today. (?? Read two blog entries back)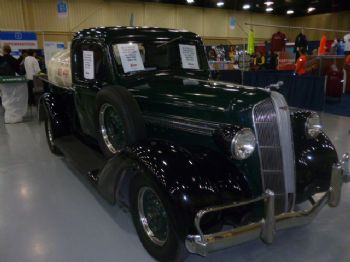 There was an Expo the two days before the Marathon. At the Expo was a car show. If any vehicle there could have been called the "Mascot" this would be it. A 1937 Dodge Pickup. Why? Because the finisher's medal :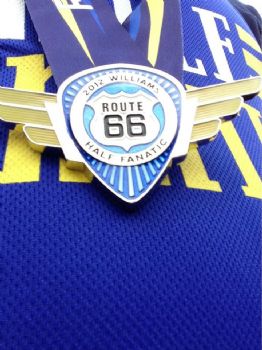 (that's mine!) was modeled after: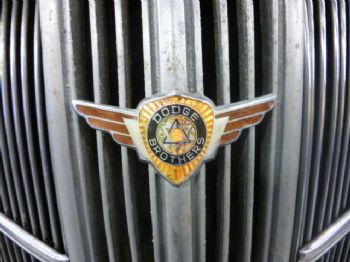 the badge for the truck.

On Saturday morning, There was a 5k. It was cold enough for frost on the windshield.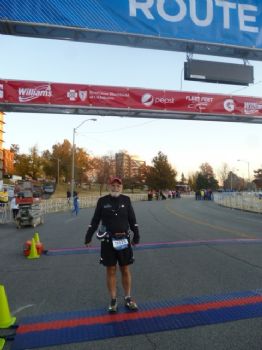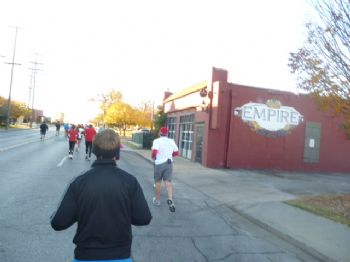 Ahh A water break: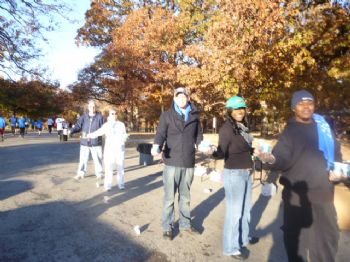 All the little kids got medals for their fun run: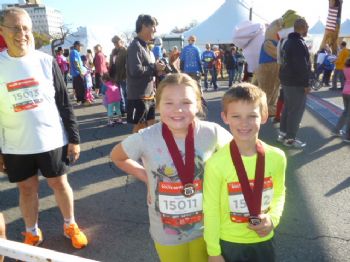 I already showed the video of the Mascot dash: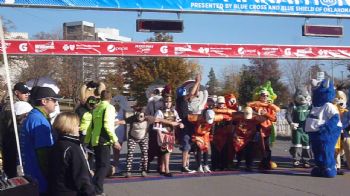 I didn't get a picture of the sheriff with the shotgun, but here in Tulsa that's how they start the race. No air horn, a gun ... BLAM!!

Saturday night I went out to dinner with some other Half Marathon 50 Staters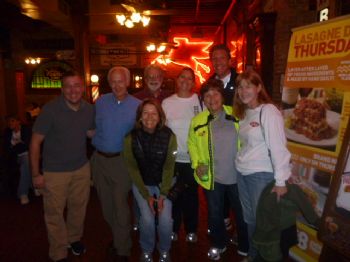 Sunday Morning was cold but not quite as cold as Saturday ... no frost.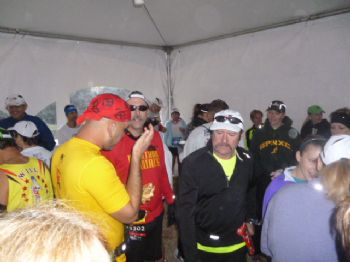 This is Maureen Bowen. Oklahoma was her 50th state. She said she stopped at a Starbucks on the course and had a cappuccino. Was she carrying money? Were they just nice to runners? Who knows? Who cares? She stopped for coffee during the race. Cool!



Maniacs, Fanatics, and Marathon 50 Staters (Half Marathoners didn't have an official contingent.)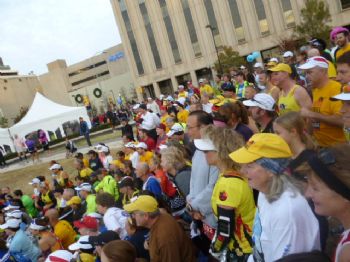 People were on the course playing music and encouraging us: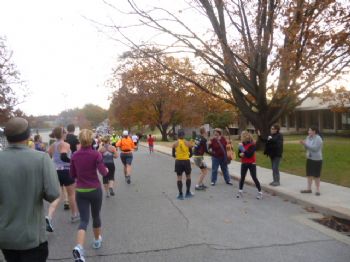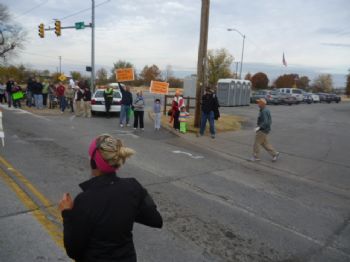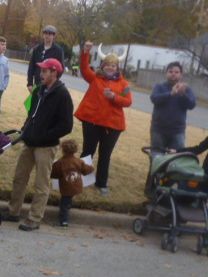 Did you know Viking runes dated to AD900 have been found near Tulsa? Is this what she was celebrating?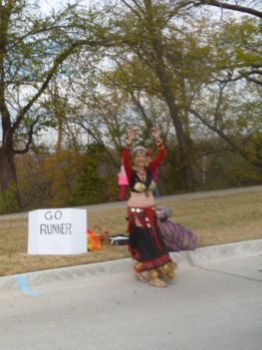 A belly dancer! That's what I'm talking about.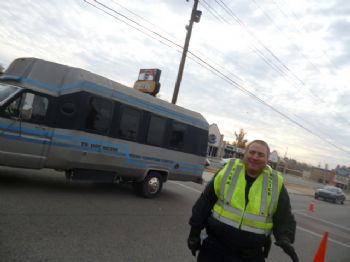 We couldn't possibly run one of these races without the local constabulary. And in Tulsa, we need them to start the race.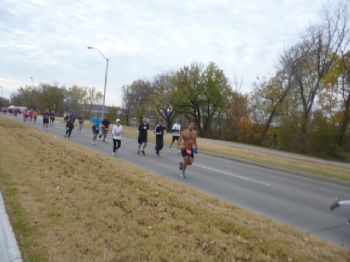 It ain't that hot and neither are you. Ok, so maybe you are, and I'm jealous. In either case put on a shirt.

Sorry, no finish line pictures from me because my little camera ran out of power.

But it was a fun day. Today I went out to explore Route 66 and the city of Tulsa. Maybe some pictures tomorrow, but then it is a travel day and I may be too tired to say more than a paragraph.


Monday, November 19, 2012
They tell you to get a good night sleep before raceday. That never works for me. I didn't get to sleep until after 12:30 and had a weird nightmare. www.sparkpeople.com/mypage_public_jo
urnal_individual.asp?blog_id=5139890

I got up at 5:00 and put myself together and headed to the complimentary breakfast. By 6:00 I was in the car heading downtown. I was seemingly the only living being in Tulsa at that hour of a Sunday morning, but I go a darned good parking space about a block from the starting line.

It was quite cold, but they had several tents and as a member of Half Fanatics I had a special place to drop off my bag. And keep warm.

Being at the start line around 6:00 made the wait for the 8:00 gun a long cold wait. But we finally entered our corrals. Native American drums were played and a Native American prayer prayed and the National Anthem sung we were ready.

Of 56 races I have run of all lengths before Tulsa, I have only been started by a horn. Not today. The sheriff walk up to the start line with a shotgun. They fired a blank to start the race for each corral.

The race went well. They ran us through some of Tulsa's best neighborhoods. On tour was through a monastery/high school. Very pretty. I was running a sub 2:00 pace through 10k. I was excited. But, by 15k my pace was down and I thought I might still get a PR (2:06:38). Yeah well, that wasn't going to happen either. My first race of 2012 was run are 2:11:00 and by mile 12, it was clear that even that was not going to happen.

But I was till having a good run so the 2:13:23 was a great time. Half Fanatics had our own recovery zone with food, beer, even our own medal. One of our members scored her 50th state. WooHoo!

The finish was ore than a mile from where my car was parked. That was bad planning. But they did have a shuttle that left me off two blocks from my car. On the other hand, it was also two block from the Catholic Cathedral. Time: 11:45. Pretty sure the Cathedral would have a 12:00 Mass. Yeah, I checked. Yeah, they did. Yeah, I went to Mass.

After that it was back to the Hotel, take an ice bath then a nap for a couple of hours.
I have not down loaded my cameras yet, so pictures, tomorrow.


Sunday, November 18, 2012
I will tell you about the race itself in another blog. I want to talk about the night before.

It is not at all unusual for me to not sleep well the night before the a race. Lat night was not much different. I didn't get to sleep until after 12:30. Everything was laid out and ready to go. the alarm was set for 6:00, but I was still not sleeping. I wanted to be at the venue by one hour before the gun. And that was going to work.

About that gun thing. every race I have been to has started with a horn. Not in Tulsa. The sheriff is at the start line with a shotgun. Welcome to Oklahoma, I suppose.

Anyway, back to the night before. I had a weird dream.

As a preface, I used to work for a government agency that required Top Secret clearances. Full lifestyle investigation, polygraph, etc. But that was about 20 years ago.

That didn't matter. A squirrel, I shall call him The Squirrel, somehow got to me and was demanding National Secrets. Yes, the Squirrel was an arboreal rodent. And he also had a US Senator and a Medal of Honor winner in his control.

I refused to cooperate with the Squirrel. So he tapped on the sliding glass door (which we don't have) which looks out on to the lake (don't have one of those either) and turned tail and ran down to the water. He jumped in and swam over to a mother duck and took out two of her ducklings. He brought them up and dropped them at my door, showing me his bloody mouth.

His meaning was clear. If I didn't cooperate, my family was at risk.

I went into work and got my boss and the security officer to come with me into the secure area. No signals in or out. Seriously sound proofed. I started to tell them I had a serious problem with a possible security breach that I was required to report. I began to tell my story and as soon as I got to the name, the Squirrel, they stopped me dead.

"Whatever you have to say, put it in writing," clearly they were aware of the Squirrel, "there are mice in here and if they will hear you and they will tell the him and your life will be in jeopardy."

I woke up at 5:00. Holy crap! How are we ever going to stop the Squirrel? It took me a little while to realize what a hilarious dream it was and to just get up and start my race day.

Beware the Squirrel.
First Page
1
2
3
4
5
6
7
8
9
10
11
12
13
14
15
16
17
18
19
20
21
22
23
24
25
26
27
28
29
30
31
32
33
34
35
36
37
38
39
40
41
42
43
44
45
46
47
48
49
50
51
52
53
54
55
56
57
58
59
60
61
62
63
64
65
66
67
68
69
70
71
72
73 74 75 76 77 78 79 80 81 82 83 84 85 86 87 88 89 90 91 92 93 94 95 96 97 98 99 100 101 102 103 104 105 106 107 108 109 110 111 112 113 114 115 116 117 118 119 120 121 122 123 124 125 126 127 128 129 130 131 132 133 134 135 136 137 138 139 140 141 142 143 144 145 146 147 148 149 150 151 152 153 154 155 156 157 158 159 160 161 162 163 164 165 166 167 168 169 170 171 172 173 174 175 Last Page

Get An Email Alert Each Time TIMOTHYNOHE Posts