| | |
| --- | --- |
| | TIMOTHYNOHE's Recent Blog Entries |


Sunday, November 18, 2012

I have a 5k in the books this morning. I ran it in 28:19 and it was a lot of fun. I just went out to run and have fun and not worry about times. At the end of the race, I was getting ready to go back to my hotel and begin my day of exploring Tulsa and its Route 66 environs when the kids started to come in from the FunRun.

Then they started the Mascot run. What a hoot! After that they had dancing in the street.

If the marathon post party is this much fun tomorrow, I may never leave.

I did get to the YMCA to strength train for 45 minutes or so then I struck out west on the Route 66. Pictures of that later.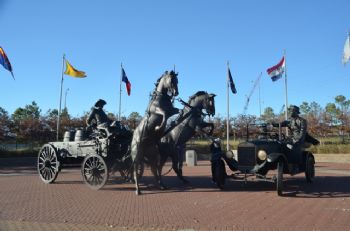 This sculpture is on Route 66 near a foot bridge. The monument cost Tulsa $2M. I think that's a good price. The figures represent the meeting of Tulsa west of the Arkansas River with the horse. It's the oil drillers and the remains of the Old West meeting up with the business man from East Tulsa representing the new ways.

I liked it.

Tomorrow: 13.1 Miles!



Friday, November 16, 2012
See what I did there?

I quietly left Dr Dani's house at 5:30 this morning to catch my 7:00 flight. I wanted to be especially quiet because I heard her on the phone with the hospital around 4:00. I get the feeling one of her patients wasn't doing well. I can't imagine how that is. She gets to tell families some of the greatest news in the world and some of the absolute worst news they will hear.

I got to Tulsa before 11:00 and since the hotel check-in is 3:00, I went straight to the Expo. Picked up my bibs (I am running the 5k on Saturday and the Half on Sunday) made the rounds of the vendors, checked in around 2:00 (still early, but ...) and discovered I had lost my bibs.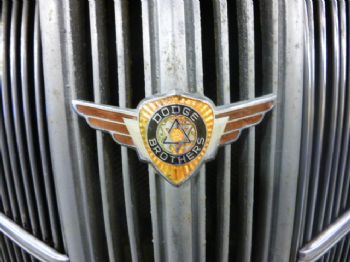 This was the auto badge from which the medal was designed: 1937 Dodge Brother's Truck.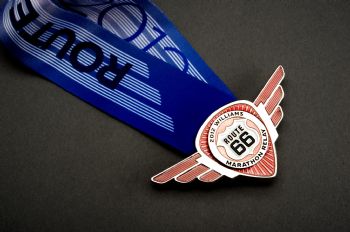 Back to the expo. Yeah, they gave me a new one and cancelled my lost ones. I wonder if some Bandit runner will be using my bib?

After the 5k tomorrow, I plan to get out and waste some gasoline, spew some greenhouse gasses into the atmosphere, and see a little of Route 66. I put only 5000 miles on my car in the past 12 months and that includes a round trip Baltimore-Savannah (1200 miles). So if I burn off a wasteful half tank of gasoline, well tough.

Gonna be a fun weekend.




Thursday, November 15, 2012
It is getting to be that time of year again. Time for soup. I love soup, but the old standbys can get a little stale. Chicken. White beans. Lentils.

A couple of days ago, the Greatist posted a blog about soup.

greatist.com/health/best-recipes-111
212/

I tried one of them tonight and I am intrigued by another. I will try it when I get home or maybe I will contribute it to Thanksgiving dinner.

1) Hearty Chicken Stew with Butternut Squash and Quinoa via Cookin' Canuck
www.cookincanuck.com/2011/11/
hearty-chicken-stew-with-butternut-squ
ash-quinoa-recipe/
This spin on classic chicken noodle soup is loaded with flavorful squash, olives, and plenty of fresh herbs.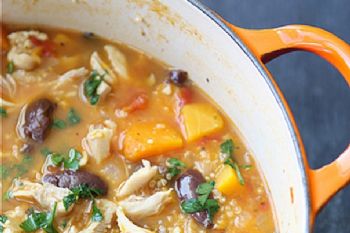 2)This is the one I find intriguing: Blueberry-Thyme Soup with Honey-Vanilla Mascarpone via Shared Appetite
sharedappetite.com/blueberry-
thyme-soup-with-honey-vanilla-mascarpone/
Soup for dessert? Try this recipe for an impressive end to any meal. To shave off a few calories, swap mascarpone for Greek yogurt topped with vanilla and a drizzle of honey.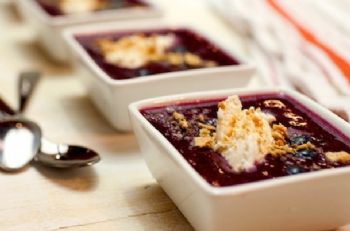 3)Cauliflower Soup via Nikki Dinki Cooking
www.nikkidinkicooking.com/hom
e/cauliflower-soup.html
This recipe is worth breaking out the food processor. Two whole heads of superfood cauliflower means this lunch-worthy soup is chock full of vitamins and cancer-fighting glucosinolates.




4)This is the one I had tonight. I loved it! Vegetarian Pho via Sacramento Street
www.sacramentostreet.com/2011
/12/on-the-menu-vegetarian-pho/
This Vietnamese specialty is loaded with interesting, delicious flavors. Ginger, cinnamon sticks, jalapeños, and lime take center stage in this vegetarian version. About 190 calories per serving mostly from carbs but very low in fat. Use low sodium broth and soy sauce because this could be a high sodium dish.




5)Red Lentil-Pumpkin Soup via Prevention RD
www.preventionrd.com/2012/10/
red-lentil-pumpkin-soup/
Still hanging on to that Halloween pumpkin? Blend it together with some lentils, yogurt, and spices to make this seasonal soup.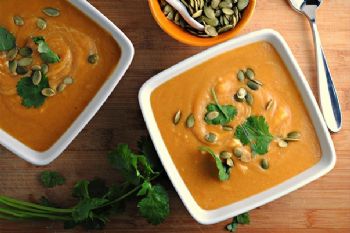 Thursday, November 15, 2012
This morning I went for a run and I decided to try something I have never tried before. I ran on my toes. I keep reading about barefoot running and minimalist shoes and the reasoning behind them is that it forces/encourages the runner to run in a more natural way: on his toes.

Here is my experience.

(1) I was running faster. At times a lot faster than normal. I seemed to be using about the same amount of energy that I use for heel strike or flatfooted running, but I was definitely going faster.

(2) My calves are more sore than my knees. The tendons behind my knees which are what are the sorest part for me seemed mostly unaffected. But my calves got some workout. I also expected my toes to hurt more than normal but they did not.

I may use this method for at least some of the race on Sunday in Tulsa OK.
-----------
After I ran, I went to the beach on Padre Island. When I arrived, I parked at the end of the road and There was still asphalt next to me. But when I was done taking pictures, I got in the car to leave and I didn't move. "Hmm. Spinning in the sand. I'll just try to rock it out like I would in snow." Once forward, once back, once forward, once back. No progress. Clearly rocking it out like in the snow was a bad idea. I had to call my son-in-law. "Bring a shovel and some boards to Port Anransas Access Road No. 2 please. Yeah. I'm stuck. Shut up. Stop laughing."



Wednesday, November 14, 2012
It appears that my daughter, Dr Dani has become hooked by the excitement surrounding my races. Sunday was her second event with me and when we came home she asked me how to get started training for a Half Marathon.

I directed her to several programs and in particular the Jeff Galloway method. I also suggested that she invest in a training program from Fleet Feet or some other running store in Corpus Christi.

After that discussion, she and I signed up for the Turkey Trot on Thanksgiving Day. Then she started browsing for a Half to run next spring. She has her eye on the Second Alamo Half Marathon in March 2013. It even runs on the Riverwalk. It's on March 24. She hasn't registered yet, but I do believe she is getting psyched. There is also the Rock 'n' Roll Dallas the same weekend, but that is a day's drive away from Corpus Christi.

We shall see.

It looks like I will be coming back to Texas so I can run with my little girl.
First Page
1
2
3
4
5
6
7
8
9
10
11
12
13
14
15
16
17
18
19
20
21
22
23
24
25
26
27
28
29
30
31
32
33
34
35
36
37
38
39
40
41
42
43
44
45
46
47
48
49
50
51
52
53
54
55
56
57
58
59
60
61
62
63
64
65
66
67
68
69
70
71
72
73
74 75 76 77 78 79 80 81 82 83 84 85 86 87 88 89 90 91 92 93 94 95 96 97 98 99 100 101 102 103 104 105 106 107 108 109 110 111 112 113 114 115 116 117 118 119 120 121 122 123 124 125 126 127 128 129 130 131 132 133 134 135 136 137 138 139 140 141 142 143 144 145 146 147 148 149 150 151 152 153 154 155 156 157 158 159 160 161 162 163 164 165 166 167 168 169 170 171 172 173 174 175 Last Page

Get An Email Alert Each Time TIMOTHYNOHE Posts