| | |
| --- | --- |
| | TIMOTHYNOHE's Recent Blog Entries |


Monday, November 12, 2012
The weather in Corpus was much cooler than the last couple of days have been here. Almost normal for early October. I was still a little stiff from yesterday's run, but I needed hearing aid batteries so I walked three miles round trip to the CVS. Mission accomplished.

Later Dr Dani came home and she had had a bad day. All she wanted to do was go to her gym. We drove but it was about 1.1 mile away ... across from the CVS! I got a good strength training workout while she kick boxed. This place even has an indoor pool. She got me a family pass and I will be not without my workout while I am here..

Hooray!


Sunday, November 11, 2012
We were up at 0500, had our breakfast at the hotel and out the door by 0600.

The hotel. I picked it because my daughter has a dog she likes to bring along and this place was pet friendly. Additionally, it was way less than any of the other San Antonio hotels as close to the start. The Antonian surprised us. We figured one night, if it didn't have bedbugs or fleas, we would be good. We were beyond pleased. Clean large rooms. Quiet. And a nice staff.

We got downtown and the Denny's about a half mile from the start was letting it's parking for$25 all day (customers free). So the kids parked there and I walked in.

The race started on time and the corral starts went very smoothly. The roads on the course we wide and slightly rolling The crowds were excellent. They were cheering us all along the way. We didn't seem to go through any bad parts of town. Water stations were well spaced at between 1 1/2 mile and 2 miles.

The weather was something else. At the horn, the air temperature was about 75º. And humid. It didn't get much better. In fact, by the finish line it was above 80º and I really slowed my pace. I reached the point where water stations I would pour water on my head, my torso, down my back, and down my shorts. I would also drink some. But the key was to keep moving and keep from over heating.

The end of the race was uphill ... I hate it when they do that. The infield party was not up to standards and Journey On was late to the stage. The kids were tired (their dog had kept them awake much of the night) so we left. To leave the party, they had us go down some stairs walk a coupl of hundred yards then back up some stairs. Hey! Look! I just ran 13.1 miles! Some of us ran 26.2 miles. Give me a break!

I finished in 2:27:47. That is more in line with my Summer Times. Yes, I have taken to segregating my time between Summer Times and Not Summer Times

Next week I will be in Tulsa Oklahoma for the Williams Route 66 Half Marathon.




Saturday, November 10, 2012
I am here in town and I am ready to run. I am so ready in fact, that I ran for three miles this morning before we drove from Corpus to San Antonio. We go here late, about 2:00, I rushed through the Expo, which was once again quite excellent, but all pretty much the same vendors. We had lunch ar this little pub on Alamo Plaza called Pat O'Briens. The have a Durty Nelly's here too! That's a pub in Shannon Ireland. I wonder why so much Irish in SA.

I especiallly like the Riverwalk. So nice. So pretty. So much food and shopping.

Tomorrow early we are going to head out and I will run the Rock 'n' Roll Half Marathon. Then I will let Dr Dani and David visit the Alamo while I walk their dog. I volunteered fro that duty. I want to take some pictures of San Antonio.

I will let you know how I did tomorrow ands what I thought of the race. Rock 'n; Roll usually does things right.


Saturday, November 10, 2012
?????

What is Movember?

There is a movement this year to get men to grow their moustaches during November in an effort to raise awareness about prostate cancer inparticular and to get men to pay more attention to their health in general.

Here's a little history: In 2003, some health-conscious dudes in Australia launched the Movember Foundation to raise money for the Prostate Cancer Foundation of Australia. The plan was simple — starting November 1, put the razor away and grow the best "mo" (Australian slang for moustache) possible. Why prostate cancer? The Movember Foundation crew looked around and saw dime-a-dozen pink ribbons, fundraising walks, and charity events for breast cancer, but nothing representing men's health. They decided to raise awareness the manliest way they could think of — with facial hair, of course. Since those Aussies grew out their mo's, Movember has grown exponentially, with month-long celebrations in 14 countries. In 2011, 850,000 "Mo Bros" participated, raising $126.3 million dollars worldwide. This year, a record 21 countries are taking part in the international fundraiser.

Prostate cancer affects one out of every six men in the U.S. during their lifetimes, and 660 men are diagnosed with prostate cancer every day. Despite those statistics, prostate cancer often flies under the radar. One of the reasons may be because it usually only affects older men — the median age at diagnosis is 67, and 35 percent of all diagnoses occur to men between the ages of 65 and 74. It's also not an easy topic to broach due to the way the tests take place. The good news is that 90 percent of all cases of prostate cancer are curable if detected early and treated properly. Unfortunately, men are less likely to go to the doctor than women (call it the macho complex) and get things checked out. That's where the moustaches come in. The Movember Foundation's main goal is to raise awareness of prostate cancer, but they also strive to change men's attitudes about visiting the doctor and being aware of their health in general. By making male health issues fun and a bit goofy (check out this slideshow of rad moustache styles), the Movember Foundation is aiming to put men's health on the map.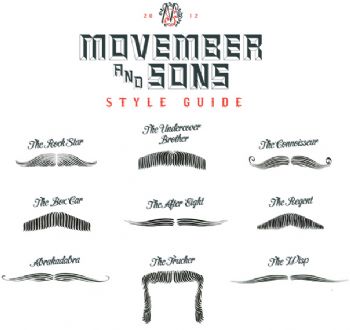 But of course, you know I would suggest that if you can grow facial hair, why stop at the moustache? Why not Movembeard?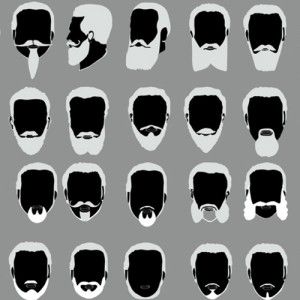 Thursday, November 08, 2012
My epic November continues tomorrow morning. If I can get up early enough, I plan to go to the YMCA to swim while She(WMBO) is with the trainer. As soon as we are done, over to BWI. It's only about 3 miles away!

Saturday, Dr Dani, her husband (I think he's in witness protection), and the dog will be going up to San Antonio with me. Sunday ... RUN!!! for 13.1 miles.

Then back to Corpus Christi. Hang out and be a pest for a couple of days the fly to Tulsa Oklahoma on Friday. Then Saturday November 17 ... RUN!!! 3.1 miles.

But I won't be done. On Sunday November 18 I get to do it again ... RUN!!! 13.1 miles.

Then I will hang around Tulsa until Tuesday, fly back to Corpus Christi in time to join the rest of the family coming in from Baltimore then go back to Dr Dani's for Thanksgiving.

And of course there will be the Turkey Trot in Corpus Christi on Thursday morning where I will ... RUN!!! about 4 miles.
First Page
1
2
3
4
5
6
7
8
9
10
11
12
13
14
15
16
17
18
19
20
21
22
23
24
25
26
27
28
29
30
31
32
33
34
35
36
37
38
39
40
41
42
43
44
45
46
47
48
49
50
51
52
53
54
55
56
57
58
59
60
61
62
63
64
65
66
67
68
69
70
71
72
73
74
75 76 77 78 79 80 81 82 83 84 85 86 87 88 89 90 91 92 93 94 95 96 97 98 99 100 101 102 103 104 105 106 107 108 109 110 111 112 113 114 115 116 117 118 119 120 121 122 123 124 125 126 127 128 129 130 131 132 133 134 135 136 137 138 139 140 141 142 143 144 145 146 147 148 149 150 151 152 153 154 155 156 157 158 159 160 161 162 163 164 165 166 167 168 169 170 171 172 173 174 175 Last Page

Get An Email Alert Each Time TIMOTHYNOHE Posts