| | |
| --- | --- |
| | TIME2BLOOM4ME's Recent Blog Entries |


Friday, July 25, 2014

I UNDERSTAND. Gosh I REALLY, REALLY UNDERSTAND now how being prepared and organized helps you to stay on track. Lately I have been very busy preparing foods several days in a row. Foods that I can safely eat and stay on track. Foods that are friendly to my stomach, waist-line, and the bathroom scale.



When your body can't tolerate much of the food that is being sold in stores and restaurants, how does one SURVIVE? IT'S SO DARN HARD. She stomps her feet in frustration. I have spent too much time being frustrated with not being able to eat like everyone else without paying for it. Food intolerances are no fun to deal with. It's so challenging. I think I FIGURED OUT A WAY TO TURN THE CHALLENGE AROUND. It's taken me forever to get past the BUMP in the JOURNEY.

I am BUILDING A PANTRY made of HOME MADE dehydrated foods that I can SAFELY eat. Foods that are prepared in a way that makes them nutrient dense and very healthy. Most people eat food-like substances with preservatives and food coloring without any problem, but I react to them.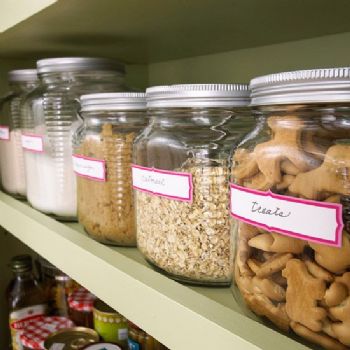 This is not my pantry. Sadly I have a very tiny cluttered kitchen. But I am working at stocking it properly for me.



The other day I REALIZED I could do the same easily with home-made real foods. I am taking about 30 minutes a day to work on building up some food stocks that I can use without feeling like I am cheating. The results are it's easier to build a meal when I have some basics to turn to. Things like cereal, tortillas, chips, crackers, pizza crusts, and other goodies. These are REAL honest to goodness FOODS created with out any processed ingredients. I can easily reach into the cabinet and come up with the basics for a meal now. It no longer is frustrating or complicated to prepare a meal.


The photo below is a delicious Shredded breakfast cereal. I also created a Chia Hemp seed flaked breakfast cereal that has the same texture as boxed corn flakes. Home made REAL foods, don't look like processed foods. They taste much better. It's like a flavor explosion in your mouth.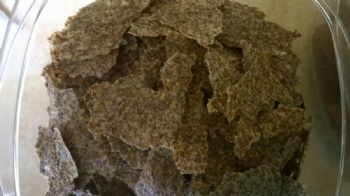 This is the home made Honey Corn Chips. It's healthy. No oils are needed. No unnatural artificial ingredients. Only REAL food goes into the food I consume.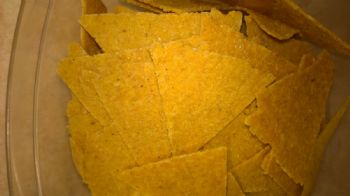 I also made some Spicy Corn chips.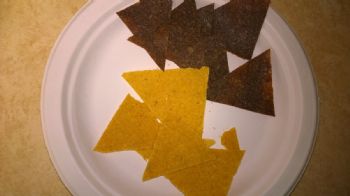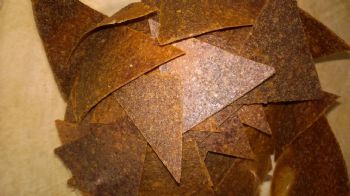 Spicy Cashews for topping salads with.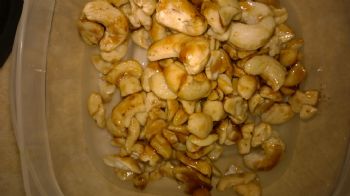 Hubby's flourless Double fudge cookies. No bad ingredients are in them. Only healthy.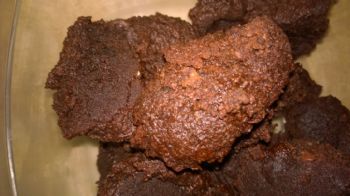 Even the wraps I use are homemade. This one is made out of Coconut, Chia, and Hemp seeds. They have so much more nutrition than flour tortillas. I stuffed them with sprouts, and Toona I made the other day. You can stuff them with anything.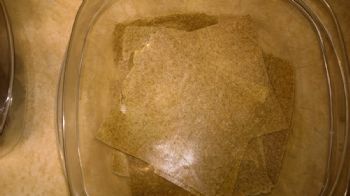 Every few days I make up some new creations that I can stock the cupboards with. The dried ingredients can store for a month or longer without any problems. Cookies, chips, and crackers are eaten quickly by hubby. Now I need to run out and get more food storage containers.


Today I made some White Corn chips with a spicy Mexican dust on top. The other recipe is called Igor's crackers. They are a flax seed crackers seasoned with caraway seeds. It reminds me of Rye bread.

Having a lot of food to pick from makes it even easier to fight any temptations hubby might bring in the house. It makes it easier to make the right choices and to stay on track. Everything I am making now is homemade. My gut is so much happier. I feel loads better eating this way. My energy levels are steadily improving as well as my health. It just took a different mindset to create a natural, honest to goodness real food pantry. It isn't much work. Just 20-30 min. a day to make a recipe. Recipes that restock the cupboards with healthy alternatives that I created for me. The good thing is, the foods don't make me sick.

Many of these can be used for traveling. I feel like a GENIUS.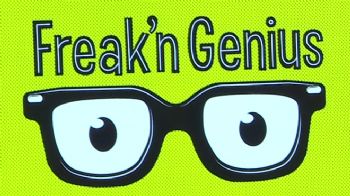 Mixing, creating, testing REAL FOOD recipes.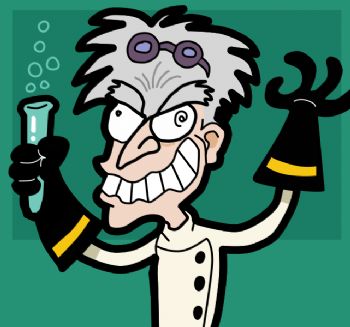 What they create, I can create better at home.





Wednesday, July 23, 2014
I found this free movie called Feeding Obesity. I haven't watched it yet, but plan to.



www.feedingobesity.com/movie.php





Wednesday, July 23, 2014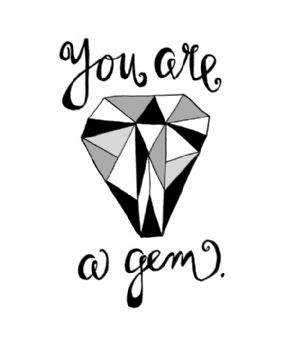 I am really cheap, thrifty, or penny wise. When I shop, I look for bargains. My pennies are scares so I must make them go far. I love browsing for books on Amazon.com.

Books are like treasures to me. If I find one GEM in it, than it's worth it. Gems are things that I can apply or use in my daily life. Something that I probably will use in some way or modify to personalize it for me. My book hunt on Amazon lead to me discovering a new book I like. I purchased it for around $1.00. Why pay full price when you can get a gently used book for a fraction of the price of new. Sometimes I get books for a penny. The only catch is shipping is $3.99. It's almost like someone is giving you the book for the cost of postage. New it costs $18.00. What a savings.









The book is called Raw Inspiration. Living Dynamically with Raw Food by Lisa Montgomery. The book is a collection of recipes that are collected from chefs and potlucks. It has some good healing testimonies too. It lacks in colorful photos, but I think this book is a gem.


Yesterday I made some vegan Toona. Oh, so amazingly delicious it is. Wow, what an impressive recipe found in Raw Inspiration. Hubby ate two sandwiches made from it. He said it felt like tuna, leaking from the sides of the sandwich and tastes like it. He said he would eat it again.

First you make a Pate. The pate ingredients are:
1 cup of soaked Almonds
3 cups of cashews.
1 T dulse flakes. I didn't add dulse and kelp as I didn't have any. I used Braggs sprinkle to season.
1 tsp. kelp.
2 T. salt. I did not add so much salt. I shook the shaker and tasted. I think 2 T. would be too much.
1/2 cup of green olives.
1/3 + onion or to taste. Mine was mild so I used more.
2 T. agave nectar or some sweetener.
1/2-1 cup celery.
1/4-1/2 cup red pepper
1/2 tsp black pepper.
6 oz. lemon juice.
Water if needed to make the food processor blend the mix. I did not need any as the nuts were soaked. It was plenty moist.
Optional 1/2 c. of olive oil for creaminess. I left this out.

Blend in the food processor until it's has the texture of a pate. I left some chunks in mine. I also only make a 1/2 portion of the recipe. A 1/2 portion is more than enough to last me several days. I still ended up using the full portion of the rest of the ingredients to season. It seemed to need it.

Then you hand chop ingredients for the texture:

4+ Bubbies Raw pickles chopped.
1-1/2 cup chopped celery.
2 cups carrots shredded. I didn't add any.
3/4 cup scallions. I substituted onion finely chopped.
3/4 cup parsley. I used less as this is a strong flavor.

Hand mix the two mixtures together. I ate mine on some Chia, hemp, coconut wraps I had made up. It's delicious, very filling and hubby approved. It turned out beautiful, gourmet looking.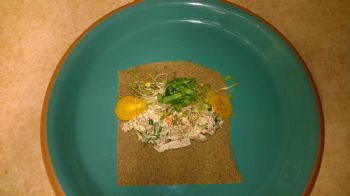 Next time I make it, I will leave out the cashews. Instead I will use sunflower seeds soaked. The cashews are hard on my stomach. What I like about it is the flavor, the textures, the color in the mix. The flecks of red bell pepper and the greens mixed together were beautiful. The cashews add the creaminess of mayonnaise without all the chemicals. It would make a lovely toona salad served over a bed of greens.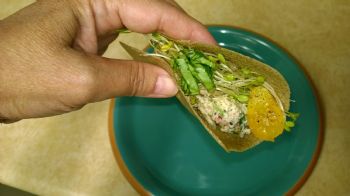 I got in 10,000+ steps again.






Tuesday, July 22, 2014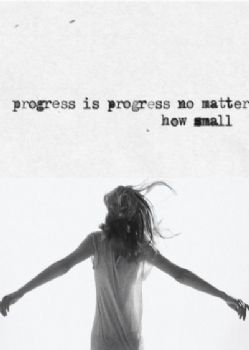 PROGRESS is PROGRESS no matter how small.

I finally feel as if I am back to making progress. It is slow and hard, but it's happening. Not only has the scale been moving, but finally I can report my health is improving. Nothing is more important than health. My strength is improving.


Sometimes things in life happen to us that create big set-backs. Back in May Dear hubby sprayed bug killer that made me very ill. With the diet changes I am finally almost feeling semi-normal. I still have a ways to improve, but it is a great improvement for me. My step count is improving.

After the spraying I almost lost my ability to walk or stand. I couldn't move my toes. I barely got in 2,000-3,000 steps. Lately the numbers are on the rise. The last few days I have been able to increase the steps to 10,000-11,000 range. Eating more fresh raw foods is helping big time.








Sunday, July 20, 2014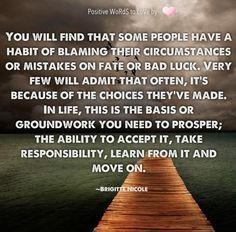 Some-things are worth dying for, like protecting a child from danger. Most things are not. Never has the message ever hit home so hard. As I watch loved ones battle with their personal addictions I feel like screaming. IS IT WORTH DYING OVER? Seriously, my mom is a certified ROLLY POLY. Cute, short, but having the figure of a rolly poly.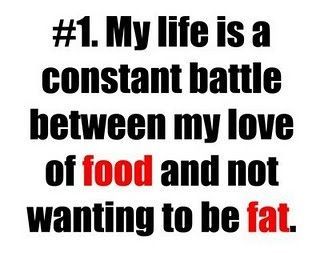 Her PERSONAL CHOICES in food are affecting her HEALTH and my dads. She is short and fat, like a little BUTTERBALL.

While I am not the picture of perfection myself, I am striving to work on correcting the issue the best I can. Eating the healthiest, nutrient dense foods possible and exercising are always on my plan. However, I cannot workout to the extent most people can due to a disability. Mom and I have talked about the consequences of being fat. It is linked to cancer, diabetes, and so many health issues. We have talked so many times about winning by releasing the pounds. We always talk about food choices and how they affect people, but the message doesn't seem to SINK in.

I realize I can not change her. I recognize she has to want help before I can offer any. I realize her choices are the one she wants to make for herself. It's just so sad. Food addictions can and do kill. Her poor little dog almost died choking on fast food.

Mom and Dad don't even have a clue they are addicted to eating out.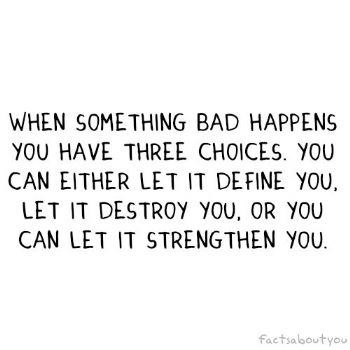 I have mentioned to my mom politely that research has shown that the specific food choices are know to trigger the health issues they are facing.

My parents are ADDICTED TO EATING OUT. It's a habit they have done for decades. My Dad has a thin stick figure. His metabolism is the kind that no matter what he eats he remains thin. My Mom is filled with aches and pains and limitations that make it hard for her to get around and do simple things. She cares for my dad who is 7 years older than her. His memory is fading so simple things are hard for him to do. MANY, MANY of the foods they eat contribute to their health issues.


MSG is a big time contributor to brain damage and memory loss. It is found in cool aid and about every single packaged food in the market. If only she would of listened years ago, perhaps the damage would be lessened or stopped. Who knows. They are so far away visiting is impossible for me or I would be over trying to help them with some tempting meals. Mom and Dad moved to the other side of the US years ago.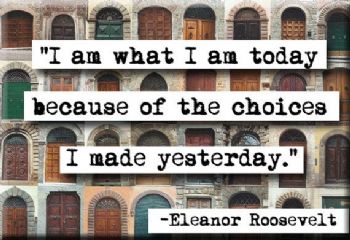 I am proud to say my Mom fought off cancer for years. She did the Budwig protocol with great success. Her symptoms left. She was very strict following it. While I don't know all the details, it involved eating cottage cheese and flax seed. It is a natural treatment. It worked for her. Her symptoms were gone, her health improved. Now they are back. She won't go back to doing the things that helped her. Diet changes could improve her chances at living a longer life. She will pop pills, but pills are not the answer. I do agree some natural supplements can help, but without diet changes and advice from someone knowledgeable the chances are not good. It's like a shot in the dark. It's hoping that what you picked will help. I feel frustrated that she won't seek help. Diet changes could improve her chances. Sugars and so many foods feed cancer.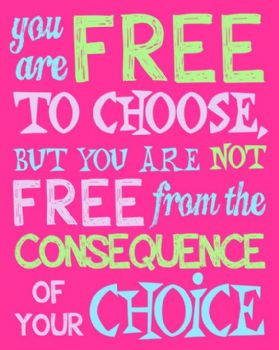 Most of all what frustrates me is the fact that LIFESTYE CHOICES contribute to the illness. How you eat, drink, and move are all things we have power and control over. Yet she is so ADDICTED to her lifestyle that she won't change.

It is as if she doesn't CARE. Restaurant foods win. They have a hold on her and my dad. It's a shame to see it slowly siphoning away their life force. These food-like substances that are filled with preservatives, MSG, artificial flavors, and who knows what wins over life. FOOD ADDICTIONS have got to stop. Food has so much influence over our health. Foods like watermelon, rhubarb, brown rice, oregano, and so many others are powerful cancer fighters. But FOOD ADDICTIONS WIN in the case of my dear mother. Convince wins. It is easier to go eat out than to make food from scratch with good, honest ingredients. Food corporations are so powerful they train us from an early age to crave and become addicted to their foods.

The thing is MOST PEOPLE WON'T ADMIT they are addicted to foods. That candy bar they have everyday at 3:00, the coffee with whipped cream, a special cheese, breads, bagels, or food. If it is something you crave and eat regularly most likely it is an addiction. It's sneaky, it tricks you into thinking you are low in something and that magic food will cure that sensation. There are so many ways of logical arguments as to why your not addicted to Fill in the blank _________________.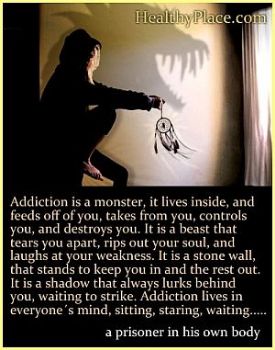 ADDICTION is a MONSTER, it lives inside, and it feeds off of you. It takes from you, it controls you and DESTROYS YOU. It is a beast that tears your apart, rips out your soul, and LAUGHS AT YOUR WEAKNESS. It is a stone wall, that stands to keep you in and the rest out. It is a SHADOW that always lurks behind you, waiting to STRIKE. Addiction lives in everyone's mind, sitting, staring, waiting. . . Addictions are not something to mess with. They destroy lives. Lay's potato chip commercial is playing as I write. It says, "Just ONE BITE AND YOUR HOOKED." Or something similar. Just ONE Bite and your Addicted is what they should be confessing. Just one bite of that MSG laden food and you can't stop. You will forever be tempted to binge on them. There is another chip company that claims you can't stop eating after one chip. They should be ashamed at making us a nation of overweight food addicts. Food additives cause binging, obesity, and health issues.





So those thoughts lead me back to doing introspections and deep reflections of my life. IS FOOD WORTH DYING OVER? NO, ABSOLUTELY NOT. Quality of life is so much more important. I WANT TO LIVE. I want to live a QUALITY LIFE. One with passion, authenticity, and love. Mom, your choices deepen my desire to stick to eating in a healthy manner.

To eat clean foods, real foods that come without labels. Foods that are as pure and natural as I can get. I will continue to move to the best of my ability.

I will press forward reaching for my dreams, while enjoying the blessings of each day.

Love yourself enough to take care of your body. It's the only one we get.






Hugs.

Would you choose Addictions over living?
Are there certain foods or drinks you can't live without?
It's never to late to create new habits and reap the benefits of health.


Hit the LIKE button if this message hits home with you.



1 2 3 4 5 6 7 8 9 10 11 12 13 14 15 16 17 18 19 20 21 22 23 24 25 26 27 28 29 30 31 32 33 34 35 36 37 38 39 40 41 42 43 44 45 46 47 48 49 50 51 52 53 54 55 56 57 58 59 60 61 62 63 64 65 66 67 68 69 70 71 72 73 74 75 76 77 78 79 80 81 82 83 84 85 86 87 88 89 90 91 92 93 94 95 96 97 98 99 100 101 102 103 104 105 106 107 108 109 110 111 112 113 114 115 116 117 118 119 120 121 122 123 124 125 126 127 128 129 130 131 132 133 134 135 136 137 Last Page

Get An Email Alert Each Time TIME2BLOOM4ME Posts