Thursday, July 05, 2012
Someone from my Running Friends group on Facebook offered me two guaranteed entries to this race the night before the lottery opened. I wasn't super familiar with this race, but since it was the world's largest 10k with 60,000 people, how could I refuse??? Of course the first person I asked was hubby, but I already knew he wouldn't want to take a vacation day (Tues) for a 10k (he's not a race fanatic like I am lol). So I invited a running friend, Carol, to come with me.

Fortunately we booked out hotel the night before the lottery opened, all the listed hotels sold out the following day!

We made the 6 1/2 hour drive to Atlanta to the Expo. Expo was okay, not the biggest or best, but still great. We got there around 2pm and was surprised there were no lines to get our bibs. Got to meet one of the world's leading running coaches, Jeff Galloway!



The race is a 10k which is 6.2 miles. If I were in peak condition and racing, I could finish it in around 43 minutes. So I was in Corral B. There were a total of 27 Corrals, starting with Seeded (those who have a chance of actually winning the race), Sub-seeded (not quite fast enough to win, but still elite athletes), then A through Y. Based on my qualifying time, I was put in Corral B, so that was pretty cool! However, I know I'm not in peak condition, and don't really like to race the 10k distance, so I opted to run with my friend Carol in her Corral G and just enjoy the race.

At the last minute I decided not to wear my earphones, which I've never done for a race before. I'm so glad I didn't wear them! There was so much going on! The streets were lined with people cheering, handing out water, beer, slushies, margaritas, bloody mary's, popsicles, pizza and more! Seemed like you could get water every 100 feet or so!

Lots of people in costumes, water spraying from lots of directions (which was awesome since it was about 80 degrees), firemen everywhere, loud music all throughout...it was incredible! At what they call Cardiac Hill, you pass Shepherd's Hospital and they have a lot of patients out in their wheelchairs lining the sidewalk. Was so cool to run by and hi-five them! Lots of costumes, funny signs!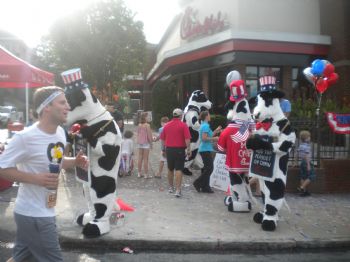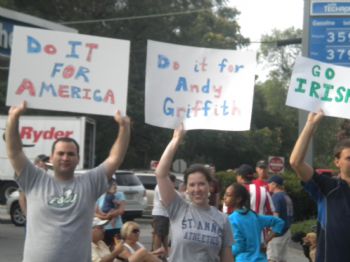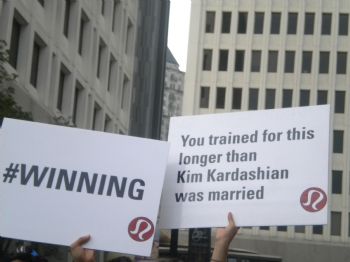 As we approached Mile 5, I wished it was a Half Marathon, I didn't want it to end I was having so much fun!

So we finished, time was irrelevant, and I don't think I'd ever want to "race" it and miss out on the fun!

Carol and I after we finished: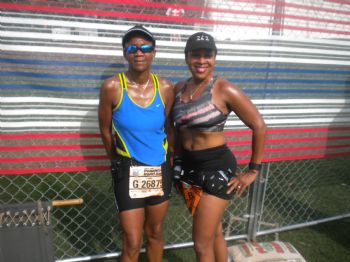 Pic of me and Wendy (Sparkname RUNTRILAUGH), she volunteered this year: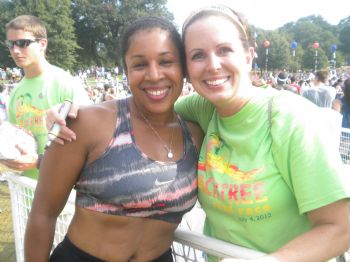 Pic of the Post Race Festivities to give you an idea of how many people, and of course this wasn't nearly everyone!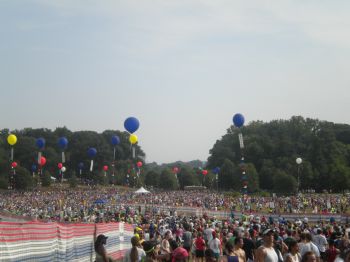 And my favorite post-race food: Georgia Peaches! They said to take as many as you wanted, so I grabbed enough to make Johnny a Peach Cobbler!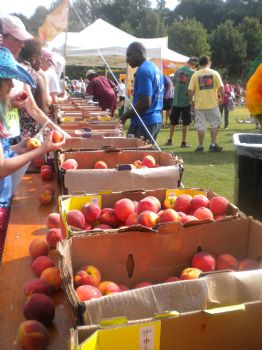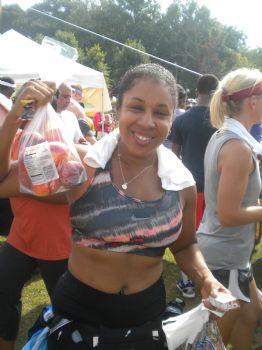 This was definitely the most fun race ever! I would love to do it next year, and bring my Mom and would walk it with her! I know she'd love it! So please know, you don't need to be a runner to do this race! It's more of a 10k party than a 10k race! TOTALLY WORTH IT!!!