| | |
| --- | --- |
| | TIAGAYEPFA's Recent Blog Entries |


Friday, September 16, 2011
Have you heard the phrase "I fell off the wagon" or "gotta get back on the wagon". Well I'm sick of it! These are such "diet" phrases. And believe me, I used to use the phrase all too often.

Let's look at the word "DIET". Notice the first three letters??? D-I-E!!! Isn't that what you really feel like when you're on one? Don't lie, I know I always did. All I did was dream of the food I REALLY wanted to eat so when I was off the diet, I "got off the wagon" and binged! So we really need to get rid of this WAGON.

How do you stop this? It's what Sparkpeople is all about: Leading a Healthy Lifestyle.

How do you do this? Easier said than done? Not really. I'm no expert and don't know nearly everything, but here are a few things I've learned that have helped me:

1) When you eliminate something you love completely, you feel deprived and that only lasts for a while. So, you can do one of two things: 1) find something comparable that's a healthy alternative. For me, I loved French Fries. Someone suggested baked sweet potato fries, and honestly, at first, that sounded gross to me, because I'm not one who likes to mix sweet and savory foods. I always thought of sweet potato like in pie. But I found a recipe (on Sparkpeople) and tried it. It was so good. It totally satisfied my craving for french fries.

Here's 2) don't eliminate it, just THINK ABOUT IT before you eat it. What I mean is, when we crave something and then just go and eat it, it's usually an impulse thing. If we're focused on a healthy lifestyle, we'll put more thought into things. So you're at a baby shower or birthday party and there's CAKE - yummy cake. You're thinking "I shouldn't have it" but "I want some". So we typically either have some, then feel guilty, or don't have it and are in a bad mood. Am I right??? Can I get an Amen??? So, next time you're in this situation, you know ahead of time you're going, so make sure you get your workout in, eat your healthy meals according to schedule, drink plenty of water, schedule it so your most recent meal is just before the event. So now when you go, you're not as hungry. And when you approach the cake, take a moment to THINK ABOUT IT. Think "Do I really want this cake?" Remember, whether you eat the cake or a well balanced healthy meal, within minutes your brain feels satisfied. So if you want to have the cake, think about what you've eaten for the day, what you still need to eat, and your workout and decide if you want to SPEND your calories there. Sometimes you will, but more times you won't if you take a few minutes to think about it. Then, the next time someone sees you near cake and says "Oh that's right, you can't have that..." you can say "I can have anything I want, I just CHOOSE not to." I promise, this really works.

When I started to think of calories like money (I'm a Financial Coach), it made more sense. How do I want to spend it? Just like you budget money to buy something special. We can budget our calories, for something special too...like a new outfit, better self esteem, better health, etc.

Was just something to think about. So let's all get rid of the wagon and lead a healthy lifestyle!

2 Corinthians 7:1 " Therefore, since we have these promises, dear friends, let us purify ourselves from everything that contaminates body and spirit, perfecting holiness out of reverence for Yahweh."









Sunday, September 11, 2011
I will apologize in advance, this is long!



I'm celebrating my 2nd year of being at my goal and wanted to reflect and share what I've learned, as maybe it can help someone.

I went from Size 14 to Size 4 in 10 months (Dec. 2008 - Sept. 2009), mainly because I stopped dieting and decided to lead a healthy lifestyle and set goals that challenged me.

I started my journey at age 40 in Dec. 2008 when I ran into someone I hadn't seen in 2-3 years on a cruise and she commented about how much weight I had gained. It was an "Aha!" moment for me that I needed!

I had done many diets, shots, tricks, etc. all to gain weight back. So this time, I was determined to lead a healthy lifestyle I could live with. A friend of mine told me about Sparkpeople just after New Year's 2009 so I signed up on 1/3/09. I tracked my food EVERY day, good, bad or ugly. I didn't "eliminate" anything. I just made better choices. I went from eating two times a day to 4-5, went from simple carbs to complex, increased my green veggie intake, went from 10 oz of water a day to 150oz. If I "craved" something, instead of immediately acting on it, I would take a moment and have a conversation with myself as to if I really wanted to use my calories for it. Sometimes I did, sometimes I didn't. But either way, I TRACKED IT.

A few "Before Photos from 2008 (3rd and 4th pics are from my cruise 12/08, the week I started my Healthy Lifestyle Journey)":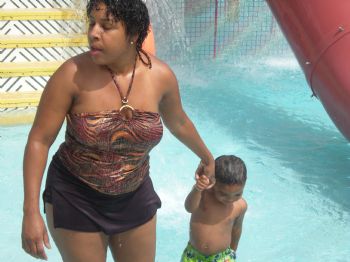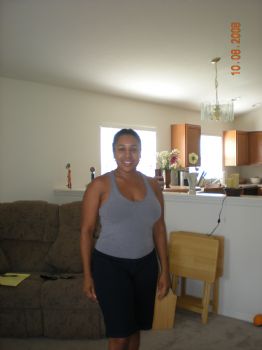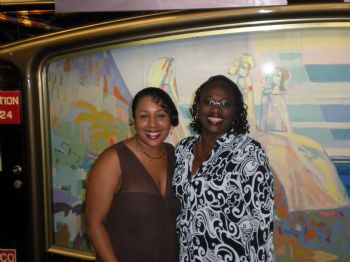 Back in the mid '90's I used to run, 3-4 miles at the most and 2/96 I ran a 15k (9.3 miles) and that was the last time I ran consistently or did a race. So now in 12/2008, I signed up for that same 15k to run it on 2/28/09.

Two things to keep in mind: I had NO friends or family members embarking on this journey with me. 1) While my husband was supportive, he had always been in shape and had heard me say a thousand times "I'm going to do it TIHS time..." so I don't count him. So I started my journey alone. Sparkpeople became my Healthy Lifestyle Buddy! 2) Shortly after starting this journey, in Feb 2009, I had a major family crisis/tragedy happen that took so much out of me emotionally. But I stayed on track because I wasn't dieting. I didn't succumb to the emotional eating I used to. I think in part because I had already signed up for the 15k and told so many people I was doing it so I couldn't back out.
So for those of you who keep saying "I need a partner..." - NO YOU DON'T because this is for YOU, and for those of you who keep saying "But THIS or THAT happened to me..." IT'S JUST AN EXCUSE!

So I completed the 15k on 2/28/09 and felt great and had already dropped a size! I was running 3-4 days a week AND strength training 2-3 days a week. I found great demos on Sparkpeople on how to do the workouts! I was averaging a 12 minute mile but I was moving!

Pics from my 15k: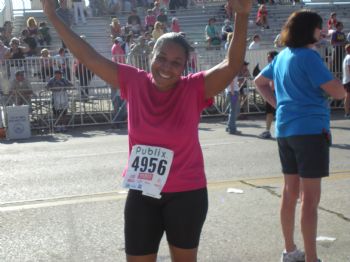 After that I needed another challenge, so I organized a local Weight Loss Challenge that had 40 people. Everyone paid an entry fee that went toward the cash prizes (top prize was $600). I didn't do this for me to win, but since I was leading it, I knew it would keep me on track. Even had 15 people run their first 5k the week before the final weigh-in! The challenge went from May -- August. By May I was a size 8!!!
Pics from the challenge time, love the one of me and Mom, she was 68 at the time and I ran with her across the finish line. It was one of my most special moments with her to date!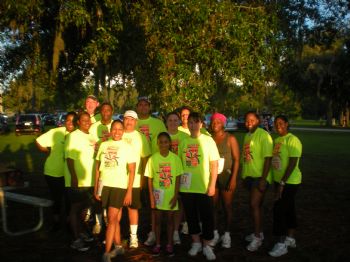 Also, here's a progress pic of me wearing the shorts that fit me snug in 12/08: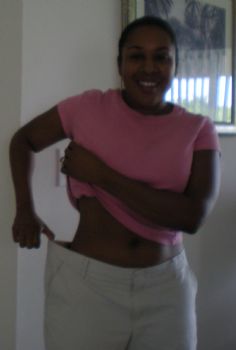 I'll never get rid of these shorts!



During this time, I went to visit a friend of mine in NJ in July. I needed some new clothes so when shopping, I went to try on some pants and brought in two sizes of the same pants, an 8 and 6. I figured I'd see how close I was to the 6. I literally screamed out loud when the Size 6 fit me best!!!

Pic of me and my friend with me wearing my new Size 6 pants!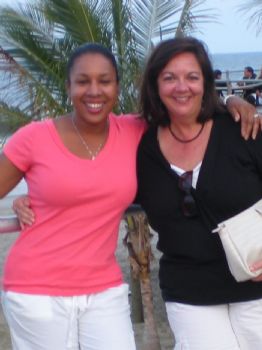 So another challenge, I signed up for the Inaugural St. Pete Women's Half Marathon on 11/28/09. I registered with the Leukemia & Lymphoma Society's Team in Training and trained and raised funds for this great cause! During this time, I went into a Size 4!!! This was beyond anything I had imagined (I initially only wanted to be a Size 8).
Pics of my Half Marathon (11/09) and my "Goal Outfit" (9/09):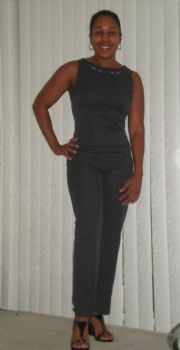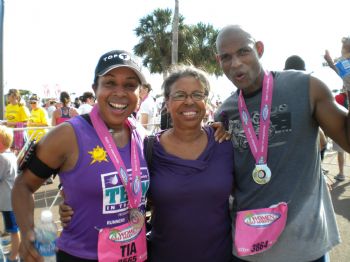 So I had reached my goal! I wasn't "skinny". I'm 5'3" and small framed so I was a great size. And since I had been strength training I wasn't flabby either! I had dropped my body fat from 35% to 22%!

Once I hit my goal, I didn't go out for a "celebratory dinner" or eat something I had been dreaming of. Since I wasn't dieting, I didn't change ANYTHING. I just continued doing what I had been doing and it continued to work! It was a LIFESTYLE!!!

Since that time, I continued to set goals and challenge myself. I have been blessed to be featured on Sparkpeople with an article: www.dailyspark.com/blog.asp?post=the
_most_inspiring_7_minutes_of_your_day and the privilege of meeting and speaking at an event with the founder of Sparkpeople, Chris and have this video played at the event: http://www.youtube.com/watch?v=tJV2Vbh3bx0
&list=FLtpL6EbtNU2EKFXAY24Q7nQ&index=11.

I have now since run 4 Half Marathons, 2 Full Marathons (26.2 Miles), most recent 1/9/11, and competed in a Figure Competition (7/16/10). I stared slower than a 12 minute mile and now can comfortable run a mile in under 7:30 and a Half Marathon pace around a 8:30/minute mile pace!

Pics from my first Full Marathon and the Figure Comp (took 3rd Place):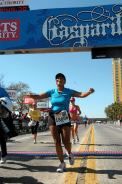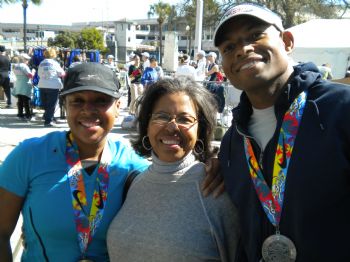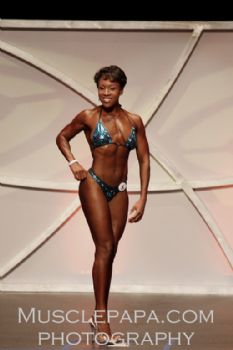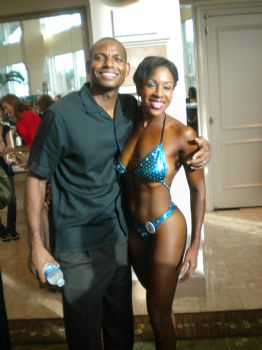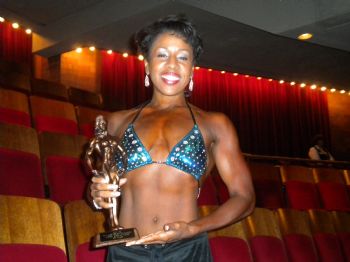 Now my focus is more on helping others reach their goals. I have been blessed to coach a group of 5 people run their first 5k last Oct: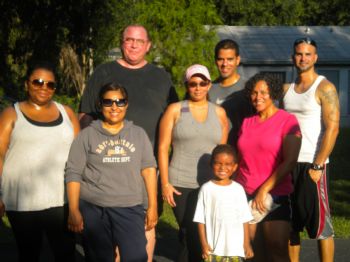 , another small group complete their first Half Marathon this past April.

So I keep setting goals: I have been selected to be a Pacer at the Inaugural Rock N Roll Savannah Half Marathon for the 2:30 group, so I'll get to help a lot of people reach their goal!
I'm sponsored by Marathon Bars by Snickers to advertise their brand!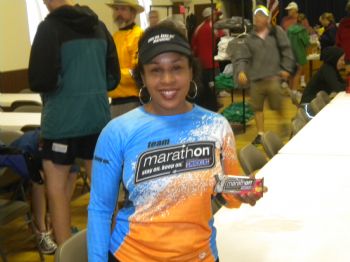 I've been selected to be the local Grassroots Ambassador for the Inaugural St. Pete Rock N Roll Half Marathon which will be 2/12/2012 so I will be the "face of the race" to get the word out in my community and I couldn't be more excited!

So what has kept me focused while losing weight and after reaching my goal?
1) Setting goals, realistic but challenging
2) Eliminating excuses
3) No more "dieting" but eating smart and realizing that 70%+ of results are based on my nutrition
4) Get people involved in cheering on my goals
5) Always have a new goal set before the current one is met
6) Knowing someone is always looking and need that little bit of inspiration
7) HAVE FUN!!!

Here are a few recent pics. While I don't look like I did when I did the competition, I'm happy with ME and just yesterday was rocking my Size 2 Jeans!!! I go between a Size 2 and 4 depending on the brand, but I rarely weight myself. My clothes tell me what I need to know! I maintain and sub 20% body fat and exercising is just part of my life! I love an indulgent meal from time to time, but I eat clean and train dirty! Love lifting weights and now I'm on track to get my Personal Trainer Certification in the new few weeks!

In July, thanks to Sparkpeople, I was featured in a National magazine, First For Women, 7/18/11 issue: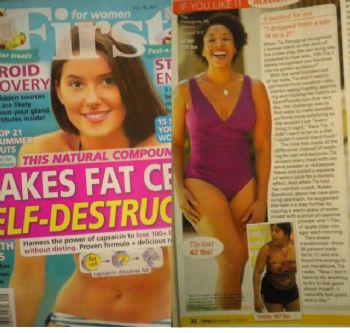 I do hope I've inspired at least ONE person to keep going and make the necessary changes. Dieting is HARD, living a health lifestyle isn't "easy" but it's easier than going from diet to diet and the results are SO worth it. So if you're in the beginning, middle or starting over in your journey, DON'T GIVE UP! Tomorrow is a new day!

Recent pics: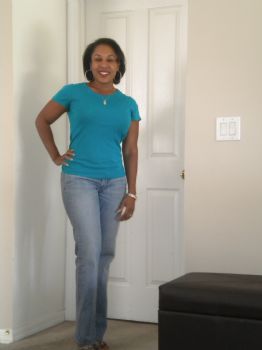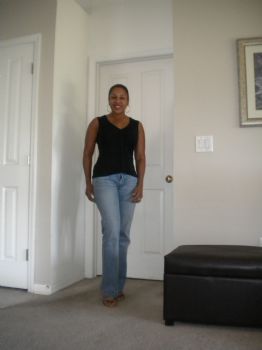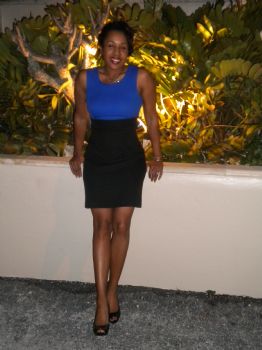 So if you're working toward your goal, don't give up! Make the necessary adjustments and move forward! When I started training for my Figure Competition in 4/10, I found Nutrition Coach, Profession Chef and former competitive Bodybuilder Ruben Sandoval (or I should say he found me), and he gave me the nutritional counseling to get on stage in a figure Competition (did I say I had NEVER worn a bikini before this???). Since then, I have referred numerous friends and farmily member that he has helped with general weight loss, elimination of Diabetes Type 2 and so on and so forth! So I have to give a shout out to Ruben (Sparkname FLEXCHEF and SparkTeam Fit To Be In Your Kitchen). Ruben has become such an incredible resource for everything nutrition!!!

STAY WITH YOUR GOALS! SET NEW ONES! DON'T MAKE OR TAKE EXCUSES! DO THIS FOR YOU AND ONLY YOU!!! HAVE FUN WITH IT! MAKE IT A LIFESTYLE!!! LOVE YOU ALL SO MUCH! YOU CAN DO THIS! DON'T STOP AND DON'T LET ANYONE TELL YOU YOU CAN'T DO THIS!!!

Thank you so much for all the support my Spark Friends have given me, you will NEVER know how much it means to me or inspires me, but it does. Remember when you start your journey, you are inspiring someone else. You may not realize it at the time, but you are!!!

I give ALL credit and glory to my God YAHWEH, the Creator of Heaven and Earth. He is my strength and my Rock and reading and studying His Word the Bible keeps me going!
Colossians 3:23-24 "Whatever you do, work at it with all your heart, as working for Yahweh, not for human masters, since you know that you will receive an inheritance from Yahweh as a reward. It is Yahshua Messiah you are serving."






Monday, June 27, 2011
I think this is the longest I've gone without blogging. It's been a bit of a challenging time for me, as I haven't had any specifically defined goals that I've been working towards. I was scheduled to do a Half Marathon on 4/10 to end the long distance racing season in my area, and this one would have qualified me for Half Fanatic Status (would have done 3 Half's in 90 days). But due to an injury I didn't get to run the race.

Where I live it's just too hot for me to do races during the summer especially since they start at 8am when it's already hot and humid and the longest distance is 5k. I did do one 5k mid Mid and did okay, took 7th in my age group, but it was SO hot!

Anyway, between that injury and having sinus surgery which kept me from working out for almost a month, it has been challenging. But I always love a challenge. Prior to surgery, I got back in the gym for my cardio and went back to lifting heavy again and loved it. Had surgery on 5/18 and didn't workout again until 6/15 and let me tell you, it was SO great to get back in that gym!!! I'm really enjoying it! Been doing well on the eating, though the first two weeks after surgery I really didn't want to eat and could hardly open my mouth, so I mainly had soup.

Back in December, Bruce from Sparkpeople sent a Sparkmail saying the magazine First for Women was looking for people who had lost weight using capsacium (hot peppers) and I had definitely been doing that. So end of Jan, I had a phone interview with someone from the magazine, and and I didn't know if they were going to use me or not. Then end of April, I got an email that I was chosen and they wanted to do a professional photo shoot in two weeks! Yikes!!!

The photo shoot was fun, but very exhausting (I have a newfound respect for full time models). Took 4 hours, 4 wardrobe changes and over 500 pictures!

Well, the magazine came out today and I had to go pick one (or 5) up on my way to the gym this morning. I was expecting a tiny blurb and picture in a corner, but it's like a half page picture and article! The pic came out ok, but I'm most grateful for Sparkpeople for the opportunity and happy they mentioned Sparkpeople in the article.

Also happy they mentioned my Nutrition Coach Ruben Sandoval (Sparkname FLEXCHEF)! He's helped me SO much! This guy knows his stuff! He's helped me find the right balance of carbs and protein, cardio and strength training and just the right combinations of food to lose fat!

I never want to come across as bragging, but as hope for others who are on their journey! In two months it will be two years since it hit my goal size and I'm happy I've made exercise and eating right a part of my life. If you're strugging right now, don't give up. Eat frequently, drink lots of water, find exercise you can enjoy, make sure strength training is a part of it and set goals, goal after goal after goal! Keep it fun and keeps you motivated!

And for a new goal? Well, a friend of mine started working with Ruben earlier this year, and since she started having such great results, I encouraged her to do a Figure Competition like I did last year. So now, she's working towards that so I told her I would train with her even though I won't be competing. My 25th class reunion is end of August so I'd love to get close to Figure Comp shape as possible! It's fun watching someone else go through the process for the first time and she's doing incredible.

Anyway, thanks so much for reading this and I wish you a wonderful day! Yahweh has blessed me beyond my wildest dreams in so many ways! Matthew 22:36-37.

You know me, here's some pics!

Here's the magazine:



Here's my friend who's currently working with Ruben, doesn't she look incredible? This is about 12-15 weeks: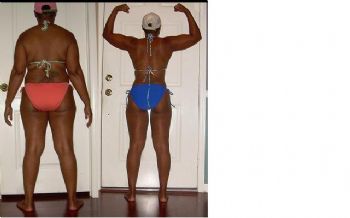 Here's a before and after (before taking 10/08, after taken a few weeks ago):



And here's a recent pic of me and my wonderful husband on my 43rd birthday June 12th: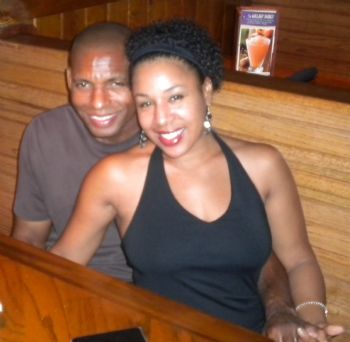 And here's just me on my birthday: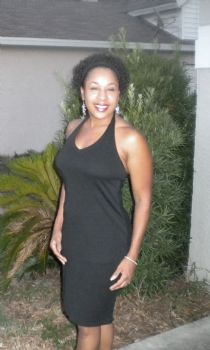 Monday, March 28, 2011
I started my healthy lifestyle the first week of December 2008 and joined Sparkpeople Jan. 3, 2009. I'm the kind of person that once I make my mind to do something I see it through. I had realized that each time before when I wanted to lose weight, I had not made the decision to lead a healthy lifestyle. I just wanted to lose weight. That never worked because I'd do some crazy diet, lose weight, feel deprived, then eat everything I had been craving and gain the weight back, feel bad about it, so I wouldn't work out...can anyone relate to this?

So in Dec. 2008, I had my "Aha!" moment, when I saw someone I hadn't seen in over 2 years and she told me she barely recognized me because I had gained so much weight. That was a god send statement for me. I knew the basics of what to do, eat right, eat often, exercise regularly.

So I did some research on what to do (google can find anything) so I learned how important it was to eat breakfast, which I never did, drink a lot of water, which I never did, strength train, which I hadn't done in a long time, etc. Then a friend told me about Sparkpeople and I joined immediately. I couldn't believe how much information was right here! I stopped Googling and devoured the info on the Sparkpeople site! I think I spent 2-3 hours a day for the first several weeks (of course I had to get my 100 points every day too). I started using their recipes since they could be put right in the tracker. I tracked my food EVERY day, never missing a day for almost a year. Good, bad or ugly, I tracked it. I used the mobile app on my phone and Ipod when I needed to. I made no excuses.

I didn't "eliminate" any foods, but I just made better decisions. Since I had to track it, I wanted to stay within the ranges Sparkpeople gave me. I weighed myself once a week, but it really never mattered much what the scale said. From Sparkpeople I learned that muscle weighs more than fat, and I was strength training 3 days a week and doing cardio 5 days. So at the beginning of each month I measured and recorded the measurements and that's where I saw the success! The sizes were going down consistently. I didn't care about it being fast, I had done fast weight loss before. I wanted this to be FOREVER, so I just made sure what I did was something I could do FOR LIFE. When I had a craving, I thought about it instead of just indulging, and I decided whether I wanted to use my calories for that. Sometimes I did, but more often I chose not to. But it was my choice, it wasn't that I "couldn't".

By the way, I had no friends or anyone else doing this with me. That was another excuse I used to use. "I need a partner..." That's a bunch of crap! This was about me and no one else! I signed up for a 15k (I chose this distance as it was the last race I had done 13 years earlier). I told everyone I was doing this 15k and did every training run by myself, as I didn't know any runners at the time.

I started at size 14, and by September I was wearing a size 4. It was amazing even for me to see. I had learned about eating clean so I focused on that as much as possible as well.

Since achieving that goal, I've run 4 Half Marathons, 2 Full Marathons, several other races, placed in my Age Group in a couple of them, competed in a Figure Competition and even attempted to qualify for the Boston Marathon (still a goal for me). When I trained for the Figure Competition, I had a Nutrition Coach and from there truly learned how much nutrition plays a part in weight and fat loss. He is awesome, Ruben Sandoval (Sparkname FLEXCHEF) and his SparkTeam is Fit To Be In Your Kitchen. I highly encourage you to join it, as you will learn so much! So when I trained for the Figure Competition, I was on a "diet", very strict. But for me, it was like an ultimate goal to see if I had that much discipline. I'm so happy I did it, but I would never want to live that way, though I admire all the people who compete regularly! I've since referred Ruben to so many of my friends and family members (including my Mom) who have also seen amazing results eating regular foods, delicious easy recipes and basically they feel like they're eating more than they ever have so never feel deprived. So I've learned so much from Ruben too and continue to use him in a more limited way. He will always be my coach!

So it's March 2011 and 18 months since hitting my goal size. I'm between a size 2 and 4 and I'm very happy. I still watch what I eat and exercise regularly. I'm currently coaching a small group of women to complete their first Half Marathon and I'm really enjoying seeing their progress! Exercise and eating right is just a part of my life now, nothing I have to work at or even think about. Certain things are just daily habits: reading my Bible, brushing my teeth, bathing, eating 5-6 times a day, exercising. Good habits to have!

Just wanted to share because I know there are so many who are still in the stage I was in before making my decision to lead a healthy lifestyle. I want everyone to know you CAN get off the diet rollercoaster and make a lifelong change. You just have to be READY to do it! I'm no one special, but along the journey have met so many special people who continue to inspire me. And now people tell ME I inspire them. So remember, someone is waiting to be inspired by YOU...yes YOU!

Thanks for reading this and I wish you a wonderful day!

Here's a pic from the week I started my healthy lifestyle journey in 12/3/08 and picture of me from my 20th anniversary dinner taken 1/26/2011.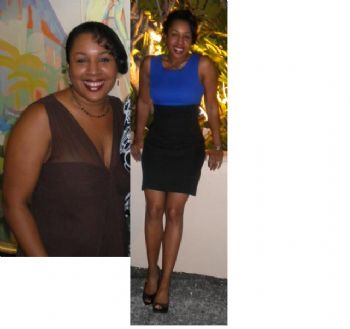 Here's a pic from a recent training run on 3/5/2011, my friend on the left is now working with Ruben and is seeing amazing results: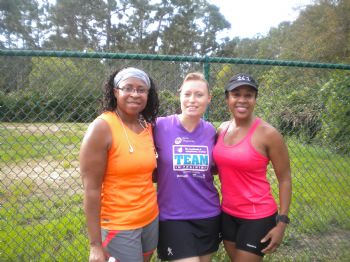 Here's a pic with a Sparkfriend NSG4729 who is doing a great job with her journey, taken 3/11/2011! She's about to start working with Ruben!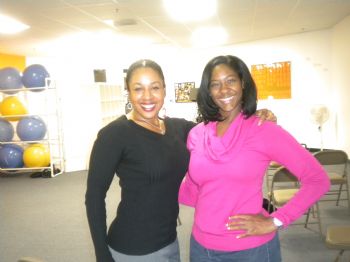 And here's a pic with my friend Grace who will be completing her first Half Marathon in 2 weeks, and 6 months ago she would have never dreamed she'd be doing this! She's down 45 lbs and looking fab!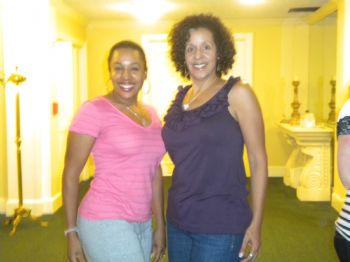 Grace and I were recently featured in a Women's Day online article (2/18/2011). Even though she started about 6 months after me, she's continued ever since!
www.womansday.com/Articles/Health/He
althy-Diet/Weight-Loss-Transformations
-Best-Friends-Edition.html

I GIVE ALL GLORY AND CREDIT TO MY GOD YAHWEH AND ALWAYS ASK FOR HIS GUIDANCE IN SETTING A GOOD EXAMPLE IN EVERY AREA OF MY LIFE, BUT MAKING SURE HE IS FIRST BEYOND ALL. MATT. 22:36, 37.






Monday, January 10, 2011
Apologize in advance that this is long...

Here's my race report, but before I go into it, I need to thank the hundreds of you who gave me so much support and love through messages, blog comments, FB, etc. It was so overwhelming (in a good way), and I have to thank POCOHANTAZ for having the BBQ Spark Team send so much love! And friend KC for dedicating her blog the day before to me ( networkedblogs.com/cFEMT )! And so many others! Needless to say, I felt the pressure to achieve the goal to make everyone proud. But I learned, that achieving the goal is not as important as knowing you've done everything towards the goal TO achieve it. There are some things you just can't control, and it's okay.

So here goes:
Saturday night before the race, we met my friend Lisa and family/friends for dinner. This was going to be Lisa's first Marathon and we planned to start together.
Pic of us at dinner: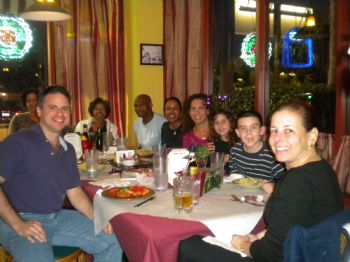 Pic of Lisa and I: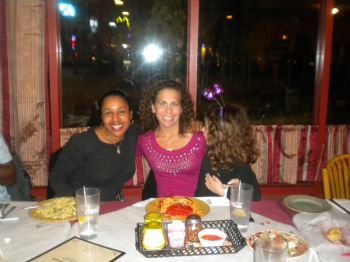 We were both so nervous! My trainer Stefanie told me to get some peppermints to suck on, and they did help settle my stomach. So got back to the hotel (stayed at Disney Pop Century) and went to bed around 9:20pm. Was hoping to get a little sleep, as the wake-up time was 2:15am so we could get on the 3am shuttle to the race site. Race was starting at 5:35am. Lisa and I both went to the bathroom 4 times before the race, mostly from nerves and not wanting to have to stop during the race! We had over 2 hours to kill before the race, but it seemed to quickly. The weather was perfect, not too cold, guessing around 50 some degrees. We both had our "throwaway" clothes on to stay warm.
Pic of us waiting before the race: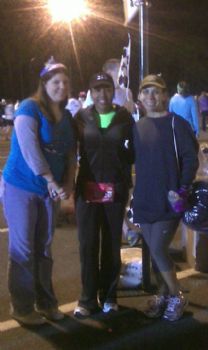 So we get to the corral, we were in "B" out of A through H and we start looking for our Pacer. No where to be found. Finally, about 10 minutes before the race, the Pacers show up. We're pretty far from the port-a-potties now and we both had to go pee one last time! Not enough time to go back, so we, along with a few dozen others, ran across the way to the grass and "went" behind a truck. New bonding experience ha ha! (Sorry if this is grossing anyone out.)

Finally, the race starts, we were in the 2nd wave and it was cool, fireworks to start each wave off! Our goal was to stick with our pacer who would be running at a pace to finish at 3:50. It was pitch dark and super crowded (over 17,000 participants), and for the first couple miles all I wanted to do was not trip and fall! For the first 4-5 miles, I thought, "this isn't too bad, I can hang." and stayed right with the pacer, a few times running slightly ahead just because I was comfortable.

The pacer never even slowed down for any water stops, which were every 1.25 miles, so I was challenged to grab my water or powerade and actually drink some without choking myself. Finally, around mile 12 I got it down how to do it. Was still with the Pace team going strong.

Around Mile 15, I started to have some breathing problems and had to stop completely for about 15 seconds, then walk about 10 seconds, then I sprinted to catch up close to the Pace team again. Still hanging strong! I just kept thinking "Let's just get to mile 17, then only single digit miles to go!". I knew a lot of people were tracking me and thought about every time I ran over the tracking block (miles 5, 10, half and 20), and I thought about Mom, Grace and hubby waiting for me at the finish line. I was doing well, surprising myself. It was getting harder but I was keeping up. There were a lot of "inclines" like overpasses. They weren't steep, but they were long. Wasn't expecting that!

Hit mile 20 and still on track! 6.2 to go! I can do this! ...then my body starts acting up in mile 21. I started experiencing a pain in my side that hurt when I would inhale and my calves were cramping so bad. I could actually feel them spasm as I ran, but tried to avoid it all. My quads and hip were on fire but I knew I could ignore that. As mile 22 hit, I had to start walking, my body was just not cooperating. Up until now, I had been averaging my goal pace of 8:46. Mile 22 I did 9:03, then Mile 23, 9:09, then Mile 24, 10:16. I was having to walk more and more and it was killing me. In Mile 24, I knew I only had 2.2 miles to go and I had enough time to make my goal. So I started running, but just couldn't continue, the pain was too bad and I was getting dizzy. I didn't want to not be able to complete the race! I dug deep to find the mental capacity to run, and would start, but would have to stop. Mile 25 in 10:25.

Somewhere in Mile 25, I see a friend of mine, Brian who was calling for me to come on, keep running! He was so encouraging and I started running with him, but after only a few feet, I had to stop, so he stopped with me and then said 10 seconds, then let's go. So we went, but I just couldn't. So he went on and I kept walking. I'm looking at my Garmin and when I saw the point where I knew for sure I wouldn't make the 3:50:59, all I could think about was everyone who was rooting for me, especially my dear husband.

But at that moment, I made peace with myself that I knew I was doing the absolute best that I could do and I had run a great race, better than I would have ever dreamed. So I smiled, turned off my music, said a prayer to Yahweh and kept going. I pretty much walked most of the last mile and when I got to the turn where I could see the finish line, I knew I had to run through it. So with everything I had in me, I "ran" though it was really slow and practically limping through the finish line. Usually at races, as I'm crossing, I'm all smiles and holding my hands up, but this time, I just made through then went over to the side to rest. I just wanted water and to lay down.

I was done. My goal was 3:50:59. I finished in 4:02:05. Am I disappointed I didn't qualify for Boston? Yes, a little, but not as much as I thought I would be. I think it's because I knew I gave it everything I had. There's a saying "I'll do it or be found dead on the side of the road trying." That was practically me! I never stopped focusing on finishing the best I could. My first and only marathon in Feb. 2010 I finished in 4:46:21, so I shaved off 44 minutes from that, so I really can't be disappointed in myself. That's a huge accomplishment. And it also let me know that with a little better training, I could definitely do it. So while I was in sheer agony after the race. This is how you know I was in agony, I didn't take ANY post race pictures (you know how I love pictures). Grace took a pic of me just after crossing the finish line. Can you see the agony in me? :-) (That's me in the yellow and black.)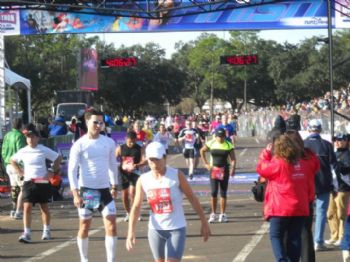 I asked my hubby if his heart sank when he saw 3:51 come and no sign of me. He said, he, Mom and BFF Grace had a little cry and hug. But they were all very proud of me, and I knew they really were. I know I was proud of myself! I did my 2nd marathon at age 42 at 4:02:05 and 2 years ago, I had never even thought of doing a marathon, let alone two and going for Boston!

I say this because sometimes we don't hit our goal, but as long as we know in our heart we've done the right things, it's okay. We keep going! I thought about the Chumbawamba song "I get knocked down, but I get up again, you're never gonna keep me down!" It's about giving our best in our goals, no matter how big or small. I did the right training, did the right things, it just wasn't my day to qualify...and it's OKAY. I'm proud of ME!

So what's next? I'm not giving up on Boston. I've already started looking at the best Boston Qualifying Marathons and currently have my sights set on the Nashville Country Music Marathon on 4/30. It's part of the Rock N Roll series. It gives me enough time to recover and train, and I'll use a more aggressive training schedule. I know what to do better to get my body more prepared. I'm determined to run Boston 2012 with my dear husband!

So I'm excited about the next one, and the races I'll do in between, a Half, maybe a few 5k's and a Half Marathon with Mom and Grace on 4/10 (their first). So I have a lot of great things ahead!

Thanks for reading about my best race ever! May you reach your best goals ever too in 2011!
- Tia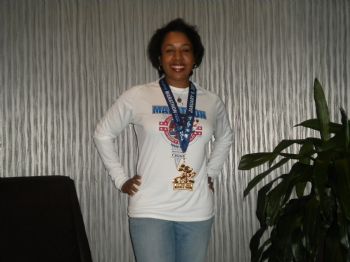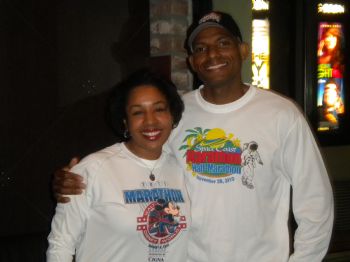 And here's a finish line video (me in the bright yellow and black around 4:06:16) and some pics that Disney got:

www.asiorders.com/view_user_event_vi
deo.asp?EVENTID=74488&BIB=5519&LNSEARCH=1



First Page
1
2
3
4
5
6
7
8
9
10
11
12
13 14 15 16 17 18 19 20 21 22 23 24 25 26 27 28 29 30 31 32 33 34 35 36 37 38 39 40 41 42 Last Page

Get An Email Alert Each Time TIAGAYEPFA Posts