| | |
| --- | --- |
| | TIAGAYEPFA's Recent Blog Entries |



Monday, January 03, 2011
First of all, I hope everyone is starting off their New Year in a wonderful way!

SPARKPEOPLE 2 YEAR ANNIVERSARY!:
I can't believe I joined Sparkpeople 2 years ago today! I'm so happy that once I joined, I continued on my journey, reached my goal and have maintained for over a year now.

Me just prior to joining Spark:



Me just a couple weeks ago:




Prior to Jan. 2009, I had many starts and stops in trying to lose weight. I think the difference was that 1) I decided to lead a healthy lifestyle instead of dieting, 2) I set continuous fitness goals which kept me focused so I wasn't just thinking about losing weight, 3) I didn't worry about big results, I just wanted consistent ones, 4) I had an "Aha!" moment when someone told me how heavy I was after not seeing me for a couple years. It was the last straw. And 5) I barely missed one day over a year of tracking my food.

I averaged 1/2 lb of weight loss a week and many people would find that discouraging. My motto is "I didn't want to lose it fast, I wanted to lose it FOREVER."

So I'm happy to still be here. I don't look like I did when I did the Figure Competition. Please keep in mind I was practically dehydrated and virutally NO sodium at that point. Also, after the competition, I almost immediately went back to running and it's hard to maintain the muscularity running the mileage I was doing. With that said, I still fit my size 2, I just don't have the same definition. But I'm very happy with how I look and more importantly with how I feel. I continue to eat 90% clean with a little bit of cheats here and there, everything in moderation. I've learned to LIVE a healthy lifestyle and I enjoy it. Ruben (FLEXCHEF) still helps me as my Nutrition Coach and as I maintain he's my go to person when I need some nutritional help. He's been such a Godsend, and now he's helping my Mother (blog on that to come soon).

MARATHON WEEK:
Well this coming Sunday is the Disney Marathon. I will qualify for the Boston Marathon by finishing the 26.2 miles in less than 3 hours and 51 minutes. I have to cut 54 minutes off of my previous (and only) marathon time from Feb. 2009. So I realize this is a very lofty goal, but I'm up to the challenge. And nothing great happens without great goals right? I've trained properly and feel good that I can do it. Am I nervous or scared? Heck yeah!!! I get palpitations sometimes when I think about running that fast for that long. I'll be with a 3:50 Pacer which means there will be a runner who will be holding a sign that says 3:50 for anyone focused on finishing the race in that time. So I just tell myself "Just stay with the sign, follow the sign..." This is what my husband did to qualify at his race. So I'm going to do it too!

Fortunately, the weather looks PERFECT for the race, low of 49, high of 68. These are great conditions for the race. So it will start off chilly (race starts at 5:40am EST) but once we get running, it should be great! Won't need to have a bunch of layers on thankfully.

If you're interested in tracking the race to see how I'm doing, either at intervals or just at the finish line, feel free to track me at this site:
live.activeresult.com/msg/MSG-signup
.tcl?event_id=3
My name is Tia Pettygrue. Would love to have as many cheerleaders as possible! This helps inspire so much!

So for my 2nd year Spark Anniversary, I'm resting today from running. I'll run 4 miles tomorrow, 3 on Wednesday, 2 on Thursday, and that's it until the race. I'm going to have my personal trainer give me a stretching session on Friday. I'll pick up my race packet on Friday at the Expo, and I'm sure it will really become real at that point. I hope to meet my Pacer there as well.

A friend of mine, Lisa who will be running Disney as well for her first marathon, invited me to watch The Spirit of the Marathon with her this week, so I look forward to it. I'm so happy Lisa and I met!
Pic of me and Lisa after our 20 mile run: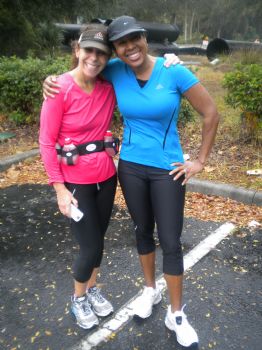 So thank you for reading this and I really appreciate all of your encouraging words, and I apologize in advance if I don't get to respond to you personally. My goal in 2011 is to be more encouraging and giving to others, as has been done for me.

Have an awesome day, and I'll check in after the race on Sunday!





Sunday, December 19, 2010
So 3 weeks from today at this time of 9:49am, I should be a Boston Qualifier. Well, that's the plan. Race starts at 5:40am, so assuming it starts on time (and I'm sure it will, since we're talking about Disney), I need to be finished before 9:31am. So hoping around this time I'll be limping my victory dance! That's my visualization!

Did my 20 mile run yesterday and it went very well. It rained the entire time, but it wasn't too cold so we didn't mind. Went with a new running friend, Lisa who is also running Disney and this will be her first marathon. I looked at my blog from this past Feb about my first 20 mile training run. For that run, my hubby and I did it together. We ran it in 3:58. Yesterday I ran my 20 in 3:07, so I shaved off 51 minutes. Not bad but I have to shave off 54 minutes to qualify, and at race pace! Wow! Sounds daunting, but I'm up to the challenge!

Here's Lisa and I soaking wet but happy after our run yesterday:



This past week was fun. Our running club had a year end social to celebrate everyone's successes. So I had a shirt custom made for my hubby and presented it to him, along with the book 26 Miles To Boston to recognize him for qualifying for Boston. That was fun!
Here's a few pics from that: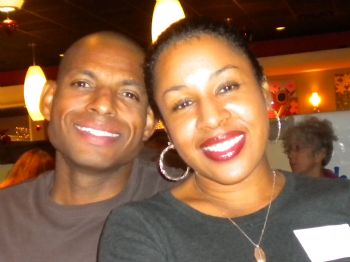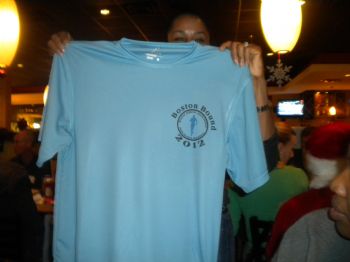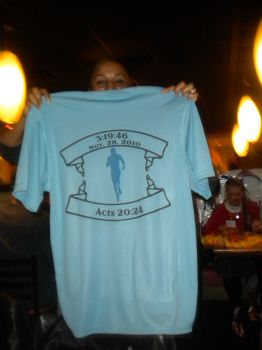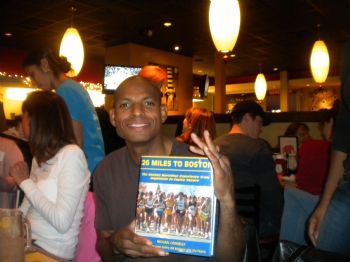 So a few days ago I get an email that the Iron Girl Half Marathon is offering a $35 registration for 72 hours. My BFF Grace had been thinking of doing the Disney Princess Half (I call her a Princess so it was fitting). But Disney's $140, which is actually more than the marathon! Also, we were already into the 12 weeks of training and if it was going to be her first (she still hadn't decided yet), I wanted to make sure she had all the training she needed. So I told her about this, and since it would be mainly an all woman race, it would be just as fun as doing Disney. And for $105 less! :-) I didn't want to put any pressure on her, so I just gave her the details and a couple of training plans to look at. We were Facebook chatting and the said "I did it!" I was thinking that's what she was talking about, but didn't want to get too excited. Yes, Grace did register for the Iron Girl Half Marathon. I was and am still so excited! To do a Half Marathon is such a HUGE accomplishment, and I know it's just the challenge she needs to finish her healthy size goals. So once Grace was "locked in", I wondered who else I could "encourage" to do it. So I started with Cametra. After a couple of possible reasons why she couldn't, she registered. Then, my friend Kayla, who hadn't been running much recently because of some other goals, but I know she loves it. Kayla and I had done the Iron Girl 15k this past April and had a blast.
Pic of Kayla and I: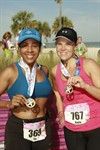 So Kayla was in. Now the big one, my Mom. Mom will turn 70 next month and I can just start crying now thinking of her and Grace crossing the finish line of a Half Marathon. Once I told her I had a walk/run training schedule, SHE WAS IN! It's going to be so much fun. We'll have shirts made and maybe we'll all wear running skirts! Grace teases me by calling me a Puppet Master but I think maybe it's a gift I have to encourage (well maybe twist arms a little), and as long as it's for good, I'm happy to do it. :-)

Pic of Mom and I: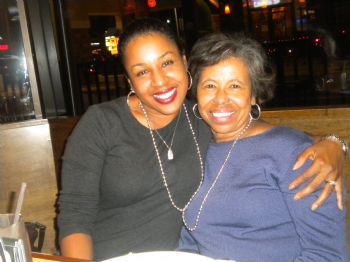 Pic of Grace and I: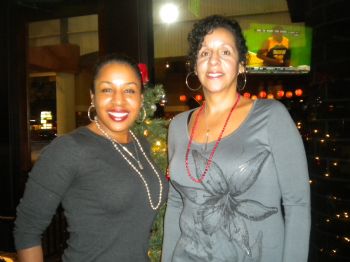 Pic of Cametra and I (from when finished her first Duathlon):



So I'm pretty excited about our April Half Marathon. I promised Grace and my Mom that I would stay with them the entire time, and as competitive as I am, I don't mind because it will mean so much to be there with them as we all cross the finish line together.

Setting goals is so important in your healthy lifestyle journey. No matter how big or small they are, keep setting goals for yourself, and as you get close, set the next one! Johnny and I watched the Iron Man World Championships yesterday and it made us both feel like "we have to do this one day", so after we both run Boston, we'll look at taking on the Iron Man. Guess we should start with a Sprint Triathlon since we've never even done that before, but hey, it doesn't hurt to have the big goal out there!




Thanks so much for reading and I wish you a glorious day! - Tia





Monday, November 29, 2010
So I've set my sights on qualifying for the Boston Marathon. 6 Months ago, did I even think this was possible? NO! After running my first marathon this past February with a time of 4:46, I never even dreamed Boston was possible. At my age group, I'd have to run a 3:50:59 marathon. That's 54 minutes better than my time...almost an HOUR!!! Seems impossible right? I thought so.

But after working with my Nutrition Coach Ruben (FLEXCHEF) and Personal Trainer Stefanie, and placing 3rd in a Figure Competition, which I never would have thought possible to even be in shape enough to do it, I realized...once again...very few things are impossible. I didn't run for 3 months while doing this training and I thought it would have slowed me down, and I just knew I'd be taking a step backward in my running...but when I started back, I WAS FASTER! I couldn't believe it! Ruben told me I would be, but I didn't think I'd be THAT much! I shaved 20 minutes off of my 15k, then I saw my 5k speed increase, then I just ran my 2nd Half Marathon and shaved 27 minutes off that! So, with all that said, I started thinking...maybe I could qualify for Boston...

So my husband had gotten that bug after finishing his last marathon (we did it together in Feb). He finished in 4:04. He needs 3:20:59 to qualify for Boston. He decided to go for it. He works almost 60 hours a week with Waste Management. He's a safety supervisor, but many days he's throwing garbage which is super hard work. I found a Hal Higdon Training Schedule that worked for him and he followed it as best as he could with his schedule. Did I also mention he's a Pastor too, so he also prepares Sunday worship and does a LOT of Bible reading and study.

We spoke with a couple of running coaches, and they didn't feel it was realistic for his to qualify THIS year, based on his Feb Marathon time and work schedule, which made reasonable sense (but I'm not very reasonable and don't have much sense!). He decided to run a marathon before the end of the year just to see where he stood. So he picked the Space Coast Marathon in Cocoa Beach, FL which is just 2 hours from where we live. It's known to be a pretty fast and flat course. While he's training, his times were good, close to Boston good. But when someone would ask him what he planned to finish in, he'd always say: "Around 3:30." Remember, he needs 3:20 for Boston.

I'm the kind of person that when I set a goal, I am determined to reach it and will do what it takes, and whether or not I reach it, the satisfaction is knowing I gave it my all. So just last week I heard him tell someone that he expected to finish in 3:30. So I decided to have a serious talk with my husband. I told him I didn't want to hear anything but 3:20 come out of his mouth. He had to think it, talk it, say it, and believe it or he'd end up finishing the race at 3:21!!! I told him he had to go into this race with every fiber of his being knowing he was going for 3:20:59 and nothing less.

This marathon had pace groups, which allow to get with a group who expects to finish at your desired time. There's a Pace leader who holds your goal time sign up the entire race. So all you have to do is stay with him/her and you'll hit your time. So race morning, I immediately led hubby (name is Johnny) to the 3:20 Pacer and introduced him. I said "Tony, this is my husband Johnny and I need for you to get him to Boston." Johnny told me after that he had planned to sneak over the 3:30 Pace group, but got afraid I'd see him. :-) Now he was stuck with the 3:20 group.
Johnny with his Pacer Tony: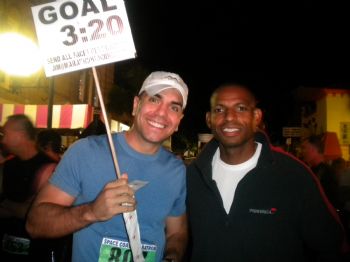 Meanwhile, we got to hook up with our wonderful Sparkfriends (LIGHTNINGRUNNER, SUEZETTE-414, CRZYRUNRGRL, DRAGONFLY1974) and met even more!!! Had dinner, hung out celebrated everyone finishing, it was just great! Everyone had a great race, even some Personal Records (PR) came out of it! I had done a 16 mile training run on Saturday, so it was nice just being a spectator!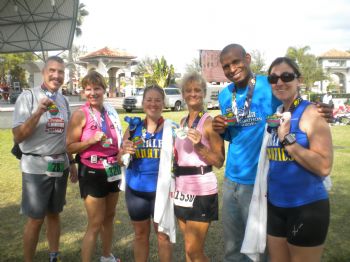 Ok, so once the race got started, I went back to the hotel and worked out, had breakfast, blah blah blah. Went back to the race to be at the finish line. Race started at 6:15am, so I knew he had to be coming across the finish line around 9:35. What was really cool was Suezette, Sueann & Mary kept texting me saying they saw Johnny at different parts of the course and he was looking strong and still with the group. That made me feel good, I hope they know how much I appreciated that!

So around 9:25, I started getting really nervous knowing he had 10 minutes to come through that finish line. I just knew that as long as he hadn't gotten injured (cramp, charlie horse, etc.) that he could do it.
Pic of me looking for him with 5 minutes to go: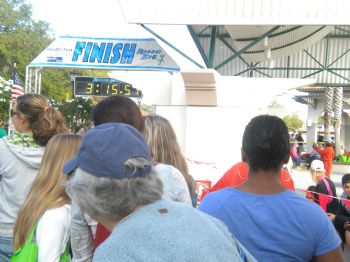 So around 3:19:20, we see the Pace Leader coming toward the finish line, and no sign of Johnny. But he still had well over a minute! My heart was beating so fast and I was already emotional because I could just feel that he was going to make it. Then a few seconds later, friend Brad yelled "I see him!" And here he comes around the curve and sprints through the finish line at 3:19:46, with over a minute to spare!!!



HE DID IT! He qualified to run the Boston Marathon by shaving off 45 minutes from his previous marathon 9 months ago to the day! I was SO proud of him. He told me it was all me. He said he could have never done it if I hadn't put the belief in him the way I did. That made me feel so good. It was just one of the moments in your life that was just so special.

He ended up placing 4th out of 71 in his age group (40-44) and 34th overall out of over 800 finishers. Not too shabby! He still can't believe it!



So while many told him he couldn't, I told him he WOULD!!! Now I'm going to use that same energy for my marathon at Disney. I have to take off 54 minutes, but I know with every fiber in my being that I will run to do it! It doesn't even matter whether I do or not. My mission is to do it and I will know I've done all I can do! So my husband is Boston Bound, but in 6 weeks, I plan to be Boston Bound with him for 2012!!! Our 20th wedding anniversary is Jan. 26th. Disney Marathon is Jan. 9th so it would be really cool to have both qualified for Boston for our anniversary!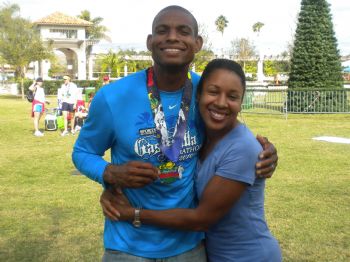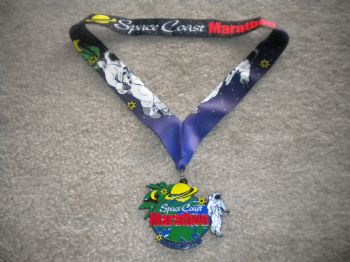 Moral of the Story:
WHETHER YOU THINK YOU CAN, OR YOU THINK YOU CAN'T, YOU'RE RIGHT - Henry Ford







Sunday, November 21, 2010
This has been an incredible weekend!

This weekend last year I ran my first half-marathon with no plans of ever running a full. Then 3 months later I ran my first full, and got the marathon bug! I really enjoyed it and planned to do another one. Then after a 90 day hiatus from running to compete in a Figure Competition, I found I was much faster. My 5k, 10k and overall pace was just faster and surprisingly so.

I remembered how nervous I was last year preparing for this race. I booked a hotel to make sure I made it on time even though I live only 45 minutes away. I just wanted to finish and had a goal of 2:30, but then really wanted to beat Rebecca from The Biggest Loser as they showed her completing her first marathon the week of mine with a time of 2:22. I ultimately completed mine last year in 2:19 and was very happy with it. My husband, some friends and clients were there to cheer me on! I really needed and appreciated it.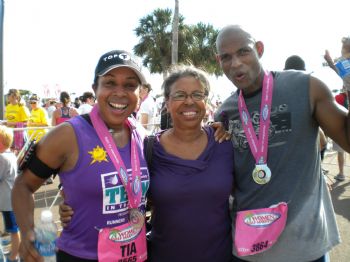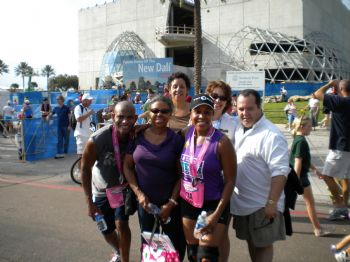 Fast forward a year. I now have my sights set on not just completing another marathon, but on qualifying for the Boston Marathon in 2011. So as I've been training for the St. Pete Women's Half Marathon, which I did today, I'm also training for the Disney full marathon on Jan. 9th. So after each training run I compare to see where I need to be for my Boston pace. I've been pretty close and on track for the most part. I'm not necessarily expecting to qualify at Disney, but my mind will plan to do it (I don't know another way). I have time to do at least 2 or 3 more marathons to qualify so I'm not worried about this one.

But I was interested to see how I'd do at the Half Marathon today, as I know it would be a big indicator of where I really am for Boston pace. Unlike last year, I had no family and friends come to cheer me on. I basically didn't "invite" anyone and told my husband to sleep in (he needed it as has his marathon next weekend). But I didn't miss anyone. I was able to meet some Sparkfriends (FLFITBEE, DRAGONFLY1974, SUEZETTE-414, CRZYRUNRGRL, LIGHTNINGRUNNER and I feel like I'm missing someone). This is one insane group of runners (I say that with total love). I hope to be able to go from race to race like them some day! But it was so awesome meeting everyone!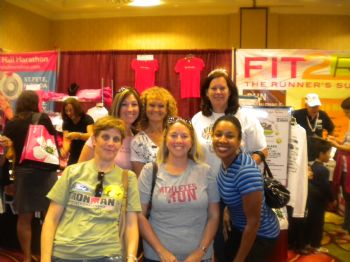 I also met some friends that I only knew from Facebook and finally got to meet in person as well, and some people I knew for a while, and from the Figure Competition!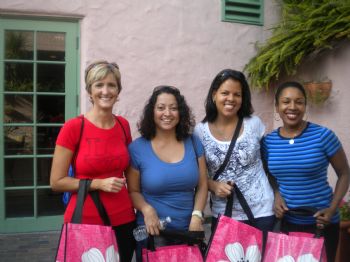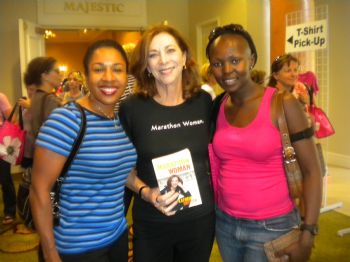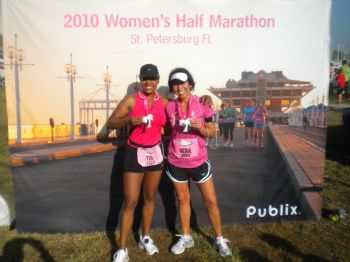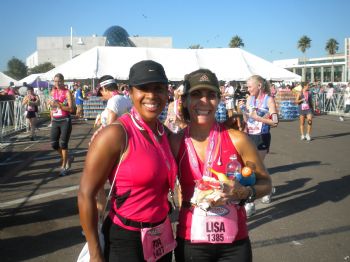 And saw some people from a group I run with during the week: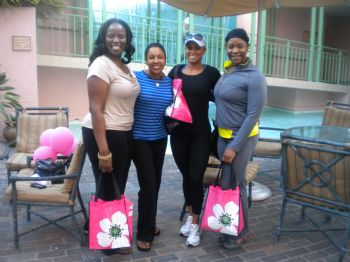 So while last year I really didn't know anyone as I was so new to the running community, but this year, I felt like I had family there! I probably ran into 25 people I knew between the Expo and the race itself. I love the running community! I just love the fitness community in general! It's so positive!

Ok, back to the race today. So the weather was definitely warm. Race started at 7am and it was warm by 8. They did corrals this year which was great. I think there were 8 corrals and I was able to get into the first corral based on the goal time I put to finish. That was really cool! I went with my Personal Trainer and dear friend Stefanie, as we had been training together and had similar goal times.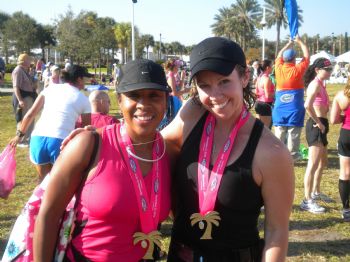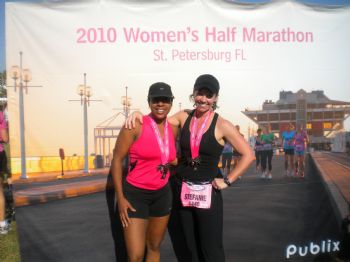 For Boston pace I need to do an 8:47 pace so I was watching each mile marker carefully. I had just bought my first Garmin Forerunner 405cx, but hadn't learned to use it yet so just had my Nike Ipod, which conked out at mile 7.

Mile 1 - 7:55
Mile 3 - 24:22
Mile 4 - 32:30
Mile 6 - 50:33
Mile 9 - 1:17
Mile 10: 1:26
Mile 11: 1:35
Mile 12: 1:43

Finished my 13.1 Half Marathon at 1:52:40!!! Woo Hoo! I honestly could not have been more pleased! I averaged a 8:36 pace, better than expected! Was definitely my best race yet and makes me very optimistic about Disney!

I was texting people like crazy afterwards and it sounded like all my running buddies had a great race as well!

Yes, I'm excited I've gotten faster, but I also know that at the end of the day, that's not what counts. It's going out there and setting a goal and hitting that goal, no matter how big or small. A Facebook friend posted this quote which I'll end with:
"The miracle isn't that I finished. The miracle is that I had the courage to start." -John Bingham, running speaker and writer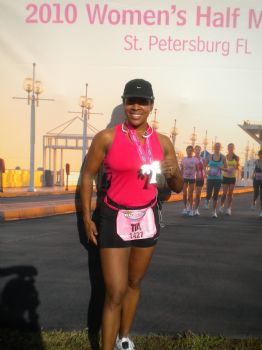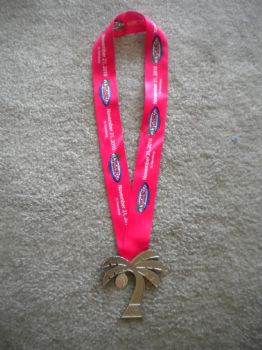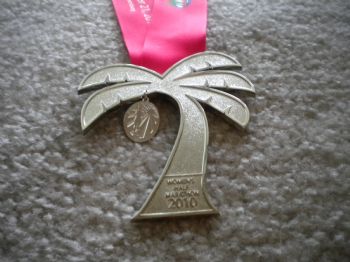 Saturday, October 30, 2010
Just had to check in, lots of good stuff to share!

Over the past couple months I've transitioned from training for my Figure Competition to serious training for the Disney Marathon on Jan. 9th. There have been a lot of mental (and physical) battles during this time.

If you've seen my pictures from the Figure Competition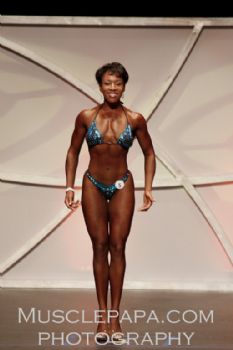 , you'll see how tight and toned I was. Well, keep in mind I was also pretty dehydrated and had very little sodium (or food) in me at that time.

Two days after the competition, my weight went up 8 lbs (my Nutrition Coach Ruben had to talk me down from the figurative ledge). Fortunately, I've been able to remain there or within 5 lbs of there, but when it happened, it was a total SHOCK. I wasn't totally ready for that. But it was just from adding normal water, sodium and regular food.

Then, while I continued eating clean and transitioned back to running within two weeks of the competition (I hadn't ran in 90 days), it was also a shock to see my beautiful muscles not standing out as much. I had to realize #1 that my Figure Competition body wasn't realistic to maintain (I do like to eat) and that once I started putting some mileage in from running, I couldn't maintain as much lean muscle mass. It's taken a while to accept these two things, especially the second one. So can you still see a six-pack in my abs? Only slightly. I'm still a size 2 but by the time I competed, the size 2's were falling off. So I'm happy to fill a 2 believe me. I didn't want to be a size zero.

I won't lie, it played with my mind. I started to think I was fat again (at 125 lbs and size 2). Then I started to realize that this was just as bad as when I was size 14 and 160+ lbs. I had started to obsess. I'm such a competitive person that it almost made me want to compete again just to have that body, but I realized that was not the reason to do it.

Even knowing I was planning to do the marathon, ran a couple 5k's, a 10k and doing my best time ever wasn't enough...until recently. Then about a month ago, I had a breathing episode while doing a 3 mile group run. I couldn't control my breathing and it was so scary. Went to the doctor and my lungs and chest were fine so they think it "might" be Exercise Induced Asthma" but not sure, but to be safe they gave me a Rescue Inhaler to use before I run. It has been helpful and I haven't had any more problems. Then a couple weeks ago, had a hip issue, was in so much pain after my last 5k on 10/9. Found out I have a rotated pelvis. Thanks for a wonderful Sports Medicine Chiropractor, got an adjustment and the pain went away (my first experience with a Chiropractor). So these ailments were having think the marathon may not happen...

So here I am 3 1/2 months after my competition and finally feeling great about myself again. I recently registered for the Disney Marathon and did a 13 mile training run today and felt great. One month until I do the St. Pete Women's Half Marathon and less than 2 1/2 months until the Disney Full Marathon.

So I'm focused on being kind to and proud of myself because this is me. I'm leading a healthy lifestyle and have a healthy body. Is it a "model" body? Not by any means. My sister, who is 5'9" and rarely works out, doesn't eat right at all, maintains a tiny waist, she has a model body (she's also almost 10 years younger than me)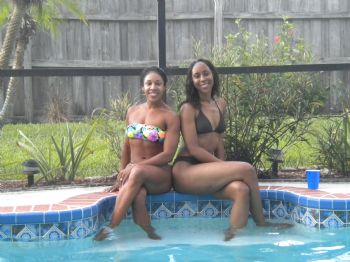 . I could be jealous, and I used to be. But it is what it is. My 5'3" 42 year old body needs more work, and I'm happy to do it.

Another highlight has been that I got to finally meet my Nutrition Coach (who I still work with), Ruben Sandoval (Sparkname FLEXCHEF), who coached me for the Figure Competition. He lives in California and was in the area visiting family! He did a healthy cooking class, a Nutrition Lecture and a bunch of us went to a Figure Competition to see one of his clients compete that I referred to him. She also went home with a trophy!

So if you're feeling challenged to get to your goal, to me it just re-emphasizes how important it is to make sure we're leading a healthy lifestyle versus dieting. When training for the competition I was dieting. A diet ENDS but our healthy lifestyle is for life. So when you have setbacks, remember a setback prepares you for a comeback! Just don't wait to come back! We can have a bad day, week or month, but I refuse to let anything make me have a bad life! I love me and my life!

So I've realized that it takes a bit to truly get comfortable in our own skin, but what helped me was continuing to set goals for myself and continuing to encourage others.

Thanks for reading this and I wish you well in your journey and healthy lifestyle! - Tia

A few pics (you know me):

August with my cousin (in middle) and sister (on right)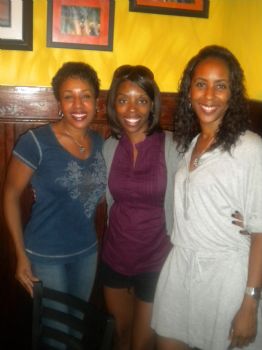 August, I coached a group to run their first 5k over 8 weeks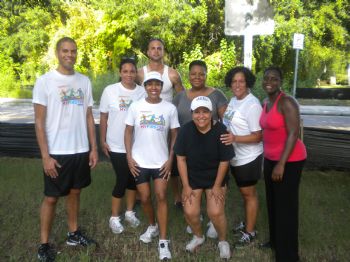 End of August with my Personal Trainer, Stefanie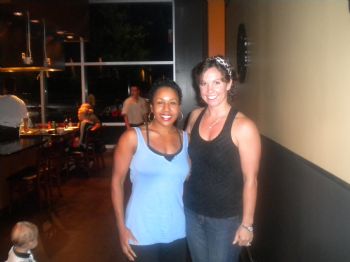 End of September with friend Grace (in middle) and sister (on right)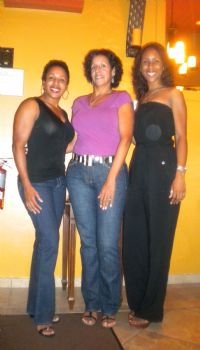 October, with my Nutrition Coach Ruben (Sparkname: FLEXCHEF)


October, me with my posing coach for the Figure Comp, Erin Stern, who recently won the coveted title of Ms. Figure Olympia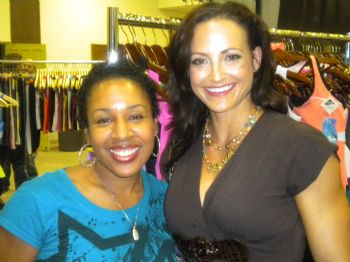 September, me with my brother-in-law after his first 5k (I was his coach :-). He took 1st in his age group (30-34)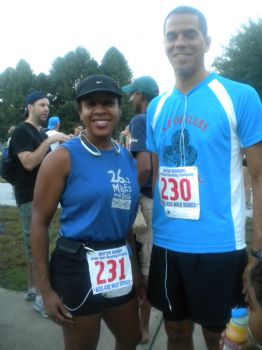 And finally, me running my first 10k.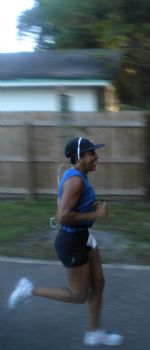 Okay, so we're all caught up now in word and pictures ha ha! Can you tell I LOVE taking pictures??? Have a great day!







First Page
1
2
3
4
5
6
7
8
9
10
11
12
13
14 15 16 17 18 19 20 21 22 23 24 25 26 27 28 29 30 31 32 33 34 35 36 37 38 39 40 41 42 Last Page

Get An Email Alert Each Time TIAGAYEPFA Posts