| | |
| --- | --- |
| | TIAGAYEPFA's Recent Blog Entries |


Friday, September 17, 2010

After four weeks of going through the 100 Push Up program, today was the day to attempt 100 consecutive push ups. I didn't quite make it, but I gave it my best. Will re-attempt next week to complete and have better form.





Monday, August 23, 2010
I can't believe it's been almost a month since I last blogged. The time sure flew!

I've started running again and have really been enjoying it. I'm still lifting as I love weight training as well. I know have a regular running partner which I've never had before. We're close to the same pace and her schedule is as flexible as mine so it works.

Also, a local running store started doing a free 5k run each Thursday that's open to anyone. So it's been a great way to work on my speed since we're in a group.

After the Figure Competition, I gained 8 lbs within 2 days. Evidently this is pretty normal, adding normal sodium and water back in. You're basically in a dehydrated state for the competition as your water is extremely limited the last few days.

So while it was a little overwhelming getting on the scale two days later and seeing the 8lb difference, I understood. Ruben (my Coach and Nutritionist- Sparkname: FLEXCHEF) had to remind me though! But since then, my weight has remained the same so I'm very happy. I'm a comfortable size 2 and plan to stay that way.



Ruben's now given me my maintenance meal plans and I love it! So much food, so much variety! All clean eating!

Did my first 5k since April 3rd. My friend Toni (Sparkname: NYCOLA44) celebrated her 29th birthday this month and decided to do it by running a 5k with friends! What a great idea! It ended up being a lot of uphill running which wasn't expected but it was a great course! My goal was to place in my age group. I finished at 25:12, which is almost a minute better than my previous best at 26:04. I didn't place though. Evidently my age group (40-44) is super competition. If I was in the 35-39 or 45-49 I would have placed! :-) That's okay though, just makes me want to get better! But I never thought I even be this fast! Ruben told me I would because I'm much leaner! I love it!

I'm also coaching a group of 7 people toward doing their first 5k, which will be on Oct. 9th. This has been fun. We train weekly and it's simply a volunteer opportunity for me that I'm loving!

I'll be running a Half Marathon on 11/21, then the Disney Full Marathon on 1/9/2011 so will start my training for those next week! So excited about doing both and some other races in between!

My friend Grace and I decided to start and complete the 100 Push Up Challenge so I figured, why not put it on Facebook to see if anyone else wants to! Well we have 131 people doing this 6 week challenge and it's been so fun as well!

A friend who calls me her "Fitness Mentor" completed her first Duathlon (run and bike) this past Saturday and I was so proud! I met Cametra when she did the 90 day weight loss challenge last May 2009 and she has continued to eat healthy and exercise. The group did a 5k together last August and she has continued to do 5k's and this Duathlon was a really big deal for her! She placed 10th in her age group! I'm so happy to be able inspire others and I say this because if you're reading this, remember, YOU will also be the inspiration to others and you won't even realize it, so stick with your healthy lifestyle! The more people we all can help to get and stay on track the better! Feel free to stop by her page to congratuate her! Sparkname: CEDWARDS4.

I had the privilege of being interviewed at Black Girls Run and Promoting Real Women and the links are below as well as recently pictures (you know me, gotta add pictures). Love the pic with my 4 year old nephew doing pushups with me!

I hope everyone is enjoying their journey and whether you have the ups or downs of the scale, time and consistency are the key! Set a new goal and have fun! Wishing everyone a great week! - Tia

Interview from Black Girls Run:
www.blackgirlsrun.com/2010/08/sole-s
tories-tia-pettygrue/

Interview from Promoting Real Women:
promotingwomen.blogspot.com/2010/08/
tia-pettygrue-interview.html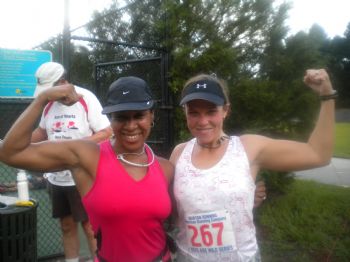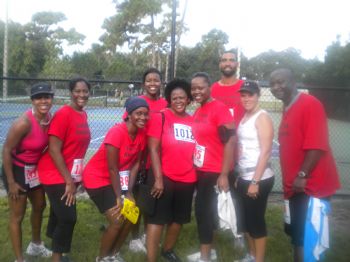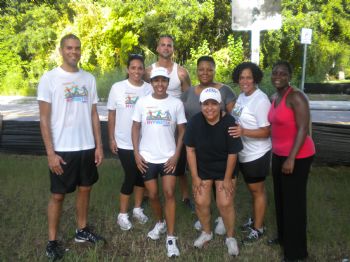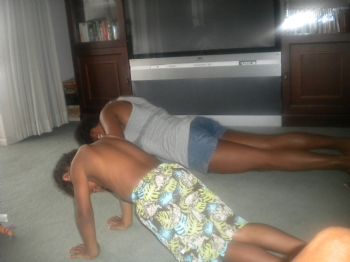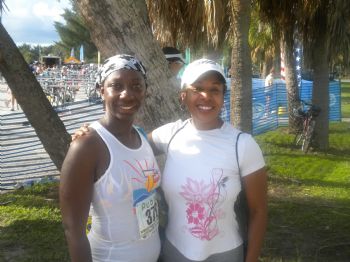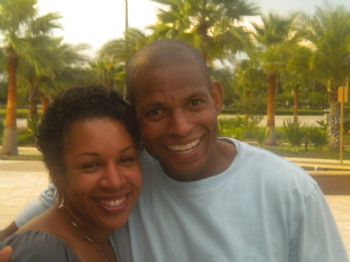 Tuesday, July 27, 2010
Well I've decided I'm not going to do another Figure Competition, but will return to running, my first love. I'm looking forward to doing the St. Pete Women's Half Marathon on Nov. 21st. This was the first Half I did last year with a time of 2:19, so the plan is to break the 2 hour mark.

Then, I plan to run the Walt Disney World Marathon on Jan. 9th in Orlando. My husband did this back in 1997, and it's just one of those races that I've heard you just have to do! So I'll have a goal to beat my first marathon time as well, which was 4:46.

I ran yesterday for the first time since doing a 15k in April and I just loved it. I did Sprint Intervals and am so sore today!

So I'm printing my marathon training schedule and putting it on the refrigerator and will follow it and have fun with the training!

They say your muscles only a 72 hour memory, and I truly believe that, because It had been two weeks since I lifted heavy, so yesterday I felt SO weak! So I am excited to start really lifting again on a regular basis! You know me, I love posting pics, so here are a few pics of me with my awesome Personal Trainer Stefanie.

I hope you're enjoying all your fitness goals, it makes losing weight or staying in shape so much more fun!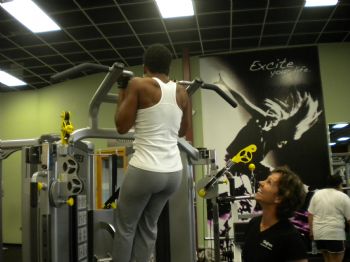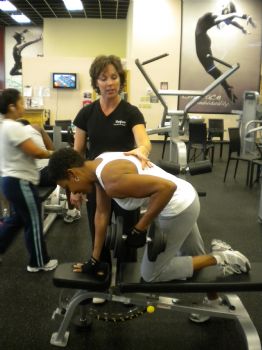 Sunday, July 25, 2010
If you've followed my blogs for a while, you'll see I go from goal to goal. Up until now, the goals have been different. But I do that because while I was wanting to lose weight, having other specific goals kept me focused instead of just focusing on losing the weight, checking the scale, getting discouraged, etc. When you set a goal, AND tell everyone about it (i.e., friends, family, post on Sparkpeople, Facebook, etc.), it makes it hard to back out and you get people cheering you on so you stay motivated. I just wanted to share this because so many people ask how I stay motivated. It's all about setting realistic goals and keeping the process fun.

So the 18 weeks of training for the Figure Competition were very challenging. My personal trainer, Stefanie, evidently told me just enough so I agreed to do it. Honestly, had she told me EVERYTHING, I know I wouldn't have done it. So I'm grateful to her. It was by far the most challenging goal I'd ever done. I didn't want to socialize at all if it involved food or drink since I couldn't indulge. I felt like I lived in the gym the last 6 weeks. I got a little cranky from the low carbs and calories the last 4 weeks. But I say all this to say, IT WAS WORTH IT. I felt so good to know I could have that kind of discipline and get my body in that kind of shape.

For that I have to give all the credit to my Coach, Ruben Sandoval (aka Sparkname FLEXCHEF). Honestly, it made life so much easier to have meal plans customized for me. I never had to think about what I was going to eat. And I learned so much. One thing I learned was that to get your body in the shape you really want it, it's definitely 80% diet. I see people at my gym working out like crazy every day but their bodies never change...because of their eating. So I truly see the benefit of having a coach instead of going it alone. Ruben lives 3,000 miles from me so I've never met him in person, but his attention to detail is just incredible...you can see from the pictures of my transformation. If you'd like to see the transformation pics over the 18 weeks, feel free to befriend me on Facebook. My name is Tia Pettygrue and just put a message that you're a Spark friend with your Sparkname, as I'm really particular as to who I accept as friends. It's pretty remarkable and I'm not saying that because it's me, it just is. Also, if you're on Facebook, I'd highly encourage you to "Like" the FB Page Fit To Be In Your Kitchen. Great tips on food there from my coach!

So the next goal...I love running and my husband is wanting to qualify for the Boston Marathon so we planned to do the Detroit Marathon (him) and 1/2 Marathon (me) in October. He's from there so it would be great to have family support and it just looked like a cool race, running to Canada, then back through an underwater tunnel. But a couple days ago, my husband was looking at his running time and not thinking he'll be ready for Boston this next go round so doesn't want to take the time and expense to travel for a race. So I didn't have a race to get excited about.

Meanwhile, I've made so many friends who do Figure Competitions, and a couple friends at my gym are doing a Comp in Oct, and my coach may be in town for the show...so I'M DOING ANOTHER FIGURE COMPETITION ON OCTOBER 2ND! For this last one, my only goal was to be able to be ready to get on stage. Now that I know I can do it, I WANT TO WIN!!! So my focus will be to win the Overall this time. I know that's a lofty goal, but I gotta make it more fun and challenging, so I'll be spending much more time practicing my posing, which is huge. It's such a skill to do the posing properly. You kind of feel like a contortionist they way you have to move and hold your body. So I'm super excited about it. This time it should be easier, mentally and physically, since I know what to expect and I'm starting in better shape. I'm ready to work harder and still have fun in the process!

I want to thank you all that read and comment on my blogs, and I truly apologize if I'm not able to answer everyone, I really do try. I read all the comments and try to answer any questions. If you have any specific questions, feel free to send me Sparkmail. Like many of you, I'm still learning and by no means claim to be any kind of expert. But I have learned a lot that I can share and am happy to do so. I've learned so much just from Sparkfriends like you and the awesome teams I'm a part of.

I've been spreading the Spark like never before!

So I've chilled out this past week, didn't work out much to let my body recover from the intense workouts I had been doing. But tomorrow, I'm ready to hit the gym hard and start lifting heavy and doing some HIIT cardio!

I hope you've had an awesome weekend and I wish you much success in your goals as well!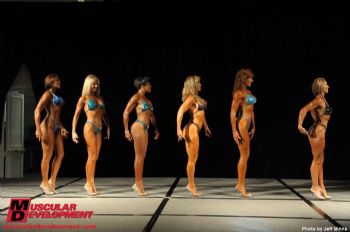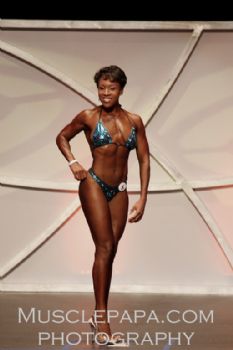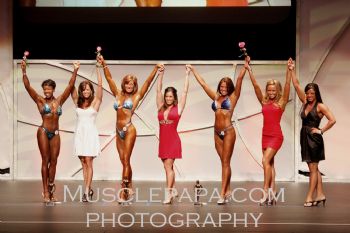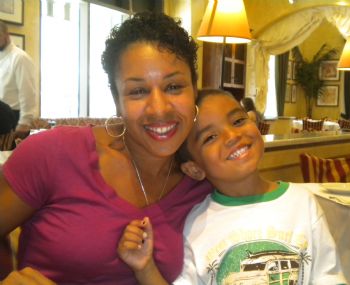 Sunday, July 18, 2010
It's 2am and I'm so tired, so I'll be quick, but I promise, full details by Monday!

Had an awesome day today. Finals were tonight! Event was at the local Performing Arts Theater and I'm guessing there were about 800-1000 people there. So in addition to being on such a big stage, was also on the Big Screen!

My division was the second to be called. So when they announced the Top 3 and I was one of them I couldn't believe it! Now of course I would have loved to have won, but for this to be my first and to know where I've come from and how unbelievable it was for me just to be on that stage, taking 3rd place was JUST LIKE WINNING THE OVERALL!

So, on that note, I'm going to bed, but can't wait to share more!

Thanks so much to all of you for sharing this with me, it's been so much fun!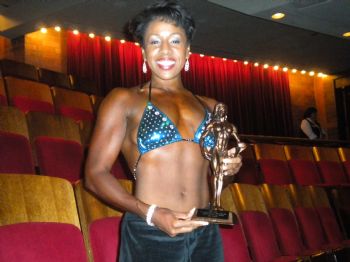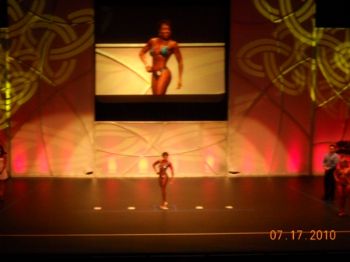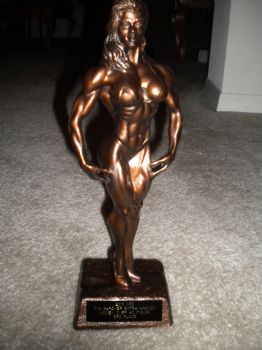 First Page
1
2
3
4
5
6
7
8
9
10
11
12
13
14
15 16 17 18 19 20 21 22 23 24 25 26 27 28 29 30 31 32 33 34 35 36 37 38 39 40 41 42 Last Page

Get An Email Alert Each Time TIAGAYEPFA Posts