| | |
| --- | --- |
| | TIAGAYEPFA's Recent Blog Entries |


Saturday, July 17, 2010
As tired as I am, I just couldn't go to bed without leaving a quick blog about tonight's events and some pics. So many of you have come on this journey with me over the past 18 weeks and I'm so grateful and it has been so motivating to me!

I won't be long in this one, as I have finals tomorrow and we'll see if I met my goal, or hit goal plus one (by placing).

It's been an incredible experience. The last 18 weeks have been such a challenging, learning experience. One I will not soon forget.

I am so grateful to Ruben (FLEXCHEF) for being there for me. He helped with every detail, even the last minute details during the day today. There is NO way I could have EVER been ready to step on that stage tonight without him.

Here are a few pics from the event! I'll blog more detail tomorrow, but just too tired tonight.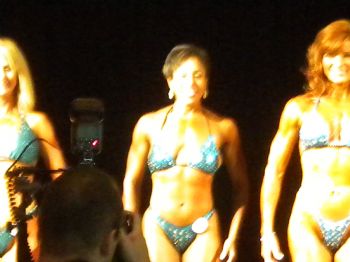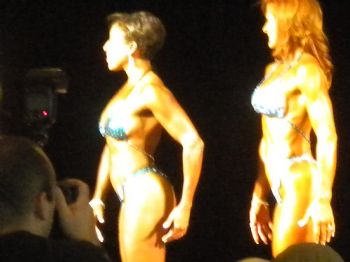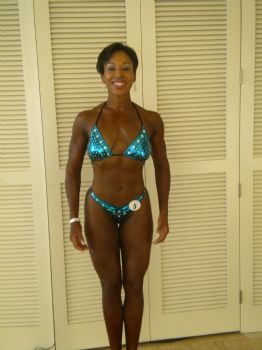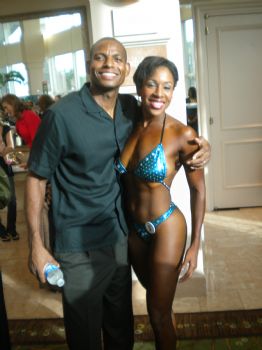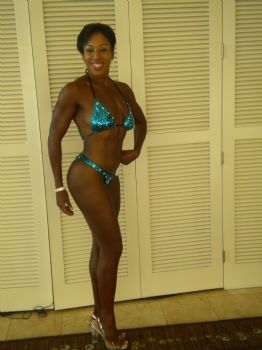 Thank you all so much again for sharing this journey with me. My goal now will be to do a better job in sharing your journeys with you! Nite nite!





Wednesday, July 07, 2010
FINALLY, I'm feeling more excited than nervous about my upcoming Figure Competition.

Last week I went to a group posing practice session as a guest of a new friend who is part of this group. Well it was terrifying to say the least. I was the only one there who was new and there were about 60 people total there. Everyone had their posing suits on and these incredible bodies. I was SO intimidated. They had to really talk me into going on the stage to practice, but I kept my long pants and T-shirt on. I'm glad I did it, but my stomach was sore for hours later from the knots in it. I know I'll have to go on stage in front of over 1,000 people with real judges, but for some reason that doesn't freak me out like this did. But I did it!

SO, I hired a posing coach, since posing is so important in this competition and I want to get it right. Fortunately a well known Figure Pro had just recently relocated to Tampa (Erin Stern on the current cover of Oxygen Magazine), (thanks SLADIVA for recommending her) and I got to work one on one with her. The time was SO valuable. She really helped me. I felt so much better after that session. I'll practice A LOT and will meet with her once more on Tuesday. So that's been my lowlight and highlight since my last blog!

Diet is more restrictive now, I start my Carb Deplete next week (virtually no carbs), but I'm okay with it all, as I'm ready to get on that stage.

Ruben (aka FLEXCHEF) is so amazing, he knows exactly how to make changes and I see results almost the next day! Incredible! Even in the last week, I've really changed. My husband just LOVES it so much! He's always loved nice definition on women and I know he's excited to have his wife with this muscle definition. We'll just say it's been fun!

I'm doing two 60 minute cardio sessions a day and while it's grueling, the hardest part is that I just get so bored on those machines. The Spin and Kickboxing classes just don't seem to work with my schedule. Thank goodness for the Field Workout Ruben gave me to do twice a week. It's brutal, but a welcome change from the Elliptical!

Overall, I'm feeling more confident and while I initially set this goal to just be ready enough to go on stage and not even thinking about winning or placing. My mindset now is to do all I can to WIN. Even if don't, it's okay, but I'm going into it to WIN - why not right? I've given it 100% until now, I'm not stopping!

Here are some posing pics and pic with Erin!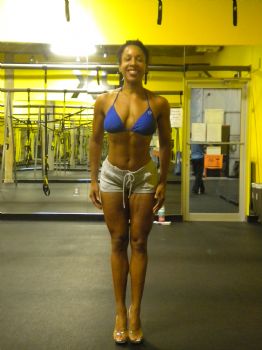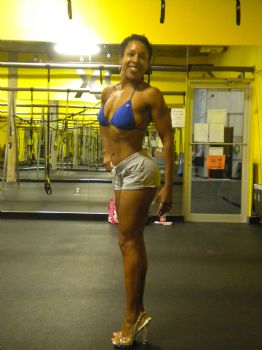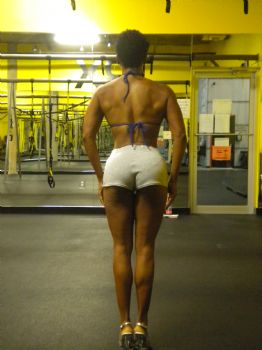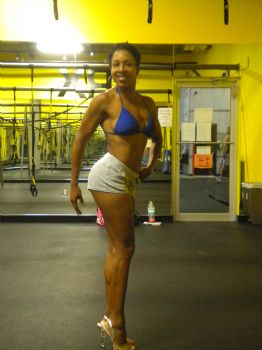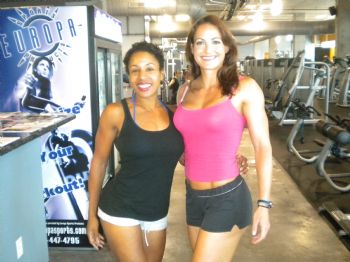 And as I great as I feel, I never forget that just two years ago...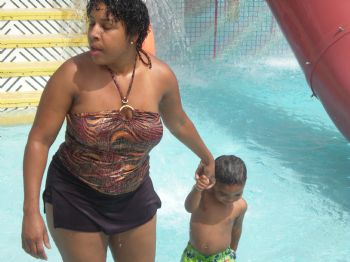 ENJOYING THE PROCESS!





Friday, June 25, 2010
So I'm 21 days from my first Figure Competition.

This has truly been the most challenging thing I've ever done.

My personal trainer Stefanie recommended I do this on March 1st, the day after completing my first Marathon. I needed a new goal. I really didn't know what I was in for...

But it has been an amazing journey. I thought I was happy with my weight and size 6 months ago, but I had always wanted some muscle definition. I always wanted people to say "You have nice arms." or something like that. Be careful what you wish for!

When I was overweight, I never liked to wear short sleeves or defniitely not tank tops. My arms were just too big! Now, you can't get me to wear sleeves, I don't care if it's 50 degrees! I've worked too hard not to show my arms off! Ha ha!

My husband just can't get over the transformation. He just LOVES it and loves "touching" me. I don't mean it in a sexual way, but he just loves feeling the muscles and leanness. It ain't bad the other way either though if you get my drift! :-)

Eight weeks ago I started working with a Coach, Ruben (Sparkname: FLEXCHEF). The difference of going it "alone" and being coached is incredible. I wish he'd been working with me from the beginning (so does he LOL). He's helped me so much.

The Figure Competition I'm doing will be in front of over 2,000 people. I had no idea it was such a big show. The two shows I had been to only had a couple hundred people. I just picked a date that worked and was local, and now I find out it will be one of the biggest shows in my area for the year - OMG!
www.pbwproshow.com/

Then, I find out that the local Fox TV news wants to interview me about my weight loss and transformation, so I'll be doing that the week before the show. Sparkpeople will definitely get a serious plug! (You too Ruben!).

So here are my stats since starting this Figure Competition Journey:

3/10/2010
Weight: 135.7
Shoulders: 42
Chest: 35
Waist: 29.5
Hips: 39
Thigh: 21
Arm (Bicep): 11.75
Calf: 13
Body Fat: 29.6%

6/25/2010
Weight: 121 (Down 14.7 lbs or 9.7%)
Shoulders: 40.75 (Down 1.25 inches)
Chest: 34.25 (Down .75 inches)
Waist: 26 (Down 3.5 inches)
Hips: 35 (Down 4 inches)
Thigh: 18.5 (Down 2.5 inches)
Arm (Bicep): 10.5 (Down 1.25 inches)
Calf: 12.5 (Down .5 inches)
Body Fat: 15.81% (Down almost 50%)

Total of 13.75 total inches lost since March.

While the meal plans are extremely challenging and I do cardio twice a day almost every day in addition to strength training, I do like the feeling of having so much discipline.

I just hope to be an example that if you have a focused goal and you make yourself accountable to it, you can achieve it! So if you're in the middle of your journey, don't give up. When it gets hard, fight through! Every Champion in their field does things when don't feel like it, whether it's an athlete, singer, actor, business person, etc. Let's all be champions! Every day celebrate the champion with you!

I may check in once more before the Competition, but if not, will definitely post right after! I thank you all for the well wishes, it truly means so much and keeps me going!

Enjoying the process? Yes, but maybe just not so much right now.



A few recent pics: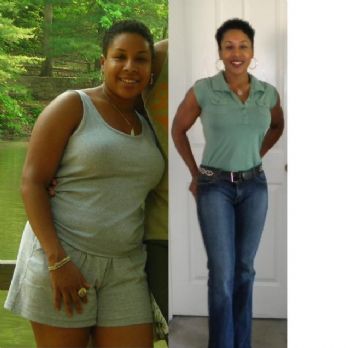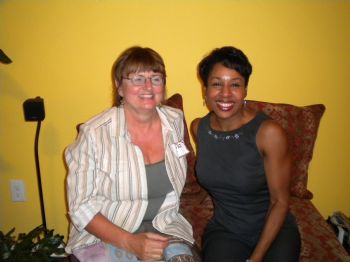 Saturday, June 12, 2010
It's been a great couple of weeks. Thought I'd blog since I'm sitting here on my 42nd birthday wishing I could go out and have a wonderful dinner with some wine, but no...I decided to do a Figure Competition, so my dinner tonight will be 4 oz of protein, and some steamed broccoli - Woo Hoo! And to celebrate, I'll be leaving the house shortly for my 2nd session of cardio for the day. Sound horrible?

NOT AT ALL! I'm SO excited! I am just loving my results and boy is my husband loving them too! He can't seem to stop telling me how sexy I am. It's really nice to hear. So it's worth the discipline, the willpower, the sacrifice, to feel so great! So no matter what your goal is, keep it up! Know that the PRIZE is worth the price!

Plus, if you're in losing weight mode, the goal is to do something that you can keep up for life, so keep fighting for that consistency!

I went to see my friend compete in her first Figure Competition. We were supposed to do it together, but my coach Ruben (FLEXCHEF) encouraged me to wait until the July show. I'm SO glad I'm waiting. He told me I could go on stage and look my best ever, or GIVE THE OTHER WOMEN A RUN FOR THEIR MONEY! So you know what I want to do!!! After working this hard for this long, I want nothing less than the absolute BEST I can do!

So here are my stats, 12 weeks into training:

2010 STATS TRAINING FOR FIGURE COMPETITION:
3/10/2010 6/11/2010
Weight: 135.7 Weight: 124.6
Shoulders: 42 Shoulders: 40
Chest: 35 Chest: 34
Waist: 29.5 Waist: 26.25
Hips: 39 Hips: 35.75
Thigh: 21 Thigh: 19
Arm (Bicep): 11.75 Arm (Bicep): 10.5
Calf: 13 Calf: 12.25
Body Fat: 29.6% Body Fat: 16.79%

I'm quite pleased with the progress.

OK, now for the serious part. I'll get a little personal, but I think you'll understand. Less than 18 months ago I wore a 38DDD bra. More recently I wore a 36D. Then about 3 weeks ago, my husband told me to please go buy some new bras because mine had all these wrinkles in it because it was too big! So I got fitted about two weeks ago and now wear a 34D, which I'm cool with. Happy to still have my D's, so I thought!

Then Ruben tells me the other day to say Goodbye to my Boobies as I drop more body fat (he thinks I might get down to 10% by the show). I got the okay with my hubby (had to check with him, right?), and decided that instead of having a Birthday Party, I'm going to have a Going Away Party for my Boobs!!! If you're a woman, you're invited! It will be virtual, so just imagine me saying goodbye to my "D" cups!!!

So I hope I made you smile! Here's a pic of me from my 40th birthday and from today, my 42nd birthday. Gotta say, I'm loving 42 much better! Also is pic from Training Week 1 on March 12 and my pic from this week.

Wishing you all a great weekend and I truly appreciate all your support! This has not been easy and your encouragement means so much!
- Tia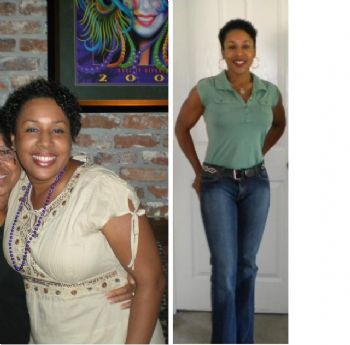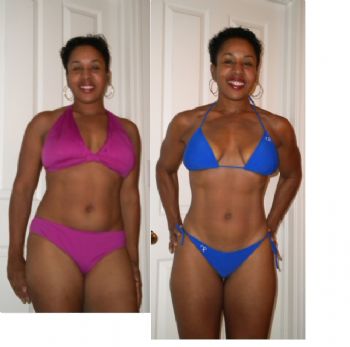 Thursday, June 03, 2010
This will be short and sweet:

I can't fit any of my clothes. Most are size 4 and they're all too big! I needed a pair of dress pants to wear to a business meeting tonight and after trying on EVERYTHING in my closet, had NOTHING.

So went to a Goodwill and found a pair of Banana Republic Size 2 Dress Pants AND THEY FIT PERFECTLY. I could not believe it! I don't think I've been a size 2 since I've been married and that's been almost 20 years!!!

It's really not too small for my frame, but it just seems, well, IMPOSSIBLE, but it's true. January 2009 was comfortably wearing size 14, today size 2. I'm just amazed, and still have 43 days until the competition. OMG!!!

So if you're struggling, hang in there, you can get there, you can reach YOUR goal too! We're all here for each other!

Trip to Kentucky to visit Family Memorial Day Weekend 2009 on Black Rock Mountain:



Trip to KY to visit Family Memorial Day Weekend 2010 on Black Rock Mountain:




First Page
1
2
3
4
5
6
7
8
9
10
11
12
13
14
15
16 17 18 19 20 21 22 23 24 25 26 27 28 29 30 31 32 33 34 35 36 37 38 39 40 41 42 Last Page

Get An Email Alert Each Time TIAGAYEPFA Posts