| | |
| --- | --- |
| | TIAGAYEPFA's Recent Blog Entries |


Sunday, February 28, 2010
Here's my Race Report:

Got hardly any sleep last night because I kept having to get up and go to the bathroom! I really hydrated the day before! Even though the event was local, about 30 minutes from home, we chose to stay in a hotel at the race location so we could just get up and walk over (was a great idea). My Mom stayed with us so she could be our pre-race photographer, and it allowed her to go back to bed after we started.

The day before had been really cold and rainy, but we were optimistic for good weather. I bought some layered clothes from an outlet store for $2 that I could toss if it warmed up (long sleeve shirt, hoodie and sweatpants - good idea as well).

The morning was nice, cool but not "cold". The race had about 2400 people, which is considered a "small" marathon, but we started with the Half-Marathoners so it seemed like a lot. Plus since this is all I know, I can't relate to 20,000 people, so it was just great!

I found the 5 hour Pace group at the starting line. Thought this was so cool, that you could run with a group that had your goal time to finish. When I started, I had really ditched the idea of a "goal time" and just wanted to finish running across the finish line. But since the 5 hour pace group was the last one, I thought it couldn't hurt to start with them.

My husband Johnny and I started off together, but once we started, he took off. This was his 2nd marathon so he really was going for a time goal so I didn't mind at all.

In mile 2, my right knee started bothering me. Not pain, but discomfort. I was playing my music on my Ipod and chose to ignore the discomfort. It lasted about 14 miles.



Anyway, water stations were at every mile starting with mile 1.5 so that was great. I walked every water stop with the exception of the last two right before the finish line. By mile 5, I was shed of my layers and wearing my shorts and top and the weather was perfect! Sunny, but not hot. Got to mile 5 in an hour which is pretty normal for me.

Mile 7 was pretty emotional because this is where the marathoner split from the Half-Marathoners. I felt all grown up like I was running with the big boys and girls!



By mile 9, I was feeling really good and went ahead of the Pace Team. I figured I'd get ahead and if later on something happened I could always drop back with them. I never looked back.

I hit mile 13 at 2:27. I had done my Half-Marathon in 2:19 so I wasn't concerned but it didn't look good for my 5 hours. But I kept going.

The spectators were great. There weren't a lot, but the ones who were there were so friendly and had signs and even gave orange slices and gummy bears! I was excited to reach mile 17 because now we only had single digit miles to go!

Now here comes mile 20, the longest I had ever run up to the race. People say a marathon consists of two halves, the first 20 miles and the last 6. In my training run, I did my 20 miles in 3:50. In the marathon I did it in 3:46 so that was very encouraging! I determined I was not going to hit any "wall"!

Once I hit mile 21 I knew I could hit my 5 hour mark, so I got an incredible second wind and took off! It took me an hour to complete my first 5 miles, well I did the last 6.2 in an hour! As each mile marker passed, I knew I would beat 5 hours and I kept my steady pace! My friend KC who finished the Half-Marathon, had gotten on her bike and found me and was cheering me on at different points of the last few miles to finish strong! That was awesome!

Mile 25, I was at 4:35. I could actually finish in 4:50, which would be incredible. Well I finished in 4:46:22! Now that's not a fast time for marathoners, but for me, it was beyond anything I would have imagined, and I felt SO good! My last 6 miles were the best!

This was such an incredible accomplishment. I still can't believe I did it! My husband ran his first marathon 13 years ago when he was 30, and he did it in 4:40. Today's marathon at age 43 he did in 4:04, so I was so proud of him! He wanted to finish in 4 hours, but he was happy with 4:04.

It was just a wonderful day, and now I'm walking around like Frankenstein and had 4 slices of pizza for dinner (I deserve it!). We took our ice bath as soon as we got home and I'll probably go to bed around 9pm which is really early for me.

A friend called to congratulate me and told me she's so excited to finally know a marathoner personally. That made me feel so special. She's starting to do 5ks and really enjoying them. I'm so proud of her.

And my other friend Grace, who came to cheer us on today, said she's actually considering doing a marathon now, since she couldn't all the types of people she saw crossing the finish line (young, old, heavy, skinny, people pushing strollers, people with prosthetic legs, etc.). She's always said she never liked running, but realizes that just about anyone can do this!

So we're already setting our sites on the next one, which we're looking at Disney 2011 next January.

Amazing, exactly one year ago, I ran a 15k as I was starting my journey to lose weight, and a year later, completed a full marathon. Wow! Amazing what we can do when we set goals and make the DECISION to achieve them!

Well, I'm excited and exhausted now. Hope I can come down off my "high" just enough to go to sleep! Thanks to all of you for your well wishes, support and encouragement. I hope you know how much it means!!! - Tia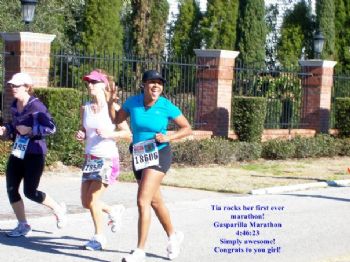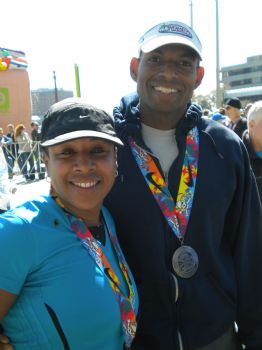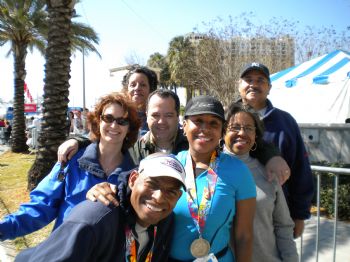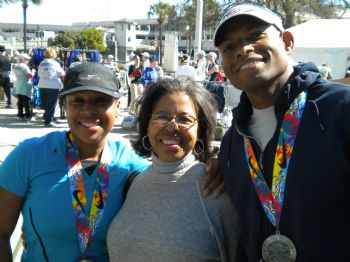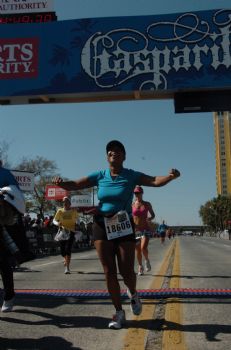 Friday, February 26, 2010
Well, Sunday morning is it!!! Less than 2 days away now? Everyone's been asking me if I'm ready? Not really sure how to answer that question. All I know is I've been diligent with my training schedule and with my eating and have been stretching and doing my strength training as well to stay strong. The last two weeks have been strange for me physically, I've felt like everything hurts, my food, my knee, my other knee, etc. It's been messing with my head a little bit, but I'm okay. I'm positive I'm going to finish this race and my goal is to run through the finish line (notice I didn't say how fast I plan to be running).

Early on, I set a time goal, but as I continued my training and listened to veteran marathoners, I've ditched the time goal and just want to enjoy the experience and finish strong.

The weather in our area has been crazy! I'm in the Tampa, Florida area and you just don't know from one day to the next. Had a freeze warning last night, got down to 30 degrees, tomorrow it's supposed to rain, but Sunday, marathon day, it's supposed to be around 42 when we start and warm to about 60 degrees with no rain forecasted. That would be absolutely perfect running weather! But whatever comes, I can handle it. I've trained in really 30 degrees and I've trained in pouring rain, so I feel prepared for anything.

At this point, I just want it to come already!!! Went to the Expo today, love that stuff! I'm like a kid in a candy store at those things. So much cool stuff to try!

The 5k and 15k are tomorrow and I'll be heading over to support a few friends who are running them. I look forward to giving them motivation at the start line and high-fiving them at the finish line.

I'm just excited! The race I'm doing is called the Gasparilla Distance Classic, and it's my area's biggest race of the year, though there will probably be less than 3,000 for the full marathon (Meb, winner of the 2009 NY Marathon will be running it so that's cool). The Gasparilla is a big pirate thing in the area so the logo is skull and crossbones and a pirate ship. This is the 10th and final marathon they're doing, so they're calling it the Final Voyage which is on the back of the beautiful shirts and hats they gave us. And since it's my first marathon, my Bib will also say Maiden Voyage. So I thought that was pretty cool.

So wrap up how I'm feeling, I'm excited and terrified at the same time, but mainly excited! There's something incredible to know you're doing something less than 1% of people will ever do, and that you never thought it would be possible to do. I'll definitely give a detailed race report Sunday night.

I appreciate everyone's support and comments during this process. It means so much. My Sparkfriends are truly family and we need each other! If you're interested in tracking my progress in the race you can go to this link, put in my name: TIA PETTYGRUE and you can be notified via email or text as I cross the 7, 13.1, 22 mile and finish line or you can just track the finish line. i thought this was a really cool feature! You just have to sign up and confirm before race day.

LINK: live.activeresult.com/msg/MSG-signup
.tcl?event_id=58

So the next time you hear from me, I'll be A MARATHONER!!! Woo Hoo!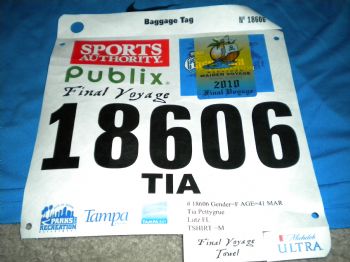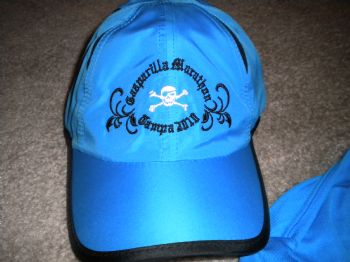 Monday, February 08, 2010
This past week was my biggest training week for the marathon, with a total of 40 miles run. All week I kept thinking about the big 20 miler I was to do on Sunday, and honestly, I was nervous about it. I ran 5 miles Wed and felt good, then 10 on Thursday, still felt good and my 5 on Friday, went well. But I was still super nervous about getting through the 20 miles without a lot of knee pain.

So yesterday, we set out to run our 20 miles. The weather was perfect, around 55 degrees with sun! I've started listening to podcasts during my runs, mainly running ones. Well I tried a new podcast, Brandon's Marathon yesterday on my 20 miles.

While listening to the podcast, Brandon starts talking about forefoot running (running on the balls of your feet instead of the heel striking the ground first). I'd heard a little about this, but not in this much detail. He read testimonials of people who tried it and didn't have shin or knee pain after doing it. And he mentioned some running shoes called Newtons that are designed for this.

So almost 2 miles into my run, I thought, why not try it? So I purposely started running on the balls of my feet in my regular Asic running shoes. I did it for about a half a mile then switched back. I was amazed at the difference. When I ran on the forefoot, I felt lighter and faster. When I switched back to my normal way, it was like I felt heavier and could feel the run in my knees more.

So I switched back to the forefoot running and did this for about 16 of the 20 miles. I experience NO knee pain during my 20 miles! I normally start to really feel it after mile 10 or 11. I know it helped my time as well. I finished in 3:50, which was better than I had expected. It was incredible!

I've already corresponded with Brandon from the Podcast, and I'm planning on buying some Newton's today. I will tell you, my calves are super sore, but I'd rather have that than knee pain any day! I was due for some new shoes so why not? I have almost 3 weeks to break them in, and you get a 30 day money back guarantee with them, so I'll try them!

So to finsh that, I completed my longest run to date, 20 miles and felt great about it. I actually got pretty emotional towards the end. This run definitely let me know and gave me the confidence that I WILL finish this marathon on 2/28! I'm very excited now!!!

On another note, since I knew I'd be burning more calories this week than I ever had, I gave myself liberty to eat more and eat more "junk". Well, I guess my body is just used to eating healthy because I had heartburn all week, and this is something I never get!!! I didn't gain any weight, but I definitely learned my lesson! Eating healthy is what I do now! Eating junk is not for me anymore! Lesson learned and I'm happy to have learned it and that my body only wants the good stuff!

Picture is of me and my new friend Julee, who I met on a training run for the Half Marathon. We found out we're both training for the same marathon, both our first one so we've been calling each other every week after our long runs. Well, this past week, we finally got to "meet" in person again for the first time since we saw each other briefly after the Half Marathon in November. We really didn't know each other. We went to an Runner's Injury Prevention Clinic at the mall. We had such a blast and it was like we've known each other forever! She's a new mother of 18 month old twins and running this marathon! My hat's off to her!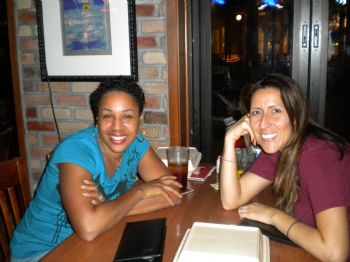 Wednesday, February 03, 2010
This past week has been rough! Started last week fine with my 5 and 9 mile runs, but my last 5 mile run last Friday was brutal. Within the first 5 minutes I felt exhausted. I completed it, but it took 8 minutes longer than I had done it two days earlier. Then on Sunday, did 14 miles, not my longest, as I had done 16 and 18 previous, but the 14 miles felt like 30! It took me longer to run the 14 than it did the 16 miles the week previous. I just wasn't feeling it. Hopefully that normal. My knees have really been bothering me too. It's like they know this race is getting closer!

So this week I ran 5 today (did fine), 10 tomorrow, 5 Friday, then 20 on Sunday. I'll admit I'm really nervous about completing this week, but I won't stop. Once I get through this week, then I'll officially get excited about doing this race. Ok, I'm already excited, but you know what I mean!

I hadn't been doing as much strength training the past month, so I started back up with that 3 days a week, and I'm so glad.

On another note, have a fun thing to share. My friend Grace and I took this picture in Dec. '08. I had just gotten these jeans, they were size 14 and the shirt is obviously too small. It was a size XS with my XL self trying to fit in it! Can't you see the shirt screaming??? Grace's jeans were size 16. Well when you look at the picture, can you tell that we just knew we were looking FIERCE! I look at it now and I can't even believe I wore that shirt, let alone took that picture!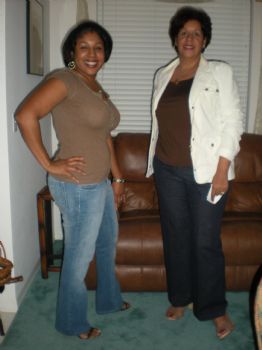 So fast forward 13 months and we were at a party this Saturday and decided to take another picture. Again, I was wearing new jeans, only this time SIZE 4! And the top is a Small and actually fits! Grace, who started her healthy lifestyle journey in June last year, her jeans are SIZE 10! So we really know we were looking FIERCE this time! It really is amazing when we saw the pics side by side! What a difference a year makes! We ain't stopping!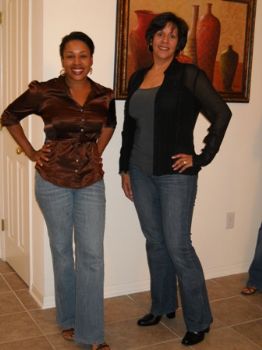 Sunday, January 24, 2010
It's been a busy couple of weeks, so I'll summarize with 3 Highlights!

#1) Went to Disney with my family for my nephew's 4th Birthday. Was his first time there. What a great time! Walked about 8 hours and felt it the next day, so definitely got cardio in, not to mention carrying my 45 lb nephew quite a bit! He calls me Titi, and I told him he'd never be too heavy for me to carry him!

Here's a pic of the family, I'm holding him.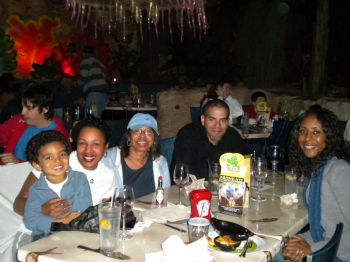 #2) Had a business conference last weekend, and rode with someone, so on the way home, as we got close, I saw my husband running along the main road. So once I got dropped off, I quick-changed into my running clothes and went out to meet him and figured I'd run the rest of the way with him. My husband loved that I came to run with him! Well I went pretty fast to catch him, but I only ended up doing 2.29 miles. The cool part is that when I went back through my Nike Plus records, I had done 2.29 miles back on 2/19/2009 and it took me 33 minutes. Last week when I ran the 2.29 miles, I did it in 19 minutes! Now that's progress!

Picture from last week's 14 mile run.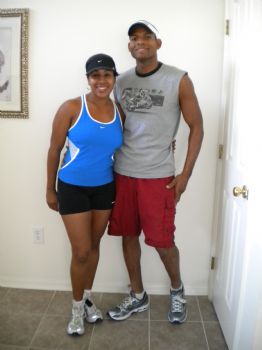 #3) Today did my longest run ever - 18 Miles! Great thing is, I got through it. It was the first run that made me think "Can I really do a marathon?" It just felt like it was so long. I ran without my Forrest Gump braces and my knees were really hurting after 15 miles. But I continued. Weather was beautiful, about 75 degrees, and had plenty of water and Gel Blasts. I walked for a minute every 2 miles, and when I stopped for water, I'd stretch. It was actually easier on my knees to keep running than walk. So I finished 18 miles in 3:28. I was never so happy to finish! I'll definitely be doubling up on my hip stretches because I really want to do the marathon without my braces. I got these after running 11 miles during Half Marathon training. Sports medicine doctor got them for me, but told me as long as I'm stretching properly I shouldn't need them long term. So I'm counting on that! Came home, took the 20 minute ice bath and been vegging ever since. At least I have two weeks before 20 miles! 34 days until the Marathon! I really am excited!

Tuesday is our 19th wedding anniversary and I'm so excited about it because I just have the most wonderful husband and am so grateful for the marriage we have. Here's a pic from our Pre-Anniversary dinner Saturday night!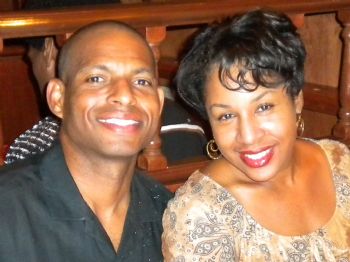 No matter what, I'm still enjoying the process!



First Page
1
2
3
4
5
6
7
8
9
10
11
12
13
14
15
16
17
18
19 20 21 22 23 24 25 26 27 28 29 30 31 32 33 34 35 36 37 38 39 40 41 42 Last Page

Get An Email Alert Each Time TIAGAYEPFA Posts