| | |
| --- | --- |
| | THJORA's Recent Blog Entries |


Wednesday, April 18, 2012
I love how old blog titles pop up when you start a new one. The last time I used this title was February 22. At the beginning of the blog I had no idea how much my life would change by the time I had finished writing it!!! By the end of the blog I had decided to quit all of my habit triggers for 39 days. I stuck with it the whole time (earth shattering!) and lost 13 pounds. And I've been losing 2 pounds a week almost every week since.

I spent a lot of time telling myself that "no matter what I try I can't lose weight" or "there's got to be something wrong with me because I'm so exhausted all the time that I can't muster up the energy to try and exercise," "I'm SO tired of feeling sick and tired all the time!" etc. etc. etc. I was exhausted and depressed. And it took me lacing up some shoes and walking out the door to fix it. Don't get me wrong, it was hard and it was a little more complicated than that. But the bottom line is if you move, you will be able to move more. And if you eat the right foods, and stick to calorie limits, and move your body, (barring some serious disease or rare hormone imbalance) you WILL lose weight and more important, you WILL FEEL BETTER! GUARANTEED!

You can't just eat stuff you "think" is good for you. You have to KNOW what you're eating and make sure that you're counting calories so that you know how many are going in. That salad that you picked when you really wanted a burger and fries? It likely has as many calories as the burger and fries!!! And you have to keep track of how much you're moving so you'll have a good idea of what is going out. You don't need an expensive monitor - you just need to be able to say something like, I stayed between 1200 and 1550 calories every day and I walked 30 minutes five times a week for the past few weeks. If you have lost weight (or your clothes fit better), it's a good balance. If not, you might have to move a little faster, a little farther, a little longer to tip you into the calorie deficit that you need.

It's hard to get started. It's hard to take that first step, hard to make that first change to how you eat. But SO worth it!! And it gets so much easier so quickly. But only if you see results, which are only going to happen if you start moving your body and burn more calories than you eat in some combination of moving more and/or eating less.

Yesterday I finally got over to the gym at lunch!!! I can do my weights and get back to work in an hour - which is awesome!! If I can keep up with that, I might move my weights to MWF and free up my weekend. There was almost no one there and I whipped through everything without having to wait for machines. I was a little worried that there would be more people there at lunch than at the one by my house because of its proximity to office buildings, but there weren't!! And the pool . . . .jacuzzi, . . . . sauna . . .. The pool looked so good. They had the lights dim. I don't know if there was a problem with the lights or if they have them like that at lunch all the time, but it looked so relaxing. I know it's crazy talk, but I could do pool and weights on alternating days. Stay tuned on that one.

After work I did 30 minutes on the elliptical and headed over to Ty's game - which they won and in which he got some playing time. :)

Food was not so good yesterday. I've been having cravings/urges for carbs in the afternoon. Not sure what's going on. But I "needed" something sweet yesterday - which almost never happens anymore. I had a small piece of dark chocolate and later had 3 Samoas - so my sweets are shot for the week. And instead of my veggies and tuna for dinner, I got a hotdog and popcorn at the game. Stayed in calorie limits overall, so could have been worse, but the craving thing in the afternoon concerns me. I need to keep track of this and see if it's a cyclical thing. It might be easier to suffer through if I know it's just hormones talking and not a daily misery. :-/

I'm sticking to my calorie limits really well and I left a sweet and my fried on the table last week. We'll see how the rest of this week goes. Sweets are gone, but I haven't had anything fried and have only had one beer so far this week. I hate to say it because I (historically) LOVE beer, but it wasn't all that. It's a good thing, because I know that beer is probably about the worst possible thing I can drink - carbs, calories, etc. So it should make it easier to stick to a rare glass of wine or scotch and soda (lots of soda). It's weird to not have a drink with dinner or with friends as an automatic, but I don't really miss it. Really happy about that because it's a huge calorie drain that I'm not having to contend with.

Today will be sticking to the food plan I've set up for the day and I'm going to do 30 on the elliptical and 30 on the treadmill. I want to see how the running goes on the treadmill. I'm trying to figure out how to get my ready to run more of the 5K on the 5th. I'll report in on that later. :)




Tuesday, April 17, 2012
. . . . .I do my blog updates in the morning. I started doing all my SP stuff in the morning to:

A. Make sure I got it done (spin, tracking, trivia, blog, bonus spin - anything else is bonus)
B. Think through my day and make a plan and a road map to follow, to
3. Increase my odds of success every day - planning to fit in exercise and navigate challenging hurdles (parties, eating out, etc.)

So everything has been locked and loaded and on a solid routine since January and I thought (the first sign of trouble), I'll see if I can move the routine back to the evening so I can reflect on the day closer to the events and plan ahead for tomorrow.

As you can see, NO blog entry for 4/16/12. I sat down and had one half written and deleted it. I wasn't done with the day and I wasn't feeling reflective (or something). I went for my walk and never got back to it.

SO - we'll be sticking with what works whenever possible. AM posting it is. It just seems to work out better to write about yesterday instead of today - when the day is not even done yet - and I haven't had time to mull things over.

Yesterday was touch and go on the food. I had a solid plan, but Michelle sent me a note to see if I wanted to do lunch and it was the only day she has this week. We used to see each other several times a day and now it's a couple times a month, so I try to go when she can. Glory Days has the Very Berry Salad back!!!!! So I moved my mixed steamed veggies with wasabi teryaki and tuna to dinner on the food tracker, deleted most of the snacks and put in half the salad for lunch and half for a snack. But I still ended up with a bunch of little snacks that took me right to the limit of my counter. :-/ Pretty sure everything would have been fine without going out for lunch.

To add insult to injury, I was supposed to use lunch to go to weights at Providence for the first time (to make up for missing Sunday because of the party). Never happened and I didn't go to Wakefield later either. So today is my regular day and I'll get back on track with lunch on the weight machines today.

I was going to do weights on my way home, but I didn't do all the math and brought the frozen veggies I picked up at lunch home with me. DUH - Can't leave the frozen veggies in the car for an hour while I'm in the weight room. So I took them home, planning to go back later. But then Ty came home and agreed to take me (with his truck) to go pick up my bike from the shop. Then I sat with Maura for awhile before she left for bowling. And then it was 8:00. :-/ So I went and did my 3 miles and decided to just get back on track with weights today. The 3 miles was a little rough. I don't feel like I worked that hard on the 5K on Sunday, but my hamstring was really weak and slow. The good news is that since it was so slow, I played around with my stride and realized I can take a normal step without having to keep my knee partly bent to keep from tweaking the hamstring!!! Pretty excited about that. Need to work on that and strengthening.

The plan today is tight on the food, weights at lunch, elliptical after work, and Ty's lacrosse game. Have to fit in the 30 minutes organizing at some point, but depending on timing tonight, I might have to double up later in the week.

The possible GREAT NEWS!!! is that Shauna has applied for a job in Ft. Worth that "everyone" has told her she should apply for and would be great for. If she gets it, she could be out of Kabul in a couple of weeks instead of a couple of months!! And she'd be with Liz - her friend from Kabul who has transferred back to Ft. Worth. I'd much rather have her here than Texas, but mostly I want her out of Kabul.





Sunday, April 15, 2012
6:00 p.m. - First time I'm sitting down with nothing to do since 6:00 a.m.

Quick recap of yesterday. I couldn't figure out what I wanted to do for a workout yesterday because I wanted a good workout, but not so much that I wrecked any chance of being able to move for the 5K this morning. I settled on riding my bike 3 miles to the bike shop to pick up my cleat covers and drop my bike off for a tune up and then walking home 3 miles. On the walk home, I noticed the downhills (that were uphills on the way to the bike shop) and could NOT believe I had ridden up them on the bike! So it was a really good day for workouts and pretty good for food. I was really good before the Diva's game. At the game I had a soft pretzel and a beer. Then we went out for dinner and I had a salad with grilled chicken - and no more alcohol. I would have skipped the pretzel if I had known we were going to get food afterward. But all in all, a pretty good day.

Today we got up at 6 to head out the door by 6:30ish to get to Lorton for the Prison Break 5K. I was supposed to have company on the walk, but Christie was sick this morning, so I was on my own. Half wanted to talk myself out of it because finishing the 5K a couple weeks ago dead last would have been really lonely if Brandon hadn't been walking with me. But I made me do it and just hoped for the best. When we got started, I tried a couple of easy running steps and was actually able to run this time! It went pretty well for awhile. I had my music and I tried to run at the beginning of every song for as long as I could.

I started out dead last and just hoped I'd be able to figure out where the turns were by the time I couldn't see anyone else anymore, but I ended up passing about 8 people and stayed ahead of them for the rest of the run and had a couple of people in front of me that were always within sight. Every turn was really well marked AND there was someone sitting at each turn to make sure we didn't go off course. I finished in 44 and change - 11 minutes better than the one a couple of weeks ago. I was practically dragging my bad leg for parts of that one, so not too shocking that I did a better time, but I'm still really happy that I did under 45. Should be able to do even better at the Frederick Twilight 5K in May. Would be really great to be able to run the whole thing by then, but it's only three weeks away. Guess we'll see how it goes when we get there.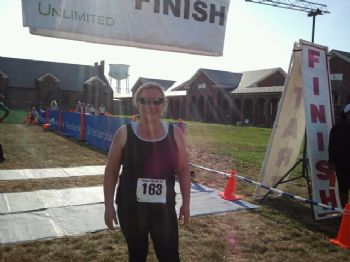 Maura won first place in her age division and did a PR! With the way the route was laid out, a bunch on a single lane trail through the fields behind the prison, it's pretty impressive that she pulled that off.

After the race, we headed home to get ready for the game brunch. I blew one of my sweet allowances on a small piece of chocolate cake and a small piece of lemon cake (that were worth it!). And between the egg sausage casserole and the bacon, I'll be looking for a really light meal if I even have dinner tonight. I didn't do anything fried or any alcohol, even though I was surrounded by it. :-D

The game brunch was a way smaller turnout than usual and a lot of the usual suspects, including ring leaders to instigate a lot of the games weren't there, but it was a good group and we had a good time.

I'm sitting around catching up on SP and email for awhile and then I'm going to get in my 30 minutes of organizing and get my stuff ready for work for tomorrow. Then I will join my coma in progress.







Saturday, April 14, 2012
I've decided to change the start of the week to Saturday. Partly because that's the weigh in and partly because I was a goof and killed my last two remaining drinks for the week last night (couple glasses of wine on the lovely boring couch). :-D So this could be considered my first possible slip, because there is a good chance I'll get a beer at the football game or when we're out dancing. But I left a sweet and my fried on the table in exchange. Have I ever mentioned that I'm the queen of rationalizing??? Just occurred to me yesterday (even before I killed my allotment) that I'd rather start my counts going into the weekend. So it works out particularly well for this week, because I wasn't paying attention far enough ahead of time.

And with all of that - I LOST ANOTHER TWO POUNDS!!!!!!!!!!!!!!!!! And I busted into the 170s, which I think may have happened briefly in 1993, 1998, and 2005, but besides that, not since 1986!!!!!! Had given up hoping for it because I missed a few workouts this week and wasn't as tight as I could have been on the nutrition. Week one of the FF90DC and I only have 10 pounds (of 13) left to make the goal for that. I was pretty conservative in setting the goal because I wanted to make sure it was doable and I figure eventually before too long I will go down to one or less pounds a week loss. So I set the goal to average one pound a week loss for the 90 days. I can't find the tape measure - weird because I have about 12 of them . . . So measurements will have to happen later. But I usually only measure once a month or so anyway, so not I'm worried about it.

Yesterday I had a really good weights workout - after doing partial sets of everything while I was setting up at Providence at lunch. It was rough and I can feel it today. I got home too late to do anything before Ty's game. I headed over there to find out he wasn't even dressing out because he had been out sick all week. :-/ Wish I had known that ahead of time. I definitely wouldn't have rushed and would have gotten my workout done. And I had a bunch of friends over at Iota seeing Amy Ray in a really great, intimate venue. I would like to have had the option to do that too. I'm really glad it wasn't an away game. I'd have been downright cranky if I braved rush hour to get across county to find out he wasn't even dressed to play.

And by the time I got home I couldn't talk me into anything except getting to the couch. And now I'm debating what workout to do today. I have the 5K tomorrow and am not sure what is the best thing to do to not make me even slower than I am. I'll see how it goes. I need to ride my bike, but that really wipes out my legs, so I'm leaning toward the treadmill or a 5K to see if there's even a slight possibility that I can finish this thing in less than an hour. :) I was going to go do packet pickup, but I checked the website and there are only about 250 runners and the "packet" is only the bib number. And we can't get the chip until tomorrow anyway, so no point in going today.

So I've got almost five hours to get productive before we leave for the football game. I'll let you know how that turns out tomorrow. :) Started out with way more time, but I got on line to check on the packet pickup and Shauna was online, then I got a phone call, then I talked to Shauna some more, and now I'm doing my SP routine. Poof!!! - Two hours gone!!!







Friday, April 13, 2012
If you've been following along in our home version of the game, you already know that I've been trying to "toe the line" pretty consistently since the beginning of the year and seriously since February 22. But tomorrow is weigh in and I'm really close to breaking into a new middle number on the scale - so with my workouts and really REALLY making sure I follow the plan today, I'm hoping I get to see that number - one I haven't seen at all in several years and only twice briefly since the early 1980s!!!!!!!!!!!!! If it doesn't happen this week, it'll be next week, but I'm hoping for this week. :)

Yesterday was AMAZING!!! Team DC is a group that promotes sports and activities clubs in the DC area. There was a huge networking event last night at an awesome furniture showroom in DC. I KNOW!! It didn't make any sense to me either until I saw the place. It's a four story corner building with a wrap around balcony on the fourth floor, where our group (Rainbow Spinnakers) was located. There are sitting areas arranged all over the place and each group had it's only little sitting room, dining room, etc. to set up in. The event took up the whole two top floors and was PACKED. A guy at work helped me with business cards that came out great and we gave away over 100 of them!! I talked to almost all of those people myself. I had a great time with the guys (mostly from the board) and I got to meet the guy who is upgrading the website. I was so busy talking up our group that I didn't get to go around and see the other groups, so I hope they post a complete list so that I can check out all their websites. Bowling, rock climbing, running, kick ball, flag football, golf, adventuring (everything that can kill you), softball, swimming, racquetball, etc. etc. etc. I have a million ideas for how we can do it way better next year and for our booth at Pride in June. And a million more for getting the website and facebook pages more lively.

I got back to the house early before the event so I could do my workout, but Maura was already home (we thought she'd have to head right into DC from her meeting) and we figured we could save driving two cars into DC if I dropped her off at Verizon Center (where she had to go for a training to work concessions for a fund raiser for the bowling league) and then she could take the metro up to the Sports Fest and join her running and bowling groups. She had to leave way earlier than I would have had to, so I didn't have any time for a workout. But I got where I was going and parked almost an hour early - FOR FREE in DC!!! Apparently I got there just as the lot was open for public parking but before the night attendant got there to collect the $$, so the guard told me to go ahead and park for free. MIRACLE!! So with almost an hour to kill, I found a Caribou Coffee about a mile away and walked there to get some tea. So two mile round trip - better than nothing!!

After the event, some of the guys asked if we wanted to grab dinner across the street. I had my first drink of the week - half decent Weisse Bier, but not cold enough. There was a bar at the event, but I nursed my tea and then had a club soda. :) For dinner, I got the hamburger plain with a side salad, that turned out to be lettuce with a tiny bit of vinaigrette that was mostly vinegar. Not horrible - and the good news, probably not very high in calories. From my best guess at calculations, I stayed within calorie limits.

At lunch today I've got the appointment to get my weight machines set up at the rec center. I'm hoping we can zip through it so I can get my workout in too. Elliptical after work and then Ty has a game tonight. Tomorrow I've got a bunch of stuff planned to do around the house during the day and tomorrow evening we're going to see DC Divas (DC women's professional football). This, as it turns out, is the only regular season game we are not already booked for - and we've been trying unsuccessfully to get to a game for about four years. :-/ Afterward, we'll probably head over and meet some friends for dancing in DC.

Sunday is the Prison Break 5K and the Triangles spring game brunch.

Starting to look ahead for weekend days I can block out for NOTHING!!! It's way too much of the crazy right now!



First Page
1
2
3
4
5
6
7
8
9
10
11
12
13
14
15
16
17
18
19
20
21
22
23
24
25
26
27 28 29 30 31 32 33 34 35 36 37 38 39 40 41 42 43 44 45 46 47 48 49 50 51 52 53 54 55 56 57 58 59 60 61 62 63 64 Last Page

Get An Email Alert Each Time THJORA Posts