Sunday, July 12, 2009
Just weighed in for the 9th week, and ive now lost a total of 21.2lbs (1 and half stone). I am truly proud of what I have acheived so far, and but I am no where near content, its only going to get tougher from here on in, so I am on the constant search to keep my motivation up. I have had to buy loads of new clothes etc, which has made me feel great, and have dropped sizes in jeans, shirts, t-shirts just about everything! Took some more photos today, but there was only very slight changes in the body from my 5 week photos, but did a comparison of the photo that made me start this journey and one now, and could see quite a big difference in the face, but again, I still see this as work in progress.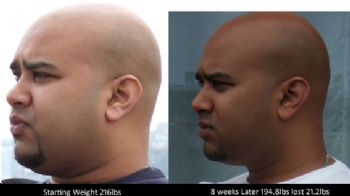 At the gym I got my body fat percentage calculated using calipers and it came out as 32% body fat, so that says it all really, Ive still got a long long way to got, and right now hitting the 185lb goal seems acheivable, I think I will need to ammend that to about 160lbs to really tone down and reduce the BF%. After that, its a change of focus again as I would like to build up muscle, feeling a lot weaker these day, dont get me wrong, have loads more energy, but just not as physically strong as I used to be.

On to week 10!