| | |
| --- | --- |
| | THE_JENCH's Recent Blog Entries |


Monday, May 12, 2014
Things have been BUSY lately. I haven't tracked for about two weeks and I don't know if I have too much time to track right now. What I am going to do is see how I'm doing without tracking food and if I can't intuit then I'll have to get back to food tracking.

I moved. I moved in with my boyfriend. I had many reservations but it's been good. Even my cat, who had previously run away from him, is seeming to like this arrangement. I'm now living about a 40-minute walk from work and, as spring is finally blooming, walking to work has proved to be a wonderful way to start and/or end my day. I can either walk down city streets or to the river and along the pathways there. If I get comfortable on my bike sometime soon, I can bike to work in less time. For the mornings I'm late or the days that it is raining, the train station is about an 8 minute walk from here. I still have my gym membership, and the gym is just a 10 minute train ride away. I couldn't give up zumba.

Food-wise, I have insisted on plans so that not only is grocery shopping easier and we're less wasteful, but also we can plan to be healthy. So far it's working out. Tonight I'll cook, I think it will be veggie quiche and salad.

In terms of my work, I have doubled my days at the office, from 2 to 4. Previously I had spent my extra three days trying to apply for more me-appropriate jobs, write up my dissertation into articles, other academic stuff, and catch up on errands. Now I have just one day (today) and ideally I'll just figure out how to be more efficient. I also received an offer to teach three courses at the University this next year, one in the fall and two in the winter. It's a lot of work, I've only taught one of them before and that took a long time to sort through materials and design, now I'll have two more to organize! It's good though, it's not a permanent position, but ideally will help me towards that end, if that's the path I end up taking.

Back to body/health/weight issues. Upon moving in here, I felt like I bloated immediately after a week of clean eating. Coincidentally, it was also my pms time so the bloat was not solely because of a little bit of food I hadn't been eating. I also have switched to my boyfriend's scale that immediately told me I was 7 pounds heavier than my scale had told me I was. Feeling less bloated and healthier again, the scale still says I'm 5 pounds more than what I had thought... and in all honesty, I don't really care. I think it's an example of weight being just a number because I don't believe that I've gained 5 pounds. However, since I will now be using that scale, I have adjusted my Sparkpeople weight, though I haven't made my goal any lower than what it had been. Over the next 15 weeks, I'd like to trim a pound a week. With the spring in season, I think I can do this. I also, for the first time in a long time, took some photos that can be my 'before' images to compare too. Here they are:



Front.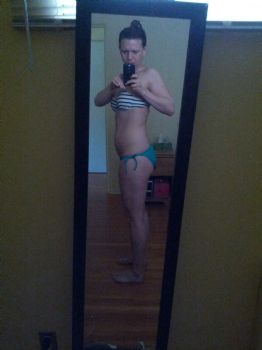 Side. Concentrating hard to take the photo!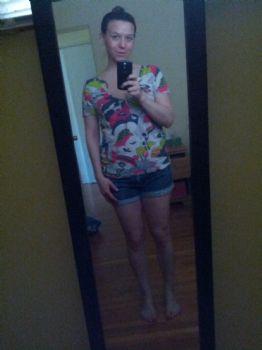 With clothes.

Have a lovely Monday, Sparkfriends!




Sunday, April 27, 2014
Last week I planned my food and was feeling good. Until Thursday night. I moved. Of course, I didn't move into an apartment stocked with healthy food. My boyfriend and I went to a pub where I had two beers and a chicken taco salad. The salad was not the best taco salad I've had, there was too much dressing and not enough beans. Next time I'll definitely get the dressing on the side with a side of salsa, will also likely request extra beans. Almost immediately I started feeling gassy. Friday morning my boyfriend had to run an errand and returned with apples, strawberries, fiber one granola bars, and greek yogurt. Unfortunately we had no spoons so I didn't have the yogurt but enjoyed a granola bar, apple, and strawberries with coffee. Running errands we stopped at a Starbucks for a sandwich, definitely disappointing and I felt gassy again. For dinner we went over to my brother's house and picked up some amazing Greek pizza and baklava. My stomach was starting to ache uncomfortably. Yesterday I had some yogurt, strawberries, and a granola bar for breakfast. For a late lunch we were at IKEA where I ate the meatballs, potatoes, vegetables, and a cookie. Dinner was a minimal, naan with avocado and hummus followed by a few (too many) lindt truffles. Oh, and wine... necessary for putting together some IKEA furniture. Today I need to go grocery shopping. I've applied for two jobs while my boyfriend has been at his band practice, I should make a list of what food we need/ I want. Again I had yogurt, strawberries, and a granola bar with brewed chai tea and milk for breakfast, and for lunch I had an apple, some kashi crackers, and another granola bar. I'm so looking forward to eating in a way that makes me feel good again! I think tonight we will have a salad... maybe with pasta? Or perhaps a stir fry... I'll think about this, and browse some recipes from Spark. Have a lovely Sunday, Sparkfriends!




Tuesday, April 22, 2014
Perhaps not in shape, but I felt much better. Maybe in shape, a little...



I ate mindfully today, including mid-afternoon when I needed something sweet so I unwrapped a bar of dark chocolate with orange and ginger, took 2 squares, and put the rest in the kitchen for others in the office to enjoy (they did!).

My body was tired from barre class yesterday and I did debate skipping zumba... but I went. I know I always feel better after working out and usually I also have more energy afterwards too (helpful when I still need to pack for my move on Thursday!). Zumba also helped me feel less like an apple and more like a chili pepper!





Monday, April 21, 2014
Not to be confused with apple-bottomed. I had thought of myself on the hourglass side of things, not a full hourglass, I guess a bit towards the brick since I have a short waist. Nonetheless, when I measure my waist and hips there is a substantial enough difference that when I use an online body calculator (I might have to look for it again, a friend and I had a night a while ago of measuring ourselves and seeing what we were classified as) that I'm somewhere in the hourglass spectrum. BUT! Today I went to a barre class and facing the mirror I just felt like I had a tire at the top of my hips that cut into my already short waist and made it look almost non-existent. I guess that is what will happen with continued mini-egg binges? Luckily, none since last week! So what did I do? I came home and prepared a dinner of chicken breast, veggies and rice like I had planned. I have enough to last me until Thursday dinner and that will be when I am moving so I suspect we'll order something in and I'll just be smart about whatever we order. Zumba tomorrow and Wednesday, moving Thursday and Friday... So I have the next few days figured out and I guess that is all that matters. And for my snacks? I will eat apples.




Wednesday, April 16, 2014
I binged on mini eggs on Monday... though I wouldn't call it a binge. I mindlessly ate a few handfuls and though I enjoyed the first few, the pleasure of the mini egg disappears after the first few. I kept going though, as drawn in my a mysterious force. However, we know it's not so mysterious! It also happened throughout the day, even though I wasn't at home much... I came home after yoga and had a handful or two. I went out for a few hours and enjoyed another handful or two when I came back. I spent the night chatting, too close to the jar, and had yet another handful or two. I even took a small handful down to bed with me. Yesterday I suffered from a sugar hangover and I'm happy to say that I stayed away from the mini eggs (damn the family size plus bag that I didn't buy!)

I have reacted in a few ways.

One, I find myself making jokes about eating so much chocolate. Of course the insinuation is that I'm going to make myself fat. My point is not to seek compliments but to joke about my bad habits. Ideally, I guess, this will help my coworkers joke back if someone decides to bring in chocolate, for example. I don't feel this is the most positive way of dealing with my over eating or personal expansion... So many people feel uncomfortable talking about weight and food... and really, I just need to figure out how to manage my own self, not make my missteps into a public spectacle. Still though, I think a sense of humour is a good thing.

I also end up restricting my calories after. Instead of entering all my estimated mini eggs on Monday, I have spread them throughout the week so that I'll be reducing my calories a little bit each day. For a few days, I find this a fine thing to do. In the past, a problem has risen when I want more so I eat more and enter it into the subsequent day and thus create a vicious cycle of restricting and overeating and continually restricting. I am still trying to get enough protein, etc. so I'm not malnourishing myself. Maybe this is alright for a very short time.

Finally, I want to exercise more. This can be as simple as walking the half hour from the train station home rather than waiting for the bus or just a little something extra before zumba (not such a good idea I find). Even today, as I'm working at home, I'm inserting little 'groove breaks' to single songs just to keep my blood flowing (probably a good tactic regardless). Cleaning and packing my stuff (to move in 8 days!) is also helping me move.

Of course, the only way to truly get over a binge is just by getting back to being healthy and not making excuses. So here I go... Since I've been sitting at the computer for a little bit, it is time for music and cleaning. I'll have to get back to work later too... but I do have a fabulous zumba class to look forward to this evening.

Have a great day, sparkfriends!


1 2 3 4 5 6 7 8 9 10 11 12 13 14 15 16 17 18 19 20 21 22 23 24 25 26 27 28 29 30 31 32 33 34 35 36 37 38 39 40 41 42 43 44 45 46 47 48 49 50 51 52 53 54 55 56 57 Last Page

Get An Email Alert Each Time THE_JENCH Posts