| | |
| --- | --- |
| | THECRAZYMANGO's Recent Blog Entries |


Monday, June 06, 2011
Race entry: $75
Gas: $81.32
Food: $27.29
Running my first half marathon: Priceless!

It really was priceless!

On Friday, I was upset emotionally. My dad informed me that he is going to try to make it. So, this means pretty much that everyone in my family was going to be there but my mom! She says she has knee problems but I feel it's more about being embarrassed about her health. (That is another blog for another time!) So, I cried. I moped. I had a pity party.

Than, the next day, I slept in until 10 am, got up and packed. Boy, did the nerves hit me than! It is amazing I didn't forget something. I was so scatterbrained, trying to go 10 different directions. Before I knew it, my friend and I were on the road!

This is me when we were filling up to leave town!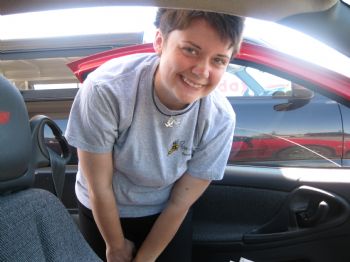 My friend, Lori, is from the Twin Cities and can navigate it really well. I was so grateful she was with me for packet picket up! That went really smoothly. I was surprised I didn't have to stand in line, like at all.

Here is a photo of my shirt and chip!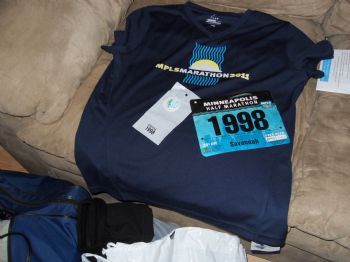 That evening went by SO fast! Before I knew it was midnight!



Nothing is more motivating than having a dream about oversleeping and seeing the race on the news right before your alarm goes off! My friend decided to ride in with my family so she could sleep in. Because of that, I was really nervous I was going to get lost so I left my sisters by 4:30 am! Yup, that means I got like FOUR hours of sleep, lol.

It was easy to find a parking spot. Maybe because I got there at like 5:50 am so there weren't very many people around.

My aunt and I met up. Her friends took a picture of us. I can't wait to get that photo! It was my aunt's first full marathon and she was nervous. It was strange I found myself calming her and telling her that she did her training and her training would carry her through. We split after our last bathroom break to line up in our respective corral. I lined up in the slowest corral, the walkers. I figured I can go past someone but I really do not want to slow anyone else or get ran down, literally.

I brought my Ipod but I wasn't sure if I was going to use it. In the past, when I did 5Ks, I would start with it than never use it because I like listening to the chatter of runners. ALOT of people used their Ipods. In the first couple miles, when I had no one to talk to, I wondered if I should put it in.

Than, I found this gal to run with. And, we decided to run together. She ran a bit slower than me but I figured that was okay so I pace myself. During training, my longest run was 8 miles. This means I had 4 miles to make up during the race. I was worried about it. In the first few miles, it was good. But around mile 8 (or before), I should have ditched her. She complained alot. For example, she was like where is mile 7, when we just passed mile 6 five minutes before. I thought she would eventually enjoy the race. That is why I was there. But, she never really did. Also, she would run 1/4 mile, than walk 1/4 mile. Towards the end of the race, it drove me crazy and I should have moved on but felt like it would be rude. Shoulda, woulda, coulda.

Oh well. I now know. We talked about racing together again because we live in the same area, basically. I think if we did. I would run the first 5 or 6 miles so I'd pace myself at the beginning of the race than I could let my legs do their thing. Something they just want to go. In those instances, I can relate to a horse, lol!

Before the last mile, I asked if it would be okay if I left her to sprint the finish line so I did. It was AMAZING!

As my legs climbed that big hill at the end, I told myself nothing worth having is easy because well, it easiest. I walked a bit. Than, I started running. As I was climbing the hill and wanting to walk, a guy said, "You can rest when you are done."

Than, I saw my family and my friend with her sign she made me cheering me on. You better believe I gave it my all. As I was finishing strong, my family cheering me on, I had the crowds saying things like, "Thatta girl, finish strong!"

Here are some more photos of my family and I.

This is a photo of my niece and nephew holding the sign my friend, Lori, made me!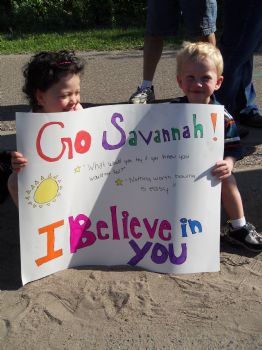 Sprinting toward where my family was standing.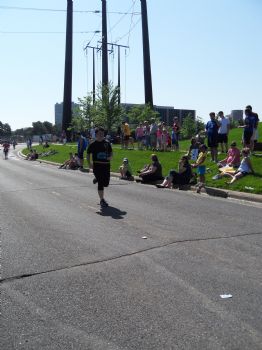 There I go!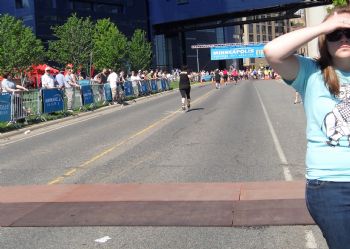 With my flowers my family got me! AWWW!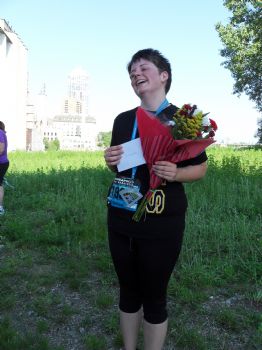 With my medal!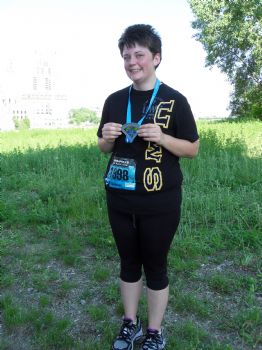 My friend, Lori and I!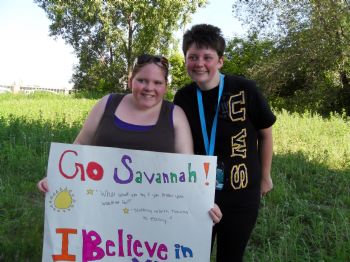 Family photo!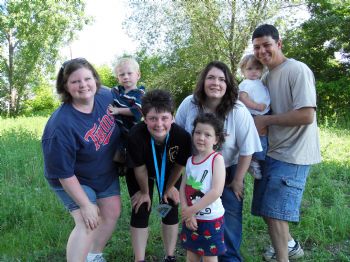 Afterwards, we went to Noodles and Company! YUM!

Than, I drove back to my sisters, and went over to my Grandma's to thank her for the card and money she gave me. We were talking and I am going to give her my past 5K shirts that are too big for me. She is turning them into a memory quilt!

So excited!

Than, I went back, packed up, and drove the 3 hours back home. I finally went to bed around 11 am. It felt amazing to wake up around 10ish today!



It was really an amazing experience! If I never run another mile in my life or run another half marathon, I still have this memory.

But, I will.

It was like celebrating me over and over yesterday. It was really awesome! I think that is another part I really enjoyed. When I talked to my mom on the phone yesterday, she said she was proud of me like twice. That is the first time I ever remember hearing that.

Anyhow, the most brutal part was the training. Staying committed and focused. Running the race was the easy part, lol. Now for my next race, I can relax a bit and enjoy training.

Strangely, I am not that sore. My one hip is a little bit but nothing too crazy. I was concerned about that. So, I am still waiting for it, lol.

Well, I am off to send off my Thank You notes to my family!






Friday, June 03, 2011
The little things in my life make me the happiest!

Today was just amazing overall. I can't touch on everything but I am going to touch on the bases.



Talked to ON2VICTORY for the first time on the phone today about my race! That was a great energizer! Thanks, Robert!



I had a great review at work and will be getting more responsibility at work! In fact, I got trained in today so I can do fit evaluations soon.



I talked to my boss about a potential new program. I suggested a Beginner Runner program. We already have one for teenagers but nothing for our regular members. She loved it. I am to put information together and it sounds like if she likes it, I will be working with the interns. This is so good on so many levels. I will be in charge of a project that is actually internship work but getting paid for it! And, the interns will be helping me!



A member requested that I do his orientation on the strength training machines. This is not the first member to request me. I do not think this is normal. Usually new members are orientated by whoever are scheduled! I am just that awesome, apparently, tehehe!



Today the person I was supposed to orientate wanted weight loss tips. Oh, I can do that! We are going to touch base on it when she comes in again for her orientation. She was in jeans and would have felt uncomfortable doing the strength training machines.



A co-worker asked me tonight if I would want to come to his house and play a game with his wife. I am to bring a friend! I am really looking forward to that!



A friend of mine is going to go to my race. She making me a sign!!! I've never had a sign! She will also be in charge of my camera (and hers)! Afterwards, my friend and my two sisters (and their families) are going to go to Noodles and Company. I have never gone. And, my sister wanted to. Sure, why not!

Well, all these

s have tired me out and now I am pretty exhausted. Time for bed!






Friday, May 27, 2011
Some people have been asking for a new photo... so here I am at 165!

A special thanks to BEACHGUARD for being such great photographer!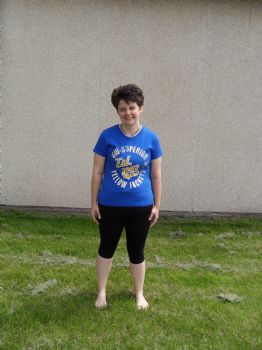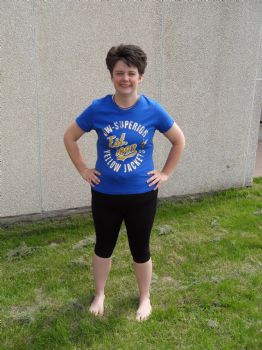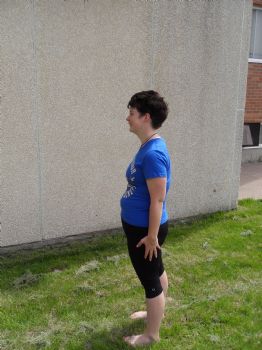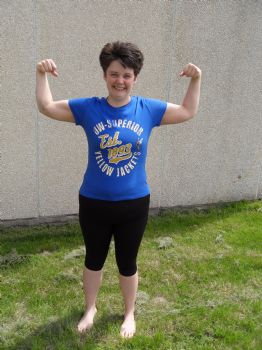 Photos really do help me see my own progress!






Wednesday, May 25, 2011
Thank you for all the kind, supportive comments and voting for my blog, "That's Not Fair" as a popular post.

There were a few points that people have brought up that I wanted to address.

Many people said she was envious. I completely agree. I understand being jealous. Who can't? We've all been there. With that said, I do not find it is not okay to say snide, hurtful remarks.

The last couple days she has been getting ready for a humanitarian trip in where she will be in east Asia for ten days. I imagine she is stressed. In the days, I hung out with her, I felt like she was more irritable and it made me wonder if she may could have been going through a bipolar flare up.

In addition to jealously, some mentioned talking to her hurtful comment. Now, this is a great idea except she is leaving town for three weeks (she went home for a week to visit family before leaving for Asia). I feel like if I bring it up now, it will add to her stress. If I bring it up when she comes back, I will be making a mountain out of a mole hole. It will be better for all of us if I find a way to let it go. Still working on this.

Others were upset that I was criticizing her for where I once was. I was hurt by her comment. Like I said before, it's her choice to eat what she wants. Yes, I would love to see her eat healthier but it is HER choice. I don't say comments because I feel it is not my place to do so. Also, I remember exactly how it felt to want to lose weight but wasn't in the right place at the time. When we go out, she understands I am getting water and I am getting a salad. Most the time she respects it. It's just other times I feel guilty because I am making her feel guilty.

In the past, we have talked about pop addiction and we have gone for walks together. So, I guess, slowly I am rubbing off on my friends and family.

In addition to all this, some suggested that I should weed my garden. In other words, let it go as a friend. Recently, I have had to do this with a different friend. I am happier. But, this friend I feel she is a good friend. She listens to me whenever I need someone to listen to. I feel she is fairly supportive of my weight loss. In fact, when we went shopping once, I thought I fit into a size 8. Later I found out it was a size 12 - talk about disappointment, lol! Anyhow, she was the first to start the hugging party and to tell the clerk. I tell to shy away to telling people about my weight loss. I guess what I am saying it is not fair to judge her on this one mishap. No one is perfect. I think sometimes I seem to have SO much fun losing weight, working out and eating right that she doesn't see my struggles.

So, with all this said, please know she is a good friend and I wrote in anger and hurt. We all need a place to vent and for me, Sparkpeople is that place!

Thanks everyone for commenting, and listening. It has really helped me!








Monday, May 23, 2011
"That's not fair."

Tonight, after being persuaded to go out to Perkins when 1) I didn't feel like company and 2) I couldn't afford it, I was telling my friend that I got down to 164 point something.

That is what she said.

"That's not fair."

She quickly covered it up.

This is after she persuaded me to go.
This is after I ordered a salad.
This is after she ordered soda to drink.

Now, don't get me wrong.. eat whatever you want. That is YOUR business. I don't care until YOU tell ME it is unfair that I keep losing weight.

Excuse, but what is SO unfair about this?

Is it the part that work out everyday?
Is it the part that I try to order water consistently?
Is it the part that I am running more than I ever have in my life?

Which part of this is UNFAIR to YOU?

Seriously, which part?

To put the icing on the cake, I was guilt tripped into going. And, the more I think about all of it, it royally ticks me off. And, even more, hurts me.

So, it all started when she came to MY room to ask me to go out to eat. Now, I have been friends with her BEFORE I started losing weight TWO years ago.

She knows the drill.
She knows I order water.
She knows I will most likely get a salad. (As she pointedly gave me the salad menu tonight.)

Anyhow, I was like I don't care where we eat and in the next breath she is excusing me of basically saying I don't care but than when she suggests somewhere to eat, she suggests fried food, I suggest somewhere else. I know it seems like I am being difficult. Hello, I have been doing this for two years, and she can't get it that I don't care where we eat as long as they have healthy choices?!!! I'm sorry Applebee's half priced appetizers are not calorie friendly.

It's really sad 'cuz my family is getting it (and I am rubbing off on them) and one of my best friends even gets it. I don't care what THEY get, honestly. Sure, I'd love for them to eat healthy but I also know how it feels like not choosing that lifestyle... yet. Fine. But, don't judge me on MY lifestyle, the way I choose to eat.

Maybe she feels guilty. She says comments. I try to brush them off. Tonight, it was just that much harder. Sure, I want to order the things that are terrible for me but...

It means SO much more to know I have lost nearly 100#.
It means SO much more to know I CAN run 8 miles.. and eventually, longer!
It means SO much more to know I CAN teach my children a healthy lifestyle!

So, which part of this is unfair to her?! Which part?

Because, you know what?

I work my BUTT off every single day. It's not easy. No one said it would be. Besides, nothing worth having is easy!

Everyday I struggle to eat right.
Everyday I struggle to keep my workout fresh and want to!
Everyday I struggle to accept this new me.

You know what? I deserve this. I deserve everything reward of losing this weight... because I worked my BUTT off, every single day.

Damn it!

Could someone please tell me which part of this is unfair to HER?





First Page
1
2
3
4
5
6
7
8
9
10
11
12
13
14
15
16
17
18
19
20
21
22
23
24
25
26
27
28
29
30
31
32
33
34
35
36
37
38
39
40
41
42
43
44
45
46
47
48
49
50
51
52
53
54
55
56 57 58 59 60 61 62 63 64 65 66 67 68 69 70 71 72 73 74 75 76 77 78 79 80 81 82 83 84 85 86 87 88 89 90 91 92 93 94 95 96 97 98 99 100 101 102 103 104 105 106 107 108 109 110 111 112 Last Page

Get An Email Alert Each Time THECRAZYMANGO Posts