| | |
| --- | --- |
| | THECRAZYMANGO's Recent Blog Entries |



Monday, November 24, 2014
So, for the last week, I have been cheating on Sparkpeople and been tracking on My Fitness Pal. I know how to cheat on Sparkpeople with my calories but I guess I am really cheating myself. Anyhow, I gained THREE pounds in the last week. I think it's sufficient to say My Fitness Pal is not working.

I know what works. Sparkpeople. I did lose 100 pounds and I need to stick with it.

Also, I know it's the support I really need as my self esteem has really taken a hit in the last two years. You guys were there when I started and I know you are there now.

So, I've decided when it ain't broke, don't try fixing it!





Saturday, November 22, 2014
One of my qualities, good or bad, is that I am a deep thinker. I think about a lot of things and lately, I have been thinking about my journey. For most of my journey, I was focused on the number on the scale or compliments from friends and family. These are considered extrinsic motivators. They were much like the junk food I was liking to wean myself off. I would feel good for a moment or two but it never stuck. When I got to my maintenance weight, I realized I still wasn't happy.

I have a second chance at my journey and I decided I want to do it differently this time. I want to feel good about doing healthy things and not do it to see it on the scale. It has to come from within rather what others think of me. I am considering getting rid of the scale but it scares me a bit.

Running is one thing in my life that seems to make me happy from within. It did than and it did today. Today I did a 5K after working on getting my running up to par. I am very excited to share that I feel it is up to par. For me, par is running a 5K and/or 3 miles 3 times a week. I did both today!

Here are a few photos from this morning's Turkey Trot!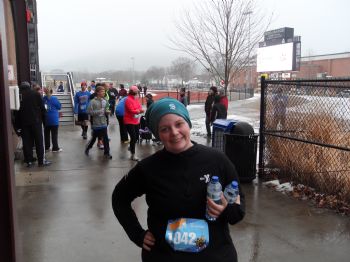 Today's goal was to run the entire thing which I did!

The last couple months I have struggled with hip tightened and ankle tendon pain. Today I had none of that which is awesome! I finished in 44:30 which I was fairly happy with. My last few runs on the treadmill were 50:00-54:00. Guess I run outside faster, haha!

I am not sure how many people know this but I keep a scrapbook of all my weight loss photos and races. For the races, they don't always have a picture but each race page has the bib, race, date and location. I had a loose bib in my scrapbook that I had to put in there. Because it has been such a long time, I looked it up the details. It was the last race I did before I gained weight. I was ONLY four minutes faster despite being 40# lighter. This really surprised me. Guess it just proves that weight is really just a number.

I think that is all for today but I hope to blog more often. Now that I have a regular job, I am trying to workout in the morning, eat (track) healthy, essentially lose weight and blog more. The support here really helps me reach my goals. So, hats off to you all!






Wednesday, October 29, 2014
Recently I accepted a new job and I am really excited for this new opportunity. I am not even sure where to start with the positive things about the position. There is just so many things that it just feels good.

- Positive working environment from the sounds of it
- No more working overnights
- Resume skill builder
- Experience with physical therapist to see if I really want to do it
- About $1-2 dollar higher pay per hour which means I can afford health insurance
- No weekends or holidays!

I think I am most excited about the no weekends or holidays right now, lol. It's like I get a normal working schedule like my parents had. I get to work from M-F at 8:30 am-4:30/5:00ish.

Ironically, it took me two years to find this job after my college graduation. It's rough out there! I am so glad I applied. They really wanted me and it was the only listing in my area that is like this.

I am also excited that I will have more time for Sparkpeople to track food, blog. Sparkpeople has always helped me lose weight and I gained weight when I was an Americorp VISTA. I gained roughly 55 pounds and was up to 215 from 160. When I started as a CNA, I got down to 205. The last month or so, I have bouncing between 203-205. I think with tracking I can really get somewhere. It's been hard to track while working overnights because do I put it on yesterday or today as my days are typically 9 pm-12 pm. In a couple more weeks, I won't have to worry about that!

Also, I have been working at running a 5K on the weekend after Thanksgiving. It's been pretty good, I feel. For probably the last two months I have been running 3 miles regularly. Today, I tried to run after working and walking. Man, that was hard and I lasted a mile. Running on fresh legs is so much easier.

Once I start my new job, I will need to get into the habit of working out in the morning and we all know I don't like mornings! But, this is important and I think it will be easier to work out than!

For November, my goal list has been ever growing... but it is really have one goal in mind: to be healthy!
- Break into the 199s.
- Post on a FB group a reason I am thankful for my body (Hoping to have a better body image)
- No scotchoroos. Darn that local gas station that has them so available.
- Run that 5K Thanksgiving weekend.
- Strength train 3-5x a week (leaning towards MWF so I can run T/Th/Sun)

In the back of mind, I have other goals...
- Complete the Y's 5K Winter Series (A 5K in December, January, February)
- Get down to 180 by my birthday in April
- Run Granddad's Half Marathon in May
- Get down to 160 of Summer 2015
- Run Grandma's Half Marathon in June





Sunday, October 05, 2014
I give love unconditionally to everyone I meet but to myself. For whatever reason, I struggle to love myself. I thought it would happen after losing weight and becoming the perfect body media promised me. As I got to my goal weight, it seems the hatred for my stomach grew.

Every morning, I would wake up, stand in front of the mirror and just hate myself. I would look at that flaw and never appreciate the rest of me. I knew I needed to accept my stomach but just couldn't. Maybe it was the fact that it felt so unfair that I worked hard to lose 100 pounds and never got the flat, tight stomach like the media promised me I would have if only I lost weight.

I was so focused on the flaw in me that I never appreciated my greatest features. Every morning I still wake up and check out to see if my stomach have shrunk. When it didn't, it was like I was failure. Hating parts of me needs to stop and I need to love myself.

I have appreciated certain parts of myself like my legs that help me run miles. I have never appreciated my great complexion and feel I always have taken it for granted. In the past few weeks, residents at my work have told me how I have soft skin or a nice complexion. All these residents is they all have Alzheimer's. The thing about this disease is they have no filter so when they tell you have big legs or soft skin. They are typically just observing what they see - they aren't trying to be mean and would be upset if they knew what they were saying was hurtful. Some of these residents have the biggest hearts.

Not only have they shown me the lesson of appreciating rather hating myself everyday, they have shown me that if I don't learn to love my body now I will always struggle with it. I know some residents that still get upset with their big legs or flabby arms. These are individuals that are elderly, lived a full life, have a family that loves them and they still aren't happy with themselves. I don't know about you but I don't want to be in my 80s and not loving myself.





Sunday, August 24, 2014
Some days you just have to tell your inner voice to be quiet. This morning I did that exact thing!

Work was very stressful. I don't really want to go more into that on a public blog. Let's just say I was so stressed and felt like puking, lol.

I know what I needed... the gym! I needed to run, hop, lift... whatever I had to do. I knew if I didn't go, I'd be craving carbs and sweets later and that's just dangerous cycle. So, I worked out after being on my feet, walking, and lifting residents for the last eight hours.

I am actually proud that I did work out after work. I didn't sit down in my apartment when I got home. I left my bag I brought to work in the car, ran in and changed into gym clothes and grabbed my iPod. Didn't let my body feel being tired.

I run 1.18 miles, did some kettlebells swings, TRX squats, 15 minutes on the elliptical. Overall, it was like 35-40 minutes long. It felt good to soak in the feelings of endorphins.



I do like the feeling of doing it before work but I think my body is ready to take on a little more daily exercise than the lifting of resident and walking all night (estimated 4-5 miles/night). I feel September's goals coming on...



On a side note, I noticed this week I haven't taken my depression med for like three days. I've been trying to get off them for almost 6 months. The method that the psychiatrist recommended was too fast. I knew this because I would get anxious or nausea. I do not recommend trying to get off any med before talking to your doc. For the last three days, I haven't felt those symptoms. It probably helps that my stress has decreased and my physical activity has increased significantly - both factors that affect my (or really anyone's) depression! I feel really good about this accomplishment!



1 2 3 4 5 6 7 8 9 10 11 12 13 14 15 16 17 18 19 20 21 22 23 24 25 26 27 28 29 30 31 32 33 34 35 36 37 38 39 40 41 42 43 44 45 46 47 48 49 50 51 52 53 54 55 56 57 58 59 60 61 62 63 64 65 66 67 68 69 70 71 72 73 74 75 76 77 78 79 80 81 82 83 84 85 86 87 88 89 90 91 92 93 94 95 96 97 98 99 100 101 102 103 104 105 106 107 108 109 110 111 112 113 Last Page

Get An Email Alert Each Time THECRAZYMANGO Posts