| | |
| --- | --- |
| | TEMPEST272002's Recent Blog Entries |


Tuesday, June 21, 2011
What really helps motivate me to walk are my dogs, who are my best pals. They keep you honest about walking because when it's time to go, you can't disappoint those little faces. ~Wendie Malick


Dogs are defnitely the best walking partners. The more dogs I have walking with me the happier I am! There is something so satisfying about walking with dogs, off-leash, through the woods. I love to watch them explore and scent... and then run happily back to check in with me... then romp off again.

DeeOhGee is still a puppy - 8.5 months now. She is generally a fairly calm & quiet girl... but out in the woods, the tail goes up and the grin comes out. I'm always trying to take pictures of her with my slow camera phone. I have a lot of pics that look like this: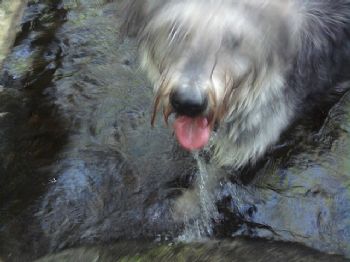 or like this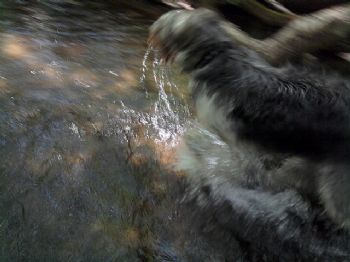 Which remind me of a really cute - but completely true - little poem:

The truth I do not stretch or shove
When I state the dog is full of love.
I've also proved, by actual test,
A wet dog is the lovingest."
--Ogden Nash

So it's a good thing that the camera phone is not my only camera... and I can get pictures like this with my canon rebel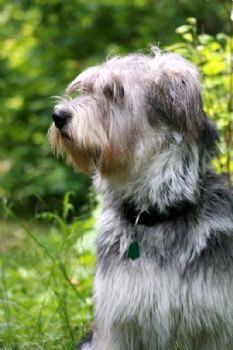 For those of you who might wonder... no, we don't know what breed she is! Her mother looked like a golden retriever. Father's unknown but we're thinking Irish Wolfhound or sheepdog... she's about 65 bs.

DeeOhGee is great at getting hubby out the door for the evening walk. At exactly 9:00 pm, DeeOhGee parks herself in front of hubby and woofs. Time for the night time walk! It's especially funny if he's napping... and startles right off the couch. I have a twisted sense of humour.

She's great at getting me out too. Doesn't matter whether I feel like it or not - she always needs to go for a walk. And of course, once I'm outside and walking with a dog, I'm happy to be doing it.

In looking for quotes for this blog, I came across this.... it really touched my heart, so I'd like to end this it.

"It came to me that every time I lose a dog they take a piece of my heart with them. And every new dog who comes into my life gifts me with a piece of their heart. If I live long enough, all the components of my heart will be dog, and I will become as generous and loving as they are."
--Cheryl Zuccaro







Monday, June 20, 2011
You have powers you never dreamed of. You can do things you never thought you could do. There are no limitations in what you can do except the limitations of your own mind.
- Darwin P. Kingsley


When I was 17, I was diagnosised with Hereditary Sensory Neuropathy. It's a degenerative disease. At the time, I was just using my thumb & forefinger like a pincher and the pain in my legs prevented me from walking more than a block or so. The neurologist told me that I would be in a wheelchair, without use of my hands, by the time I was 25. By the time I was 20, I had become significantly more disabled. I used handicapped parking and had very little practical use of my hands.

Then, an invitation to see a guest speaker at the university changed my life. Judith Snow came and told her life story... and her story changed mine. She told of how all her life she'd heard that she would die by the time she was 18. Sure enough, in her 18th year, she started to die. In hospice, she met a friend who said "Judith, you don't have to die if you don't want to." She decided not to die... and not only is still alive, but has had a huge influence in this world. Her work advocating for the rights of people with disabilities has had a profound impact and I encourage you to check her out:
dawn.thot.net/Judith_Snow.html

This morning, I stumbled across her photo and contact information on the web. I started bawling in front of my computer & felt compelled to write to her and thank her for the impact she's had on my life. I want to include part of that letter with you here...

"When you told that story, I felt it in my soul. I had an epiphany of my own. I thought "if Judith can choose not to die, I can choose not to be in a wheel chair."

I left that lecture theatre a changed person. I understood in my heart that what we BELIEVE has a profound impact on all levels of our life, including the physical. We might not be able to cure our disease or remove our disability - but we have a huge say in how it affects our lives.

I started by refusing to believe the doctors' predictions. I went back to physical therapy and put my heart into it. Within a year, I was able to regain about 75% mobility in my hands. Two years later (after learning techniques on mental pain management), I stopped taking the heavy-duty pain killers with the heavy-duty side effects. And when I hit my 25th birthday still on my feet, it was validation.

I stayed in a holding pattern with my disability for 15 years or so. I was able to manage almost all of life's daily tasks with minor accomodations. Life, children, career all took my time & attention... and like many other women, I started to put my own needs on the back burner. I spent less time on my own health & I ended up gaining so much weight that it became more disabling than my actual disability. I developed diabetes & low-functioning thryroid - and those became additional barriers to losing weight.

Fast forward to March 2010. Now our kids are grown & out of the house. I took stock of my life and found it wanting. Although 45lbs down from my heaviest, I was still almost 100 lbs overweight. My life was so small because I was letting my body define it.

Once again, I heard your voice in my head. If Judith doesn't have to die... then what excuse do I have not do SOMETHING to change my own reality? I started by refusing to believe that I was stuck. Refusing to believe that I wasn't capable of doing something - anything - to make a change.

I made one little change and another and another. Always keeping the spirit of your words in the forefront - whatever obstacles I have, they don't have to define me. Most of my limits are of my own creation. All I have to do is start to make a change and let it unfold in front of me.

Here we are June 2011 & you wouldn't even recognize me from the woman I was 2 years ago. I have surpassed my wildest dreams with my physical activity. I can run - yes RUN! - 5K. I bike the 20k return trip to town several times a week. I amaze myself. I have realized that I have no idea what I'm actually capable of... but I can't wait to find out.

It's funny, when people see where I'm at now they think that maybe I was misdiagnosised... but I still have the disease. I still don't feel hot & cold. I still break bones without feeling it. I still can't write with a pen or use a can opener. I still have constant pain in my hands & feet - but only truly feel it when I stop to notice. I still have the disease... but the power of my thoughts and beliefs have meant that I'm able to push beyond where others thought I could go. Even where I thought I could go. I can choose to live in a way that makes the most of what I AM able to do.... and WOW - that turned out to be a lot! "

So now you know my story.... When you catch yourself saying, I can't lose this weight because... I want you to consider the power of your own thoughts and beliefs. Understand that your obstacles are real - but they do not have to define you. You are capable of more than you can even dream.

I can't help myself... I have to end with another quote:

"We are what we think. All that we are arises from our thoughts. With our thoughts, we make our world." Budda


Updated June 21: I recieved a response from Judith to my email, thanking me for writing to her. Included in her response is a request that she's putting out in the world. Judith relies on miracles in her daily life & if anyone out there can help her, I hope you do. Judith would like to travel to the Calgary area around August 13th for her niece's wedding, but can't afford the cost. If you know of anyone, in Alberta, who could hire this POWERFUL motivational speaker, please pass on the contact information below.

Judith Snow, MA
Skype: avalanche0809
E-mail: avalanche0809@gmail.com





Sunday, June 19, 2011
This week my sunny gal challenge is to post and blog about an inspirational quote. One each day this week. To start us off, one of my very favourites:


Risk! Risk anything! Care no more for the opinions of others, for those voices. Do the hardest thing on earth for you. Act for yourself. Face the truth. by Kate Mansfield


This is the quote I put up on my very first SP inspired motivation collage. The first time I read, I felt as if it touched something deep inside. It speaks to me on so many different levels.

Too much of my life had been spent caring for the opinions of others... and always I was never quite good enough, even when I excelled. "Those voices" represent my inner critic, so much harsher than anyone else would be. I had to learn how to turn it off. To stop creating the opinions of other in my own head.

The hardest thing on earth for me... For so long I was ruled by perfectionism. The hardest thing has been to purposely allow for imperfection and allow myself to try things that I'm fairly certain I won't be good at. By pushing through the fears, I've really grown as a person & learned so much about what I'm truly capable of.

Act for yourself. ... reminds me that it is MY responsibility to make these changes. Only I can put in the miles. Only I can make each healthy choice in each moment.

Face the truth.... Sometimes I'm tempted to lie to myself. I say "this doesn't really count" or "maybe I don't feel well enough to do X" or "you're not really capable to doing that". Face the truth has been a bit of a mantra. Keeping me accountable to myself.





Sunday, June 19, 2011
My 28 day plan has been thrown out of wack. I designed the schedule to accommodate my body's changing needs throughout my monthly cycle. Today is supposed to mark the beginning of PMS week. The week where I add 300 cal/day & do high intensity workouts, taking advantage of the higher BMR of PMS week. The week where I have sweet and salty treats planned for every day.

Only this isn't PMS week because TOM started last night, a full 7-10 days early. What? What is going on body?

Apparently PMS happened Thursday when I woke up starving & spotty like a teenager... and Friday when I got in a big fight with hubby about his smoking & had an extremely hard time not compulsive snacking... and yesterday when FEAST day was spent in a haze of eating foods I don't normally indulge in. The smores were divine. Turns out I don't like bacon anymore.

I did see the PMS signs - I just didn't believe them & didn't want to accomodate them. I had a schedule & I was sticking to it. Dammit. But I hardly think I should continue on with my PMS +300 calorie plan. My plan for TOM was rest & recovery. Should I move to that week? Probably. Even though I'm not quite ready for a rest week.

Aaaaarrrrrgggggghhhhhhh. I HATE changing a schedule once it's set. Now I'm all discombobulated. Love that word. Long words comfort me when I have to deal with stressful changes. Strange, I know. We all have our quirks.

I'm just going to have to think about the changes for a little bit. Take Dog for her long walk & that will help me figure it out.

On a slightly different topic.... yesterday's weigh in.... down 3.5 lbs last week. In the previous 10 weeks, I'd lost 4.5 lbs total. Yeah calorie cycling!










Friday, June 17, 2011
My grandma was one of the best bakers I've ever known. She didn't use written recipes or even measuring cups. It was always "add until it looks right". At family dinners, she would serve the most decadent desserts - and lemon meringe pie was my favourite out of them all.

So for today's food swap, I'm going to give you the recipe for a Lemon Chiffon Pie that has a wonderful lemony taste and is good enough to serve to company - with only 140 cal per serving! 8 servings per pie.

Lemon Chiffon Pie (from Splenda Recipes cookbook)

140 cal, 18g Carb, 6g Fat, 6 Protien. WWpts=3

1 graham cracker crust

1/3 cup water
1 envelope unlfavoured gelatin

1 lg egg + 2 lg egg yolks beaten
3/4 c splenda
1/2 c fresh squeezed lemon juice (about 2 lemons)
1 tbsp grated lemon rind

2 lg egg whites
1/4 tsp cream of tartar
3 tbsp splenda

1 cup light whipped cream, thawed

1. Place ater in small heavy saucepan & sprinkle gelatin on top. Let sit 3 min to soften.

2. Whisk in 1lg egg, 2 egg yolks, 3/4 cup splenda, lemon juice & lemon rind.

3. Stirring constantly with a wodden spoon, cook over medium heat until thickened & spoon is coated. Pour mixture into a large boawl & refridgerate 45-60 minutes.

4. In a large bowl, whip 2 lg egg whites & cream of tartar until foamy. Beat, adding 3 tbsp splenda gradually. Beat until peaks are stiff & glossy.

5. Using rubber spatula, gently fold the egg white mixture into the gelatin/egg yolk mixture. Then fold in whipped topping. Spoon into crust and refridgerate at least 3 hours.

This recipes is so delicious that it's completely worth the time and effort to make! Enjoy!


For the doing something for myself portion of the challenge - this was more difficult for me. You see, unlike most woman, I have an abundance of time to do with what I please... as long as it doesn't cost any money! Every day, I get to do those little things - read, chat with friends, cook somethign special, meditate - that make me feel good and fill up my emotional basket. For the challenge, I wanted to do something a little different, but it took me all week to figure it out.... what did I do?

I cleaned out my closet! Everything that does not fit or doesn't look good... is gone. 5 bags worth of clothes. As I tried on item after item, I was thinking of how easy it was. I remember when I used to break into a sweat just changing clothes . It was always about finding something that would hide my flaws (ha ha ha ha... like people couldn't tell I was fat!) and not about what really pleased me. Now, for the first time in 20 years, I'm realizing that I could define my own sense of "style", based on what I think looks GOOD, rather than what doesn't look too bad. Another exciting possibility opening up before me....





First Page
1
2
3
4
5
6
7
8
9
10
11
12
13
14
15
16
17
18
19
20
21
22
23
24
25
26
27
28
29
30
31
32
33
34
35
36
37
38
39 40 41 42 43 44 45 46 47 48 49 50 51 52 53 54 55 56 57 58 59 60 61 62 63 64 65 66 67 68 69 70 71 72 73 74 75 76 77 78 79 80 81 82 83 84 85 86 87 88 89 Last Page

Get An Email Alert Each Time TEMPEST272002 Posts