| | |
| --- | --- |
| | TEMPEST272002's Recent Blog Entries |


Friday, May 06, 2011
MAIN CHALLENGE: For the main challenge, blog about why you decided to change your habits to become a healthy, fit person. Even if we arenít at goal, we have ALL made lots of changes. What motivated you to take that first step? Many of us donít take enough time to think about what brought us here, but holding on to that could help you to motivate yourself when you hit a plateau of have a rough week.

````````````````````````````````````````
```````````````````````````````````````

I changed because, quite simply, it had become more painful to stay the same than it was to change.

I could no longer stand to live in my own body. I was at the mid-point in my life and was horrified by the thought of enduring another 40 years feeling like I did.... and then I thought about how much worse it would get as I aged.




As my body had become bigger, my life had become smaller. I felt that my fat had become the single most defining thing about me. It had buried me until I was a lump on a couch, feeling nothing but sad, sad, sad.

The good thing about bottom is that any improvement is worth the effort. I celebrated every small success and let that push me on. I made "one healthy choice at a time" my motto - and that helps me remember that it's about taking care of myself... which means that diet & exercise are just two parts of a much larger picture. Getting enough sleep, learning to feel my emotions, releasing perfectionism, connecting with others, quitting smoking, and creating art are some of the others.

Given yesterday's blog, I thought it was interesting that this is what I wrote in my very first blog post:

Everyday when I was 15, I would run through the trails in the woods behind my house. I remember the sound of my feet thudding on the soft ground, the way my body effortlessly ducked under branches and jumped over tree roots and the joy of running faster and faster just to create a breeze on my face.

Now I'm 40 and walking up the small hill to my house just about kills me. I've come to what is likely the mid-point of my life & I've realized that time just whizzes by! So, there is no time like now to start again and reclaim a healthy body.


When I read it again today, I realize that I've already surpassed my wildest dreams at the time. I was hoping just to get up the little hills without dying. I never imagined that, just one year later, I would feel so strong and fit.

I'm motivated to continue on because I enjoy my life so much more now. I might still have 30ish lbs to go to healthy BMI, but I'm already benefiting from these changes in so many profound ways - controlled diabetes, reduced pms symptoms, having energy to do the things I want, having the self confidence to put myself out there, and much more.








Wednesday, May 04, 2011
Woke up this morning feeling post-TOM sleek. Decided to risk a mid-week peek at the scale. Down 3lbs since Saturday. Crazy. The scale is crazy, but today I like crazy.

I'm 1.5lbs away from "overweight". I've been obese for 23 years. This is a big deal & it's motivating me to go stronger. So I had my clean breakfast - oatmeal/flaxseed/raisons/almonds with OJ + iron pill. Checked on my sparkfriends and then headed out for a run.

And this is where I started to just blow myself away......

Where I live, it is very hilly. VERY. 30-45 degree slopes in many places. Usually, I walk the 10 minutes hill, then do my run from a relatively flat (ie only 10-20 degree slopes) stretch. In there are 2 bigger hills & I run the bottom & then walk up the steepest parts.

Today, inspired by the scale & fueled by real food, I decided to do a quick warm up and then start the run from home. As I'm hitting the first hill - short, but very steep - I was thinking about how, 13 months ago, I had to stop once or twice to catch my breath as I walked up it... and I asked myself "I wonder if I could run up it now without stopping?"... so I tried... and I DID!!!!

WOW! I was thrilled. I felt so strong. I'm doing a recovery walk and I realized - I don't actually need to walk... so I picked up the pace and ran straight up the 2nd short, steep section.

I still feel strong. In fact, I feel AMAZING. I wonder how much I'm really capable of right now and instead of going out on the flatter route, I purposely headed into a very hilly section.

I'm not going to give you a play by play of every hill - but I ran every one of them. If I had to, I walked a few steps on the down hill. And then I came to my nemesis....

The sand pit hill



The photo doesn't do this hill justice & it's longer than you see in the photo. It's about 3 city blocks long & is 30-45 degrees for 80% of it.

April 7, 2010, I blogged about this hill: My legs are jello. I'm puffing. I hook the dogs to their leashes and tell them to PULL. They are too well trained and stay at my side like they are supposed to. Rats. I keep going.... going... going... cheerleader in full force "YOU CAN DO IT!"

It took me 15 minutes that day to make it to the top, but I did and I was so incredibly proud of myself.

Today, I RAN - yes I said RAN - the whole hill in just over 2 minutes!!!!

There I am at the top, bent in half, hands on knees & sucking wind and I feel like a million frickin bucks!

I AMAZE MYSELF! I ROCK! I CAN DO ANYTHING!

So I lift my head & look at DeeOhGee and we take off again - up one more hill. My recovery time is unbelievable. I felt like I could have kept running, but decided to walk the 5 minutes home to let my body cool down from such an intense workout.

On March 22, 2010 - 12 days of sparking & after walking up my first short hill - I blogged: ... blowing and puffing, calves burning, chanting "yes, you can"... and sure enough, I did. I could and I can and I will again. Two weeks ago, I would never have even considered making the attempt. Now, I'm determined to do it again and again until it's easy.

Well you know what? That is exactly what I did! I went out again and again. I pushed just a little bit and a little bit more. I took it one step at a time... and look at what happened! It got easy!!

I am 41 years old. I have diabetes & hypothyroidism. I have a rare neurological condition that causes constant pain in my hands & feet. At one point, I was class 4 obese. I started running at 230lbs. I quit smoking 6 months ago. I do not have a gym membership or any fitness equipment that costs more than $20.

I tell you this because I want you to know that it doesn't matter where you are starting from, you can make little changes and end up having huge results.

Today I dared to dig deeper, be stronger. Today I amazed myself.






Monday, May 02, 2011
Thanks everybody for your feedback on my self-portraits. You guys are hilarious - 8 votes for photo 1 & 8 votes for photo 2. That's not helpful! lol

That's not really true - you guys were helpful. Your comments helped me clarify what appealed to me about each of them.... and once I'd done that, the choice was clear.

#2 Appeals to me because I think I look prettier & I'm looking up (love optimism) & I find faces/figures that are 1/2 out of frame to be really appealling.... but it's #1 that works better for what I wanted to express.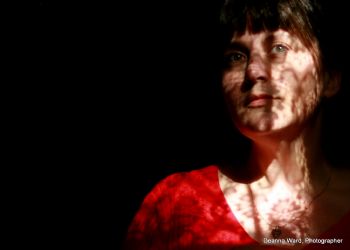 I recognize it as being more me - the set of the chin, the level open gaze. Also, the lace patterns are more clear in this one and it's the lace that really interests me. I wanted to play with the idea of the pattern of grandma's lace curtains on my face echoing how all of my fore-mother's lives in a way pattern my own. The idea that the influence on our lives - in it's beauty & ugliness - could be made visible. And how, once visible, it both obscures our own self and also illuminates it.

I had another productive day - finally finished our taxes.

I'll tell you, working on those taxes had me longing for a cigarette. But no cigarette & I didn't eat off plan either. Big gold star. 5 days of eating being on track & the momentum just continues. May is the month I'm going to move out of the obese category & into overweight (4lbs away).








Sunday, May 01, 2011
I used to be a perfectionist. I used to think that it was either be the absolute best - or be nothing at all. It used to be about maintaining a certain standard and believing that I would never move forward if I didn't. My life was transformed when I realized that perfectionism is a liar. It doesn't move me forward, it undermines my efforts & steers me off course.

So what does motivate me? Being kind to myself. Counting every healthy choice as a victory and using that to build momentum. Reminding myself that it's alright to be human and it's a process. I'm so much less likely to binge when I'm treating myself like I would my very best friend.

So today, I'm acknowledging my own little choices and building my own momentum. It's day 4 of being back on track and it's getting easier every day. Positive self-talk is a powerful tool.



Hubby wanted to stop at fast food. Tempted, I asked myself if that's what I really wanted & realized no. Told him it was ok if he wanted to order for himself, but I was going to eat healthy at home. He decided to skip the fast food too. Two for the price of one!



Ate clean even though it was a really busy day.



Tracked my food.



Stayed within calorie range



Hubby and I had a bit of an arguement - dealt with the emotional stress by going on a fast walk. Came back clear headed & able to accept his apology & see my part in it. Bonus: burned 250ish calories.



Was very productive - photographed an art exhibit opening, did a favour for a friend, cleaned house, resolved the issue with hubby, walked the dog, returned overdue library books and worked on personal photography projects. Very satisfying to have the energy just to do all this.

Here are two self-portrait pieces that I worked on. I only want to use one of the two pieces, but I'm not sure which one. I get so caught up in the nuances, I start losing all perspective.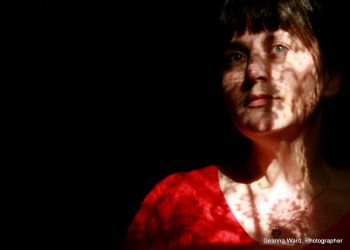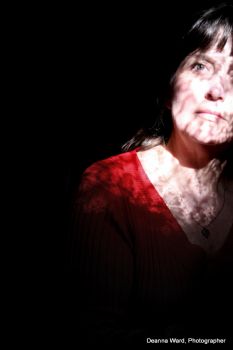 Which one would you choose? Yes, I know it's totally subjective... and some people (like hubby, aargh), won't see much of a difference between the two. Still, which one?

For the curious & shutterbugs among you.... I am holding the camera just out of frame and taking a picture of my reflection. The patterns are from the lace curtains in the bedroom. No flash.









Saturday, April 30, 2011
I'm happy to say that I'm still on track. Paid the price for last week's struggles with a 1lb gain. Could have been worse.

We had very strong winds on Thursday. Hubby & I went out for a walk because it the wind was so warm & winter has been soooooo looooong. When we came back, we noticed a tree down - not touching the power poles. We didn't notice the tree that broke over our neighbour's roof or the one that fell on another neighbour's car. Turned out our area suffered quite a bit of damage - we were lucky not to have any problems. One nice thing about all that warm wind... it's melting the snow at a fantastic rate. The first picture was 10 days ago and the second today. Temps got up to 30C!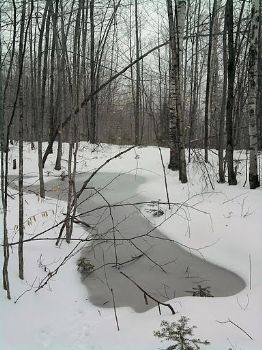 I am so happy that spring is here at last! I can help but smile when the sun is shining on my face. I feel myself shaking off the lethargy of winter and embracing the excitement and energy of spring.





First Page
1
2
3
4
5
6
7
8
9
10
11
12
13
14
15
16
17
18
19
20
21
22
23
24
25
26
27
28
29
30
31
32
33
34
35
36
37
38
39
40
41
42
43
44 45 46 47 48 49 50 51 52 53 54 55 56 57 58 59 60 61 62 63 64 65 66 67 68 69 70 71 72 73 74 75 76 77 78 79 80 81 82 83 84 85 86 87 88 Last Page

Get An Email Alert Each Time TEMPEST272002 Posts