Sunday, November 08, 2009
In my opinion, this is the best BMI chart ever!!!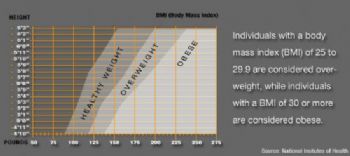 In order to see it larger, go to my spark page and click on the BMI chart I have displayed there and you won't need a magnifying glass. I found this on the internet somewhere awhile ago but lately all I can find are the bmi calculators.

As I have said elsewhere, sometimes I get a bit depressed when I look at this chart. I put it on my fridge and made a red dot where my present weight is and another dot to approximately where I was when I was off the chart in the morbidly obese range at 280.

I like this BMI chart cause it "pulls no punches" and you can instantly see where you stand.

I thank God that I am on this chart, however, as my health (and my life) was truly in jeopardy when I was at 280 and I know I still have plenty of room for improvement.

I was never good at math or numbers in general so this is my kind of visual to help me see my progress. I need to make a dotted line to my goal weight which is 150 and in the healthy range.