| | |
| --- | --- |
| | TEDDYBEAR4788's Recent Blog Entries |


Saturday, July 26, 2014
More and more I'm thinking I will just do the care giving for my friend and let my daughter and her husband fend for themselves. they really don't know how much I do around here because they don't see me doing it.

This morning I went upstairs to make my breakfast and found the sink full of dirty dishes...and the dishwasher full of clean ones! All the pots and pans were dirty though! I put the clean dishes away and started filling the dishwasher again. By the time the kitchen was cleaned up the dishwasher was full and I still didn't have any breakfast. Ended up with a cup of coffee and toast with almond butter for breakfast. Not what I wanted but by then I was starving.

While I was loading the dishwasher, my son-in-law walked in and blandly stated "We would have done that" My thought was, "well why didn't you before you left this morning then!' What I actually said was I'm hungry now and all the pans are dirty. Of course I didn't clean the baby's high chair since I mentioned to him last night be sure to clean it...guess she ate in a dirty chair this morning because it still had rice in it.

My daughter asked me to run the vacuum on Friday and then proceeded to fall asleep on the couch so I also sat down. If she wants me to do something like that, she needs to help me do it not sleep while I work. Life doesn't work that way.

I really feel sorry for my grand kids. When I take this job, they will not be living like they do now. Grandma sees to it that they have clean clothes for school and play; their rooms are picked up; they have a good breakfast before they leave for school or camp.

sorry for the rant! Just had to get it off my chest and this is one place they don't go so I feel safe in putting things here.

On a more positive note, I'm down another pound to 239 this morning! I'm not sure if I will make my goal of 200 by the end of the year but I'm sure going to try. I'm looking forward to the Whole30 plan I'm starting in 5 days. I just hope I can stick with it for the entire 30 days. I would like to see how I feel before this new job starts.

I'm hoping by eating whole foods the arthritis in my knees will ease up a bit so I can do more walking and other exercises.




Tuesday, July 22, 2014
My kids aren't too happy with me right now because i want to become a caregiver for my friend. I just don't see how I can split the time between Delores and the grand kids. It would require very early mornings for me as well as after school to run here and there with them. I do it now because I'm living here. Of course I'm not getting paid any money which doesn't help.

With Delores, I would have room and board as well as a set amount of money each week. Guess because I'm family I'm expected to do this without any pay.

Have been reading "It Starts with Food" by Dallas and Melissa Hartwig, the developers of the Whole30 program. It sounds like it is something I can do so I'm planning to do this in the month of August. I'm actually looking forward to it now.




Sunday, July 20, 2014
Just a quick note to say how happy I am right now. I talked to a friend of mine this morning and in about 60 days I will be moving in with his mother as full time care giver. I've also known his mother for a long time. It appears she and I have much more in common than we thought. I knew she crocheted but didn't know she quilted as well. I'm an active quilter with another friend's parish...helped her start the Prayers and Squares group there.

It will be so nice to not have to have kids under foot all the time and I will have a room where I can set up my quilting and not be crowded with it. Right now I have my stuff in my room and have no room to cut or sew when I want to without moving a bunch of stuff to get to the sewing machine or the cutting table.

Another plus is I won't have to kill files all the time. I kill the flies and then someone deliberately leaves the door open and I have a bunch more to kill. My kitty hates the flies but hates the fly swatter even more!! She was sitting on the bed when I came in but now I don't know where she is. Once all the flies are gone, she will be back. I hate the flies as well because they think her food is just for them!

August 1 I will be starting the Whole30 program. I'm hoping I can get rid of this hand and knee pain before the seasons change again. I will do my best on this and see what happens. If you are interested in joining me more information can be found at www.whole30.com
Here's to more pounds lost by the end of August!




Saturday, July 12, 2014
the past couple of weeks have been very good for me. I'm working out consistently either in the jacuzzi or doing a walking CD. Tonight I did both of them. The jacuzzi was 30 minutes constant bike pedaling and then I came in the house and worked out to my Gospel Walking Music.

By doing the exercise, I gained the use of an extra 800 calories...but I've eaten all my food today so I will be at a deficit. My food tracker doesn't like it but I won't change it because I don't get to do this every day!! Some days I just run out of time and others I just plain hurt too much to exercise.

I ran around with my daughter and granddaughter all day today so I am tired. If my daughter hadn't suggested taking the baby to the pool tonight I'm not sure I would have gone either. But she did, I did and I feel great!! A healthy tired. Have to get in one more bottle of water this evening before I go to bed and yes, I will be up just about every two hours but I get to sleep in in the morning as it is Saturday. No babies for me, they belong to mom and dad.

Tomorrow the two grandkids, dad and I will be going to visit with Uncle Mark. It is the 4th of July celebration for the house where Mark lives. Of course there will be all kinds of picnic food as well as healthy stuff. The house parents are very good about making sure the residents get to eat healthy food. Most of them would rather have hamburgers and fries but in order to have that they have to eat a salad!!

I will weigh in the morning for my Don't Fall Behind challenge. I'm also going to try very hard to get my exercise in in the morning before we leave. i will be home alone so there will be no one to hold me accountable but since I'm posting it here, I have you all to keep me accountable.

Well it's time to go get my cup of Sleepytime tea so I can go to bed in a couple of hours. Talk to you all later.




Saturday, June 28, 2014
What a month!! My kitty ended up having foot and mouth surgery. Poor thing had a claw nail stuck in the pad of her foot...I didn't know it! Took her to the vet to have her nails trimmed because she was scratching on the carpeted steps. My son-in-law was having a fit when he caught her doing it.

Once she got the nail out, she felt some better. The vet did a minimal exam and found her mouth had a couple of broken teeth as well. Gave me an estimate for the surgery and I had to find the financing to get it done. That took about a week. Gave her foot a chance to heal.

She has been eating dry kibble for several years with canned food as a treat occasionally. Fourteen teeth/roots later, she will only be eating canned food for a long time. When the vet did x-rays of her mouth, not only did she find the broken teeth but a total of fourteen teeth/roots that were impacted. Again, poor baby, no wonder she left her kibble in her bowl more often than she ate it.

I have a whole different kitty...she purrs like a freight train now and wants to be loved on all the time now!! Before, she didn't even want me to touch her!!

Of course she is now on a diet as well but it is a good thing because she loves the diet food the vet prescribed for her. During the first week after her surgery, I offered her the "recovery" food the vet sent home. After a couple of cans, I offered her the Metabolic, which is the diet food. She ate like she hadn't been fed for a few days!! Cleaned her dish for the first time in a long time. After trying the "recovery" food again (she turned her nose up at it), I took the remaining cans back to the vet and got her more of the Metabolic. I'm so glad the transition wasn't a problem for her.

The major thing is the cost; the Metabolic is just under $50 for 24 cans which won't last a month at a can a day. I'm just happy she feels so much better.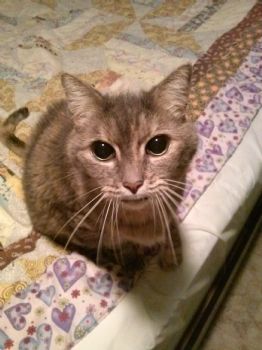 My happy kitty, LadyBug.



1 2 3 4 5 6 7 8 9 10 11 12 13 14 15 16 17 18 19 20 21 22 23 24 25 26 27 28 Last Page

Get An Email Alert Each Time TEDDYBEAR4788 Posts